Air New Zealand up, Japan steady, Qantas and Singapore Airlines lower, Cathay Pacific slips
Analysis
ANA's gains came despite the carrier reporting strong reductions in domestic and international passenger numbers of 13.1% and 16.7%, respectively, in May-2009. Load factors also slipped, by 4.8 ppts to 6.7 ppts, respectively, to a concerningly low 57.4% and 63.5%, with cargo traffic also suffering, down 5.9% domestically and 14.1% internationally.
For daily updates on American aviation stock prices and a complete wrap of the day's breaking news, sign up now for a complimentary subscription to America Airline Daily.
Asia Pacific selected airlines daily share price movements (% change): 15-Jun-09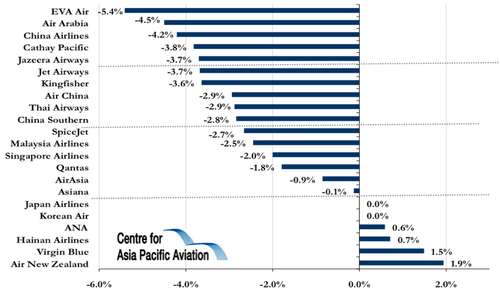 Singapore squeeze, Malaysian mire

Singapore Airlines, which reported a 2.0% share price reduction on Monday, also reported large passenger number and load factor reductions in May-2009, with passenger numbers down by almost a quarter (-23.7% year-on-year) and load factors slipping 7.8 ppts to just under 67%. Cargo volume was also negatively affected, down 17.7%.
Meanwhile, Malaysia Airlines' shares dipped 2.5% after the carrier posted its first operating quarterly loss (of USD39.3 million) since 3Q2006, due to a "triple squeeze" [of] overcapacity, extreme fuel volatility and a global slump which hit passenger and cargo demand". The stock was also downgraded from "neutral" to "underperform" by Credit Suisse Group, due to the carrier's current negative equity position.
Qantas' shares were also down, by 1.8%. The carrier has announced plans to boost trans-Pacific services in preparation for the launch of Delta Air Lines services on the route next month, increasing A380 services between Australia and Los Angeles and expanding its codeshare agreement with American Airlines. The move will place further pressure on yields on the route and on Virgin Blue's struggling long-haul carrier, V Australia, which has already reportedly reduced frequency on the Sydney-Los Angeles routes four months after the launch of the service.
Elsewhere, EVA Air's shares suffered the largest declines on Monday (-5.4%), with Air Arabia, down 4.5%, after reporting a 3.7% gain on Friday, and Cathay Pacific shares down by 3.8%.