Air New Zealand-United Airlines joint venture: 62% of NZ's long haul capacity operated under JVs
Analysis
Keep your friends close and your enemies closer: over recent years Air New Zealand has transformed its long haul network – and New Zealand's aviation market – by turning one competitor after another into a joint venture partner. Air NZ's latest is a revenue-sharing JV with United Airlines, to come into force on 01-Jul-2016 when United resumes New Zealand services.
The JV follows link-ups between Air NZ and Singapore Airlines, Cathay Pacific and Air China. Yet this is not just another JV: Air NZ-United will be the largest, accounting for 25% of Auckland's long haul seat capacity. It will be twice the size of the Air NZ-Singapore Airlines JV. In total, 80% of Air NZ's long haul capacity from NZ will be under JVs, with the balance in monopoly markets.
Air NZ operates 9% of Auckland's long haul capacity without a JV partner. Qantas JVs with American Airlines and Emirates account for 7% of capacity, leaving 29% of nonstop long haul seat capacity from Auckland operated outside of a JV or without Air New Zealand. If Air NZ pursues a partnership with China Southern, or Qantas and China Eastern add New Zealand to their Australia-China JV, non-JV/Air NZ long haul Auckland capacity would fall to 19%. By contrast at Sydney, Auckland's largest peer, only 36% of long haul capacity is operated under JVs. Approximately 85% of capacity in the trans-Atlantic market is operated under JVs but under three JVs, and not in the way that the dominating force Air NZ does in Auckland.
Regulators are tasked to determine whether this competition elimination is what is needed to survive in end-of-the-line markets. Regulators fear standing up to airlines, which threaten JV rejection with capacity withdrawal. Perhaps unhappy with JVs, nevertheless regulators are also politically unwilling to risk the alternative.
On 10-Mar-2016 Air New Zealand and United announced a revenue-sharing joint venture that will commence 01-Jul-2016. That is when United resumes service to New Zealand, having exited in 2003 amid bankruptcy restructuring. United will offer three weekly Boeing 787-8 Auckland flights from its main long haul west coast hub at San Francisco. In Nov-2016 the service will transition to daily, operated by the larger 787-9. A statement from the airlines says they will coordinate schedules, sales and marketing.
Air New Zealand and United applied for anti-trust immunity in Dec-1999, and the US DOT granted it in Mar-2002. United was serving New Zealand at the time, but withdrew in 2003 amid its bankruptcy proceedings.
United's Auckland service will commence after American Airlines' Jun-2016 launch of Los Angeles-Auckland flights, although American actually announced their service (as part of a proposed JV with Qantas) after United's Auckland launch. United will have slightly larger capacity since it will use a 787-9, and American a 787-8.
New Zealand to United States of America (seats per week, one way): 19-Sep-2011 to 15-Aug-2016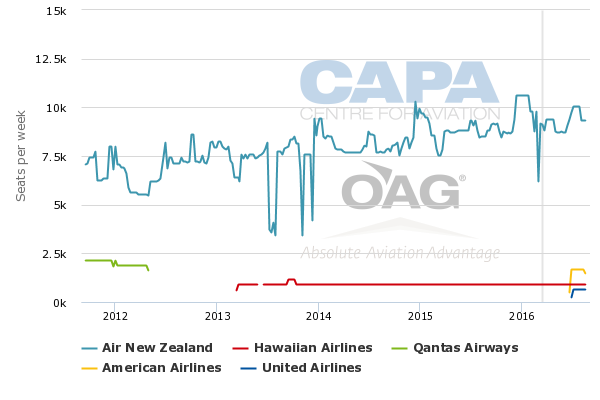 United has codeshared on Air New Zealand's US-NZ services: Auckland to/from Honolulu, Houston, Los Angeles and San Francisco. (Air NZ's North American network is only offered from Auckland.) United also codeshares on Air NZ's trans-Tasman flights to/from Australia, enabling links to United's Australia-US network. It is common for visitors to make stops in both Australia and New Zealand.
For now, Australia is excluded from the United-Air NZ JV. This has some implications, given the visitors' preference to see both Australia and New Zealand, and since Air NZ (with a stopover in Auckland) will compete with United in the US-Australia market. Air NZ has been an active sixth freedom player in the North America-Australia market, and in particular to destinations (San Francisco and Vancouver) that Qantas had not regularly served (Qantas has since resumed San Francisco, but only from Sydney). Adding Australia in the JV would require additional regulatory approval, including from Australia. Australia has increasingly been scrutinising JVs (more so than has New Zealand) and could come under political pressure from the Australian airlines Qantas and Virgin Australia to dismiss a JV composed of two foreign airlines.
New Zealand will be a smaller play for United: the daily 787-9 to Auckland compares with three daily 787-9 flights to Australia. United is the second largest airline in the Australia-US market (14% nonstop capacity share in Mar-2016), but considerable distance behind Qantas (45%). Virgin Australia's share is slightly smaller (13%) than United's.
Australia to United States of America (seats per week, one way): 19-Sep-2011 to 15-Aug-2016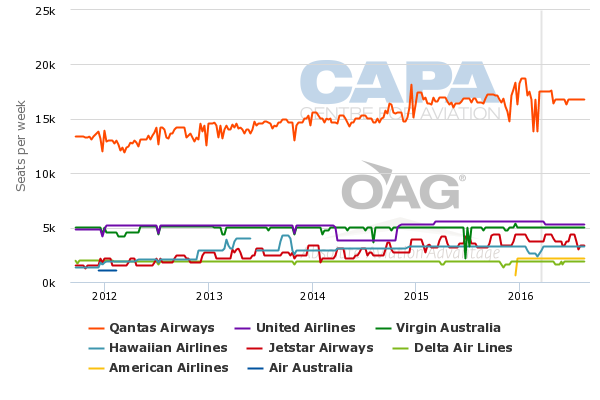 United Airlines will be Air NZ's largest JV partner. 80% of Air NZ's long haul capacity under JVs
The United-Air NZ JV will be the largest long haul JV for Air NZ, covering approximately 52% of Air NZ's international seat capacity, according to OAG data. (The largest JV that Air NZ has is the short haul JV with Virgin Australia). Approximately 35% of Air NZ's international seat capacity from New Zealand is in long haul markets, meaning that the Virgin Australia JV accounts for 79% of short haul capacity.
The JV with United more than doubles the amount of Air NZ long haul capacity from New Zealand that is operated under a JV. Without United, in Nov-2016 approximately 33% of Air NZ seat capacity would be operated under JVs with Air China, Cathay Pacific and Singapore Airlines. With United, the share jumps to 80%. Air NZ operates 42% more seat capacity to the US than it does to its other three JV markets (mainland China, Hong Kong and Singapore) combined. Half of Air NZ's long haul capacity from New Zealand is to the US.
Air New Zealand and JV partner seat capacity (left axis) and Air NZ share of JV (right axis): 07-Nov-2016 to 13-Nov-2016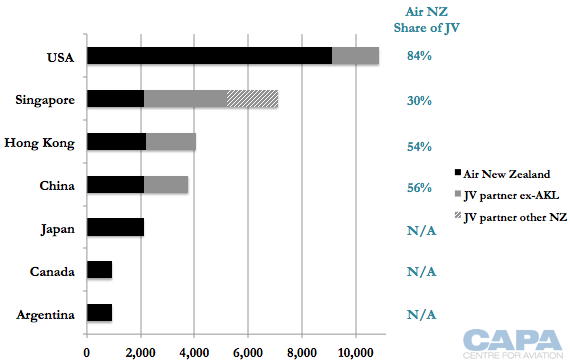 Air NZ's long haul capacity without JVs is to Argentina, Canada and Japan. In all three markets, Air NZ is the only airline operating, meaning that Air NZ's long haul network will consist of either JVs or monopolies. Air NZ has a partnership with Aerolineas Argentinas for Argentina, with ANA for Japan and Air Canada for Canada.
Measuring JVs is not straightforward. While the United-Air NZ JV may be the largest in combined capacity, Air NZ dominates the JV: United (from Nov-2016, when it goes daily 787-9) will account for only 16% of the seat capacity. In Air NZ's second largest JV, with Singapore Airlines, SIA will account for 70% of capacity in Nov-2016. Bringing such a large amount of competitive capacity into such a JV and opening up growth opportunities (and Air NZ-SIA relations had soured) is arguably more of a win for NZ than the addition of incremental capacity from United, where relations are more stable and Air NZ is able to grow on its own. Neither seat nor ASK measurements would reflect revenue share (North America tends to be higher-yielding than Air NZ's Asia network).
Two of Air NZ's JV markets – China and the US – are characterised by competition from airlines not part of the JV (American Airlines from the US, and China Eastern and China Southern from China). China is Air NZ's only long haul market from New Zealand where it does not have a majority share of seat capacity, individually or with JV partners.
Air New Zealand long-haul markets seat capacity from all operators (left axis) and Air NZ share of market (right axis): 07-Nov-2016 to 13-Nov-2016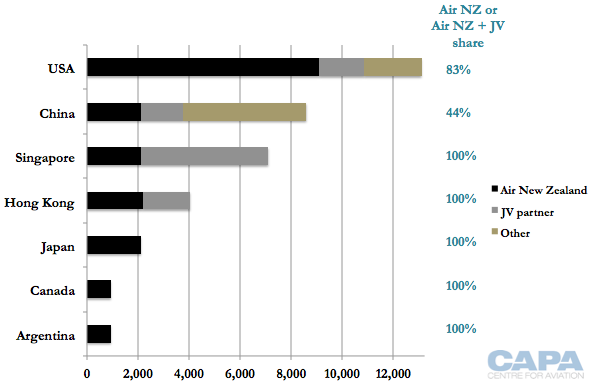 USA second largest visitor market for New Zealand
New Zealand's largest visitor source market (based on nationality) is by far Australia, which accounted for 42% of visitor arrivals in 2015. China, the US and UK are the next three largest markets, making the US the second largest long haul market for New Zealand.
New Zealand visitor arrival share: 2015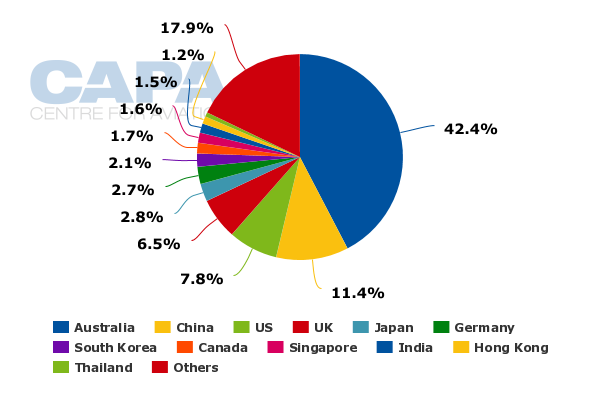 The UK had been the largest long haul visitor market for New Zealand until 2012, when China became largest and the UK second largest. In 2013 the US overtook the UK as second largest, due to faster growth from the US than from the UK.
New Zealand visitor arrivals from China, UK and US: 2008-2015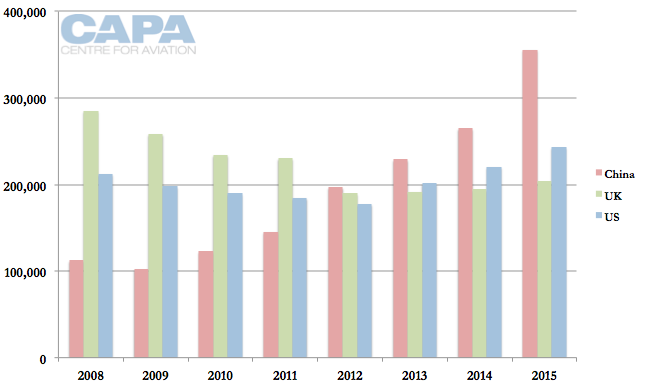 Chinese arrivals have gained market share in 2014 and 2015, although all three (China, UK and US) are growing. The structural shift that China presents to inbound markets is not an argument that other markets (UK, US) have not kept up growth – markets are inherently different from China.
Share of New Zealand long haul visitor arrivals from China, UK and US: 2008-2015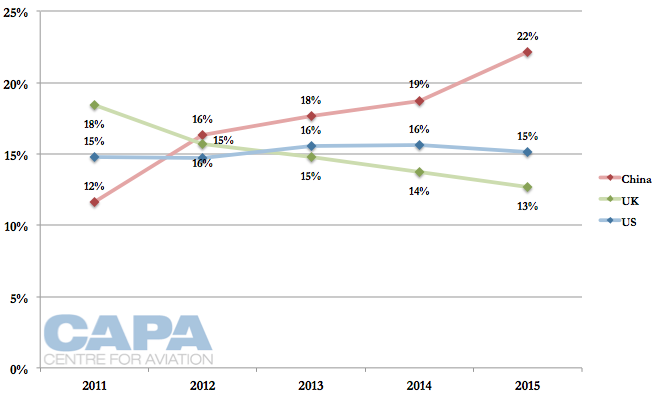 Americans visiting New Zealand grew 10% in 2015 compared with 2014, and 15% compared with 2008. American visitors to New Zealand had been declining through 2012. There was growth in 2013, and in 2014 American visitor arrivals surpassed what was the total in 2008. The decline broadly corresponds to the global financial crisis and the strengthening New Zealand dollar, making inbound tourism more expensive. Then again, 2013 visitor arrivals surpassed those of 2009, 2010, 2011 and 2012, despite the New Zealand dollar being at one of its lowest points. 2014 arrivals surpassed those of 2008, despite the New Zealand dollar only starting to rebound in mid-2014. The more significant gains started occurring in 2015, suggesting that currency can impact markets but can also be overcome.
NZD per 1 USD: Mar-2006 to Mar-2016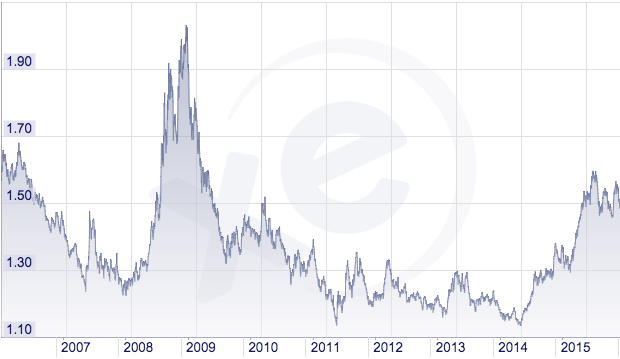 New Zealand has broadly performed in line with Australia in recent years but has not been as strong. Compared with figures for 2009, Americans visiting Australia in 2015 are up 27%, but Americans visiting New Zealand are up a slightly slower 23%.
Index of USA tourism to Australia and New Zealand (2009=100): 2009-2015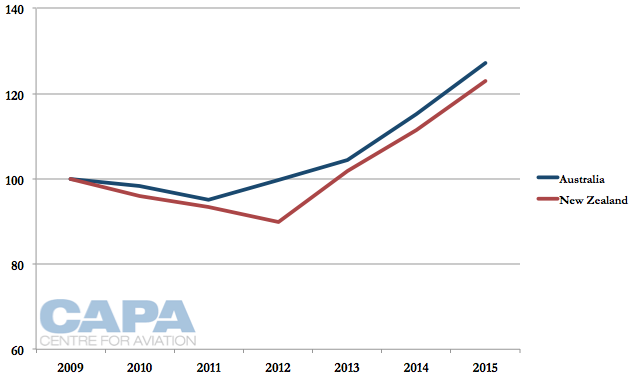 The question is whether a JV between New Zealand and the US is warranted. The evidence so far is that American visitors to New Zealand (and Australia) have rebounded and grown, despite currency factors working against the markets. This growth has broadly occurred without joint ventures (Delta and Virgin Australia have a small JV between Australia and the US while American and Qantas had a joint business, but this did not result in American operating to the region).
American visitors to New Zealand are only part of the market on nonstop flights between New Zealand and the US. For example, there are also New Zealand visitors to elsewhere in North America (Canada), in addition to Air New Zealand carrying Australia-North America sixth freedom traffic (Air New Zealand had a notably strong market share from Melbourne to San Francisco until United introduced nonstop flights). There is also diversion of mainland US-New Zealand traffic via other points (mostly Australia, but also Hawaii and Fiji). On that point, the graph below is not fully representational of passengers on nonstop mainland US-New Zealand flights, but is a strong indication and reflects market growth.
New Zealand visitors to the USA, and USA visitors to New Zealand (left axis), and American arrival share of USA-NZ market: 2009-2015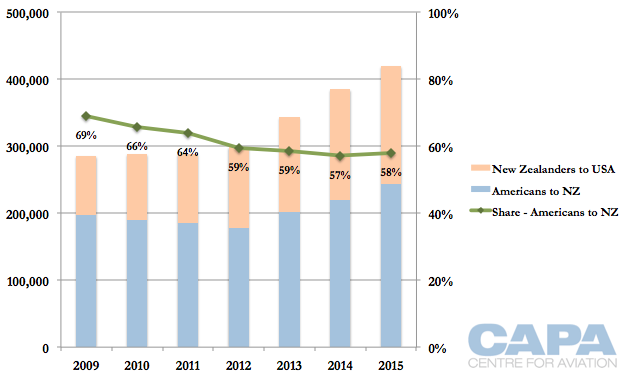 Despite the fluctuation in Americans visiting New Zealand, New Zealand visitors to America have grown every year this decade. There was annual visitor growth of 16%-17% in 2012, 2013 and 2014. This high growth corresponds to a period when the New Zealand dollar was at its strongest. 2010 growth was 12%, 2011 growth 5% and 2015 growth 7%. Curiously, 2015 growth was faster (7%) than 2011 (5%), and from a larger base, despite the New Zealand dollar being weaker in 2015 than 2011.
There appears limited evidence that New Zealand-US markets are weakening. JVs do not necessarily have to arise in response to weak markets, but without a challenge in the market it is difficult to argue that the additional benefits of a JV – more options through codeshares and expanded network, better loyalty recognition – outweigh the effective removal of competition. Regulators have generally not given much weight to loyalty recognition and codeshares, which they consider fringe compared with the risk of markets weakening or further deteriorating.
It could be argued that United would not enter New Zealand without a JV (or without knowing that a JV would be formed), and thus the JV brings benefits through capacity addition. Alternatively it could be argued that United does not need a JV to enter New Zealand: competition is limited, most New Zealand traffic is to/from Auckland (negating the need for a strong partnership to beyond markets), and United comes with the incredible power of its North American sales and destination network.
With United JV, 62% of Auckland's long haul capacity will be under JVs
Air New Zealand's JVs are re-shaping Auckland airport, where approximately 94% of nonstop long haul seat capacity departs. With the Air NZ-United JV, for the first time over half of Air NZ's nonstop long haul capacity operate as part of a JV. Air NZ's JVs will account for 55% of long haul capacity while Qantas JVs will account for 7%. Total JV seat capacity will be 62%. Including Air NZ's seat capacity to other long haul markets (which are monopolies), only 29% of Auckland's long haul seat capacity is not under a JV or not from Air NZ.
This figure could shrink. China Eastern, accounting for 4% of seat capacity, does not have New Zealand as part of its JV with Qantas in Australia. Air NZ could consider forming a JV with China Southern, which with 7% of the nonstop long haul market is Auckland's largest long haul airline not affiliated with Air NZ. Second largest is Malaysia Airlines, which has formed a partnership with Emirates. Although there is no plan for the Malaysia-Emirates and Qantas-Emirates partnerships to be combined, they could be complementary.
As for prospective growth, Qatar Airways' Doha-Auckland service will give it approximately 4% of Auckland nonstop long haul capacity. The threat of Qatar's entry (since materialised) galvanised Emirates to open nonstop Dubai-Auckland flights. Elsewhere, greater China is the obvious growth market. HNA-owned airlines have evaluated the market. Hainan Airlines planned to open Beijing-Auckland flights but Air China did so from Beijing, and Hainan will now be unable to serve Auckland from Beijing. Hong Kong Airlines could break the Air NZ-Cathay monopoly JV, which was only narrowly reapproved.
See related reports:
Seat share of nonstop long haul capacity from Auckland: 07-Nov-2016 to 13-Nov-2016
Long haul services from New Zealand are complicated by tag flights between Australia and New Zealand, which operate with fifth freedom rights. AirAsia X, China Airlines, Emirates and Philippine Airlines operate from New Zealand to Australia and then beyond. This means that the Australia-New Zealand flight of a long haul airline is categorised as a short haul flight. Of Auckland's total international seat capacity, 14% is operated by these four fifth freedom operators who continue beyond Australia. (LAN's Australia-New Zealand flight continues to Santiago from Auckland, meaning that Auckland, not Australia, has the nonstop long haul sector.)
How much of this 14% of seat capacity is effective competition is difficult to say. The extra stop in Australia can require discount pricing. Further, fifth freedom rights enable local pick-up rights, and all the trans-Tasman fifth freedom operators plan their services expecting not insignificant fifth freedom traffic. Emirates' trans-Tasman flights alone account for 9% of Auckland's total international seat capacity. Qantas carries notable traffic from New Zealand to Australia and beyond.
There is a similar share of fifth freedom trans-Tasman capacity – 15% – at New Zealand airports other than Auckland. Emirates, operating out of Christchurch, accounts for 7%. China Airlines has started a Christchurch-Melbourne flight while Singapore Airlines will offer Canberra-Wellington return services as part of a Singapore-Canberra flight. This service operates outside SIA's JV with Air NZ and is of some frustration to Air NZ.
See related reports:
Sydney Airport: 36% of long haul capacity operated under JVs
The JV scenario at the airport closest to being Auckland's peer, Sydney, is remarkably different. 36% of nonstop long haul seat capacity (provided Qantas-American JV is approved) operates under a JV, compared with 62% at Auckland. A single airline, Qantas, operates 28% of JV capacity, versus 55% from Air New Zealand at Auckland. Further, the two other JVs – both with Virgin – challenge Qantas: Virgin's Delta JV is a competitor to the proposed Qantas-American JV. Virgin's Etihad JV competes with Qantas' Emirates JV. In Auckland, Qantas-American (assuming it is approved) will compete with Air NZ-United. The other non-Air NZ JV, Qantas-Emirates, is not direct competition to Air NZ.
Three of Air NZ's JVs – China, Hong Kong, Singapore – do not have a competitor. Only one of Qantas' JVs, to China with China Eastern, is unchecked. The Qantas-China Eastern JV accounts for 35% of the Sydney-China market compared with Air NZ-Air China's JV accounting for 44% of the market. The Qantas-China Eastern share decreases if the broader Australia-China market is considered.
64% of Sydney's long haul seat capacity is not operated under a JV or by Qantas (Virgin Australia's long haul network is entirely under a JV). This compares with 29% at Auckland – half as much.
Virgin Australia would probably like to operate to Singapore under a JV with SIA, but SIA is unwelcoming. This keeps SIA's 7% share of the Sydney market out of a JV. Likewise Qantas would like a JV with JAL but was rebuffed; this keeps the Qantas-JAL 3% share out of the JV calculation. The JV share does include Qantas and Emirates flights between Sydney and Asia, where there has hardly been any coordination, but there probably should be, due to unnecessary overlap.
Seat share of nonstop long haul capacity from Sydney: 07-Nov-2016 to 13-Nov-2016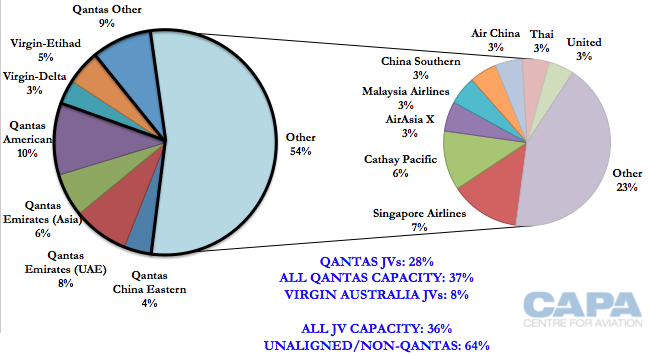 JVs are proliferating and increasingly under scrutiny
Air NZ has been able to grow such a large JV network due to its historically friendly approach and smaller size. In contrast, an outcome of Qantas' size was that airlines worked together against it. Air NZ has also benefited from a more lax regulatory environment for approving JVs.
Airlines are pressed to grow to demonstrate that JVs (or monopolies) do not inhibit growth. Regulators are challenged as each additional JV makes it harder to reject the next one. The Air NZ-United JV may be questionable, but not nearly as much as that of Qantas-American.
The debate is largely one-sided. Regulators can only judge whether the counterfactual will materialise – either of competition logic or spite.
There has been some regulatory pushback: the Qantas-South African Airways partnership has ended, while the SkyTeam trans-Atlantic JV had to surrender slots, among other examples. Yet overall, regulators are making it easier to form JVs, if only out of fear.