Air New Zealand 1H2015: stronger 2H fuel gains will support 12% "strong growth mode"
Analysis
Air New Zealand remains one of the world's few investment-rated airlines (Baa3), and the only rated airline outside North America and Europe. Its latest results reinforced that position. Air NZ is building on that strength with a 20% increase in pre-tax profits in the first half of its fiscal year, the six months to 30-Dec-2014. That result was driven by increased revenue performance, notably a 1.9% yield gain and 1.2% increase in traffic.
Air NZ realised only a modest NZD20 million (USD15 million) gain from fuel as lower prices were offset by hedging losses. Air NZ expects a stronger gain of approximately NZD82 million (USD61 million) in the second half, but this too will be well short of what Air NZ could have realised without hedging losses.
Some of the fuel price gain will be used to stimulate demand as Air NZ grows at a much faster 12% rate in the second half. This includes its new Auckland-Singapore route, domestic growth twice the rate of New Zealand's GDP. Later in 2015 comes the start of a Buenos Aires service – and possibly a fourth - as yet undisclosed - North American destination.
Fuel gain of only USD15 million was largely offset by USD10 million Virgin Australia loss
Air New Zealand partially benefitted from lower fuel prices, reporting a NZD20 million (USD15 million) gain. However, this is net of hedging losses of NZD26 million (USD19 million) with lower fuel prices more than offsetting the hedging loss. CFO Rob McDonald says Air NZ's hedging programme is designed to give the airline time to adjust.
While the scenario could have been worse, it also could have been much better. Air NZ started realising lower fuel prices in Nov-2014 and expects a bigger windfall in the second half, where it is hedged 62%. A potential gain of approximately NZD82 million (USD61 million) would be net of an approximately NZD66 million (USD49) hedging loss.
Air NZ also had an unwelcome NZD14 million (USD10 million) loss from its 25.92% share in Virgin Australia. H1FY2015 was the first time Air NZ accounted for its stake in Virgin Australia. This was triggered by Air NZ CEO Christopher Luxon taking a seat on the board of Virgin in Jul-2014. Air NZ also saw reduced earnings from other interests.
Mr Luxon was coy about further increasing Air NZ's stake in Virgin Australia after Etihad Airways has slowly ramped up its stake in the Australian airline. He also declined to say if Air NZ wanted to remain the single largest shareholder in Virgin.
Mr Luxon said Air NZ's strategic rationale for the Virgin stake is unchanged as it creates "equity glue" and diversified earnings. While Mr Luxon was pleased at Virgin's reduced losses, he said there is "a lot more work to do". Improvements need to be made to catch up on the past, such as Virgin's large product investments that need to produce dividends.
Mr Luxon hinted his (unsurprising) interesting in seeing Virgin become more lean in the future to contend with a "resurgent" Qantas, suggesting some validation of Qantas' overdue restructuring.
Air New Zealand financial summary (NZD): 1H2015
- Normalised earnings before tax of $216 million, up 20%
- Statutory earnings before tax of $197 million, down 1%
- Statutory profit after tax of $133 million, down 6%
- Result includes equity accounted losses of $14 million from Virgin Australia
- Operating revenue of $2.4 billion, up 3.4% (5.2% excluding foreign exchange)
- Passenger revenue of $2.0 billion, up 3.2% (5.1% excluding foreign exchange)
- Operating cash flow of $378 million, up 26%
- Cash position of $1.27 billion
- Gearing at 51.6%
- Fully imputed interim dividend of 6.5 cents per share, an increase of 44%
- Expected aircraft capital expenditure of $3.0 billion over the next 6 years
- Moody's Baa3 investment grade credit rating, outlook stable
Air New Zealand expects USD67 million 2H fuel gain to cushion 12% growth
In the second half, Air NZ expects a NZD82 million (USD61 million) gain from fuel. This is comprised of NZD148 million (USD111 million) lower fuel being offset by a NZD66 million (USD49 million) hedging loss. Air NZ is 62% hedged for 2H2015. FY2016, which commences 01-Jul-2015, could see a NZD151 million (USD113 million) price impact.
Air New Zealand fuel hedging: Feb-2015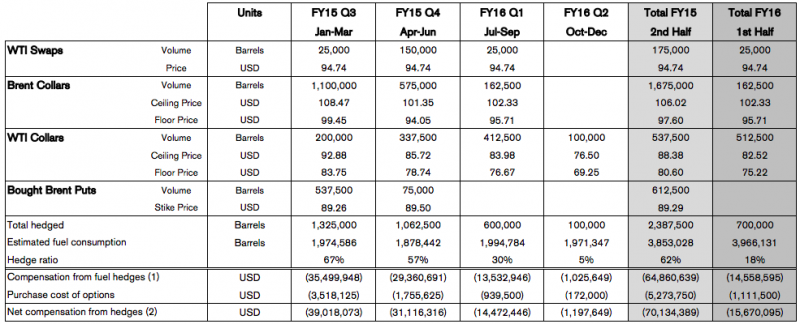 Air NZ expects the lower fuel price to give some relief to the approximately 12% growth Air NZ will create in 2H2015. Management was challenged by media about passing on the savings of fuel and said the lower fuel price environment would ease the discounting Air NZ needs to support coming growth. However, this is likely to be a short-term scenario.
Once growth is absorbed and ticket discounting is not needed, prices could rise, largely leaving Air NZ with the gains from fuel. Management expressed its view that demand and supply – not fuel – is the single largest determinant to pricing, so fuel alone would not necessarily impact prices.
Air NZ was more conservative with analysts, saying it was not expecting yield decreases simply due to lower fuel prices. Management says consumers have adjusted to the fares that were the result of high fuel prices in recent years.
While the current low fuel prices are a market adjustment, they are also something of a return to old days, when about a decade ago fuel, foreign exchange and the average domestic fare in New Zealand was approximately the same.
The growth will be largest in Asia, seeing 22% growth, mostly on the back of Air NZ's new Auckland-Singapore service launched in Jan-2015 as part of a JV with Singapore Airlines. 1H growth of 1.7% and 2H growth of 11.6% giving full-year growth of 6.6%.
Air New Zealand growth by market: 1H2015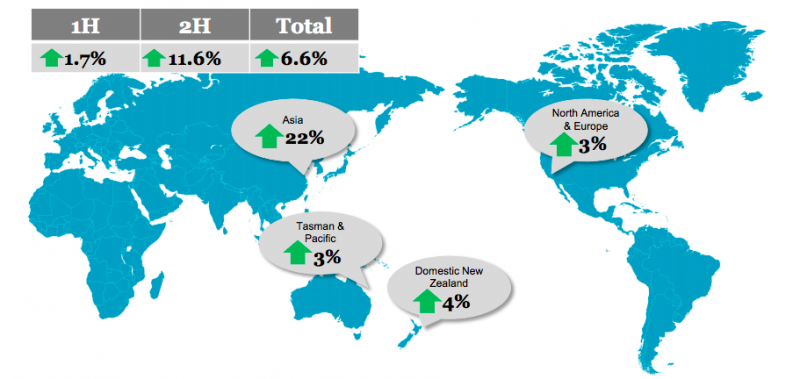 Aside from Singapore, much growth will be through up-gauging. San Francisco will add more 777-300ER services while Air NZ's average seat count per aircraft is increasing as larger A320s replace 737s (a 26% increase in seats), 68-seat ATRs replace 19-seat B1900Ds and 787s replace 767-300s. Up-gauging is lower cost compared to adding flights.
Air NZ's B1900Ds will be retired by Aug-2016, with existing B1900 routes to be suspended or served with larger Q300 or ATR aircraft. Air NZ is receiving a new ATR every 6-8 weeks and will replace its 737s with A320s by Sep-2015 in addition to taking a single A320 for fleet growth (above growth due to up-gauging).
There were some concerns about Air NZ's forward bookings being low despite a high growth forecast. Management was not concerned: initial Auckland-Singapore services were booked by Singapore Airlines and Air NZ realises that revenue only once flown.
Currency weakness with the Japanese yen and Australian dollar mean year-on-year comparisons are uneven.
Air New Zealand fleet delivery schedule: FY2015-FY2020

Air New Zealand in-service fleet projection: FY2015-FY2020

Long-haul growth will reduce CASK growth from additional short-haul flying
While management does not expect yields to decrease because of fuel, yields are likely to fall due to growth. This is for two reasons. First, new routes typically see discounts, although Air NZ's most notable new route (Auckland-Singapore) may have some insulation from JV partner SIA being able to sell at non-discounted rates. Second, Air NZ's growth in the second half will mostly be long-haul, which naturally carries a lower yield.
While long-haul may impact yield, it largely balances out by impacting CASK too, as the more efficient nature of long-haul flying makes it less costly. Air NZ's first half CASK was up mostly due to increased short-haul flying. (Average stage lengths were not supplied to measure this against CASK.) Air NZ expects its second half CASK should drop.
Air New Zealand CASK development: 1H2014, 1H2015

Air New Zealand's 2015 growth: Singapore, Buenos Aires – and a fourth North American destination?
Air New Zealand's growth in the 2015 financial year, which runs to 30-Jun-2015, includes resuming Auckland-Singapore services as the headline.
See related reports: Singapore Airlines-Air New Zealand partnership opens a new era for Australia-NZ-Singapore dynamics
The launch of Auckland-Buenos Aires services is to be in Dec-2015. This is Air NZ's first time in South America. Air NZ expects New Zealand and Australia to be the main source markets, with only some contribution from Asia. Air NZ still awaits regulatory approval for a codeshare with Aerolineas Argentinas. Without the codeshare Air NZ would find it exceptionally difficult to offer a service absent a partner.
Air NZ will need to prove Buenos Aires is the best option; Qantas previously pulled out of low yielding Buenos Aires in favour of Santiago. Qantas cited the weakening Argentine economy, although Qantas was hindered because could not receive approval for a codeshare with LAN Argentina - essentially because the government-favoured Aerolineas blocked it. Air NZ should have greater regulatory support with the major carrier as its partner.
There could be more competition as Qantas is likely to increase Santiago services following an expansion of entitlements in the Australia-Chile air service agreement. Some of this could be negated by capacity decreases as LAN transitions from A340s to smaller 787s.
See related report: Air New Zealand to launch Buenos Aires with Aerolineas Argentinas codeshare & AsiaPac connections
Further out, management confirmed it is still evaluating a new US city, which would be its third in the US and fourth in North America after Los Angeles, San Francisco and Vancouver. Air NZ sees opportunity to grow as the inbound market from the US increases.
However, the market dipped after the global financial crisis and it was only in 2014 New Zealand saw annual visitor numbers from the US higher than in 2008. The route will be dependent on partner support.
See related report: Air New Zealand plans to grow beyond North America's west coast to Las Vegas, Chicago or Houston
New Zealand annual tourist arrivals from the US: 2008-2014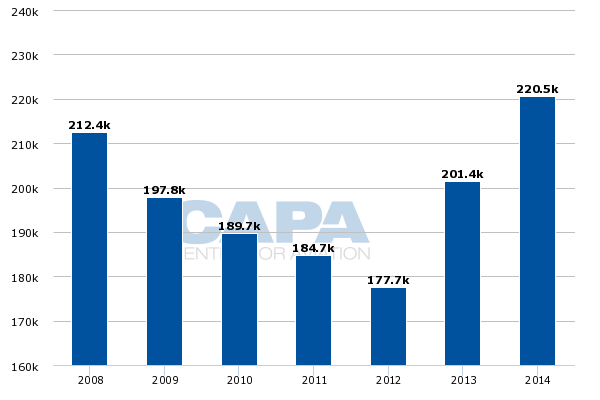 China is growing faster as an inbound market (and with more continuous visitor growth than seen with US visitors), but Chinese carriers have the advantage due to their lower costs and wider networks. Mr Luxon said Air NZ is still working through a proposed JV with Air China.
See related reports:
New Zealand annual tourist arrivals from China: 2008-2014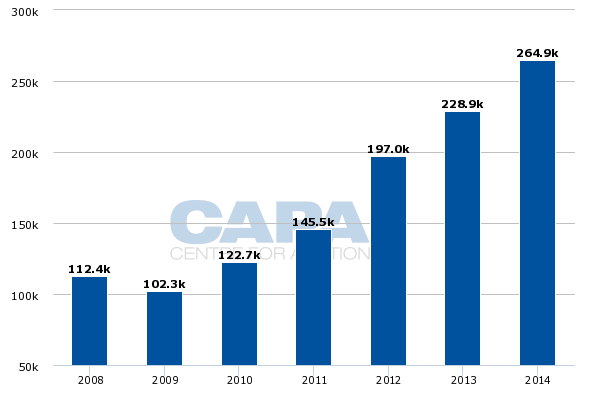 First half profit increases as revenue grows faster than costs
In the six months to 31-Dec-2014 (Air NZ's first half), ASKs were up 1.7% but revenue was up 3.4%, reflecting yield growth in all segments. Excluding the negative impact from foreign exchange, revenue was up 5.7%. Passenger revenue grew slightly slower at 3.2% while cargo grew at a faster 4.7% but from a lower base and (excluding foreign exchange, cargo revenue grew 6.8%).
While cargo revenue was up, yield was down. Contract services also grew faster (5.3%) but from a lower base; this was mostly due to third-party engineering work.
Air New Zealand financial summary: 1H2015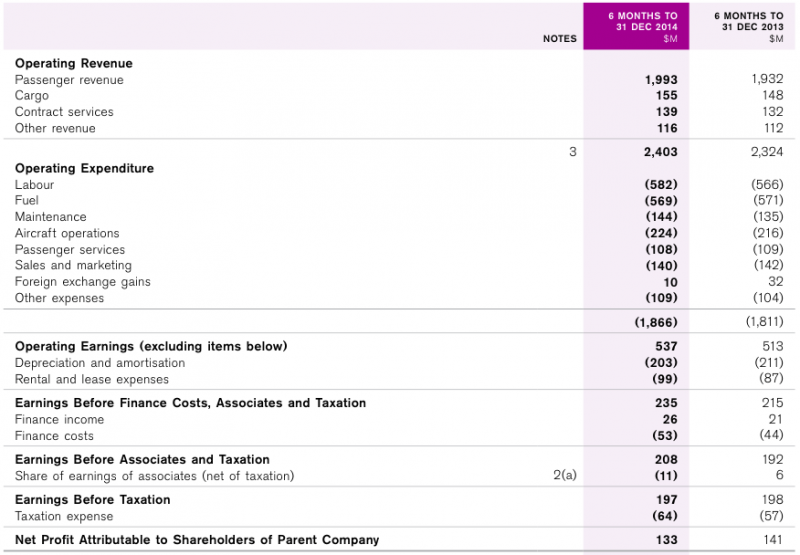 This 3.4% revenue growth was faster than 3.0% cost growth, mostly because of fuel. Fuel consumption was up 1.1% but Air NZ's fuel bill was down 0.3%. Had fuel prices remained at previous levels, overall costs would have grown faster than revenue. Foreign exchange-adjusted revenue growth would have been higher than than cost growth. Management wanted to place the emphasis on earnings growth from profitable revenue increases.
Costs were partially inflated due to labour costs, which grew 2.8% – above capacity growth. This was due to re-fleeting and resulting re-training. Management estimates 40% of its pilots "moved seats" and 10-15% will do so this year, adding to cost.
While contract costs were up, so too was productivity, with management saying the additional operational staff (about 200) was consistent with ASK growth. Air NZ's sale of Altitude Aerospace Interiors saw about 100 people go off Air NZ's books. This is a paper adjustment to labour productivity as the ground-based revenue they generated was not reflected in traffic.
Maintenance costs were up but due to third-part engineering work, which as noted above boosted revenues. Passenger services and sales and marketing were down despite increased carriage, showing efficiency on these smaller metrics. Air NZ also booked lower foreign exchange gains.
Air New Zealand domestic performance summary: 1H2015

Air New Zealand Tasman and Pacific Islands performance summary: 1H2015

Air New Zealand long-haul performance summary: 1H2015

Air New Zealand is often compared to Qantas despite the marked differences in their operating environments, notably almost no competition in the highly profitable domestic New Zealand market and far less long-haul competition. Air NZ had a short international re-structure while Qantas' was longer, during which time Air NZ's growth compared to Qantas' shrinking.
Now that Qantas is looking to recommence growing its long-haul, partially through fleet productivity, Mr Luxon declared Air NZ is in "strong growth mode" and looking to re-invest in the business.
As always, Air NZ has to find the balance between financial earnings and possible stagnation that could invite competition. In the short-term, Air NZ will see limited fuel benefit compared to peers while that same benefit could be impacted by foreign exchange.
Air NZ's second half growth of 12% is large but mostly derive from the Singapore route, low-risk thanks to the JV with SIA. More risky is the Buenos Aires service to launch in Dec-2015. Mr Luxon said he expects the airline "can digest capacity" growth.
Air NZ's results show faint signs of reductions in passenger services and sales & marketing. This is perhaps an area where Air NZ can still make improvements – not just for itself but global aviation. Profitable capacity growth has limits, but there are further opportunities to tighten the screws on distribution costs while broadening revenue from add-on sales.
There is perhaps no other long-haul airline that is nimble and innovative enough to consider these opportunities. While Air NZ under Mr Luxon is reporting earnings growth, he is yet to stamp his mark fully on the airline. With a background in consumer sales, he brings much opportunity.
Air NZ is rightfully seen as doing well, but it has further value to create. This is not an industry for standing still.