Air India, China Southern, Ethiopian, LAN, Qatar and United all near 787 deliveries
Analysis
United Airlines has affirmed it is on track to receive its first Boeing 787 in Sep-2012 and five in total by the end of the calendar year. Their deployment in a business, economy plus and economy configuration will initially be on domestic routes for familiarisation purposes and later expand to regular international routes, especially long and thin ones like United's recently announced Tokyo Narita-Denver service, as well as service to long-haul destinations in the off season, allowing United to retain service but without large capacity deployment.
But before United takes delivery of its aircraft, Air India, China Southern Airlines, Ethiopian Airlines and Qatar Airways are all due to receive their first aircraft. Air India's delivery has been protracted but is understood to occur later this month provided the government approves a compensation package. China Southern is due to receive its first aircraft in Aug-2012 and is expected to initially use it on domestic services. Ethiopian and Qatar are also slated to receive their first 787s in Aug-2012 while Latin American launch operator LAN plans to take its first 787 two months after United, in Oct-2012. Following All Nippon Airways's early lead, United and China Southern also plan to feature special liveries on their aircraft.
United offered no new details in its announcement this week aside from its special livery. But the affirmation that delivery is on track is welcome given the programme's previous delays, and indicates Boeing is further putting those delays behind it.
United's 787 will seat 36 in business, which it brands as "BusinessFirst", 72 in economy plus and 111 in economy. United's economy plus cabin is largely the same as regular economy but with more legroom, unlike other carriers that have a distinct economy plus class. United will receive one 787 in Sep-2012, another in Oct-2012, two in Nov-2012 and one in Dec-2012, although that last one will not enter service until 2013.
United's first aircraft is expected to perform domestic routes, as its – and the world's – first Boeing 777-200 did two decades ago. United will then move the aircraft onto international routes, including new routes such as the recently announced Tokyo Narita-Denver service, where United hopes to boost its low trans-Pacific yields.
See related article: New Denver-Tokyo 787 service to help boost United's sagging trans-Pacific performance
United will also deploy the 787 to what it calls counter-seasonal markets. United says the 787 can help it balance peak and off-peak demand. Australia, India and South America receive heavy demand over northern winter but lighter demand at other times in the year. Conversely, North Asia and Europe traffic peaks over the northern summer.
While United has some availability to deploy smaller-gauge aircraft (such as Boeing 767s) to Europe and South America, United needs to deploy large-scale long-haul aircraft like the 747-400 and 777-200 for Australia, India and North Asia due to range. The long range comes with large capacity, which can prove to be too much in some markets during the off season.
The 787 however, offers reduced capacity with a long-range. While new aircraft are typically in the limelight, and especially since the A380 entered prestigious markets, it appears likely that many of United's 787 routes will be on less highly-visible routes, reflecting the necessary pragmatism with the aircraft and larger industry.
The 787's use on thinner routes also explains why there is no first class – a trend amongst 787 operators – as the thinner markets do not support a dedicated first class cabin. United has orders for 50 787s, split between the pre-merger United and pre-merger Continental, although the aircraft are now accounted for singularly.
Seasonal markets United could serve with its 787s: May-2012
United has released impressions of the special livery for its 787s. Rather than have a traditionally horizontal gold and white cheatline followed by a gray lower body, the lines will curve in the style of Boeing's 787 livery.
United 787 livery impressions: Jul-2012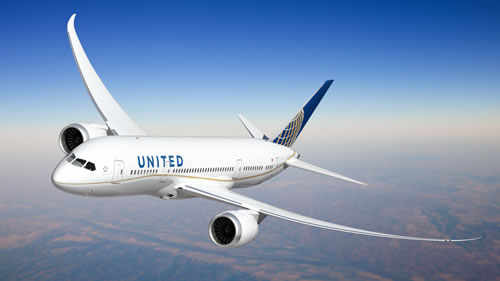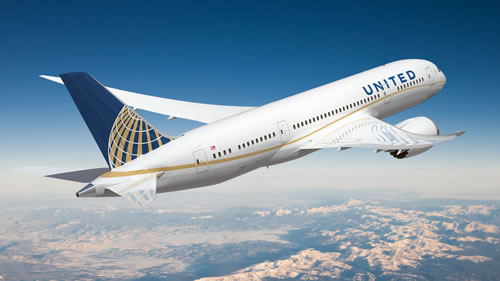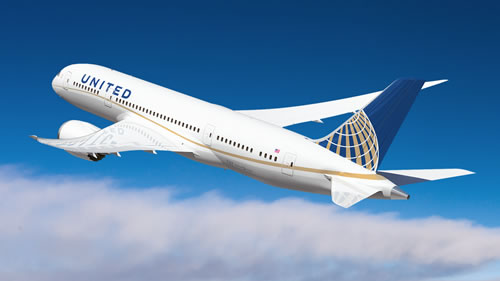 Air India's long awaited induction of the first three 787s is expected to take place in Jul-2012, once the Cabinet Committee on Economic Affairs approves the compensation plan that has been negotiated with Boeing for the late delivery of the aircraft.
As CAPA recently wrote in a report on Air India's turnaround:
India's Civil Aviation Minister Ajit Singh, at the end of Jun-2012, said once the Committee approves the compensation agreement, the carrier will take delivery of three 787s within 20 days. Air India chairman and managing director Rohit Nandan said the next six months will be "crucial" for the carrier as it inducts its first 787s into its fleet, as the carrier's plans for international expansion hinge on the performance of the aircraft.

CAPA estimates that the compensation package will be in the region of USD250-300 million. A further four 787s are expected to be delivered by Jan-2013, followed by another seven in FY2014 taking the total number of the type to 14. Air India has a total order for 27 aircraft. The first two aircraft will be financed by a USD220 million bridge loan.

The first three aircraft will initially be deployed on domestic routes for a few weeks to enable multiple daily cycles, allowing pilots to familiarise themselves with the new aircraft and to facilitate observation of its performance. From Aug-2012 onwards, the carrier is expected to replace 777s with 787s on European routes such as London, Frankfurt and Paris. A new triangular route from Delhi to Melbourne and Sydney is also planned from Sep-2012. Following the induction of 787s, Air India will seek to sub-lease five larger 777s to other carriers.

The induction of seven 787s and three 777-300ERs during FY2013 is expected to be on a sale-and-leaseback basis. It is estimated that the airline could earn USD10-15 million per 787 aircraft through this channel as the price of the aircraft has appreciated since the order was placed due to the shortage of available delivery slots. Meanwhile, the carrier has confirmed it plans to lease out some of its older 777 aircraft once it starts to take delivery of new 787s.
See related article: Outlook for Air India's turnaround clouded by HR issues
China Southern expected to initially feature 787 on domestic routes
China Southern is due to receive in Aug-2012 the first of its 10 787s on order. Following Chinese protocol, the aircraft are expected to be used on domestic services initially before progressing to long-haul routes. It has been nine months since China Southern received its first Airbus A380 and the aircraft is so far confined to flights within mainland China and to Hong Kong.
China Southern's application for long-haul services has ruffled feathers given the A380 is larger than anything used by Air China, the country's flagship carrier, and China Southern also would like to fly the aircraft from Air China's hub at Beijing rather than its hub at Guangzhou, which offers less traffic potential. Nonetheless, China Southern's 787 international deployment should not be as drawn out.
Chinese carriers are incredibly protective of exact plans as they race not only to catch up to international peers but also compete against each other as Beijing places the carriers under greater stress to be proficient. China Southern has not disclosed exact routes but has flagged interest in making New Zealand's capital, Wellington, its second destination in the country and could look to operate the 787 there. More likely near-term options include China Southern having its 787s replace A330-200s on European routes and opening new long-haul routes to Europe and North America.
China Southern has joined ANA and United in having a special 787 livery. The design, which has only been released in low-resolution form from the local press, is expected to be painted on nine of ten aircraft.
China Southern planned 787 special livery: Jul-2012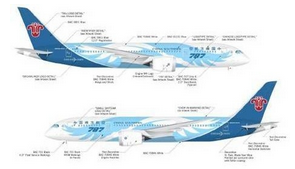 Qatar unveils its first 787
The 787 is currently in service with only two operators – All Nippoin Airways (ANA) and Japan Airlines (JAL). Air India, China Southern and United are among a handful of customers slated to take delivery of their first aircraft in 3Q2012. Other airlines expecting deliveries this quarter include Ethiopian Airlines and Qatar Airways.
Qatar unveiled its first 787 earlier this week at the 2012 Farnborough airshow. Like United, Qatar expects to receive five 787s before the end of this year.
Qatar's first 787 will return to Seattle after the airshow, where it is participating in the aerial display, and receive final modifications before being formally handed over in Aug-2012. The aircraft is expected to initially operate some regional flight within the Gulf before being deployed on its first permanent route, Doha-London Heathrow.
See related article: Qatar Airways increasing focus on London
Qatar has 60 787s on order. The carrier has configured its 787s with 264 seats including 22 lie-flat business class seats in a 1-2-1 layout and 232 economy class seats in a 3-3-3 layout.
Ethiopian first 787 delivery finally nears
Ethiopian earlier this year set Addis Ababa-Dubai and Addis Ababa-Johannesburg as its first 787 routes with service beginning in Jun-2012. But deliveries have since been pushed back and the carrier is now expected to take its first 787 in Aug-2012. Ethiopian still plans to initially operate the aircraft within the Africa-Middle East region, most likely Dubai and Johannesburg, before placing it on its first long-haul route, Addis-Ababa Guangzhou.
See related article: Ethiopian selects initial 787 routes; confirms Guangzhou as first 787 long-haul destination
Ethiopian has 10 787s on order. The carrier has been expecting to receive its first four aircraft in 2012. It is configuring its 787s with 24 economy class and 234 business class seats
Several more customers are due to take their first 787 in 4Q2012, starting with Chile-based LAN.
LAN to use 787s to free up A340s for Australia-New Zealand expansion
The chief of LAN's international division, Damian Scokin, told CAPA at last month's IATA AGM in Beijing that the carrier is slated to take its first 787 in Oct-2012. LAN is expected to initially use its first 787 on regional flights between Santiago and Buenos Aires before using the aircraft in its long-haul network.
LAN has said it plans to use the 787s on two long-haul routes – Santiago-Madrid-Buenos Aires and Santiago-Lima-Los Angeles - within its first year of operation. LAN expects to take five 787s within the first year, most likely two in 2012 and three in 2013.
LAN now uses Airbus A340-300s on daily flights from Santiago to Madrid with continuing service to Frankfurt. Santiago-Lima-Los Angeles is served 10 times per week with seven frequencies operated with 767s and three frequencies with A340-300s.
Mr Scokin says LAN will use its first batch of 787-8s to free up A340-300s to expand its operation to New Zealand and Australia. LAN now has a fleet of five A340-300s. Essentially two aircraft are used to operate six weekly flights on the Santiago-Auckland-Sydney route while the Santiago-Madrid-Frankfurt route requires the use of another two aircraft and the fifth A340 is used on Santiago-Lima-Los Angeles.
Mr Scokin says LAN sees growing demand from Australia and New Zealand to Chile as well as other South American destinations, particularly Brazil. LAN recently completed its merger with Brazilian carrier TAM.
"We are looking at shifting capacity from Europe into Australia when we get the 787s," Mr Scokin explains. "We would like to grow [in Australia and New Zealand]. We are very anxious to grow but we are [now] restricted from an aircraft capacity. We will do so as soon as we can."
LAN also now codeshares on Qantas' thrice weekly non-stop flights between Sydney and Santiago. Qantas began serving Santiago in Mar-2012 with Boeing 747-400s after dropping flights to Buenos Aires.
See related article: Qantas in a changing world: quantifies refocused international strategy
LAN has 32 787s on order, including 22 -8s and 10 -9s. It is configuring its 787-8s with 217 economy and 30 business class seats.
For now new LAN parent Latam has no plans to deploy 787s at sister carrier TAM. Mr Scokin says TAM is "committed" to using its own fleet of Boeing 777-300ERs on European routes from Sao Paulo. TAM will also start using 777-300ERs on some of its Sao-Paulo Miami flights later this year.
TAM now primarily uses A330s on its US routes. LAN now uses 767s on most of its US routes. LAN serves the US from four of its hubs in South America – Buenos Aires, Bogota, Lima and Santiago. These flights will all gradually transition over to 787s over the next several years.
See related article: LAN-TAM parent Latam emerges as leader globally and a powerful force across Latin America
LOT to become first 787 operator in Europe
LOT is expected to take the first of eight 787s in Nov-2012. The carrier is configuring its 787s with 18 lie-flat business class seats, 21 premium economy seats and 213 economy seats.
LOT aims to use its 787 fleet to open up new routes in Asia, as well as take over the Beijing service it launched earlier this year with 767s. But it has announced Warsaw-Chicago as its first 787 long-haul route, with service commencing in Jan-2013.
See related article: LOT Polish Airlines continues Asian growth with Beijing with 787s eyed for further expansion
LOT will be the first 787 operator in Europe, which will be the last of the six major regions to receive the new aircraft. Qatar is the launch operator for the Middle East, United for North America, Ethiopian for Africa and LAN for South America. The aircraft will be in service with three or four Asia customers – ANA, JAL, Air India and possibly China Southern – before quickly spreading around the world. Jetstar, the launch operator in Australasia, will be one of several customers receiving their first 787s in 2013.