Air France-KLM makes progress in 2015, but still has more to do. Labour productivity is at the heart
Analysis
Air France-KLM's 2015 was a big improvement on its strike-hit 2014, but it highlighted the progress that it still needs to make. It returned to net profit for the first time in six financial years and achieved its best operating margin since before the global financial crisis, although this was below its previous peak.
In the passenger network business, long haul profits soared and medium haul losses narrowed. LCC brand Transavia made another loss, but laid plans for its first base outside the Netherlands and France, to be established in Munich in Mar-2016. In the cargo segment, losses deteriorated in spite of capacity cuts, especially in its full freighter operation.
Air France-KLM generated a return on capital employed of 8.6% in 2015, a leap from 1.7% in 2014, but short of its 2017 target range of 9% to 11%. As the world airline industry already approaches levels of profitability higher than previous cyclical highs, Air France-KLM will need continued assistance from the global cycle. It will also need a new agreement on labour productivity, particularly with Air France flight crew.
Air France-KLM's first annual net profit since Mar-2011
Air France-KLM returned to profit in 2015, turning a net loss of EUR225 million in 2014 into a positive net result of EUR118 million. The operating result improved from a loss of EUR129 million in 2014 to a profit of EUR816 million in 2015. The 2014 result was adversely affected by pilot strikes, without which Air France-KLM would have reported an operating profit of EUR296 million.
Group ASKs (including LCC Transavia) grew by 2.5% and revenue increased by 4.6% in 2015, following a fall in revenue in 2014. The operating margin improved by 3.6ppts to 3.1%. Excluding the strike impact from the 2014 result, the margin improvement was 1.9ppts. Operating costs grew by only 0.7%, thanks mainly to a 6.7% drop in the fuel bill, while non fuel costs were up by 3.4%.
Air France-KLM financial highlights 2015
| | | | |
| --- | --- | --- | --- |
| EUR million except where stated | 2014 | 2015 | Change |
| Revenue | 24,912 | 26,059 | 4.6% |
| EBITDAR | 2,462 | 3,474 | 41.1% |
| EBITDA | 1,589 | 2,447 | 54.0% |
| Operating result | -129 | 816 | 945 |
| Operating profit % | -0.5 | 3.1% | 3.6 |
| Net profit | -225 | 118 | 343 |
| Net debt | 5,407 | 4,307 | -20.3% |
| Equity | -653 | 273 | 926 |
Air France-KLM revenues (EUR million) 2014 and 2015
| | 2014 | 2015 | Change | % of 2015 revenue |
| --- | --- | --- | --- | --- |
| Passenger | 19,570 | 20,541 | 5.0% | 79% |
| Cargo | 2,681 | 2,425 | -9.5% | 9% |
| Maintenance | 1,251 | 1,577 | 26.1% | 6% |
| | 1,056 | 1,099 | 4.1% | 4% |
| Other | 354 | 417 | 17.8% | 2% |
| Total | 24,912 | 26,059 | 4.6% | 100% |
The net result in 2015 was the Air France-KLM Group's first net profit since the year to Mar-2011 (it then changed its financial year end to December in 2011) and only its second since the year to Mar-2008. In 2015, the group achieved only its third positive operating profit since the year to Mar-2008, although the 2015 operating margin of 3.1% was well short of that year's 5.9%, which was the highest in the group's existence.
Although the 2015 returns to profit and to revenue growth are welcome, Air France-KLM's 3.1% operating margin does not compare well with CAPA's estimated average global airline operating margin of 7.2% in 2015 (a new high for the world's airline industry).
See related report: CAPA World Airline Profit Outlook 2016: margins at a new high of 8.2%. Fertile ground for new entry
Moreover, although it is the first of the big three European legacy airline groups to report for 2015, it is likely to be the lowest margin among the three.
Air France-KLM revenue, net profit and operating profit (12 month period to date shown, EUR million) 2005-2015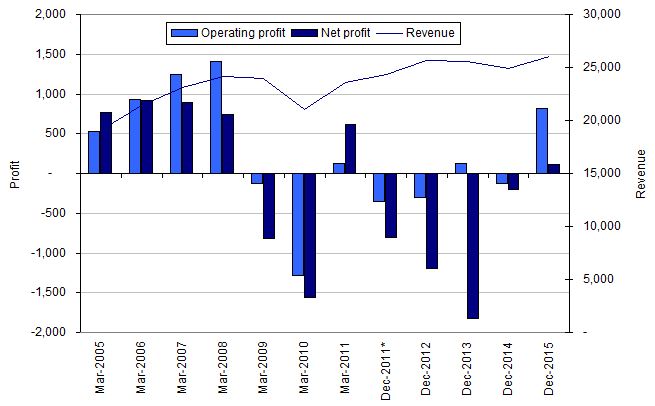 Balance sheet management remains a priority
In spite of very weak profitability in recent years, Air France-KLM management has made a good job of managing liquidity and the balance sheet. At the end of 2015, its net debt fell by EUR1.1 billion, or 20% year-on-year, to EUR4.3 billion. With the exception of the strike-affected 2014 it has successfully lowered net debt every year, from its 2011 peak of EUR6.5 billion.
Year-end cash was EUR3.8 billion, up 7% from 2014, which was equivalent to 53 days of revenue.
This reduction in net debt has been achieved by ensuring that annual capital investment is kept below the level of operating cash flow generated. In 2015, its capex was EUR1.6 billion, which was more than the EUR1.2 billion spent in 2014, but less than the EUR2.0 billion of operating cash flow. The group plans to increase capex to EUR1.6 billion-EUR2.0 billion in 2016 and EUR1.7 billion-EUR2.2 billion in 2017, which seems reasonable given the improving profit trend.
It is committed to a further "significant reduction" in net debt in 2016.
Air France-KLM development of net debt and cash 2005-2015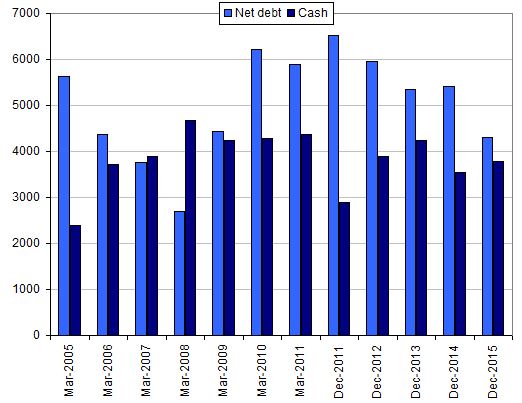 Passenger network segment drives the group result
The passenger network segment is the most important division in the Air France-KLM Group and its result is the main driver of the group result. In 2015, the passenger network division reported an operating result of EUR842 million, up from a loss of EUR86 million in 2014.
Note that the name of this segment has been changed to 'passenger network' from the shorter 'passenger' in order to highlight that it includes only the network airlines Air France, KLM and Hop, and not the point-to-point airline Transavia.
Since the formation of Air France-KLM in 2004, the group has only once made a positive annual operating result in a year when the passenger network business has made a loss (this was the year to Mar-2011). The group's profitability very much depends on that of its biggest segment.
Air France-KLM operating result for passenger network business segment and group total (12 month period to date shown, EUR million) 2005-2015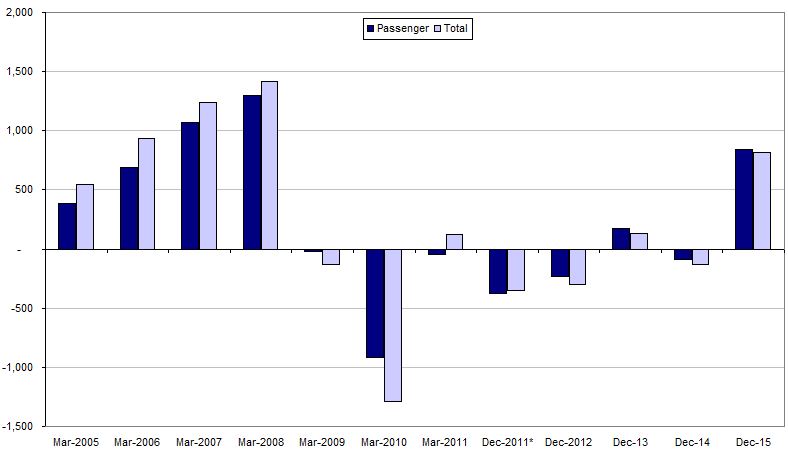 Long haul profits exceed EUR1 billion; medium haul losses narrow
All three principal sub-networks within the passenger network segment improved their operating results in 2014. Although official audited sub-segment results are not reported, Air France-KLM has released its estimates of the operating result in each area for a couple of years now.
According to these estimates, the long haul network made more than the whole business, achieving an operating result of EUR1,140 million in 2015, up from EUR740 million in 2014 (the 2014 figure is before the impact of the pilot strikes). Long haul ASKs were up 1.4%.
The medium haul networks continued to make losses, in spite of a 2.3% ASK cut, but managed to narrow the extent of red ink. Medium haul hub feed, which is closely tied to the long haul network, reduced its loss from EUR320 million in 2014 to EUR230 million in 2015, with ASKs almost unchanged (+0.4%).
Medium haul point-to-point cut its loss from EUR120 million to EUR70 million, and its ASKs by 11.5%. Note that these 2014 operating result figures and the ASK growth rates exclude the strike impact.
Air France-KLM Passenger network segment: estimated operating result by 2013, 2014* and 2015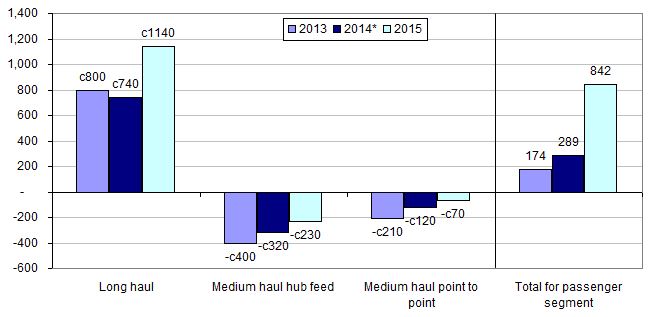 Passenger network segment ASKs up 2.3%; load factor stays ahead of legacy rivals
The passenger network's total ASKs increased by 2.3% in 2015. Without the effect of capacity lost to strikes in 2014, the underlying growth rate was just 0.7%. Air France-KLM has maintained tight capacity discipline for a number of years: its ASKs in 2015 were only 6% above their level in the year to Mar-2009, since when its average growth rate has been less than 1% pa.
Passenger load factor increased once more, this time by 0.4ppts to 85.1%, keeping Air France-KLM ahead of both IAG (81.4%) and the Lufthansa Group (80.4%) on 2015 load factor.
Air France-KLM development of capacity (ASK million) and load factor (%) (12 month period to date shown) 2005-2015.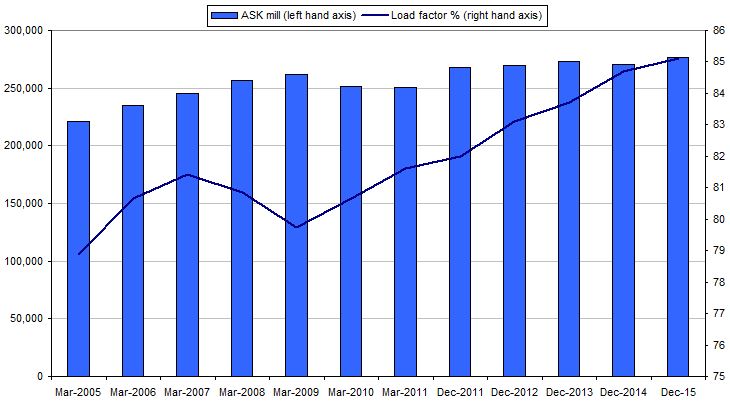 A "high degree of volatility" in unit revenue
Passenger unit revenue increased by 2.8% in 2015 as reported, but it fell by 3.3% excluding the impact of currency movements and the previous year's strike from the figures. This 'like for like' RASK performance was down at a similar rate, -3.2%, in 4Q2015, but a significant cause of the weakness in the final quarter was the Paris terrorist attacks in Nov-2015.
On a conference call to discuss the 2015 results, Air France-KLM management told analysts that the underlying 4Q trend was a little better (-0.7%), and that the Paris impact was now receding.
However, CFO Pierre-Francois Riolacci stressed that there was a "high degree of volatility" in unit revenue from month to month, and that the group was cautious about the outlook for this indicator.
He added that European market capacity growth would be around 7% on long haul and 6% on medium haul in summer 2016. There were no "worrisome features" in Jan-2016, but he expected Feb-2016 and Mar-2016 to be "a bit weaker", albeit without the "bloodshed" anticipated by "a large low cost carrier".
Cargo segment losses widen in spite of full freighter cuts
Although the passenger network segment remains critical to the group's results, there is a wide range of profitability among the other segments.
The cargo segment continues to weigh on the group's profit and its operating loss worsened from EUR212 million in 2014 to EUR245 million in 2015. Air France-KLM blamed structural air cargo industry overcapacity. Cargo unit revenue fell by 5.6% as reported and by 12.8% excluding the favourable impact of currency movements, in spite of a 4.5% cut in cargo capacity (ATKs).
The group's strategic reduction in full freighter capacity is helping to limit losses in the cargo division. From 25 full freighters in 2008, it will have just nine in Jun-2016 (two 777-Fs at Paris CDG and three 747-ERFs at Amsterdam). Air France-KLM's full freighter capacity was down 23% in 2015.
Operating losses from its full freighter operations narrowed from EUR97 million in 2014 to EUR42 million in 2015. It targets breakeven in this area in 2017.
Maintenance segment has highest margin
The maintenance segment increased its operating profit from EUR174 million in 2014 to EUR214 million in 2015, with revenue up 18.3% to EUR4,012 million and a generated operating margin of 5.3.% versus 5.1% in 2014. It consistently maintains better margins than the group as whole.
The 'other' segment consists mainly of a catering unit, whose operating result more than doubled from EUR18 million to EUR37 million, with revenue up 8.7% to EUR947 million.
Transavia: another loss in 2015, growth to accelerate in 2016
LCC subsidiary Transavia, which comprises Transavia Netherlands and Transavia France, made another operating loss in 2015 (loss of EUR35 million versus EUR36 million loss in 2014) in spite of revenue growth of 4.1% and a 1.8% reduction in unit cost. Unit revenue fell by 1.6%.
The LCC increased its ASKs by 5.3% (focused on France, where capacity was up 24.6%) and its load factor gained 0.1ppts to 89.9%. Passenger numbers grew by 9.0% to 10.8 million. Air France-KLM said that its operating result was in line with its plan and that it remains on course to break even in 2017.
Transavia will grow ASKs at the faster rate of 15% in 2016, with Transavia France growing by 20%. Air France CEO Frédéric Gagey told analysts on the 2015 results conference call that the process of transferring slots from Air France to Transavia at Paris Orly, in order to serve leisure destinations, was now complete. The next phase was to grow its routes from provincial French cities, in addition to expanding the business into new European destinations.
Under the Netherlands arm of Transavia, the LCC brand will open a Munich base in Mar-2015. Management expects the Munich base to have a lower cost base than existing Transavia operations in France and the Netherlands, in spite of Munich's relatively high airport charges. This is thanks to a new contract for flight crew (in particular, pilots), the outsourcing of ground operations and a lack of additional overhead. Munich is expected to be a relatively high-yield market. Further development of Transavia across Europe will require pilot agreement
Air France-KLM's 2015 results presentation indicates that Transavia's fleet will grow to more than 65 aircraft in 2017, which is still smaller than the LCC fleets of its rival European legacy groups Lufthansa (with Eurowings) and IAG (with Vueling). Moreover, all three of these legacy-owned LCCs will be much smaller than the leading independent European LCCs.
See related report: Transavia: Munich to be first base outside home markets, but Air France-KLM's LCC still lacks scale
Transavia integration a medium-term plan
Air France-KLM CEO Alexandre de Juniac told analysts that a plan for Air France-KLM to integrate the management and ownership of the two halves of Transavia into a single holding company was "probably mid term". It would offer advantages in terms of efficiency and strategic focus and would be a simpler tool with which to participate in what Mr de Juniac called the "LCC consolidation that will naturally happen in Europe".
The merits of integrating Transavia under one structure are such that Air France-KLM would be better off making this a short-term plan. However, the development of the LCC remains a highly political subject, particularly in France, and the first priority for Transavia-related pilot negotiations is to agree its further expansion into European markets outside France and the Netherlands.
Both major groups within the Air France-KLM group enjoyed an improvement in both revenue and operating profit in 2015.
Air France increased revenue by 5.7% to EUR16,477 million and its operating result turned from a loss of EUR314 million in 2014 (this would have been a profit of EUR99 million without the pilot strike) to a profit of EUR462 million in 2015. KLM's revenue increased by 2.7% to EUR9,905 million and its operating result rose from EUR175 million in 2014 to EUR384 million in 2015.
KLM's operating margin of 3.9% again beat that of its larger sister company Air France, whose margin was 2.8%. Nevertheless, 2015 was significant for Air France in that it was its first year of positive operating profit since the year to Mar-2008.
See related reports: Air France: Seven years of losses before Works Council clash reveals a cracked mirror
KLM: a decade after Air France merger, the smaller, but more profitable partner also needs cost cuts
Air France and KLM operating results and revenue (EUR million) 2013, 2014 and 2015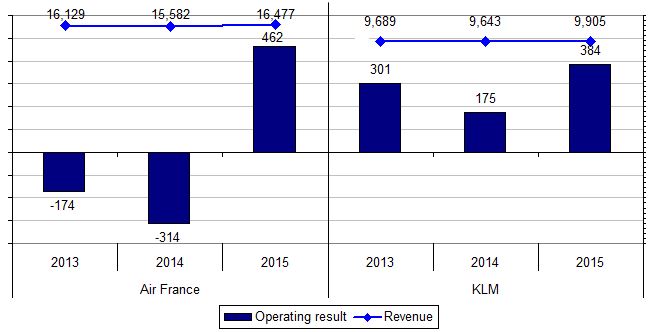 2016: more capacity discipline, improved profit implied
In 2016 the Air France-KLM group plans ASK growth across all of its passenger airlines in the range of 1.0% to 1.4%, maintaining its tight capacity discipline (it has typically remained in a range of 1% to 2% in recent years). Air France will reduce capacity by 2%, KLM will grow by 3% and Transavia will accelerate to ASK growth of 15%.
Although it maintains an average unit cost reduction target of 1.5% pa for 2015-2017, its target for 2016 is a reduction of only 1%, in spite of further fuel savings. It currently expects its fuel bill to be EUR4.5 billion in 2016, compared with EUR6.2 billion in 2015 and EUR6.6 billion in 2014.
Air France-KLM estimates that it retained only 30% of the benefit of lower fuel prices in 2015, the balance being offset by the weaker EUR versus USD and, more particularly, by unit revenue weakness. It expects that similar factors will again offset a significant part of its fuel savings in 2016.
Nevertheless it expects improved free cash flow, and this implies improved profit levels in 2016 (although it has not set a profit target).
2017 and beyond: much depends on labour productivity
For 2017, the group's capacity plan will depend on the outcome of employee negotiations over labour productivity improvements, particularly at Air France. In Oct-2015 the French airline decided to cut its long haul ASKs by 10% from 2015 to 2017 (with the larger part of the cut deferred to 2017), after failing to reach a new agreement with flight crew unions.
Mr de Juniac told analysts that Air France could return to growth on long haul in 2017 if a satisfactory productivity agreement could be reached with labour representatives. The group CEO also said that Air France-KLM was watching the development of the long haul low cost model very closely and considering whether it was possible for the group to do something in this segment.
However, he stressed that his "first duty" was to solve the "problems in the mainline" and a long haul low cost business would not achieve this.
It is significant that Air France-KLM's future growth is linked to labour productivity. In 2015, it achieved virtually stable overall capacity (total ATKs +0.1%) with 1.5% fewer employees. Labour productivity in ATK per employee increased by 1.5%. However, labour costs grew by 2.8% (inflated by non-cash pension related costs), so that employee costs per ATK were up by 2.8%. Fortunately, revenue per employee grew by 6.2%.
Air France-KLM labour productivity measures 2014 and 2015
| | 2014 | 2015 | Change 2015 vs 2014 |
| --- | --- | --- | --- |
| Total full time equivalent headcount | 97,847 | 96,417 | -1.5% |
| Total labour cost EUR mill | 7,636 | 7,852 | 2.8% |
| Employee cost per employee (EUR) | 78,040 | 81,438 | 4.4% |
| ATK per employee | 458 | 465 | 1.5% |
| Employee costs per ATK (EUR) | 17.0 | 17.5 | 2.8% |
| Revenue per employee | 254,602 | 270,274 | 6.2% |
So, in 2015, some labour productivity indicators improved and some deteriorated. Nevertheless, in absolute terms, Air France in particular remains a laggard on labour productivity, compared with other European legacy airlines, and needs to improve significantly.
Air France-KLM is right to put labour productivity improvement at the heart of its plans.