Air France-KLM faces "low visibility" outlook. Loss of EUR574 million in 1Q09
Analysis
Air France-KLM Group reported the first full year's operating loss in five years of existence, at EUR129 million. But the bad news was not surprisingly in the final quarter of the Air France-KLM financial year, the first three months of this calendar year. There will be no profit this year, as the airline scales back on capacity to help it stem the bleeding.
The full year loss was not quite as bad as investors had factored into the market and its shares rose. For this last quarter, the operating loss was EUR574 million (against a 1Q08 loss of EUR 37 million) in the typically quiet year beginning.

The financial tale was one of two halves, with a profitable first six months, as yields were pumped up along with fuel costs. Then, as the financial gloom descended, things got progressively worse over the last three months of 2008 and into 2009.

Passenger capacity (ASK) fell 2.7% and yields plummeted by an average of 11.9% (RASK) in the recent quarter; system load factors were down 2.5ppt, to 75.5%, although, at least on long-haul, where capacity reductions were larger, load factors still nudged 80%.

There will be more staff cuts, to reflect the reduced flying. In French style, the lines are blurred, but the main unions have apparently agreed to a programme where voluntary redundancies, limits on temporary workers and reskilling employees in redundant positions will allow something like another 3,000 reduction in headcount, on top of the past year's 2,000.
Yields down heavily in 1Q09
But premium yields in 1Q09 were down a whopping 18.2% - although, this was lower than recorded by the industry as a whole in IATA's March premium traffic report. The Group therefore described the relative performance of economy class fares (down only 8.1%) as "resilience", at levels which just a year ago would have been regarded as horrific.
Europe medium haul worst hit
Unit revenues (RASK) for Europe medium haul were down by 18.4%, as load factors in that market fell 3.1 ppts, to a wobbly 62.1%. Long haul RASK fell 11.1%, but on the back of larger capacity reductions, load factors only fell 2.4ppts, to 79.4%.
Premium exposure more limited than competitors
Here the Group believes its more modest long haul aircraft configurations, with a smaller proportion of premium seating, positions it better in a climate where demand for that segment is dissolving. Only 15% of Air France seating and 12% of KLM's is described as "premium".

However, for example, Lufthansa/SWISS carry 26% premium seating and British Airways 25%, according to the Group.

SkyTeam partner, Delta, carries approximately 19% premium seating.
But long haul competitors, Singapore Airlines and Emirates, also are recorded as having 16% and around 14% respectively – helping to explain the relatively more substantial planned reduction in long haul flying to Asia by Air France-KLM, down about 7% this summer.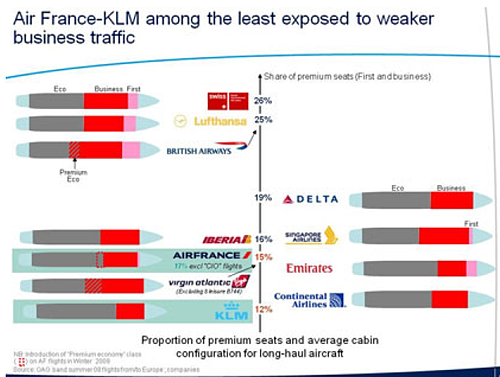 Into this environment, the Group's B777-300ER fleet will see the addition of a fourth class, "Premium Voyageur", in 4Q09.
Capacity reductions and aircraft deferrals
The Group will be reducing capacity by an average of 4.5% this summer. This is a quick revision downwards of the earlier decision to reduce by 3%. And, against the planned 5% expansion of only 12 months earlier, the net reduction in capacity plans is an extraordinarily high 9.5%.

Europe and North Africa sees a reduction of 5% this summer; at 8% less seats, North America loses the most (which will perhaps be offset by the Delta/Northwest alliance details, to be announced later today), Asia is down 7% and, despite an otherwise negative view of the Middle East airlines' capacity behaviour, that region is to experience only a 3% reduction.

It appears that the lower levels of flying will be achieved mainly by deferring new aircraft orders and retaining older equipment in service a little longer.

From a total fleet of 182 aircraft in mid-2008, today's headcount is 180. This is nine aircraft below the original fleet plan. There was no explanation of any penalties for delaying these orders. Lower fuel prices help make this decision easier, but in the (relatively unlikely) event that prices go up steeply, the decision may come back to hurt……but, then everyone else would be in trouble.

It sounds as if there are plans to take no new aircraft at all until 2011.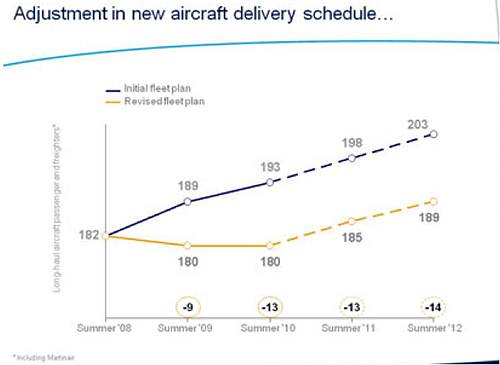 If that is the case, there are going to be some very substantial market share changes in the offing in 2011, as some of the Group's large competitors – Lufthansa "group" included – take a more hairy chested approach to adding capacity. Restoring an Asia position will perhaps be most difficult –and, for example, SkyTeam member, China Southern, last week announced, unsurprisingly, the cancellation of a proposed cargo JV with Air France subsidiary, Air Bleu.
Cargo slump painful, down 33%
Perhaps the cargo result was the least attractive of all. Adjusting to exclude the addition of Martinair – which was not included last year – cargo revenues were down by an ugly 33% in the quarter. Despite parking several freighters, cargo load factors were still down 8.4%.

According to Peter Hartman, KLM President and CEO, the situation on cargo yield is "severe". Even with large capacity reductions, unit revenue per RTK was down 18.8% year on year for 1Q09, from EUR24.8cents/tonne to 20.1cents.

This was perhaps not the best time to be acquiring the remaining 50% of part owned Martinair, which is about three quarters cargo, but at least it allows the Group to make some rationalisation of cargo capacity among the three carriers. 6 freighters have already been grounded.
A clouded outlook
The low visibility surrounding the outlook for the Group even included the presentation itself. Although it began with an observed "deterioration in the operating environment, especially at the end of the quarter", by the end of the presentation, the outlook had become just a little more positive, with a "feeling of stabilisation", which had not been felt in Jan/Feb-2009, but apparently showed some indications of a bottoming in Mar/Apr-2009. Even with this internal improvement, the signs are not positive. There is no talk of a profit this year.

Said Pierre-Henri Gourgeon, President and CEO, "Trading conditions in the first half of the current year remain challenging and visibility for the second half of the year is still low. Although we have experienced some signs of stabilisation in our operating environment in recent weeks in both the cargo and passenger activities, it is too early to tell whether they indicate the start of an economic recovery."

In this respect, the Group remains ready to make further capacity reductions if necessary. That is a wise position to hold right now.