Air France-KLM: 1Q margin gain beats IAG & Lufthansa, but lack of 2016 target betrays low confidence
Analysis
Air France-KLM narrowed its operating loss in 1Q2016 – mainly thanks to lower fuel prices, and also helped by lighter downward pressure on unit revenue than was felt by either IAG or Lufthansa. This probably reflects its tighter capacity management. Moreover, Air France-KLM's operating margin improvement from a year earlier was greater than both IAG's and Lufthansa's.
However, Air France-KLM's margin remained well below those of its rivals, both for the group as a whole and also for its LCC subsidiary Transavia in comparison with the LCC divisions of the other two. Emphasising the uncertain outlook for unit revenue (and echoing comments made by both IAG and Lufthansa in this respect), it does not expect its relative strength in 1Q to continue throughout the year.
Furthermore, Air France-KLM is still the only one of the three leading European legacy airline groups without a 2016 profit target. It rightly continues to prioritise capacity discipline, unit cost reduction and the lowering of net debt, while working to gain pilot union agreement to vital productivity improvements. However, as the global industry is enjoying cyclically high margins, Air France-KLM's reticence over profit guidance reveals its lack of confidence. The incoming CEO, Jean-Marc Janaillac, will need to rebuild this.
See related report: CAPA World Airline Profit Outlook 2016: margins at a new high of 8.2%. Fertile ground for new entry
Operating loss reduced by 76%; net debt continues to fall
In 1Q2016 Air France-KM narrowed its net loss to EUR155 million, from EUR559 million a year earlier. Its operating result improved by EUR318 million to a loss of EU99 million in 1Q2016 from a loss of EUR417 million in 1Q2015. Revenue was just above flat (+0.4%) at EUR5,605 million, and the operating margin improved by 5.7ppts to -1.8%.
Note that the revenue and profit figures reported exclude the results of Air France-KLM's catering subsidiary Servair, which has been reclassified as 'discontinued operations'. This is required by accounting rules, since the group has decided to seek the sale of all or part of the business. A deal for the disposal of this business, which accounted for 2% of group revenue in 2015, is expected by the end of 2016.
Net debt reduction remains a priority for Air France-KLM and the group has achieved this again. At the end of 1Q2015 its net debt stood at EUR4,161 million, which was EUR146 million lower than at the end of 2015 and just over EUR1 billion lower than it had been a year earlier.
See related report: Air France-KLM makes progress in 2015, but still has more to do. Labour productivity is at the heart
Air France-KLM 1Q2016 financial result highlights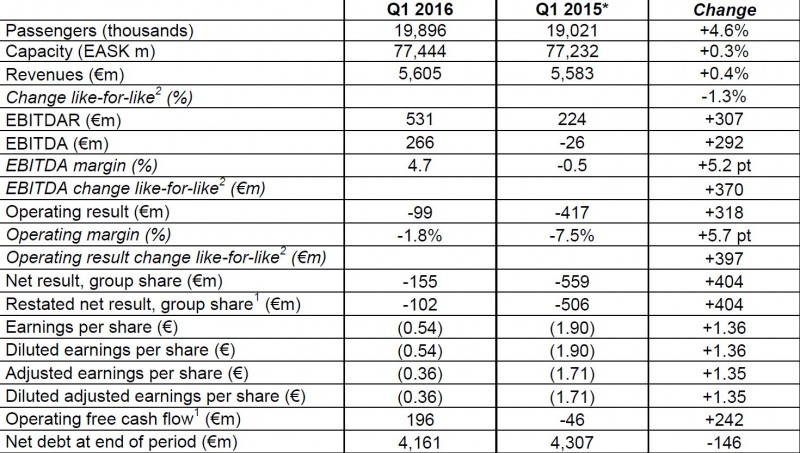 Better margin improvement, but lower margin, than IAG and Lufthansa
By comparison with the margin of the other two of Europe's big three legacy airline groups, Air France-KLM's operating margin achieved the greatest improvement.
Nevertheless, at -1.8% it remained lower than the margin of both IAG (up 2.5ppts to 3.1%) and the Lufthansa Group (up 1.8ppts to -0.5%) in 1Q2016.
See related reports:
KLM continues to outperform Air France in terms of profitability
Air France narrowed its operating loss by EUR146 million to EUR86 million, with revenue reduced by 0.2% to EUR3,552 million and the operating margin up 4.1ppts to -2.4%. KLM's operating loss was reduced by EUR176 million to a loss of EUR7 million, almost break-even. KLM revenue grew by 1.5% and its operating margin gained 8.4ppts to -0.3%.
See related reports:
Air France-KLM retains 55% of the benefit of lower fuel prices
The main driver of the EUR318 million year-on-year improvement in Air France-KLM's operating result was lower fuel prices, which benefited the bottom line by EUR450 million (before currency movements).
This was partly offset by a negative currency impact of EUR79 million, the net impact after taking account of foreign exchange movements on both revenue and operating costs, and by unit revenue reduction. This meant that Air France-KLM retained 55% of the benefit of lower fuel prices in 1Q2016. It also enjoyed a small benefit from lower unit cost.
Air France-KLM change in operating result (EUR million) 1Q2016 versus 1Q2015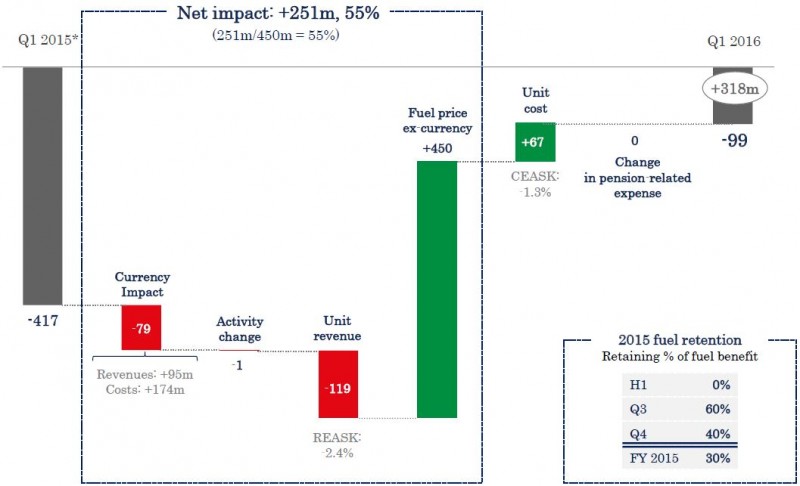 All segments improve their operating result; Passenger Network close to break-even
All of the group's business units enjoyed an improved operating result in 1Q2016 relative to 1Q2015. However, with the exception of the Maintenance segment, all reported an operating loss in the quarter.
The largest segment, the Passenger Network business - which comprises Air France, KLM and Hop (but not Transavia) - narrowed its operating loss to EUR18 million from EUR322 million a year earlier, with revenue up 1.2%.
The performance of the Passenger Network business is discussed in more detail below.
Air France-KLM 1Q2016 revenue and operating result by segment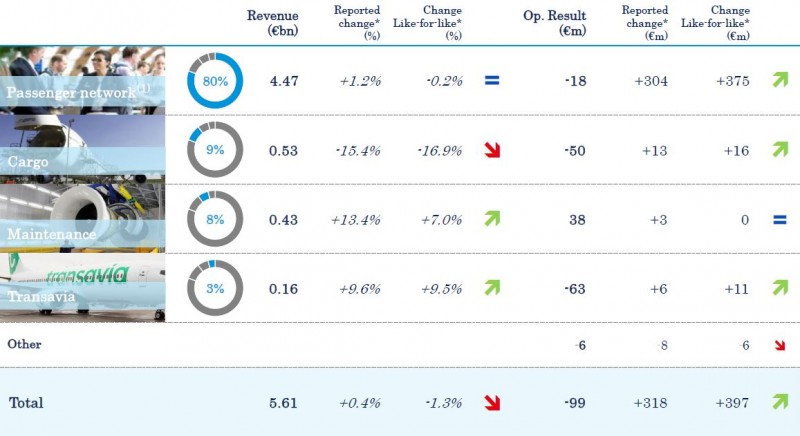 Cargo loss narrows, but unit revenue lower by 11%
The Cargo segment's improvement was less dramatic, but it managed to narrow its operating loss from EUR63 million in 1Q2015 to EUR50 million in 1Q2016, with revenue lower by 15.4%.
Cargo capacity (ATK) was cut by 8.1% through a 32% reduction in freighter capacity, while belly capacity grew by 0.7%. A further MD-11 freighter was retired during the quarter, giving a total of eight full freighter aircraft (accounting for 19% of total cargo capacity) in the group. Air France-KLM remains on course to lower this sub-fleet to five by the end of this year.
However, in spite of the capacity cut, the cargo load factor fell by 1.3ppts to 59.2%, and revenue per ATK fell by 9.1% (or by 10.8% at constant currency). This is another indicator of weak global trade and structural overcapacity in cargo markets, particularly on routes from Asia to Europe.
Maintenance profit grows
The Maintenance segment improved its operating result by EUR3 million to EUR38 million, with revenue up 4.8%. Third-party maintenance revenue grew by 13.4% and accounted for 43% of the segment's total sales. Margin increased only slightly (+0.2ppts), to 3.8%.
The Air France-KLM CFO, Pierre-Francois Riolacci, told analysts on a conference call to discuss the 1Q2016 results that supply chain issues were hampering the profitability of the Maintenance business. He added that it was a struggle to improve its margins, although management was growing the top line aggressively.
Transavia loss narrows only slightly
The group's low cost airline, Transavia (which includes both Transavia Netherlands and Transavia France), modestly narrowed its operating loss by EUR6 million to EUR63 million in 1Q2016, with revenue up 9.6%.
Transavia's performance is discussed in greater detail below.
Passenger Network ASKs up 1.1%; load factor up 2ppts to 84.5%
The Passenger Network business increased ASKs by 1.1%, the slowest rate of growth among Europe's big three legacy groups (IAG grew by 4.8% excluding its Aer Lingus acquisition and Lufthansa by 6.6%). RPK growth outpaced this, with an increase of 3.6%, and passenger load factor gained 2.0ppts to 84.5%.
This is a strong load factor performance, an area in which Air France-KLM is consistently ahead of both IAG (1Q2016 load factor 78.9%) and the Lufthansa Group (74.9%).
Air France-KLM passenger traffic, unit revenue and unit cost development 1Q2016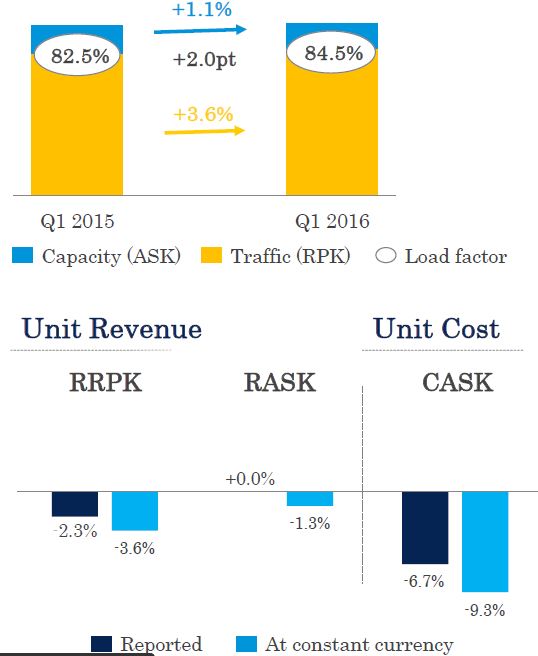 The divergent growth paths of Air France and KLM continued in 1Q2016. At Air France (including Hop), ASKs were trimmed slightly (-0.6%) and load factor gained 1.6ppts to 83.7%.
At KLM, ASKs grew by 3.9% and load factor gained 2.6ppts to 85.8%. KLM's short/medium haul load factor gained 7.5ppts to 81.9%. The airline attributed this performance to network improvements, pricing and fleet developments.
Passenger Network RASK outperforms IAG and Lufthansa in 1Q2016
The Passenger Network's unit revenue, RASK, was flat year-on-year, although this was boosted by currency effects. At constant exchange rates, RASK fell by 1.3%, but this was a better performance than IAG's 5.2% decline and Lufthansa's fall of 6.6%. Air France-KLM probably benefited from its tighter capacity management relative to the other two groups.
Air France-KLM's long haul RASK at constant currency fell by 1.6%, with premium cabins enjoying a modest increase of 0.2% and economy lower by 1.5%. By region, long haul RASK at constant currency was weakest in Latin America (-5.0%), North America (-3.8%) and Asia (-3.1%).
In Latin America the weakness was mainly due to Brazil, while in Asia Japan was particularly weak, according to Mr Riolacci. North America had the highest ASK growth by Air France-KLM, with an increase of 6.7%, partly as a result of network switches from Southeast Asia. Although there was RASK growth on routes to Africa & Middle East, there was some weakness on oil routes.
Medium haul RASK at constant currency grew by 0.6% overall. On medium haul point-to-point routes, where ASKs were cut by 6.0%, this unit revenue increase was stronger, at 5.3%. On medium haul hub routes, where ASKs were stable, unit revenue ex currency was just below flat.
Air France-KLM passenger traffic and unit revenue development by region 1Q2016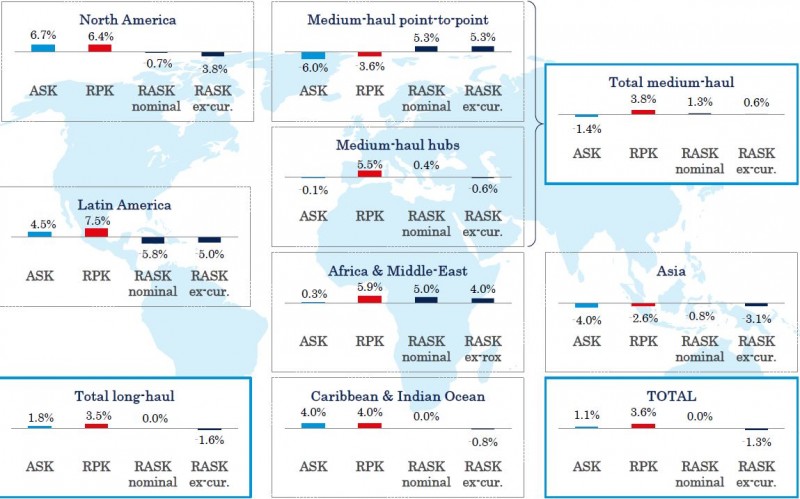 Transavia ASKs up 8.4%, driven by French arm; new Munich base launched at end of 1Q2016
The reduction in the Passenger Network segment's medium haul point-to-point capacity continues to be accompanied by the expansion of the group's LCC Transavia, which increased its ASKs by 8.4% in 1Q2016. This was driven by the growth of Transavia France, where ASKs increased by 18.6%. At Transavia Netherlands, which continues to reduce its charter activity in favour of scheduled services, ASK growth was 3.6%. The new Transavia base at Munich, operational from 25-Mar-2016, did not have a significant impact on 1Q2016 figures.
Transavia's RPK growth almost matched the capacity increase, and load factor was virtually flat at 87.7% (-0.2ppts). Transavia's RASK fell by 0.7%, but the decline at constant currency and stage length was sharper, at 4.4%. Mr Riolacci said that Transavia's unit revenue was not expected to perform much better through the rest of the year.
Its CASK fell 7.7% at constant currency and by 11.7% at constant currency and stage length. The narrower operating loss was due to CASK falling more rapidly than RASK.
Mr Riolacci said that management was satisfied with the new Transavia base at Munich. There had been some competitive response from Lufthansa, but under the terms of an agreement with its pilots it was not allowed to use Eurowings there.
As its first base outside the Netherlands and France, Munich is an important test market for the future expansion of Transavia into new bases across Europe. In May-2016 two more aircraft are to be added to the two already operating from Munich. Transavia will launch its first German domestic route - its first domestic route anywhere outside Netherlands and France - with a 12 times weekly Munich-Berlin Schoenefeld service from 30-May-2016.
See related report: Transavia: Munich to be first base outside home markets, but Air France-KLM's LCC still lacks scale
Transavia passenger traffic, unit revenue and unit cost development, 1Q2016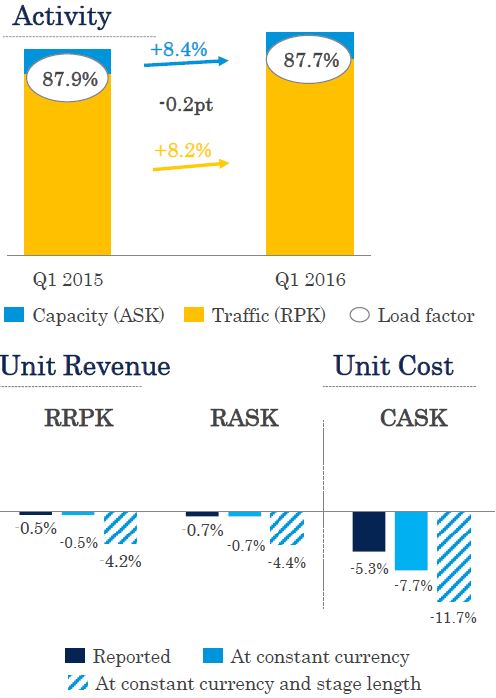 Transavia is least profitable European LCC among listed airline companies
Transavia's operating loss of EUR63 million was recorded on EUR160 million of revenue, making a very wide 39% negative margin. This compares with Germanwings' operating loss of EUR86 million on revenue of EUR377 million, giving the Lufthansa-owned LCC a negative margin of 23%.
IAG did not report revenue and operating results by individual airline in 1Q2016, but it did report a lease-adjusted operating margin of -6% for its LCC Vueling.
Transavia was the least profitable of the LCC subsidiaries of European legacy airline groups in 2015. Its 2015 operating margin was -3.2%, compared with Vueling's 8.1% and Eurowings' 2.0%.
Moreover, the leading independent LCCs were significantly more profitable in 2015. Ryanair achieved an operating margin of 22.4% and Wizz Air made 16.5% in calendar 2015, while easyJet's margin was 14.7% for the year to Sep-2015. Transavia's inferior profitability has continued into 1Q2016.
Under Air France-KLM's Perform 2020 plan, Transavia aims to reach a profit in 2017, but this target continues to lack ambition.
Group costs fall 4.9%
Air France-KLM's operating costs fell by 4.9% year-on-year in 1Q2016, in spite of the increase in ASKs and revenue. Fuel costs fell by 25.9%, while ex fuel costs grew by 2.0%.
Air France-KLM measures unit costs based on EASK (equivalent available seat kilometres), which includes both passenger and cargo capacity. 1Q2016 EASK growth was 0.3% and its ex fuel unit cost per EASK at constant currency fell by 1.3% in 1Q2016. This is consistent with its FY2016 targeted reduction of 1%.
Air France-KLM operating costs, 1Q2016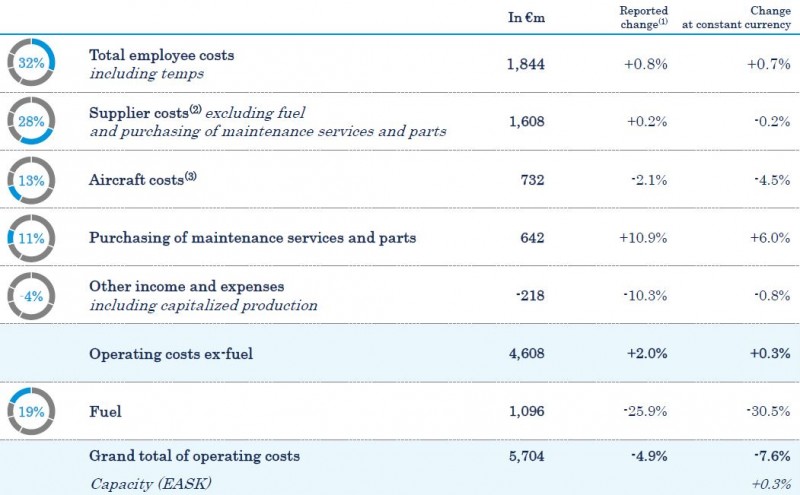 Labour costs up only 0.8%, but agreement on pilot productivity improvement still elusive
Labour costs were the second biggest category after fuel and they increased by just 0.8%, although they fell by 1.2% excluding profit sharing. In spite of capacity growth, average headcount fell by 3,000 full time equivalents, or 3.5% year-on-year, representing a welcome improvement in labour productivity.
Nevertheless, Air France-KLM, in particular Air France, continues to lag behind its peer group on labour productivity. Mr Riolacci said that there would be a further year-on-year reduction in headcount at the end of 2016, but the reduction would probably not be as much as 3,000.
Talks with Air France pilot unions over productivity measures did not reach a conclusion by the 2-May-2016 deadline set by management. This has led to a decision to implement some measures envisaged by its Transform 2015 restructuring programme, delayed as a result of stalled negotiations.
These include a reduction in the salary uplift for night flights from 50% to 40% and changes to the treatment of accrued days off. According to Mr Riolacci, the management expects the pilots to challenge these measures, which are worth EUR20 million to EUR30 million annually, through legal channels. He did not expect major industrial action as a result, although he admitted that this was a "tight judgement".
Mr Riolacci stressed that Air France-KLM management was committed to improving its relationship with its pilots. With this in mind, it does not plan to make "aggressive use" of the expiry (in Mar-2016) of a scope clause agreed with pilots in 2012. This prevented Air France and its subsidiaries from operating aircraft of 100 seats or more without the use of Air France pilots.
Mr Riolacci stressed that Air France-KLM did not want to do anything that would reduce the level of trust with pilots, adding that this would be a key topic for the new CEO.
Air France-KLM's new CEO "an excellent manager"
It was announced on 5-Apr-2016 that the Air France-KLM CEO, Alexandre de Juniac, would be leaving the group to take up the position of DG and CEO of IATA from 1-Aug-2016 at the latest. Following the announcement the group has acted swiftly to appoint a replacement.
On 1-May-2015, Air France-KLM announced Jean-Marc Janaillac as his successor. Mr Janaillac is currently Chairman and CEO of Transdev, a transport group formed by Veolia and the French Caisse des Depots. He has had previous senior experience at RATP, the tourism group Maeva, the airline AOM and (from 1989 to 1994) at Air France.
On the 1Q2016 conference call Mr Riolacci welcomed the appointment of Mr Janaillac, whom he knows personally from his time at Veolia and whom he described as "an excellent manager". Mr de Juniac set a clear direction for the group in seeking labour productivity improvement at Air France and stood behind this aim by implementing a capacity reduction plan at the French airline until agreement can be reached.
Nevertheless, progress has become stalled and a new face may bring fresh impetus to talks with the pilot unions.
Still no 2016 profit guidance as uncertainties undermine confidence
Air France-KLM's FY2016 outlook is unchanged and it remains light on profit guidance. According to Mr Riolacci, the Passenger network's ASK capacity will grow by less than 1%, with Air France negative by 1% and KLM up 3%-4%. Further growth at Air France will depend on the agreement of labour productivity improvements with pilot unions.
At the time of its FY2015 results announcement in Feb-2016 the company said that total group capacity would be up by between 1% and 1.4%, including a 15% increase for Transavia. Mr Riolacci's comments are not inconsistent with this plan.
Although Air France-KLM contained the 1Q2016 RASK decline better than its peers, it is cautious about the outlook for unit revenue, "due to geopolitical context and industry capacity environment".
Mr Riolacci told analysts on the conference call that management was very cautious about the outlook for 2Q2016 RASK and that the first quarter's performance should not be taken as a proxy for the full year. As is the case for its peers, Air France-KLM is seeing a trend of booking behaviour that is later than in the past, and this increases the uncertainty over the unit revenue outlook.
It expects fuel bill savings to be significantly offset by downward pressure on unit revenue and by currency impacts. It now expects its fuel bill to be EUR4.6 billion in 2016, very slightly higher than its previous estimate of EUR4.5 billion, but much lower than the EUR6.2 billion spent on fuel in 2015. Ex fuel and currency, it still aims to reduce unit cost by 1% in 2016.
As announced in Feb-2016, Air France-KLM expects improved free cash flow this year and this implies improved profit levels in 2016. However, unlike IAG and Lufthansa, Air France-KLM has still not set a profit target for 2016.
It made progress in 1Q2016, but both internal and external uncertainties continue to gnaw at its confidence. Rebuilding this will be a priority for Mr Janaillac.