Air France Joon in Latin America: now Quito flights
Analysis
Summary
Joon reaches the two million passenger mark with short and long haul services
Air France's hybrid, "lifestyle" airline Joon is approaching its one-year anniversary in Dec-2018. Joon was marketed as an airline that targeted the Millennial age set and recently, via its Twitter account, Joon stated that it had transported two million passengers (as of early Sep-2018) since its launch.

According to CAPA's Fleet Database, Joon operates a fleet of 15 Airbus aircraft, 11 A320 family narrowbodies and four A340 widebodies.
Joon fleet summary as of mid-Sep-2018

Joon's route network encompasses regional European services and long haul services to Cairo, Cape Town, Fortaleza, Mumbai, Tehran (ending in Sep-2018), Seychelles and St Maarten.
Joon plans to bolster frequencies from Fortaleza, leveraging its Gol partnership
Joon launched twice weekly services to Fortaleza earlier in 2018 as part of a strategy by partners Air France-KLM and Gol to create a hub at the airport, which is located in northeastern Brazil. As of mid-Sep-2018, Gol represents approximately 36% of Fortaleza's domestic departing frequencies.
Fortaleza Pinto Martins Airport domestic departing frequencies by airline, as of mid-Sep-2018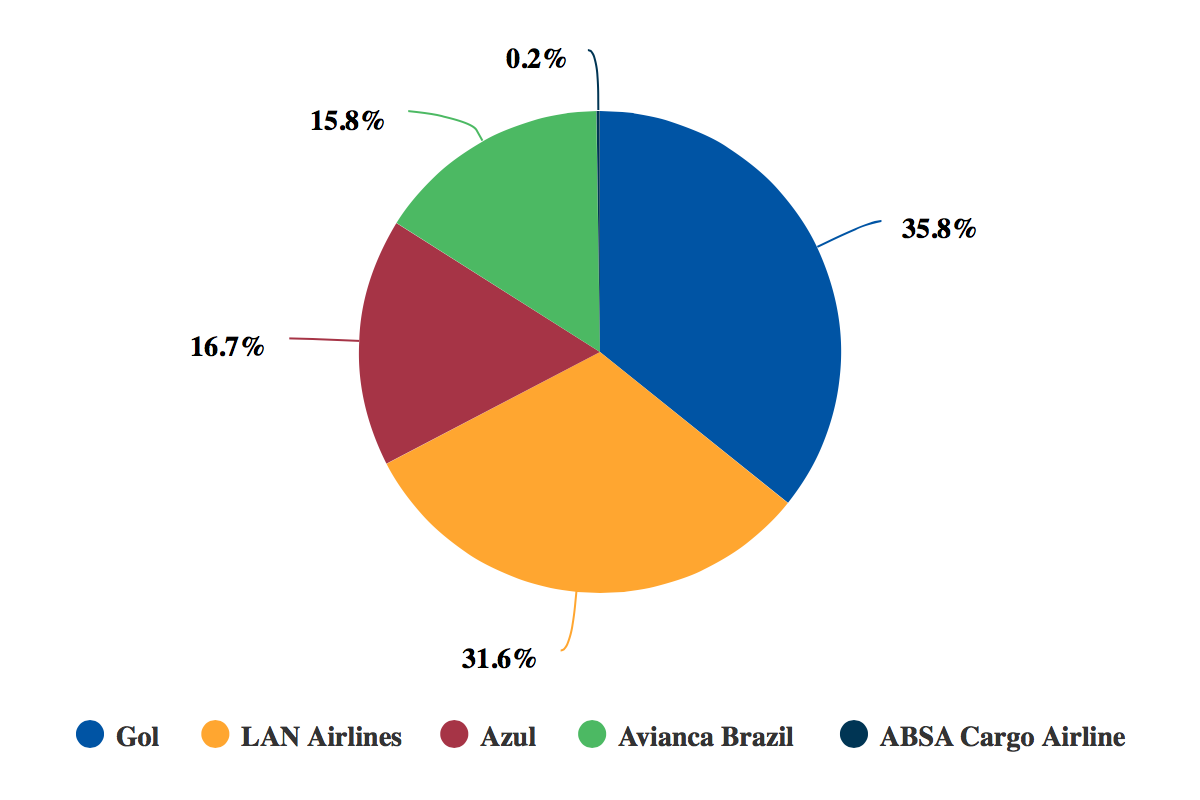 Fortaleza's long haul services to Europe include Joon's service to Paris, KLM's services to Amsterdam, Condor's service to Frankfurt and TAP"s services to Portugal.

Given Gol's position at the airport, Air France and KLM can market beyond connections beyond Fortaleza and Fortaleza as an endpoint, which results in a mix of O&D and connecting passengers. Gol has bolstered its operations in Fortaleza by 35%.

Joon has already outlined plans to operate three weekly frequencies between Paris and Fortaleza for the winter 2019 period.
Quito rounds out a healthy roster of markets for AF-KLM in Latin America
St Maarten is obviously a leisure O&D market for Joon, and the island's north side is controlled by the French. Joon operates two weekly services to St Maarten from Paris De Gaulle, and Air Caraïbes operates a single weekly fight to Paris Orly.

Fortaleza and St Maarten have distinct characteristics for Air France/Joon, but Quito in some ways is a less obvious choice for expansion into Latin America. Air France operates its own branded flights to other Latin American capitals and larger markets including Bogotá, Buenos Aires, Santiago, Caracas, Panama City, Rio, São Paulo and Mexico City.

KLM serves both Quito and Guayaquil in Ecuador, and codeshares with Air France in both those markets. Through those services Air France-KLM has gained some insight into demand patterns from Europe to Ecuador, and has decided that enough demand exists for direct service from Paris rather than a stop through KLM's hub in Amsterdam.

Joon is operating a three-class A340 aircraft on services to Quito, with 278 seats – 227 in economy, 21 in premium economy and 30 in business class. Some capacity for Quito appears to be freeing up with the cancellation of Joon's services to Tehran.

All of the demand for Joon's new service to Quito from Paris will centre in Europe – both local traffic from Paris, and presumably, some feed from Air France-KLM's European services, which is likely necessary to support the number of seats Joon plans to operate on a weekly basis from Paris to Quito.

After the launch of new services to Quito, the Air France Group will serve the largest cities in most of South America, having direct services to Argentina, Mexico, Brazil, Chile and Panama. Data from CAPA and OAG for mid-Sep-2018 show Air France-KLM's combined seat share from upper South America to Western Europe is approximately 20%, and approximately 16.7% between lower South America and Western Europe.
Ecuador is a popular destination, but faces economic challenges
Ecuador's popularity as a destination has been growing during the past few years, and the country has been working to bolster tourism numbers. Its government has adopted an open skies policy to facilitate passenger growth.

See related report: Ecuador Aviation: Liberalising and courting LCCS

Quito is garnering new services from other airlines, including Gol's new services from São Paulo, Peruvian Airlines' services from Lima, and Aeromexico's increased frequencies to Mexico City.

But Ecuador is emerging from a recession. According to the IMF, the country's GDP declined 1.6% year-on-year in 2016 before rebounding to an increase of 2.7% in 2017. The IMF's projections for GDP growth in Ecuador for 2018 and 2019 are 2.5% and 2.2%, respectively, which are below historical averages. American Airlines has opted to drop services to Ecuador as part of broader adjustments to its Latin American network.
Joon's fleet could grow to nearly 30 aircraft by 2020, and its network continues to grow. The new planned service to Quito rounds out the service footprint of the Air France-KLM Group to Latin America.
Having some experience operating to Ecuador, Air France-KLM has determined Paris-Quito is a viable market for expansion.