Air Canada's outlook lifted by slowing domestic capacity as it works to maximise fleet flexibility
Analysis
Air Canada believes that changes it is making to business strategy – aircraft densification and the expansion of its low cost subsidiary, rouge – are positioning the airline to weather uncertain economic conditions in Canada and in other geographical regions.

A decline in industry domestic capacity later in 2016 should benefit Air Canada and rival WestJet, but Air Canada's yields will continue to decline because certain components of its strategy blueprint – longer stage length and a higher proportion of leisure travellers – dictate a decrease in yields.

Although Air Canada has ceased offering capacity guidance, most of its planned expansion of supply in 2016 is pegged for international markets as it works to craft a global network that rivals that of its large North American peers. Perhaps to reassure investors that it is prepared to act rationally if conditions suddenly worsen, Air Canada is stressing the flexibility it retains to adjust its fleet and redeploy capacity from underperforming markets to other regions of its network.
Air Canada expects a drop-off in domestic industry capacity later in 2016
As conditions in Western Canada started to worsen in late 2015 due to the region's economic dependence on the oil sector, Air Canada moved capacity out of Alberta in the latter half of the year. Alberta represents a larger proportion of the network of Air Canada's rival WestJet, which suffered a 11.6% drop in both yields and unit revenues in 1Q2016.
In early Feb-2016 WestJet executives stated that 25% of the company's system capacity originated in Alberta and 40% of its supply touched the region, and the company plans to cut capacity in Alberta by 5% in 3Q2016.

See related reports:

Air Canada attempts to steer investors to contemplate long term metrics as its valuation falls
WestJet after 20 years. The new LCC challenges: preserving the culture but rising to the business

Air Canada's system yields dropped 4.7% year-on-year in 1Q2016 and passenger unit revenues decreased 5.1%.
Air Canada passenger unit revenue, yield and capacity increase/decrease by region: 1Q2016
| | | | |
| --- | --- | --- | --- |
| Region | PRASM increase/decrease | Yield increase/decrease | Capacity increase/decrease |
| Canada | 8.4% decrease | 6.5% decrease | 6.3% increase |
| US Transborder | 7.1% decrease | 3.3% decrease | 10.2% increase |
| Atlantic | 0.6% decrease | 2.5% decrease | 13.6% increase |
| Pacific | 4.6% increase | 1.4% increase | 3.1% increase |
| Other | 8.8% decrease | 9.2% decrease | 7.5% increase |
| System | 5.1% decease | 4.7% decrease | 8.2% increase |
The company offered several factors that contributed to its yield decline:
increased market capacity;
more competition on regional routes and competitive pricing pressure on certain domestic markets;
a decline in higher-yielding oil market traffic;
a reduction in fuel surcharges on long haul flights;
a 1.3% rise in average stage length;
a higher number of seats deployed into long haul leisure markets; and
a larger proportion of lower-yielding connecting traffic.
Air Canada posted deep PRASM and yield declines year-on-year in the Canadian domestic market during 1Q2016. The company highlighted aggressive pricing actions in Eastern Canada and a 1.7% increase in stage length as two of the factors pressuring yields.

The airline has highlighted that hefty discounting is still occurring in 2Q2016, but beginning in 3Q2016 domestic capacity is falling, which should benefit Canada's two major airlines Air Canada and WestJet. Data from CAPA and OAG show a major drop-off in Canada's domestic seats beginning in early May-2016.
Canada domestic seats per week: 2015 and projected through Oct-2016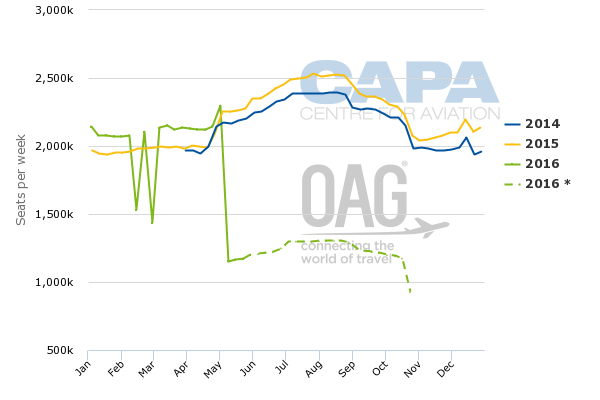 Air Canada posts positive gains in Pacific PRASM and yield in 1Q2016
The Pacific was the only geographical region in which Air Canada recorded positive passenger unit revenue and yield year-on-year in 1Q2016. Air Canada stated that it had posted growth in most of is Asian markets with the exception of South Korea, where yields were flat year-on-year. Other elements driving Air Canada's favourable performance in Asian markets included strength in the corporate sector and favourable currency effects of CAD22 million (USD17 million).

Air Canada's passenger unit revenue and yield performance in Atlantic markets during 1Q2016 was more favourable than in other regions, with PRASM declining just 0.6% and yields declining 2.5%. The airline's stage length on trans-Atlantic routes grew 4% year-on-year, which drove 2.3ppt of the drop in yields. Company executives recently stated that Air Canada had shifted some capacity from the Atlantic to the Pacific for the Canadian summer season.

Southbound leisure traffic in Air Canada's US transborder market was affected by the depreciation of the CAD against the USD: passenger unit revenues fell 7% and yields fell 3%. Air Canada executives also explained that the company's low cost subsidiary rouge has started to operate a greater number of Boeing 767 widebodies into Hawaii and the Caribbean, which is driving passenger unit revenue declines; however, the lower unit costs of those larger aircraft are driving higher margins. CAPA's fleet database shows that as of 11-May-2016 rouge operates 18 767s.
Air Canada's EBITDAR margin was 13.8% in 1Q2016 versus 13.2% the year prior. Its operating margin fell 1.6ppt year-on-year to 4.6%.
Air Canada rouge fleet summary as of 11-May-2016
Air Canada's expansive international push continues – both in transborder and long haul
Air Canada's capacity grew 8.2% year-on-year during 1Q2016. The airline is no longer providing quarterly or annual capacity or unit revenue guidance, but has previously indicated that the 9.4% growth recorded in 2015 was a proxy for 2016's growth.
During the last couple of years Air Canada has steered the bulk of its capacity growth to international markets through rouge and new mainline routes, and has stated that 90% of its 2016 capacity would be directed to international markets.

The airline's latest international route is Vancouver-Delhi, which is scheduled to launch in Oct-2016. Operated with Boeing 787-9s, the route joins Air Canada's existing flights from Toronto to Delhi relaunched in late 2015. Recently the Air Canada CEO, Calin Rovinescu, stated that the route offers the shortest elapsed flying time from Seattle, Portland and Los Angeles to Delhi.
One pillar of Air Canada's strategy is to funnel US transborder passengers through its hubs to long haul Pacific and Atlantic flights. Air Canada's Star Alliance partner Air India operates three weekly flights from San Francisco to Delhi but obviously Air Canada believes that it will not cannibalise those flights, since Seattle, Portland and Los Angeles do not have direct flights to Delhi. Air Canada should gain some benefit from a codesharing setup it has with Air India for beyond flights from Delhi.

Air Canada mainline is introducing Toronto-Seoul and Vancouver-Brisbane in 2016. Air Canada is also adding new mainline transborder service in 2016 from its Toronto hub to Jacksonville, Florida, Salt Lake City, Portland, Oregon and Washington Dulles.
New Air Canada rouge flights in 2016 include seasonal flights from Montreal to Casablanca and Lyon, and from Vancouver to Dublin. New seasonal service from Toronto includes Prague, Budapest, Warsaw and London Gatwick. Air Canada is adding new rouge transborder flights in 2016 between Toronto and Miami and Fort Myers, and seasonal flights from Toronto to Palm Springs. There will also be new rouge flights flights from Montreal to Miami and between Vancouver and San Diego.
Air Canada continues to tout its fleet flexibility as a lever to pull if conditions worsen
Although Air Canada is still facing some weak demand in Western Canada, Mr Rovinescu has stated that levels of demand in other domestic markets are in line with the company's expectations. He has also re-emphasised Air Canada's fleet flexibility, stating that by mid-2016 Air Canada will own 22 of its older widebody and narrowbody jets.
"We now have flexibility in our fleet to manage through a drop in demand for recessionary or other reasons as the combination of unencumbered and leased aircraft in the fleet account for more capacity than we eliminated during the entire financial crisis of 2009," Mr Rovinescu has said.
Additionally, leases for 18 of its narrowbody aircraft expire in 2016 and 2017. There are also deferral rights in Air Canada's order for 61 Boeing 737 Max aircraft.
Air Canada mainline fleet as of 11-May-2016
Air Canada is not telling investors what they want to hear – that PRASM improvement is coming
Unlike its North American peers – American, United and Delta – Air Canada is not offering any timelines for a return to positive PRASM. Instead the airline continues to stress its performance against metrics that it set out in early 2016 – EBITDAR margins, ROIC and financial ratios. Air Canada also continues to reiterate the expected outcome that its strategy of increasing margins through larger capacity aircraft, and increasing its mix of leisure passengers, will result in yield deterioration.

Air Canada has some flexibility to scale down if oil prices continue their climb, but investors may still be wary of the stock absent assurances by management that some pricing traction could return if oil spikes. Like it or not, that assurance seems to be the message that investors want to hear from airline management. Its absence is heard loudly.