Air Canada can celebrate a solid cost performance for rouge as it approaches its second anniversary
Analysis
Air Canada's low cost unit rouge is approaching its two year anniversary, with much of the controversy that surrounded its establishment and launch firmly behind it. As it celebrates two years of operation in early Jul-2015, rouge has a solid presence at Air Canada's three hubs serving leisure destinations in Europe, the US, the Caribbean, Latin America and even Japan.

rouge's route network has grown rapidly during the last two years, a time in which it appears that the airline's cost performance has exceeded Air Canada's expectations. What remains unclear is if Air Canada has fully managed to educate passengers about the differences between rouge's product offer and Air Canada mainline, which has caused some customer concerns for the airline's passengers.

At two years old, rouge remains in its early stages. But it has clearly made strides with Air Canada mainline employees and has played a key role in Air Canada's recent refinement of certain financial targets it intends to meet in the future.
Mainline pilots turn a new corner with rouge after fighting to block its creation
rouge made its debut in Jul-2013 after vehement opposition by mainline pilots. The creation of rouge was a significant point of contention in pilot contract negotiations in 2012, and ultimately an arbitrator ruled in favour of Air Canada's contract proposal. Within that contract was the framework for establishing rouge. The pilots believed the creation of rouge could cost mainline pilot jobs and undermine cultural change at the airline.

In late 2014 the pilots seemed to have had a change of heart. The head of Air Canada's pilot association told a Canadian news outlet that rouge was a vital element to Air Canada's long-term success and viability. Pilots and management ratified a 10-year deal in late 2014 that allows for some fleet renewal flexibility within rouge.

See related report: Expansion at Air Canada rouge continues unabated as mainline pilots embrace their low cost sibling
rouge now has a solid presence at all three of Air Canada's main hubs
rouge is now operating out of Air Canada's three hubs in Toronto, Montreal and Vancouver. The largest operation is in Toronto from where rouge operates to roughly 30 markets. Air Canada leverages rouge's lower cost to serve trans-Atlantic leisure routes from Toronto and Montreal as well as several Caribbean destinations, and San Jose and Liberia in Central America and Lima in South America. From Vancouver it serves Osaka and two destinations in Hawaii and markets in the Western US. rouge has a small presence in Calgary, offering flights to Las Vegas, Los Angeles, Varadero and new domestic service to Halifax.
Air Canada rouge destinations from Toronto: 22-Jun-2015 to 28-Jun-2015
Air Canada rouge destinations from Montreal: 22-Jun-2015 to 28-Jun-2015
Air Canada rouge destinations from Vancouver: 22-Jun-2015 to 28-Jun-2015
The shift by Air Canada to focus on leisure travellers through the creation of rouge was driven in part by its conclusion that demand from Canada to leisure destinations in Europe has averaged a 6.3% CAGR since 2010. Air Canada over the long term could not stand by and allow its competitors to soak up that demand. It recently announced seasonal flights from Toronto to London Gatwick from May-2016 as WestJet gears up to launch service to Gatwick from Canada in Jun-2016.
Air Canada unveiled its plans after WestJet declared its intent to serve Gatwick. WestJet has not yet stated origin destinations for its new Gatwick service, but Air Canada's swift response to WestJet's plans shows that it is not willing to cede any of the trans-Atlantic market to its rival, and an ability to leverage rouge makes Air Canada a formidable competitor to WestJet.

During 2015 rouge has launched its first domestic services with new flights to Abbotsford, McCurdy Sydney airport and Kelowna from Toronto, joining the new Calgary-Halifax flights. Data from CAPA and OAG for the week of 22-Jun-2015 to 28-Jun-2015 show that Air Canada also operates some regional service between Toronto and McCurdy Sydney and Kelowna.
rouge seems to be delivering a better than expected cost performance
As part of Air Canada's strategy to drive down its costs, rouge seems to have delivered on its promises. Recently Air Canada estimated that rouge's unit cost differential to mainline was 23% to 30% compared with original estimates of 21% to 29%. The cost efficiency is driven by lower wages for rouge employees and the higher density aircraft operated by rouge.
Its Boeing 767-300ERs have 282 seats versus a previous configuration of 191 to 211 seats. The A319s are growing from 120 to 136 seats.
Air Canada fleet reconfigurations for mainline, rouge and regional operations as of Jun-2015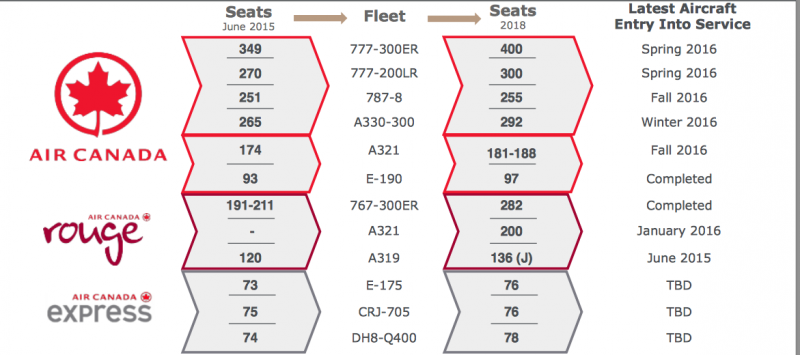 Airbus A321s configured with 200 seats are joining rouge's fleet in 2016, and recently Air Canada CEO Calin Rovinescu told news outlet Reuters that the ultimate objective for rouge is to have 25 narrowbodies, and 10 of the jets could be the larger gauge A321s. Mr Rovinescu stated to Reuters that Air Canada could source the A321s from the used market. Air Canada's website states that there are 10 A321s in operation at mainline, but there has been no indication that any of those aircraft are being transitioned to rouge.
Its current projections show that rouge will end 2015 with 33 aircraft and grow its fleet to 41 to 44 in 2016. rouge should reach its 50 aircraft cap in 2018, presumably split evenly between narrow and widebody aircraft.

rouge, along with the operation of higher density Boeing 777s and 787s at the mainline, and other initiatives including transferring Embraer 175s to Sky Regional and improvements in procurement and maintenance contracts have resulted in Air Canada estimating that it will have a 21% reduction in unit costs (excluding fuel and foreign exchange by YE2018 compared with YE2012), which is higher than its previous 15% target.

rouge is also a contributor to Air Canada's recent revision of targets for certain financial metrics. The company has set a return on invested capital target of 15% to 18% for 2015 to 2018 after posting a 15.2% return for the 12M ending Mar-2015. Its previous targets set in 2013 were 10% to 13%.
Air Canada believes it is doing a better job of managing product expectation for rouge
Although rouge has been successful in meeting its cost targets, Air Canada has had some problems with its customers over brand confusion about rouge. The passenger discontent spurred the term of "getting rouged" with respect to the narrower seat pitch and lack of amenities that are featured on Air Canada mainline. rouge's standard economy seats have 29in pitch and 30in pitch the 767 widebodies.

During 2014 Mr Rovinescu remarked that rouge was making its market debut at a time when some level of adjustment of passenger expectations was occurring, and said the airline needed to communicate better.

Now the airline believes that customers understand rouge's different product proposition. In early 2015 Air Canada Vacations COO Eamonn Ferrin told The Toronto Star that the company did not communicate the differences in rouge's product as well as it should have. He observed a lot of the negative feedback stemmed from the "super elites of the world" and not leisure travellers.
He stated communication has improved, largely through emails and online seat maps of rouge's seat configuration. "In fairness, we didn't communicate as well as we should have," said Mr Ferris. "Now communication is down pat."

Air Canada is also reconfiguring its rouge A319s with a new 2x2 configuration in its premium section with a true business class seat, perhaps as a way to satisfy customers that are willing to pay a bit more for a certain level of comfort.
rouge is turning a good performance in its early days, but it is too early to declare victory
At the beginning of 2014 CAPA concluded that during its first full year of operations rouge needed to start proving its mettle in terms of delivering on its cost efficiency promises. As its reaches its second anniversary rouge seems to be exceeding those targets, and its contentious beginnings have given way to improving support for the concept at Air Canada mainline.

It still seems too early to declare rouge a resounding success. But it has managed to deliver a solid cost performance during a time when it has grown from four aircraft at its start to 33 by the end of 2015. Obviously new competition awaits as WestJet solidifies its widebody network strategy. But for now rouge can celebrate positive momentum.

See related report: Canada's Airlines Par 2: Air Canada works to bolster its international network in 2014