Air Canada, AirTran, Continental biggest gainers, while Allegiant and Hawaiian continue down
Analysis
In a mixed airline board on Tuesday, AirTran (+5.2%) and Continental (+4.8% - see below) gained. AirTran's CFO last week projected "one of the best years ever" for the LCC.
Air Canada (+8.7%) has concluded deals with its unions and Continental succeeded in a securitised debt sale of a handful of its Boeing aircraft, returning it USD390 million.
Allegiant (-7.6%), meanwhile was down again, for a total recent loss of nearly a quarter of value. Online SmarTrend, an online "proprietary pattern recognition system" has indicated a "downtrend" for the stock, after last month rating it a buy.
Hawaiian Airlines (-5.6%) stocks also continued downwards. The carrier has been in still-unresolved negotiations with its pilots union for two years and the ALPA executive board last month reportedly set aside USD2 million to support the carrier's pilots in case they go on strike for higher pay.
For daily updates on American aviation stock prices and a complete wrap of the day's breaking news, sign up now for a complimentary subscription to America Airline Daily.
North & South America selected airlines daily share price movements (% change): 16-Jun-09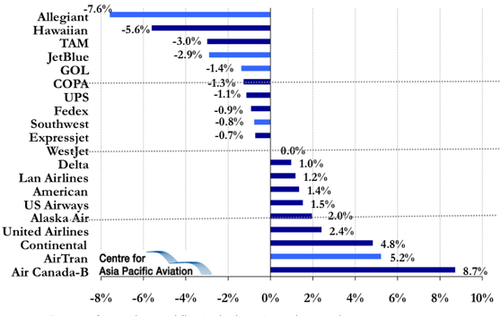 Continental securitisation – a green shoot?
Continental Airlines' plan to securitise the value in a number of its Boeing aircraft is a good sign from the perspective of lenders possibly returning to the financing market. This comes despite continuing gruesome yield and traffic declines in May-2009.

The carrier will issue USD390 million in security-backed funding.