Air Austral makes a remarkable return to profit, now with strong market positions on most routes
Analysis
Air Austral is one the European Union's furthest flung airlines, although it ranks as the second largest airline in the Indian Ocean by seat capacity. Based in the French territory of La Réunion, it shares with many European airlines a recent history of loss-making and restructuring.
Under CEO Marie-Joseph Malé, a former Air France executive, Air Austral's restructuring programme is now making an impact. The past two years have seen an improvement in the company's indebtedness and now a return to profitability in FY2014. This followed substantial losses prompted by economic weakness in Europe hitting leisure demand for the Indian Ocean French territory and an over-ambitious expansion programme.
The turnaround represents a significant achievement, but Mr Malé will no doubt be anxious to ensure that he builds on this and that Air Austral can be sustainably profitable. His agenda includes expanding the airline's partnerships, making further cost reductions and finally resolving the problem of what to do about Air Austral's order for two all economy class A380s.
Air Austral is back in the black in spite of lower revenues in FY2014
In the financial year to Mar-2014, Air Austral posted a net profit of just under EUR5 million, turning around a loss of EUR50 million in the previous year. Revenues fell by 2.2% to EUR353 million, but operating costs fell by 11.2%, so that the operating result was a small profit of EUR8 million, representing an operating margin of 2.4%. This followed an operating loss of EUR27 million in FY2013 and a loss of EUR48 million in FY2012.
The company lowered its year end net debt by EUR18 million to a level of just under EUR77 million at 31-Mar-2014 (net debt stood at EUR161 million two years earlier, at 31-Mar-2012, when Air Austral's gross cash balance stood at only EUR9 million and the company was in a perilous state).
Air Austral financial highlights: FY2014 versus FY2013
| Year to March (EUR million except where stated) | 2012/2013 | 2013/2014 | Change |
| --- | --- | --- | --- |
| Passenger revenue | 308.1 | 292.4 | -5.1% |
| Cargo revenue | 32.7 | 33.8 | 3.4% |
| Other revenue | 20.7 | 27.1 | 30.9% |
| Total turnover | 361.5 | 353.4 | -2.2% |
| Operating expenses | 388.6 | 345.1 | -11.2% |
| Operating income | -27.1 | 8.4 | +35.5 |
| Operating margin % | -7.5 | 2.4 | +9.9 ppts |
| Net income | -50.0 | 4.7 | +54.7 |
| Net debt | 94.9 | 76.7 | -18.2 |
ASKs were cut by 14% and load factor rose
Following a review of its network, Air Austral cut its capacity, measured in ASKs, by 14.1%, but it managed to limit the fall in passenger revenues to 5.1%. Passenger load factor, helped by the capacity cut, increased by 8ppts to 83%.
The capacity cut focused in particular on the airline's long-haul network. Air Austral has withdrawn from routes to Asia and Southwest Pacific, leaving only Bangkok and Chennai. It has also cut all its secondary French city routes over the past two years, consolidating the French network on Paris CDG, after suffering the impact of lower demand for tourism from France as that country's economy remains weak.
The reduced capacity led to the long-haul network achieving an impressive 85% load factor (+5 ppts). On the regional network, capacity was stable on the previous year and load factor gained 5ppts to reach 67%.
AIr Austral's RASK was up 13.8%
According to our calculations, based on reported figures for ASKs, load factor and operating costs, Air Austral's overall passenger yield (passenger revenue per RPK) held almost flat (-0.2%) in FY2014, in spite of regular promotional offers, so that the higher load factor drove an increase in passenger revenue per ASK of 10.4%.
Passenger revenue performance was assisted by the diversification of the long-haul operation into charter activities, product initiatives such as new lounges, improved punctuality and enhancements to the airline's loyalty programme. Total revenue performance was boosted by an increase in cargo revenues of 3.4% (in spite of lower capacity) and growth in other revenues of 30.9%.
Total revenue per ASK increased by 13.8%, according to our calculations (the company did not report RASK, but this can be calculated from revenue and ASK figures provided by Air Austral).
Air Austral operating statistics, unit revenue and unit costs: FY2014 versus FY2013
| Year to March | 2012/2013 | 2013/2014 | Change |
| --- | --- | --- | --- |
| ASK million | 6,331 | 5,441 | -14.1% |
| RPK million* | 4,748 | 4,516 | -4.9% |
| Load factor % | 75 | 83 | 8 ppts |
| Long haul load factor % | 80 | 85 | 5 ppts |
| Regional load factor % | 62 | 67 | 5 ppts |
| RASK EUR cent* | 5.71 | 6.50 | 13.8% |
| Pax revenue per ASK EUR cent* | 4.87 | 5.37 | 10.4% |
| Pax revenue per RPK EUR cent* | 6.49 | 6.47 | -0.2% |
| CASK EUR cent* | 6.14 | 6.34 | 3.3% |
CASK was up 3.3%; scope for more unit cost efficiencies
Air Austral's total operating expenses fell by 11.2%, greater than the drop in revenues, but less than the ASK capacity cut. Fuel costs dropped by 18% due to the reduction in capacity and in the unit price (the company attributes this in part to a new hedging policy).
Non-fuel costs fell at a lower rate, for example labour costs, which decreased by 4% as a result of a reduction in the workforce. The fall in labour costs did not match the capacity cut, but it was greater than the drop in revenues. Air Austral said that it exceeded the target in its cost-cutting plan to achieve savings of EUR7.5 million during the financial year, reaching a total of EUR9.7 million.
According to our calculations, operating cost per ASK (CASK) increased by 3.3% in FY2014, but this was less than the growth in RASK. A capacity cut that focused on long-haul probably meant that Air Austral's average trip length decreased during the year and it is likely that this will have contributed to the increase in CASK.
Air Austral's FY2013 CASK figure of EUR6.34 cents, or US8.50 cents, is in the same ball park as some of the more efficient European legacy airlines such as Aeroflot, TAP Portugal and Finnair, but Air Austral's average trip length (based on ASK and seat capacity data from OAG) is longer than theirs by around 30% or more. In general, CASK falls as average trip length increases and so this suggests that Air Austral's cost base still has further scope for efficiencies, particularly as it also competes in Asia, where airlines typically have lower CASK levels than in Europe.
Air Austral's principal hub is St Denis in La Réunion, a French territory in the Indian Ocean to the east of Madagascar. Less than 2% of its seats are in the domestic market, a single route between St Denis and St Pierre (week of 9-Jun-2014, source: OAG).
More than half of its international seat capacity is to Southern Africa (including Indian Ocean destinations in Mauritius, Madagascar, Mayotte and Comoros), while Western Europe accounts for more than one third of its seats.
Air Austral route map: Jun-2014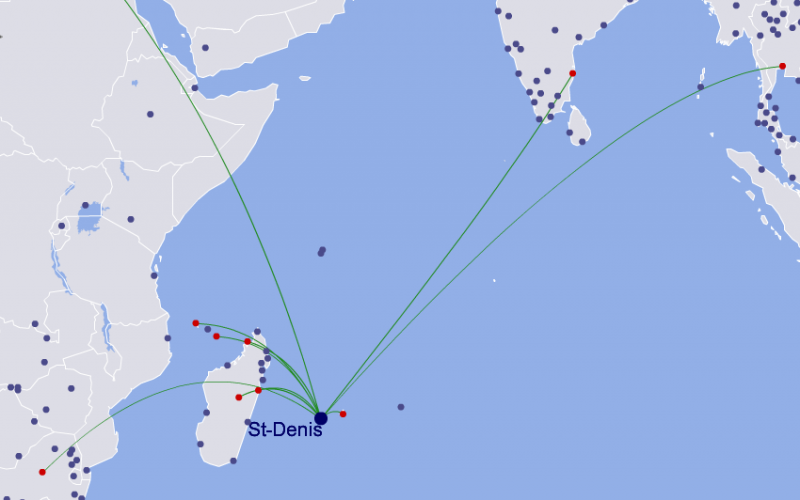 Air Austral international seat capacity by region: 9-Jun-2014 to 15-Jun-2014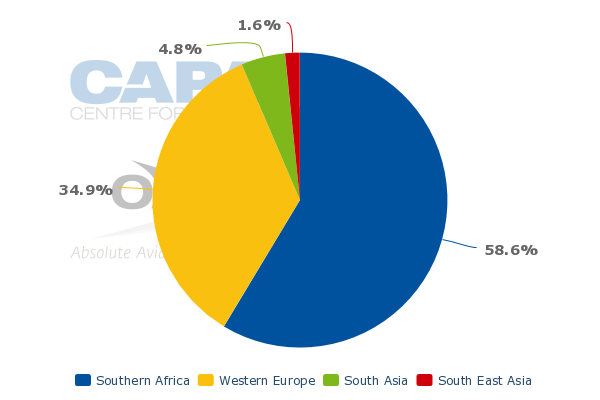 Air Austral international seat capacity by country: 9-Jun-2014 to 15-Jun-2014
Western Europe (which, for Air Austral, means its Paris CDG route) is even more important as a share of ASKs, taking more than 80% of its capacity by this measure.
This probably more closely reflects its importance to the airline's revenues than does its share of seat numbers. Asia (Chennai and Bangkok) account for a small single digit share of its capacity.
Air Austral international ASKs by region: 9-Jun-2014 to 15-Jun-2014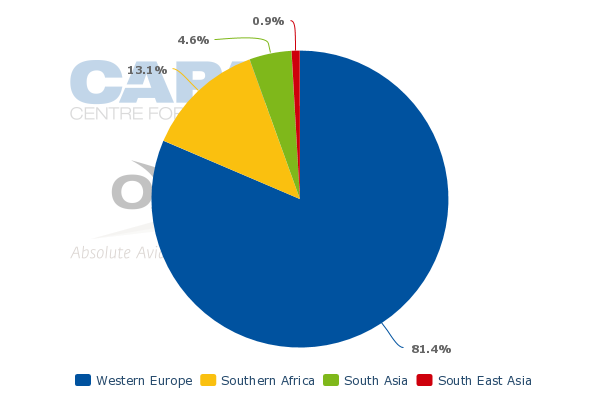 Air Austral's range of partnerships is being used to expand its reach
Air Austral reaches a wide network of destinations through partnerships with other airlines and Mr Malé plans to develop this approach further. It has codeshare agreements with Air Mauritius on Mauritius to Perth (operated by Air Mauritius); with Air Madagascar for part of the St Denis to Antananarivo weekly schedule (operated by Air Austral); and with Interair South Africa on St Denis to Johannesburg. It also has a codeshare agreement with UAE-based Dolphin Air, a self-described charter and ACMI lease operation.
As well as these codeshare partnerships, Air Austral's website makes reference to other airline partnership arrangements to offer its passengers access to a range of other destinations that it does not directly serve. These partners include Thai Airways for 29 cities across Asia from Bangkok; South African Airways for cities in South Africa and Perth, Australia, from Johannesburg; Lufthansa for cities in Germany from Paris CDG.
In France, where it used to serve a number of secondary cities directly from St Denis, Air Austral now has a partnership with the French rail operator TGV for destinations from Paris CDG.
Subsidiary airline EWA Air is based in Mayotte
In addition, Air Austral's regional subsidiary EWA Air operates from Dzaoudzi in the French territory of Mayotte to Majunga and Nosy Be in Madagascar, Dar es Salaam in Tanzania, Pemba in Mozambique and Moroni and Anjouan in Comoros.
It operates an ATR72-500 and commenced operations in 4Q2013. Air Austral connects with these services via Dzaoudzi.
EWA Air route map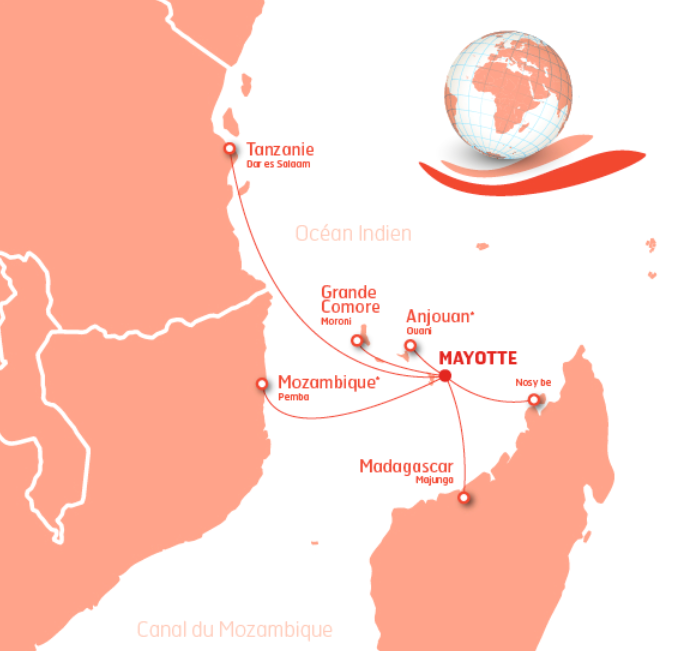 More than half of Air Austral's seats are on sub-two hour routes
Just over half of Air Austral's seat capacity is deployed on short-haul flights of less than two hours' duration and more than one third on long-haul flights of more than 10 hours (the Paris service).
Medium-haul (Chennai and Johannesburg) represents only around 12% of its seats, according to data from OAG for the week of 9-Jun-2014.
Air Austral scheduled seat capacity by length of flight: 9-Jun-2014 to 15-Jun-2014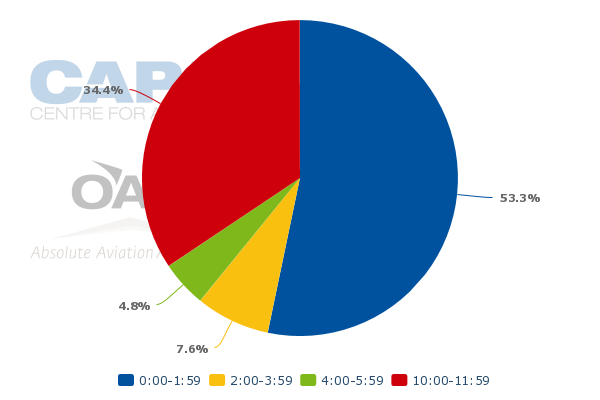 Fleet of eight aircraft is three less than 18 months ago; now for the A380
Air Austral's fleet consists of four Boeing 777 aircraft, two Boeing 737s and two ATR72 turboprops for regional flights. According to the CAPA Fleet Database, the average age of its Boeing jets is around four years and the average age of the ATRs is 9.6 years. The fleet has been reduced by three aircraft (two Boeing 777s and one ATR) over the past 18 months or so, in line with the company's restructuring plan.
There has been much coverage of Air Austral's apparent change of heart regarding its order for two Airbus A380 aircraft, which it agreed to acquire in 2009 in an all economy 840 seat configuration. It has been reported that CEO Marie-Joseph Malé, who joined in 2012, does not want an all economy configuration and that the airline is considering its options with Airbus.
Many observers expect Air Austral to seek to cancel the order, although it remains on Airbus' official list of orders as of 13-Jun-2014 and the deliveries are expected in 2018.
Air Austral Fleet Summary as at 14-Jun-2014
Higher than average proportion of premium seats
In spite of the leisure orientation of much of its network, Air Austral deploys a higher proportion of premium seats (first class and business class cabins) than the world average. According to OAG data for the week of 9-Jun-2014, Air Austral's seats were divided by cabin as follows: 90.4% economy class (world average is 92.5%), 8.0% premium cabins (world average 5.9%), of which 6.9% business class (average 4.3%) and 1.1% first class (average 1.6%), and 1.6% premium economy (average 1.6%).
This may have helped Air Austral's unit revenues, but is potentially vulnerable to weaker economic conditions, when passengers can become more price sensitive.
Air Austral scheduled seat capacity by cabin: 9-Jun-2014 to 15-Jun-2014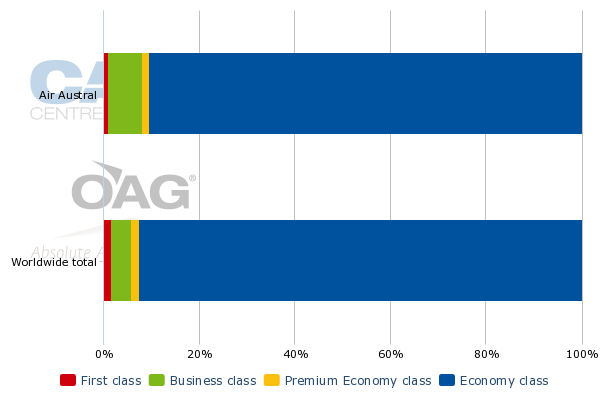 Air Austral has a strong market position on most of its routes
The St Denis to Paris CDG route is Air Austral's biggest by weekly seat capacity (and even more so measured by ASKs). Its next four most important routes are Indian Ocean routes (including Madagascar). It serves Bangkok via Chennai in India.
Air Austral top ten routes by seats: 9-Jun-2014 to 15-Jun-2014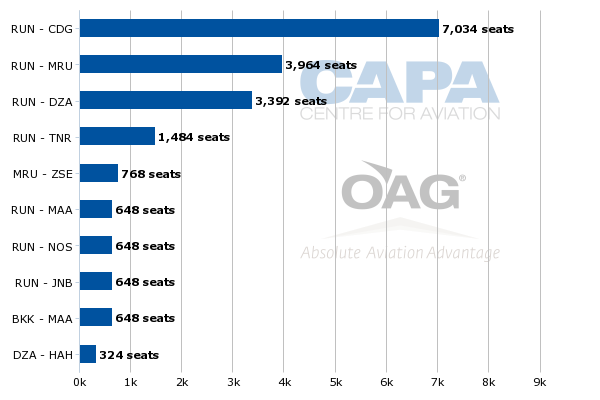 Air Austral is the number one operator on 11 out of 13 routes and is the monopoly supplier on five (St Denis to Dzaoudzi, Chennai, Seychelles, Nosy Be and the domestic route to St Pierre). On all but one of the routes where Air Austral does not have a monopoly, the other carriers present are partners of one kind or another with Air Austral.
The greatest level of competition is on the Paris route, Air Austral's largest, where both Corsair and Air France operate to Orly. Air Austral has acted to shore up its position on this route and it now deploys broadly the same capacity to Paris as it used to deploy to all French destinations two years ago, before withdrawing from secondary cities in France.
In consolidating its France services onto Paris, it moved from being the route's number three operator in summer 2012 to number one in summer 2013 and it retains its leading rank on St Denis-Paris in 2014. At the peak of this summer season, it will have 12 weekly frequencies on this vital route.
Air Austral's market position by route
FY2014's profit is just - a creditable - first step along a new road
Air Austral has accomplished a creditable turnaround through network rationalisation, capacity cuts and cost reduction. Its return to profit in FY2014 was the result of strong load factor-driven RASK growth outpacing a more modest increase in CASK. A quick analysis of the limited available data suggests that further CASK reduction will be necessary to ensure that its cost base is genuinely competitive.
RASK levels should continue to see some support from its increased use of partnerships to help feed its more focused network and from a focus on product and service quality.
However, a purely RASK-based strategy is contains risk, especially if and when Air Austral returns to capacity growth. Certainly, two all economy class A380 aircraft would not make a great deal of sense in this context.
See related reports: