Air Arabia's Morocco base to open in 2009
Analysis
The announcement of Casablanca as its new hub comes as something of a surprise, as the carrier had previously stated in Nov-07 that it would use the Moroccan capital of Rabat as it hub for its North African operation. The launch date of the base has yet to be determined, but early 2009 is later than the previous guideline of 4Q08, which itself had been delayed from earlier timeframes.
To support its operations at the new hub, the carrier announced in 3Q08 that it could order or lease additional A320s for operations from Morocco. It is also considering leasing aircraft to fill gaps in its existing delivery schedules. Air Arabia ordered 34 A320s, and 15 options, at the Nov-07 Dubai Air Show.
The carrier's Moroccan expansion is based around a JV and management agreement signed in late 2007 between Air Arabia and Regional Air Lines. The Moroccan carrier operates a predominately domestic network, with a handful of services to destinations in Southern Europe from its home base in Casablanca. Isthmaar Bank, a Bahrain-based investment bank, is also a partner in the new carrier.
Regional Air Lines route map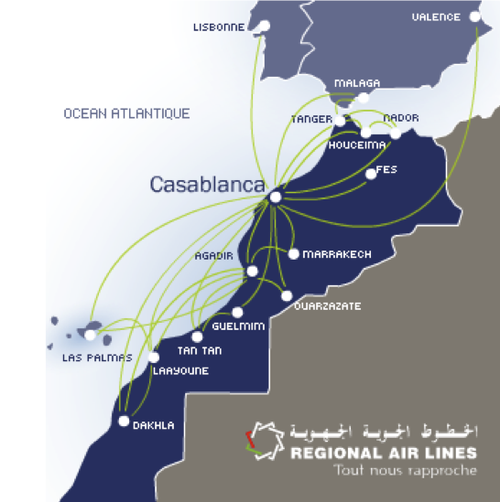 Air Arabia's new JV will cover Morocco's domestic sector and operate to selected destinations in Europe and Africa, although exact details of the network have not been finalised. Air Arabia Chairman, Sheikh Abdullah Bin Mohammed Al Thani, noted that in addition to further strengthening its Middle East operations in Sharjah, the carrier is "keen to capitalise on the immense potential in North Africa and Southern Europe".
North Africa has witnessed a strong economic growth and development over the past five years. The region fits in with the carrier's strategy of targeting developing and high growth markets. Meanwhile, European operations offer higher yielding traffic opportunities, particularly for trade and tourism traffic.
In Morocco itself, traffic growth has surged over the past few years, maintaining double-digit growth since 2003, after passenger traffic declined in the early years of the decade. Overall passenger numbers in Morocco expanded by 17% year-on-year in 2007, to over 8 million.
Moroccan airports' passenger numbers (mill) and passenger numbers growth (% change year-on-year): 2000 to 2007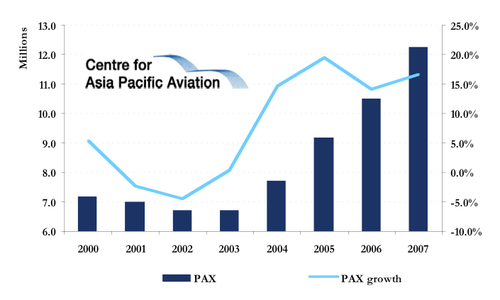 Much of the growth in recent years has been brought about through the addition of new airlines to the market, particularly European LCCs such as Ryanair and easyJet, and the launch of the Rabat-based Jet4You, which was acquired by the TUI Group in mid-2008.
Moroccan airports' passenger numbers (mill) and passenger
numbers growth (% change year-on-year): Jan-08 to Sep-08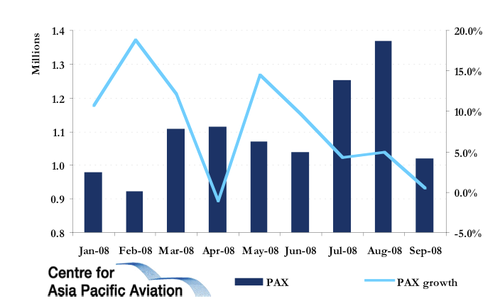 Moroccan traffic growth has also been stimulated by the vertical open skies agreement signed with the EU in 2006 (making it one of only two countries to have such an agreement). However, despite the strongly positive trend of recent years, growth has moderated, inline with international trends, over the past 12 months and may turn negative in the 4Q08.
Casablanca provides room to expand
While the carrier had originally intended to use Rabat as its hub, the choice of Casablanca makes more sense, particularly given Air Arabia's long term plans to create a network that spreads across Africa, Europe, the Middle East and Asia.
Rabat's smaller airport, with its single runway, has capacity for just 2 million passengers p/a, compared to the 11 million p/a at Casablanca. The airport, the largest in Morocco, recently opened a new passenger terminal, adding capacity by 6 million passengers p/a. It is also the commercial and tourism heart of the country, as well as being its largest city, with a population almost double that of Rabat.
Air Arabia had been repeatedly forced to postpone plans to open a hub at Rabat due to unspecified delays with construction of new facilities at the base. The carrier pushed back the opening of the hub from early 2008 to the end of the year. It had reportedly planned to convert Rabat into a similar scale of operation as at its main hub in Sharjah, which has developed a strong niche market in the shadows of neighbouring Dubai. Such an outcome appears to have been impossible at Rabat, so Air Arabia is charging up to compete in the more vigorous Casablanca market, which is dominated by Royal Air Maroc.
Casablanca Airport domestic and international capacity share by region (seats per week as % of total): Week commencing 03-Nov-08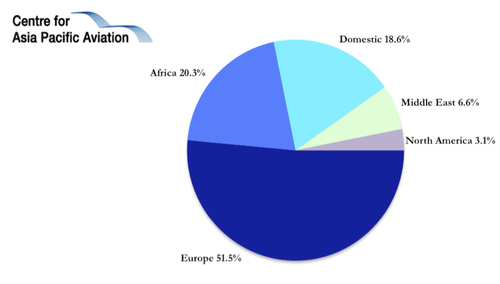 The new Moroccan base is too far from Sharjah to be linked by A320s and will require Air Arabia to open a third hub, possibly in the Levant or Northeast Africa, to join the two markets. The new hub is also expected to providing another stepping stone into European markets, particularly underserved markets in Eastern Europe and popular Western European destinations.
Such a move is expected to be announced in the first half of 2009. Likely sites include Egypt, Jordan and Syria.
Air Arabia's CEO, Adel Ali, is not afraid to put his opinions on the future of Low Cost Carriers (LCCs) in the Middle East forward. As the head of the Middle East's longest established, largest and most successful LCC, he sees massive potential growth in the region for the segment. In his own words, LCCs are the "ideal choice for travel" and the development of the model in the Middle East now "stands at a crossroads".
Compared to mature LCC regions, such as the US and Europe, LCCs have only just begun to make an impact in the Middle East, at least in terms of market share. However, with ambitious expansion plans, particularly in the regional and short-haul international markets (the natural operating environment of LCCs), this is set to change rapidly.
Since Air Arabia's launch in 2003, the region has seen the launch of Jazeera Airways (2005), Sama (2007) nasair (2007) and Bahrain Air (2008). Next year will see the launch of the Emirate of Dubai's new LCC, FlyDubai, and the possibility of a third LCC license being awarded in Saudi Arabia.
It is not just the increasing numbers of LCCs in the region that has the drive to increase the sector's market share, by adopting and leveraging new technologies and approaches to sales and operations, offering lower costs, better flexibility and new and innovative distribution solutions.
Air Arabia has also achieved some of the highest average daily utilisation rates for its A320s of any airline in the world, while its average load factors have been consistently above that of the regional average.
Air Arabia recently opened its fourth sales shop, located in Tehran, offering enhanced customer services, including both ticket sales and visa services. The carrier also adopted a new seat selection service and early check-in feature, to boost ancillary revenues. According to Mr Ali abandoning "traditional business processes and using demand-driven pricing" has been key to Air Arabia's success.
A320 average daily utilisation rates: 2007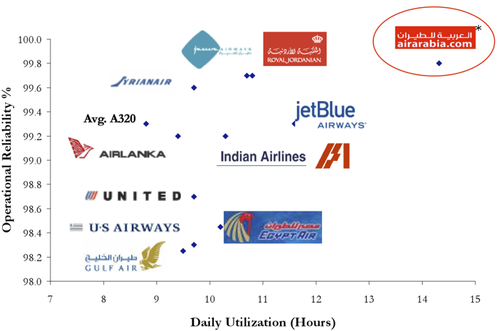 According to Mr Ali, there are more Gulf region legacy carriers indicating that they plan to launch their own LCCs. Both Saudia Arabian Airlines and Qatar Airways have both stated that competition could prompt them to launch their own LCC or budget focused subsidiaries.
Many of the traditional network carriers are also now playing catch-up to the nimble regional LCCs in terms of their distribution methods. Internet bookings, in what is an increasingly technologically proficient region, have witnessed strong levels of growth for carriers such as Gulf Air and Royal Jordanian. Additionally, major legacy carrier such as Emirates and Qatar Airways, have embarked on relaunches of their websites, to offer more convenience and options in an area which is becoming increasingly important as internet access levels rise across the region.
LCCs filling a new and growing market, as Middle East economies evolve
Demographic and structural change has fuelled the regional LCC boom. The Middle East oil and construction booms are having a trickle-down effect, "encouraging more people to fly more often, but also bringing budget travel within reach of the lower paid". In Mr Ali's opinion, the aviation industry in the Middle East is now "very open to greater change". And Air Arabia, and the rest of the Middle East LCCs, will be first in line to benefit from that change.
In addition to the underlying structural changes, Middle East LCCs are providing governments in the region an additional aviation policy option linking to national economic goals, a trend which has become a catalyst for liberalisation in regions such as the Asia Pacific and the Indian sub-continent. Some Middle East governments, particularly the UAE, Saudi Arabia, Bahrain and Kuwait, now have many more options at their disposal than they did just a decade ago.
LCC future needs more support
While Air Arabia believes the future for LCCs, and with them LCC focused secondary airports or specialist terminals, is very bright, Mr Ali has called on Middle East governments to ensure continued growth and viability by investing in both airports and aviation infrastructure, particularly for secondary facilities, and by adopting civil aviation-friendly policies.
Both Air Arabia and Sama have lobbied for the development of Low Cost Carrier Terminals (LCCTs) and secondary airports, which can offer regional LCCs lower landing charges and costs. There is certainly no shortage of airport development in the region, with almost USD50 billion being invested in Middle East airport projects.
This includes the development of the region's first LCCTs at the new Jebel Ali International Airport and the upgrades of Al Ain and Ajman airports for LCC and cargo operations.
Middle East airport development projects
| Airport | Country | Investment USD (mill) | Details |
| --- | --- | --- | --- |
| Jebel Ali | | 8,700 | New airport city |
| | | 7,000 | New runway, midfield terminal, control tower, cargo facilities by 2010 |
| Doha | | 9,000 | New airport (Phase I, 2008; Phase II, 2015) |
| | | 5,300 | Five new regional airports |
| | | 4,500 | Terminal 3, two new concourses, cargo facility and additional runway (2009) |
| Ajman | UAE (Ajman) | 3,300 | New international airport |
| | | 2,100 | Doubling of current capacity |
| | | 2,000 | Three new terminals & upgrades |
| Sohar & two undisclosed | | 2,000 | Three new airports, two dedicated to tourism. |
| | | 1,500 | Two new terminals, Haj terminal expansion (2010) |
| Seeb & Salalah | | 1,000 | Upgrades |
| | | 1,000 | Upgrades and expansion |
| | | 800 | Expansion of airfield and terminals |
| | | 600 | Terminal and runway rehabilitation |
| | | 350 | New Terminal 3 to open in 3Q08, doubling capacity |
| Doha | | 290 | Upgrades of existing airport (to be replaced) |
| | | 200 | Upgrades and expansion |
| | | 50 | Upgrades and expansion |
| | | 27 | Upgrades and expansion |
| Total: | | 49,717 | |
New Moroccan base to open shortly
Air Arabia has not been idle in expanding its own capacity, both inside and outside the Middle East region.
The carrier confirmed in mid-Sep-08 that it plans to commence operations at its new hub in Rabat, Morocco, at the end of 2008 or the beginning of 2009. The carrier had originally planned to launch operations from the base in early 2008, but it has required more development than initially assumed. The new base will be used to extend Air Arabia's network into Southern Europe and North Africa.
The new Morocco venture was started in Nov-07, when Air Arabia, in cooperation with the Bahrain-based Istithmar Bank, signed an agreement to take a major shareholding and management control of Casablanca-based Regional Air Lines. Under the deal, Air Arabia will restructure the carrier based on its own LCC model. Ownership levels by parties in the JV have not been disclosed.
To support its operations at the new hub, the carrier announced it could order or lease additional A320s for operations from Morocco. It could also lease aircraft to fill any gaps in its existing delivery schedules. Air Arabia ordered 34 A320s, and 15 options, at the Nov-07 Dubai Air Show.
Another Air Arabia hub in the Levant or North Africa is expected to be announced in 2009, to link the carrier's Rabat and Sharjah hubs. Likely sites include Egypt, Jordan and Syria.
Background Information: