Aerospace disruption: China's new role, new revenue streams, MRO, final assembly lines, services
Analysis
The aerospace world still has aircraft output as its core function, but is having to change its business approach. As much as "disruption" is used with airlines, it also applies to aerospace suppliers, with resulting impacts on airlines.
Airbus and Boeing are giving more assembly and completion work to China, partially because they need more facilities, but also because China mandates it in order to capture value back from aircraft purchases.
Final assembly and completion represents a small proportion of the total value of an aircraft. Still, as aircraft sales become more competitive, Boeing is looking to grow revenue from services and support. Rolls-Royce already makes most of its profit not from selling engines, but from supporting them.
Many A350 operators have signed on to Rolls-Royce's TotalCare offering, according to CAPA's MRO Database.
The evolution towards services is a challenge for China, whose ARJ21 jet and emerging lessors are ramping up service delivery and support.
Summary
Airbus and Boeing locate completion centres in China
Airbus and Boeing are opening commercial aircraft facilities in China. Airbus has a final assembly line for the A320 in Tianjin, and recently opened an A330 completion centre, also in Tianjin. At the A330 facility assembled aircraft arrive in Tianjin for cabin outfitting and painting, whereas at the A320 facility the aircraft are assembled and flight tests are conducted, in addition to cabin completion work and painting.
McDonnell Douglas had a narrowbody assembly plant in China, and Boeing plans to return with a 737 completion centre. China wants to capture value back from its aircraft orders. Official disclosed figures make China the second largest backlog for airframers, with 765 aircraft, behind the 1,077 in the US, according to CAPA's Fleet Database.
However, China tends to have aircraft orders disclosed a while after being placed. Further, China tends to order aircraft in smaller batches closer to delivery than is the case in the US, where airlines place large orders with long lead times. So, in the long term more aircraft go to China than to any other market.
Besides the direct economic value, China has the indirect benefit of learning about assembly and completion work, and the prestige of higher-quality manufacturing, in line with the country's objective to move manufacturing up the quality spectrum.
The airframers have practical reasons to open facilities in China – and not just because China wants them. As Airbus and Boeing increase output, existing completion and painting facilities are becoming more constrained, so they need facilities elsewhere.
Narrowbody aircraft orders by country (firm orders and confirmed by lessor): 01-Oct-2017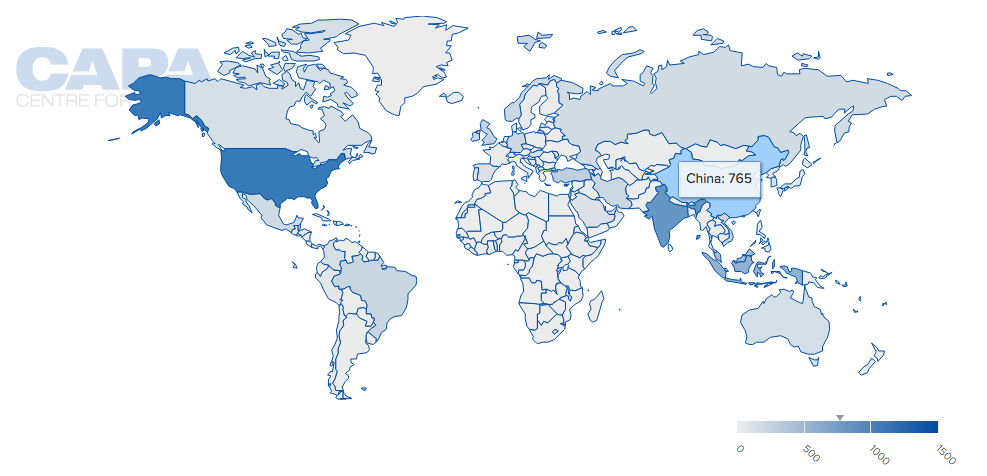 Final assembly and completion are relatively easy to give away
There is a considerable profile boost from being home to an assembly line (A320) or finishing point (A330), a difference of concept that is surely ambiguous to the public and politicians. After all, such sites "make" aircraft.
Yet aircraft are composed of countless components whose independent research and development, and then manufacturing, represent most of the value generated from an aircraft. Final assembly and completion are only a small part of the value of an aircraft.
That makes it relatively easy for aerospace firms to transfer the work, assuming they have accepted that they must put more work back into the customer market.
IP protection is more assured from assembly than from component manufacturing. The A320 final assembly line is for the -ceo type, while the A330 is only for cabin finishing and completion. Presumably, one day they will work on the neo versions of the A320 and A330 (should China order the latter).
Shifting work from European and US assembly plants to China is not entirely a cost exercise or one done reluctantly. Assembly and cabin outfit are intensely labour intensive, and labour is cheaper (and union free) in China, although incomes are on the rise, especially in the east where Airbus has its facilities - as soon will Boeing. Rising production rates across multiple aircraft programmes puts strain on resources, from labour to paint shop space.
China is anxious to produce components - and manufacturing clusters
Chinese airlines are increasingly under pressure to use Chinese made interior parts; narrowbody economy seats are the most prominent development so far. Having those interior companies closer to the cabin outfitting sites will help, as new products (and probably not in interior catalogues) have to be integrated.
Besides sheer distance from company headquarters to assembly point, the travel is all domestic, making it easier to be approved internally, and without any visa hassle.
This begins to create the manufacturing cluster or aerospace city many airports and governments strive for. Its historical economic success is what has inspired current iterations in new hubs (and not just in China: the UAE does some small-scale manufacturing too).
Airframers are looking at new ways to earn profits, disrupting themselves before there is too much external disruption.
Boeing shifts to services, brushing against UTC-Rockwell merger
Boeing itself is making a prominent shift to the services sector. There are three large developments: aircraft margins are under pressure, new aircraft and airframers are up-and-coming even if many years away, and finally there is large service-based revenue that Boeing has not been focused on, but could earn.
Boeing wants to grow service revenue from USD14 billion to USD50 billion in five to 10 years. Boeing estimates that it captures 7% of commercial services. Boeing is launching a dedicated business unit to pursue this growth.
Boeing Services market outlook: 2017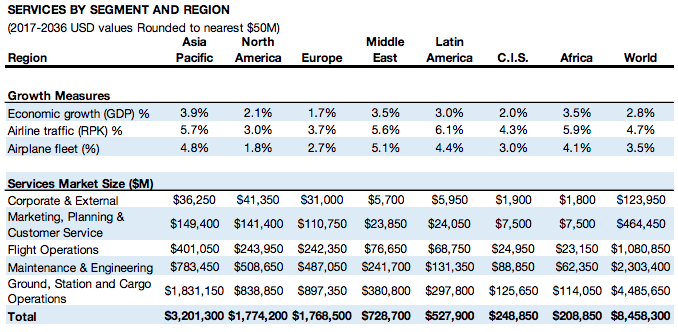 Boeing has come out against the UTC-Rockwell Collins merger that would pursue service support for the components it makes for aircraft. More immediately, the merger would result in the supply chain being better able to resist pricing pressure from airframers – another concern for Boeing.
Airbus is also pointing another new direction for OEMs. In Sep-2017 Qantas announced that its A380 retrofit programme would be carried out by Airbus.
Returning to the manufacturer for a cabin update may seem logical, but has seldom been done. It has been well over ten years since Qantas (and other early A380 operators) did the initial A380 configurations. Airbus has learned considerably from the passage of time, the volume of A380s produced, and the range of operators/interiors it has produced. Airbus is arguably best placed to share updates and possibly launch new interior design options that it has researched, but not yet flown.
Airbus is working on another A380 retrofit programme: Singapore Airlines.
In Nov-2017 Airbus and Singapore Airlines announced that Services by Airbus would provide service bulletin and aircraft cabin parts kit delivery services for the cabin retrofit programme covering 14 A380 aircraft currently in service with Singapore Airlines. (SIA's first five A380s are being retired, and will be replaced by new-build aircraft that already have the new product installed.)
While the retrofit programme will be undertaken by SIA Engineering in Singapore, Services by Airbus will also contribute design and engineering expertise to integrate the airline's customised cabin fittings.
CAPA's MRO Database tracks the Singapore Airlines A380 seating retrofit programme details:
Singapore Airlines A380 seating programme contractors: Nov-2017
| | |
| --- | --- |
| Company | Details |
| JAMCO | Supply of business class seats for the entire A380 fleet; also part of the A380 cabin refurbishment project. |
| Recaro | Supply of CL3710 economy class seats for the entire A380 fleet; also part of the A380 cabin refurbishment project. |
| ZIM | Supply of premium economy class seats for the entire A380 fleet; also part of the A380 cabin refurbishment project. |
| Zodiac | Supply of first class suites using fine feather from Poltrona Frau for the entire A380 fleet; also part of the A380 cabin refurbishment project. |
Propulsion companies well on the way to being service focused for revenues
Aircraft manufacturers are not entirely looking to replicate Ryanair CEO Michael O'Leary's stated objective of giving seats away for free, but then earning revenue (and profits) from ancillary purchases.
But propulsion companies are well on the way to that model: newer engines are effectively sold at cost, with profit made through services. As part of this change, services are being redefined. Typically, airlines used to pay for engine maintenance as needed, but now – such as with the Rolls-Royce Trent XWB for the A350 programme – airlines pay a set rate for maintenance based on engine usage, and not how much maintenance, small or big (or overhaul/replacement), is needed.
For airlines and investors, this means more upfront costs as the engines have higher initial maintenance costs but then, later in life, less dramatic cost spikes.
This shift is partially a response to some widebody programmes (777-200LR/300ER, 777X and A350) having a sole engine supplier. The sole engine supplier status delivers volumes, and arguably has facilitated closer collaboration, resulting in enhancement to engines – and consequently boosting the overall aircraft programme.
The downside is less opportunity to negotiate on price with the airline customer.
CAPA MRO Database tracks Trent XWB TotalCare
CAPA's new MRO Database covers contracts and opportunities in the MRO sector. The MRO Database tracks some of the TotalCare agreements with key A350 operators.
Rolls-Royce Trent XWB TotalCare contracts: Nov-2017
| | |
| --- | --- |
| Airline | MRO Contract Details |
| Air France-KLM S.A., Air France | Signed a long term TotalCare MoU included jointly provided MRO and allowed AFI KLM to develop the capability for Trent XWB; confirmed as a TotalCare provider in June 2017. |
| Cathay Pacific | TotalCare contract as part of engine purchase agreement. It was first signed in August 2010 for the A350-900 fleet, and A350-1000 fleet was included in an agreement signed in July 2012. |
| Delta Air Lines | A long term TotalCare contract. |
| Ethiopian Airlines | TotalCare service support for Trent XWB engines powering all 24 A350-900 aircraft. |
| Finnair | A long term TotalCare contract. |
| Hainan Airlines Group (HNA) | A TotalCare contract. |
| Philippine Airlines | An engine purchase with TotalCare service contract for 6 A350-900s on order and another 6 purchase options. |
| SilkAir, Singapore Airlines, Singapore Airlines Cargo, Scoot | An Efficiency Service Solution contract using the 'VisiumFUEL' engine management software programme and working alongside existing TotalCare agreements. |
| SriLankan Airlines | A long term TotalCare contract with 4 A350-900 aircraft orders (8 engines) |
| United Airlines | A long term TotalCare contract for initially 10 A350 aircraft, but expanded to cover 45 aircraft in September 2017. |
| Virgin Atlantic Airways | Long term TotalCare contract for 12 aircraft, including 4 leased aircraft, as part of engine order announced in July 2016. |
Some airline related MRO companies will provide XWB support for their related airline and/or third party customers. Besides the above mention of Air France Industries KLM Engineering & Maintenance, CAPA's MRO Database shows XWB support will be provided by the maintenance units related to Cathay Pacific (HAECO), China Airlines (in a JV with NORDAM), and Lufthansa Group (Lufthansa Technik).
(There are, of course, many more agreements covering the Trent XWB; for example, Lufthansa Technik having a Cyclean Engine Wash agreement for Asiana Airlines' A350 fleet.)
China is still learning about service excellence - but it is coming
China is expanding the ways it participates in the aviation economy. But it is evident China needs to speed up its support and service excellence. Nepal for example has criticised the Chinese-made MA60 for not having long term maintenance, training, and engineering support for airline operators.
Chinese lessors have grown in number, size and prominence.
Airlines report competitive leasing prices but sometimes limited support, including pricing for aircraft at the end of their lease. One airline did not have its lessor reclaim the aircraft on time. Leasing is the more straightforward part of the business; placing the aircraft with another operator is the challenging work, and where the lessor's success is ultimately determined.
So while China pursues a greater footprint in assembly and leasing, it will also need increasingly to examine how companies are moving upmarket with services and support.