Aeroports de Paris traffic up 3.5%; Hellenic DFS shares up 5.5%
Analysis
Passenger numbers: 6.4 million, +3.5% year-on-year;
Aircraft movements: 57,891, +0.6%;
Austria's Flughafen Wien AG, operator of Vienna Airport (+3.8%), announced (16-Dec-2010) its Supervisory Board has examined the draft report on the terminal extension VIE-Skylink that was prepared by the Austrian Federal Accounting Office and believes the members of the Management Board did not violate any provisions of stock corporation law or criminal law. Notwithstanding this conclusion, the Supervisory Board decided in favour of a change in the organisation of Flughafen Wien AG.
Under the plans, CEO Herbert Kaufmann will resign from his position as of 31-Dec-2010 by mutual agreement. Mr Kaufmann will continue to act in an advisory capacity. Chairman Christoph Herbst will temporarily assume the CEO position from 01-Jan-2011 to 31-Dec-2011. During this time, Vice Chairman Karl Samstag will temporarily assume the role of Chairman. Management Board members Ernest Gabmann and Gerhard Schmid will remain in their positions up to 31-Dec-2011. The new Skylink terminal was originally expected to open in 2002 and cost EUR210 million. The terminal is now expected to open in 2012 at a cost of EUR830 million.
Selected airport operators/investors daily share price movements (% change): 16-Dec-2010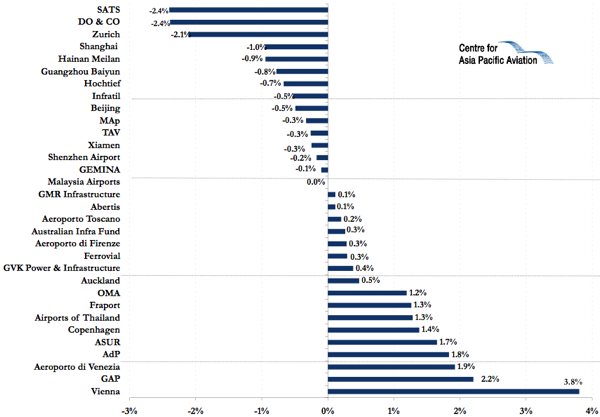 Dnata is reportedly due to finalise its USD626 million acquisition of Alpha Flight Group from Autogrill (+0.9%) today (17-Dec-2010). Meanwhile, Hellenic DFS (+5.5%) shares gained the most ground on Thursday (16-Dec-2010) while DUFRY (-2.1%) and GateGroup (-1.7%) shares dropped.
Selected airport suppliers daily share price movements (% change): 16-Dec-2010