Aeromexico and Volaris increase international spread to strengthen yields; and VivaAerobus follows
Analysis
Mexican airlines Aeromexico and Volaris are sticking to their proclaimed strategies of deploying most of their capacity into international markets as the Mexican economy slowly rebounds from a sluggish 2013. Through the first eight months of 2014 each airline increased their international capacity and traffic significantly, betting that yields are stronger in international markets.

The competitive overlap between Aeromexico and Volaris on each airline's top US transborder markets is not overwhelming, and Volaris has previously stated that it is targeting routes with a higher percentage of visiting, friends and relatives (VFR) travellers.

Aeromexico's and Volaris' rival VivaAerobus is also making a new transborder push during 2014, upping competition with Aeromexico and Interjet on some of its international services. It is tough to determine if the push is creating oversupply; but the international growth indicates Mexico's airlines are attempting to counter weaker yields on the country's domestic routes.
| | |
| --- | --- |
| | CAPA's first America Aviation Summit will he held at the HILTON LAKE LAS VEGAS RESORT & SPA on 27/28 April 2015. to experience CAPA's unique aviation conference format and to meet the movers and shakers in the Americas and worldwide and to meet 20+ airline CEOs, click here: CAPA Americas Aviation Summit |
Aeromexico and Volaris are deploying most of their capacity on international routes
As pricing traction has evaporated within the Mexican domestic market during 2013 and 2014, Aeromexico and Volaris have set their sights on international markets in order to shore up yields.

Volaris plans total capacity growth of 11% to 13% in CY2014, and during 3Q2014 its supply growth projections are 10% to 12%, with 19% to 21% of that growth deployed in its US transborder markets.

Aeromexico has refined its domestic supply growth projections to 8% from previous growth targets of 9% to 12% for CY2014. Originally, it planned for overall capacity growth of 15% to 18% in CY2014, with 19% to 22% deployed into international markets. But with the domestic revisions, Aeromexico's international capacity growth could increase slightly.

See related report: Volaris holds an optimistic view despite a tough 1H2014 in Mexico's domestic aviation market
Data from CAPA and OAG show that presently (w/b 22-Sep-2014) Volaris' ASM deployment is 25% international and 75% domestic.
Aeromexico, which also operates long-haul trans-Atlantic and trans-Pacific flights to London, Paris, Madrid, Tokyo Narita and Shanghai, has 62% of its ASMs deployed in international markets and 38% on domestic routes.
Volaris international vs domestic capacity (% of ASMs): 22-Sep-2014 to 28-Sep-2014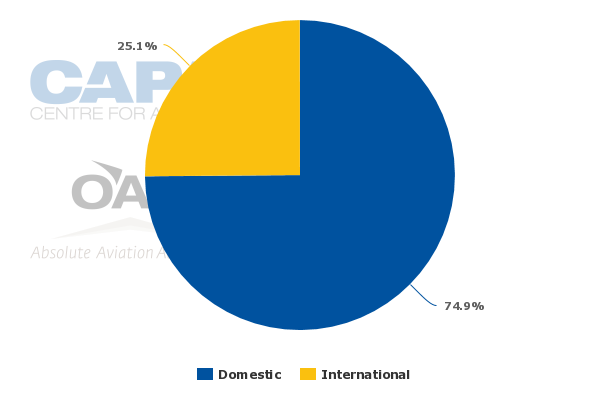 Aeromexico international vs domestic capacity (% of ASMs): 22-Sep-2014 to 28-Sep-2014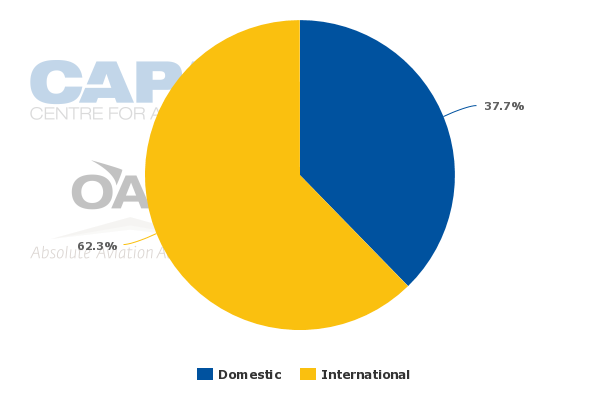 During the first eight months of 2014 Aeromexico's international traffic increased 24% on 21% capacity growth, driving up load factors to 82%. Volaris' international traffic increased 18% on 20% traffic growth, which resulted in a slight 1.5ppt decrease in load factor to a still healthy 86%.
Aeromexico's new bank structure at Juarez should improve international connections
Volaris' transborder push in CY2014 includes new flights from Guadalajara and Chihuahua to Denver, Guadalajara to Portland (beginning in Oct-2014) and Guadalajara to Ontario, California.

Aeromexico is adding frequencies to some of its US border flights during 2014 along with re-launching service from Monterrey to Houston (a route it dropped in 2011), where it squares off with VivaAerobus and United. Aeromexico's other new international routes introduced in 2014 include Mexico City to Rio de Janeiro in Jun-2014 and planned Mexico City-Managua service in Dec-2014.

Aeromexico leverages its commanding presence at Mexico City Juarez International Airport – Mexico's largest airport – for its international service. It presently (w/b 22-Sep-2014) holds a nearly 43% seat share at the airport according to OAG, and is also revamping its bank structure at the airport, increasing connecting banks from six to 12 now that there is more certainty in slot allocation at the airport.
The new connectivity offerings should make Aeromexico's schedule more appealing to connecting passengers from international flights, and presumably shore up revenue for the airline.

See related report: Aeromexico outlines its network and revenue strategy in an uncertain Mexican market
Aeromexico and Volaris seem to co-exist on some large transborder routes
Not surprisingly, all of Aeromexico's top international destinations originate at Juarez, and the majority of its largest markets measured by seat deployment are in US transborder markets.

Data from CAPA and OAG show that for the week of 22-Sep-2014 to 28-Sep-2014 Aeromexico and Volaris only overlap on three of each airline's top international routes measured by seats – Mexico City-Los Angeles, Guadalajara-Los Angeles and Mexico City-Las Vegas.
Aeromexico top 10 international routes by seats: 22-Sep-2014 to 28-Sep-2014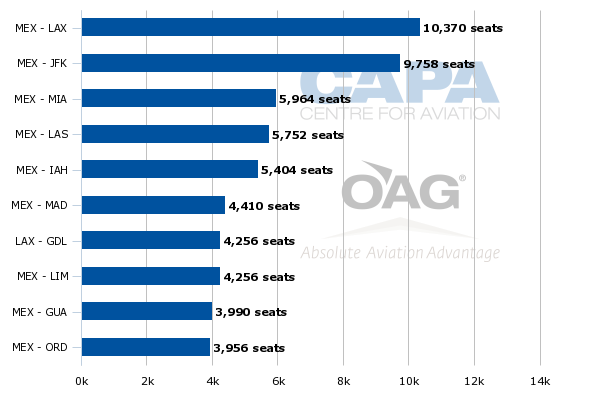 Volaris top 10 international routes by seats: 22-Sep-2014 to 28-Sep-2014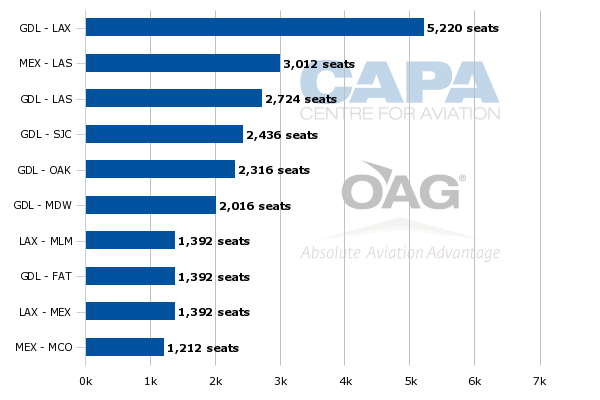 Given the slot restrictions at Juarez, and Guadalajara's positioning as Volaris' second largest base measured by seat deployment and its third largest based on ASM allocation, it is not surprising Volaris is leveraging Guadalajara in its international push.
Volaris top 10 global hubs/bases/stations by seats: 22-Sep-2014 to 28-Sep-2014
Guadalajara is Mexico's third largest airport and the country's second largest city, and is home to manufacturing facilities of several international firms. Volaris holds a 34% share of the system-wide seats deployed from Guadalajara and a 38% share of international seats offered from the airport.

The airport recorded 9.6% passenger growth from CY2012 to CY2013 to 8 million passengers. During the first eight months of 2014 Guadalajara charted solid passenger growth, which bodes well for its largest airline Volaris.
Guadalajara Miguel Hidal Airport monthly passenger numbers: 2010 to Aug-2014
Volaris' strategy in its US transborder markets (many of which originate in Guadalajara) is to target VFR traffic. The airline has concluded those markets have a lower level of competition given that some of Volaris' Mexican competitors in the transborder market are aiming to capture a mix of business and leisure travellers.

On Volaris' top international routes, it faces competition from Aeromexico between Guadalajara and Fresno and Alaska Airlines between Guadalajara and San Jose. Aeromexico operates flights from Guadalajara to Chicago O'Hare and Volaris operates flights from Guadalajara to Chicago Midway.

Volaris faces no direct competition on its service from Guadalajara to Oakland (United and Aeromexico offer service to San Francisco) and Las Vegas. It also has no direct competition on new transborder routes launched in 2014 from Guadalajara to Portland, Denver, and Chihuahua to Denver. Aeromexico operates service from Guadalajara to Ontario.

Based on its traffic results for the first eight months of 2014, Volaris seems to be holding its own in international markets even with some slight competitive overlap, and perhaps the small decline in international load factor is intentional, as Volaris might be opting to trade some fall in load factor for higher yields.
VivaAerobus makes a transborder push after remaining on the sidelines
Mexico's smaller low-cost airline VivaAerobus is also making a push into international transborder markets in 2014 after remaining a small player in Mexico's international market place.

Its expansion is made possible by the addition of newer and more fuel-efficient Airbus A320s in 2014. VivaAerobus aims to shed its Boeing 737 Classics by YE2016. CAPA's Fleet Database shows that VivaAerobus presently has five A320s in operation and 17 Boeing 737-300s.

During 2H2014 VivaAerobus is re-launching service from Monterrey to Las Vegas and San Antonio, and introducing flights from Houston to Guadalajara and Cancun. Those latest flights join VivaAerobus' existing service from Monterrey to Houston. Interjet also plans to introduce new Monterrey-Houston service in Oct-2014 with its smaller 93-seat Sukhoi Superjet 100 aircraft.

As previously reported by CAPA, VivaAerobus is breaking United's monopoly on the service from Houston to Cancun and Guadalajara, and faces competition from both Aeromexico and Interjet on flights from Monterrey to San Antonio and Las Vegas.

See related report: VivaAerobus plans a transborder push. Is this the start of a new phase for Mexico's quieter LCC?
Is there a threat of overcapacity in the transborder market?
The push by three of Mexico's airlines into international markets during 2014 is not a huge surprise as yields remained under pressure during 1H2014. During that time Aeromexico's yields fell 13% and Volaris recorded a 15% decline.

The obvious question is whether the additional capacity being deployed in international markets will be yield accretive to those airlines hoping to deflect some of the lingering yield weakness in the Mexican domestic market.

Most of the route additions by Aeromexico, Volaris, VivaAerobus and to a lesser degree Interjet, seem logical. However, there is growing competitive overlap in the transborder space, which could make the effects of diversification by those airlines into international markets less desirable.

Absent the forecast rebound in the domestic market, Mexico's four largest airlines could be encountering one another more frequently on international markets in future.