Aeroflot Group suffers first 1H net loss in many years as geopolitical backdrop starts to show
Analysis
The Aeroflot Group fell into loss in 1H2014, its first 1H loss since at least 2008. Although the result was affected by a significant level of non-recurring expenses, the underlying operating result was still significantly lower than last year. Aeroflot continues to grow faster than the Russian market and its focus on increased frequencies, rather than new routes, has helped the Group to grow its RASK (revenue per available seat kilometre). Unfortunately, this growth in RASK was outpaced by growth in CASK (cost per available seat kilometre).
The current geopolitical backdrop is clearly providing Aeroflot with some serious challenges. Demand for international flights has been weakened and EU sanctions forced the suspension of operations of Aeroflot's nascent LCC Dobrolet. Plans by the Russian government to reduce its stake in Aeroflot to 50% plus one share may now meet with delays as investors are likely to want to wait for the geopolitical situation to become more stable.
RUB1,905 million loss for the Aeroflot Group
In 1H2014, Aeroflot Group posted a net loss of RUB1,905 million, compared with a profit of RUB45 million in the same period a year earlier. Operating profit fell to a loss of RUB1,384 million in 1H2014 from a profit of RUB5,181 million in 1H2013.
The results were negatively affected by non-recurring expenses of RUB2.1 billion, of which RUB1.8 billion related to write-offs of receivables in respect to the bankruptcy of two tour operators that were customers of the Group and the remainder was provisions related to the early return of leased aircraft. Excluding these non-recurring expenses, the operating result was positive to the extent of RUB713 million, but this was nevertheless 86% below the 1H2013 figure.
Revenues increased by 9%, or RUB12.1 billion, to EUR140,281 billion. RUB10.1 billion of this revenue gain was due to foreign currency movements, as the RUB fell against major currencies, disguising an underlying weakness in pricing.
The parent company, JSC Aeroflot, reported a net profit of RUB1,835 million, down 9.8% year on year, and an operating profit of RUB1,578 million, down 68.2%. The subsidiaries made an aggregate net loss of RUB3,996 million.
Aeroflot Group financial highlights 1H2014
Aeroflot Group development of operating income 1H2013 to 1H2014
Group ASKs were up 5.0%, driven by frequencies
The Aeroflot Group grew its passenger numbers by 11% year on year in 1H2014, compared with 9% for the Russian market as a whole. The Group increased ASKs by 5.0% in 1H2014, but RPK growth fell slightly short of this at 4.2% and load factor dipped by 0.5 ppts to 75.7%.
The Group's growth was driven by the parent company JSC Aeroflot, where ASKs were up 13.1%, RPKs grew 12.2% and load factor dipped by 0.6 ppts to 76.5%. The subsidiary companies' RPKs were down 15.1% and load factor was down by 1.0 ppt to 73.3%.
Whereas the Group's load factor fell 2.5 ppts in 1Q2014, it made year on year gains in 2Q2014 and this recovery continued into Jul-2014, so that the 7M2014 load factor was flat on 2013's level of 77.6%. Nevertheless, this remains short of the 80% load factor achieved by the Association of European Airlines in 7M2014.
Aeroflot Group and JSC Aeroflot traffic statistics 1H2014 versus 1H2013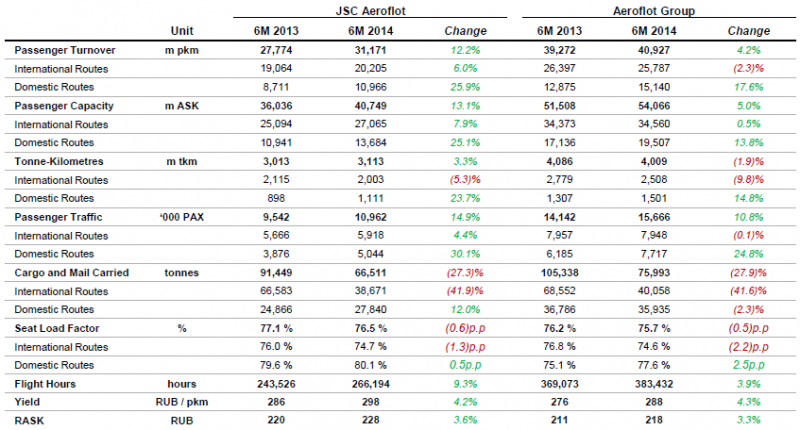 Aeroflot's growth strategy is based on growth in the number of frequencies on its routes. The average weekly frequency per route grew by 12.5% to nine times in 1H2014. Aeroflot's Deputy CEO for Strategy and Alliances, Giorgio Callegari, told analysts on a conference call to discuss the 1H results that frequencies, rather than adding "thin markets", would remain the basis for the Group's growth.
In summer 2014, only two new destinations have been added (Novyi Urengoy in Russia and Karaganda in Kazakhstan).
Aeroflot Group average weekly flight frequency per route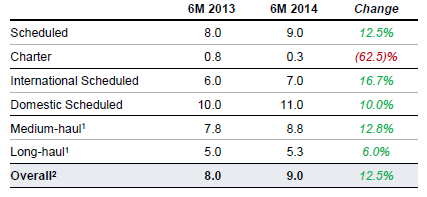 Domestic ASKs up 13.8%, but international just better than flat
The Group's traffic growth focused on domestic routes, where ASKs were up 13.8% and load factor gained 2.5 ppts to 77.6%. On international markets, capacity grew only 0.5% and traffic (RPKs) fell by 2.3% in 1H2014. Demand on international routes was weakened by the winter Olympics in Sochi in Feb-2014 and the impact of geopolitical events in Ukraine. Its Europe network achieved modest growth, albeit at lower load factors, but other international regions saw a fall in traffic.
Deputy CEO for Finance and Network and Revenue Management Kurmashov Shamil said on the conference call that Europe and Russian destinations were profitable. In the domestic market, Aeroflot has market power, reflected in an increase in its market share from 36% in 1H2013 to 38% in 1H2014 (based on passenger numbers, source: TCH and Aeroflot). By contrast, Mr Shamil added that Asian and North American destinations were "less profitable".
Aeroflot Group growth in passengers, ASK and RPK by region 1H2014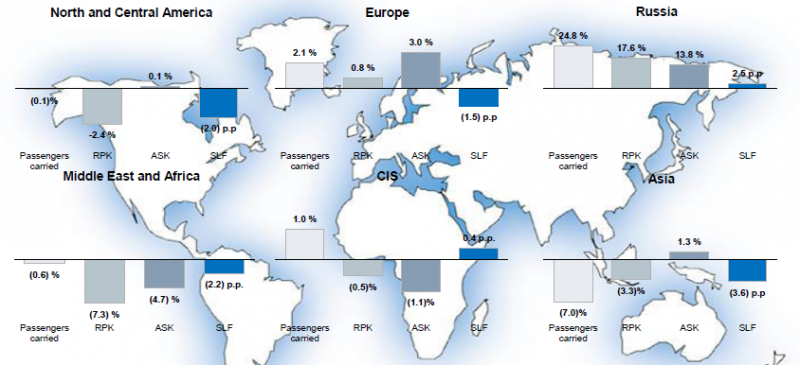 At Aeroflot's main hub airport, Moscow Sheremetyevo, 40% of the Group's passengers are transfer traffic in 2014, up from 36% in 2013 (on domestic flights transfer passengers are 42% of traffic and they are 38% on international flights). Mr Callegari said that that there are no plans to increase transfer traffic further.
The Group's revenues grew by 9.4%, faster than the 5.0% ASK increase. Revenue from scheduled passenger flights, which accounted for 79% of the total, increased by 10.3% (also faster than ASK growth).
By region, passenger revenue growth was highest in Russia, up 15.0%, but it was stronger than ASK growth in the international regions of Aeroflot's network, too. As noted above, this was assisted by currency movements.
Aeroflot Group revenues 1H2014
| RUB million | 1H2013 | 1H2014 | Change | % of 1H2014 total |
| --- | --- | --- | --- | --- |
| Scheduled passenger flights | 100,452 | 110,823 | 10.3% | 79% |
| Charter | 8,076 | 7,154 | -11.4% | 5% |
| Cargo | 5,139 | 3,819 | -25.7% | 3% |
| Traffic revenue | 113,667 | 121,796 | 7.2% | 87% |
| Other revenue | 14,513 | 18,485 | 27.4% | 13% |
| Total revenue | 128,180 | 140,281 | 9.4% | 100% |
Aeroflot Group passenger traffic revenue by region 1H2014 versus 1H2013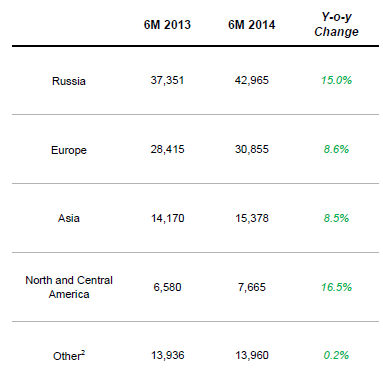 The domestic market experienced a modest decline in yield, but this was more than offset by load factor gains to result in a 1% increase in domestic scheduled passenger revenue per ASK. On international markets, the trends were reversed: yield increases more than offset falling load factor to drive passenger RASK increase.
Charter revenue fell by 11.4% and cargo revenue fell by 25.7% reflecting Aeroflot's decisions to cease the operation of block charter flights and dedicated freighters.
Aeroflot Group yield (passenger revenue per RPK) and passenger RASK 1H2014 versus 1H2013

748" height="215" />
Aeroflot Group's operating costs increased by 15.2% in 1H2014, faster than the 5.0% growth in ASKs and the 9.4% increase in revenues. Fuel costs increased by 8.9% and non-fuel costs increased by 17.9%. Staff costs were up by 13.8%, faster than the 4.9% increase in headcount, as a result of wage increases and the introduction of share based payments to employees.
Costs were inflated by foreign exchange movements (but by a lesser amount than the positive impact on revenues) and by the non-recurring expenses noted earlier. Excluding currency and non-recurring expenses, costs increased by 9.6%, only a little higher than revenue growth, but still ahead of ASK growth.
Reported CASK grew by 9.7%. In USD terms, CASK fell 2.7%, or by 4.2% excluding non-recurring expenses. Mr Shamil said that Aeroflot had a cost reduction programme aimed at achieving savings in its first wave of RUB2.2 billion in 2H2014.
Aeroflot Group operating costs 1H2014 versus 1H2013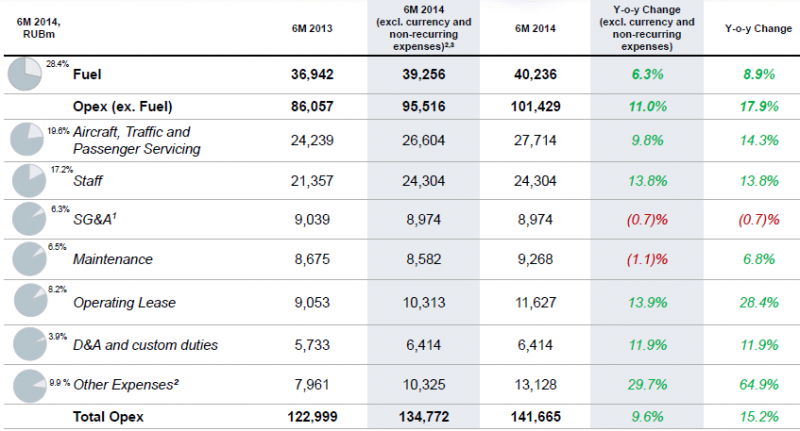 New LCC Dobrolet forced to suspend service after an encouraging start
Aeroflot's new LCC, Dobrolet, launched in Jun-2014, achieved a load factor of 91.8% in Jun-Jul. However, Aeroflot suspended the start-up's operations in early Aug-2014 "as a result of the economic sanctions against the airline introduced by the European Union". It says that it "remains committed to the LCC business model, believes it holds great promise for development inside Russia, and is committed to developing this segment further".
Indeed, as previously reported by CAPA, Russia's Minister of Transport Maxim Sokolov, has confirmed Aeroflot plans to launch another low cost subsidiary in 2014. Aeroflot reportedly purchased domain names including dobroletplus.com and dobrolet-plus.com (Izvestia/ITAR-TASS, 02-Sep-2014).
See related report: Dobrolet nears take-off, but can Aeroflot's LCC subsidiary achieve the required cost structure?
Aeroflot's geopolitical risks are high, but fundamentals are positive
Aeroflot continues to be affected by geopolitical risks. Events in Ukraine continue to have a negative impact on demand and the Group faces additional costs associated with avoiding Ukrainian airspace. Aeroflot would also be affected by any decision by the Russian government to close overflight on trans-Siberian routes to European carriers, since it receives a portion of the charges paid by foreign airlines for the use of Russian airspace.
Mr Callegari told analysts that Aeroflot's long term strategy of growth was however intact. "Although discretionary spend might see a reduction, demand for transportation shows healthy growth rates" he said, adding that demand for the low-cost carrier within the Group showed that Dobrolet was a successful launch.
Mr Callegari said that the market was "characterised by some political instability", so that most of the growth was likely to come from the domestic market, with slower growth on the international market. At this stage, Aeroflot has no plans to alter its planned aircraft delivery schedule, but this will be reviewed at the 9M stage.
Aeroflot Group fleet delivery and phase out plan 2014 to 2017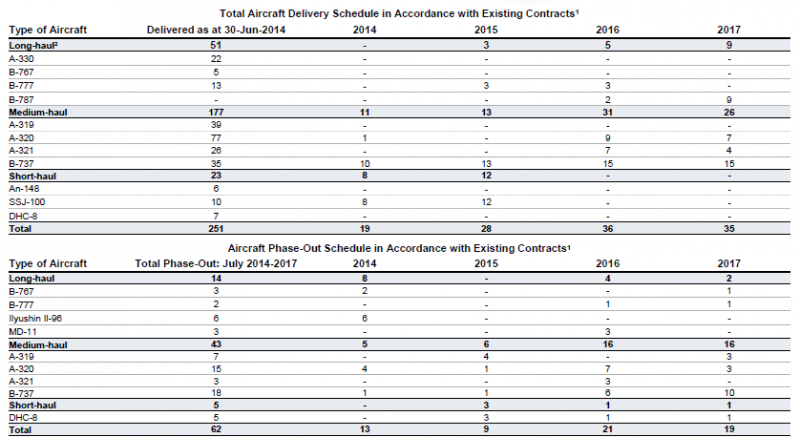 Aeroflot plans slower capacity growth in 2H2014, with RPKs growing at a high single digit or low double digit rate for FY2014. It expects load factor to be stable or marginally ahead of last year and that yield will stabilise and RASK will grow. However, its guidance for an EBITDAR margin in the high single digit area (perhaps around 9%) compares poorly with the level of 17.5% reported for 2013
In spite of the uncertain geopolitical environment, the fundamentals do appear to be positive for Aeroflot: Russia is a growing market in which the Group has a strong market position and an ongoing opportunity to establish a low-cost operator that should stimulate further market growth.
Aeroflot's strong domestic market position should allow it to continue to grow, even while the international market to/from Russia may be more volatile. Nevertheless, it needs to address the and reverse the trend of falling profitability, in particular the faster growth of CASK relative to RASK.
See related reports: