Aer Lingus slumps towards the bottom; Ryanair, Iberia, easyJet also lose - SHARE WRAP
Aer Lingus stocks led the way downwards yesterday, falling 20.4%, as a revised outlook (as leading analysts forecast a EUR100 million loss for 2009) turning what looked like being a bad year into what promises now to be a defining year for the carrier. In Aer Lingus' words, the financial result will be "materially below the bottom of the range of current market expectations". Even in today's world, it's hard to find a worse outlook than that.
If it survives now, Aer Lingus will in any event be a very different airline in 2010. For it has now passed the point of no return.

Meanwhile, Ryanair, whose CEO Michael O'Leary predictably had some uncomplimentary words to offer, also shed 6.0% of value in a generally sour market infected with swine flu.

Iberia (-5.6%) was still suffering the backwash from its weak report last week and easyJet (-5.6%) shed a similar amount on the day.

Only the Scandinavians, SAS (+3.8%) and LCC Norwegian (+2.3%) were significantly contrarian.
European airlines daily share price movements (% change): 28-Apr-09
Finding the bottom, Aer Lingus style

The most frightening number in Aer Lingus' announcement yesterday was that short-haul yields were down 23.6% in Mar-2009, year-on-year, while passenger numbers fell 5.7%. And, apparently, decline is still the direction.

Fair enough, Easter fell in March last year, so that the Mar-2009 numbers are made worse. But this steep decline, as passenger numbers and capacity also fell on Aer Lingus' main markets, suggests that the airline has few options left to revise its strategies.

Revenues for the first quarter were down a whopping 16%. On the carrier's long-haul routes, where capacity had been cut by 19.5%, passenger numbers fell 12.5%, with a resulting increase in load factor, but that was faint comfort.

The day's 20.4% reduction in capital valuation already came off a low base. From a peak of over EUR1.60 in Jan-2009, the Aer Lingus' shares ended trading at EUR0.56 cents yesterday.
Aer Lingus share price (EUR cents): Jan-09 to Apr-09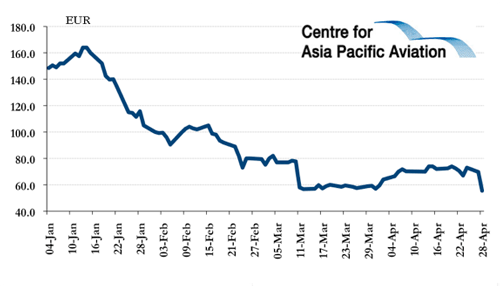 With a forecast loss now of EUR100 million for the year - double the recent previous estimate, finding the bottom could be a painful experience for the Irish flag carrier.

Even though Aer Lingus still has around EUR600 million on its balance sheet, the question quickly arises of whether it is worth continuing to burn cash at this rate - where there is no obvious way it can be turned around. You can only hold your breath for so long.

The announcement was a platform to set out new management changes in an airline that still has no permanent CEO, since Dermot Mannion left abruptly last month. Rearranging deckchairs on the Titanic, says O'Leary.

And there is a sting in the tail for Airbus too. Aer Lingus is now conducting "an urgent review" of its orders from the manufacturer.

It increasingly looks only a matter of time before the unwelcome advances of Ryanair will overwhelm the sinking flag carrier. This time, Michael O'Leary says he will not be making another offer. Ryanair, with 29.8% of equity, is the largest shareholder in Aer Lingus, other than the Irish government. Mr O'Leary says he is now planning to wait for the Irish government to beg him to take over the flag carrier.

And if things continue on this way, he might even say no.
For daily American share price updates and comprehensive news coverage on American aviation, sign-up now for a complimentary subscription to America Airline Daily.