Aer Lingus, SkyEurope, Iberia and British Airways investors cool as pall falls over the industry
Analysis
Aer Lingus shares, despite their monumental fall the previous day and a generally more benign share market, shed a further 2.2% on Thursday.
Meanwhile, British Airways (-4.1%) and Iberia (-4.2%) synchronised their downward moves as, despite generally stronger performances on European markets, most airline stocks moved down. Lufthansa and others have eschewed mergers in the current environment and, as the economy deteriorates, the dynamics of putting together two airlines become more complex and challenging. But, if the deal can be concluded quickly now - with the existing timetable appearing to be end-March - there should be some benefits to be had.
The Aer Lingus announcement that it was unlikely to make a profit this year, combined with the sober outlooks from leaders Lufthansa and Air France-KLM, appears to have cast a shadow over the entire airline industry.
Contrasted with airline performance on the US share market, where most airlines were sharply up, European airlines were remarkably subdued. This may mark the beginning of an irreversible sentiment which threatens to be terminal for some European airlines.
European selected airlines daily share price movements (% change): 12-Mar-09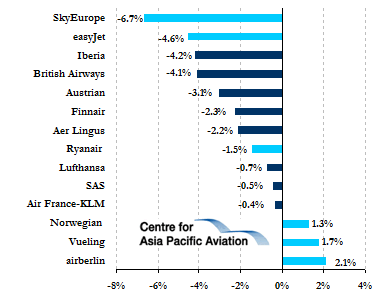 SkyEurope shares continue to bump along the bottom, losing a further 6.7% yesterday, after a brief tick up the previous day. Until the carrier is able to resolve its longer term fleet needs, it is merely living from day to day, despite performing reasonably well operationally.
SkyEurope share price: 02-Jan-09 to 12-Mar-09