Aer Lingus and Lufthansa disappoint, but US carriers rise on further capacity cuts
Analysis
Shares in Aer Lingus plummeted 25.4% as the Irish national carrier announced a EUR107.8 million after-tax loss for 2008, and issued a warning for 2009 stating that it no longer expects to post a pre-tax profit as per earlier guidance.
European selected airlines daily share price movements (% change): 11-Mar-09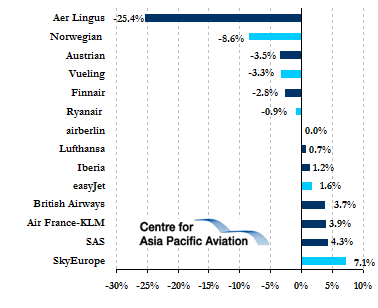 The announcement met with a furious response from 29.4% shareholder, Ryanair, with CEO, Michael O'Leary stating that Aer Lingus had "misled shareholders". Aer Lingus shares have dived almost 60% since the start of the year.
Aer Lingus share price: 02-Jan-09 to 10-Mar-09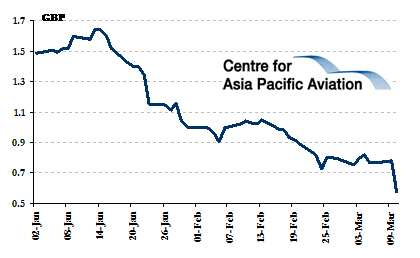 Meanwhile, Lufthansa's share price managed to remain in positive territory after announcing a 64% drop in net profit, and stating that its operating result for 2009 would deteriorate.
On the other side of the Atlantic, the market reacted positively to news that United Airlines plans to reduce domestic capacity by 7.5% and international capacity by 5.5% in 2009, pushing the stock up by 13.3%.
JetBlue rose 11.3% as Bank of America-Merrill Lynch upgraded the carrier from "hold" to "buy" due to its limited international network and low exposure to the weak corporate sector.
North & South America selected airlines daily share price movements (% change): 11-Mar-09