Aegean Airlines Group benefits from Olympic Air integration with a strong 1H2014 profit increase
Analysis
Aegean Airlines Group has continued to build on 2013's record profit with a more than doubling of its 1H2014 net profit (based on proforma figures that include Olympic Air in the prior year results). Although unit revenue (RASK) fell in 1H2014, reversing the positive trend of the previous two years, it succeeded in cutting unit cost (CASK) at a faster rate.
Aegean's 1H2014 operating margin of 6.0% makes it one of Europe's most profitable airline groups so far this year. The acquisition of Olympic in Oct-2013 appears to be providing benefits in the form of cost synergies and improved network feed, apparently without significantly distracting management attention.
Nevertheless, the competitive landscape is unlikely to become more hospitable as competitors such as Ryanair expand in Greece. In addition, geopolitical risk in Russia, one of Aegean's most important markets, is likely to add to pressure on RASK in 2H2014.
Aegean Airlines' Group 1H operating profit almost tripled
In 1H2014, Aegean Airlines Group posted a net profit of EUR16 million, more than double the proforma figure of EUR7 million for the same period a year earlier (including Olympic Air as if it had been part of the group throughout 2013). The operating profit almost tripled to EUR23 million. Consolidated revenues increased by 8% proforma to EUR389 million.
Aegean Airlines 2Q2014 and 1H2014 consolidated financial results summary
| EUR million except where stated | 2Q2013* | 2Q2014 | Change | 1H2013* | 1H2014 | Change |
| --- | --- | --- | --- | --- | --- | --- |
| Revenue | 226.0 | 254.7 | 13% | 358.2 | 388.6 | 8% |
| Other operating income | 2.0 | 1.1 | -45% | 3.9 | 4.7 | 21% |
| EBITDAR | 52.0 | 58.7 | 13% | 60.0 | 72.7 | 21% |
| EBIT | 25.8 | 32.9 | 28% | 8.1 | 23.2 | 186% |
| Operating margin % | 11.4 | 12.9 | 1.5 | 2.3 | 6.0 | 3.7 |
| Net profit | 20.1 | 24.4 | 21% | 6.9 | 16 | 132% |
See related report: Aegean Airlines Group losses narrow thanks to cuts at Olympic, but parent company losses grow in 1Q
Aegean's balance sheet is strong
The group's cash balance increased from EUR227 million at the end of Dec-2013 to EUR359 million at the end of Jun-2014, equivalent to almost five months of revenues. With debt (in the form of finance lease liabilities) of EUR59 million, the group had a net cash position of EUR300 million at the end of 2Q2014. A cash return to shareholders of EUR1 per share, or a total of EUR71 million, was paid in Jul-2014, after the end of the period, but this still leaves a healthy cash balance.
Much of the group's fleet is financed through off-balance sheet operating leases; capitalising this at eight times annual lease rental payments (assuming that 1H lease payments are repeated in 2H) would lead to an adjusted net debt position of around EUR390 million, around 2.5 times the book value of the group's equity, but only around 85% of its market value.
Aegean's healthy liquidity and relatively low financial gearing (adjusted for operating leases) gives it one of the stronger balance sheets among European airlines.
ASKs were up 11%
In 1H2014, the Aegean Group increased ASKs by 11% relative to the combined capacity of Aegean Airlines and Olympic Air in 1H2013. RPKs grew by 14%, driving a 2.1 ppt gain in load factor to 76.1%.
Passenger numbers grew by 16% to 4.3 million, with domestic traffic up by 19%, driven mainly by lower fares, and international traffic up 13%. International passengers from Athens were up 17%, as the market recovered for the first time since 2008.
Looking at the two quarters of 1H2014, capacity and traffic growth accelerated in 2Q, when ASKs increased by 15% and RPKs by 17%, compared with 1Q's 8% increase in ASKs and 5% growth in RPKs.
Aegean Airlines (including Olympic Air) 1H2014 operating statistics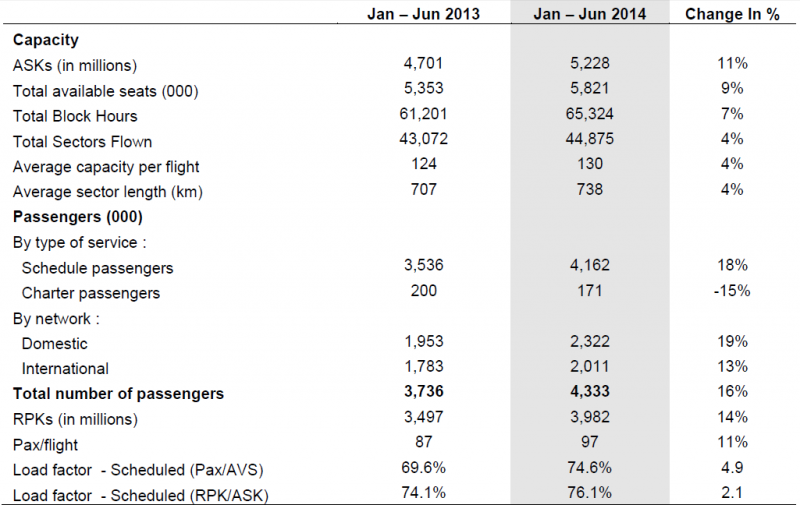 Aegean's revenues were up 8%
Revenue growth of 8% year on year on a proforma basis was slower than the growth in ASKs and was helped by a more than doubling of 'other' revenue, which includes ancillaries, cargo and executive aviation. Scheduled revenues increased by 3%, much slower than ASKs, while charter revenue fell by 17%(a little more than the 15% drop in charter passenger numbers).
Splitting 1H into its two quarters, Aegean's revenue growth in 2Q (which was 13%) accelerated relative to 1Q (when revenues grew by only 1%), mainly reflecting the stronger traffic growth.
Total revenue per ASK fell by 2.3% year on year in 1H2014, with 2Q's fell of 2.2% slightly better than the 2.7% decline in 1Q. Passenger revenue per ASK fell more sharply, down 8.5% in 1H, but the improvement from 1Q (-10.3%) to 2Q (-7.7%) was more pronounced.
Aegean Airlines 1H2014 consolidated revenues

Costs rose 5%
Operating costs (at the EBIT level) for the Group increased by 5% on a proforma basis in 1H2014, less than the growth in ASKs and revenues. Fuel costs grew by a little more than 5% and non-fuel costs grew by 4%. Employee costs were reduced by 2%.
Operating cost per ASK (CASK) fell by 6.0%, and ex fuel CASK was down 6.3% in 1H. The CASK reduction in 2Q (-3.9%) was less than the reduction in 1Q (-8.0%).
Aegean Airlines 1H2014 operating costs, EBITDAR and EBIT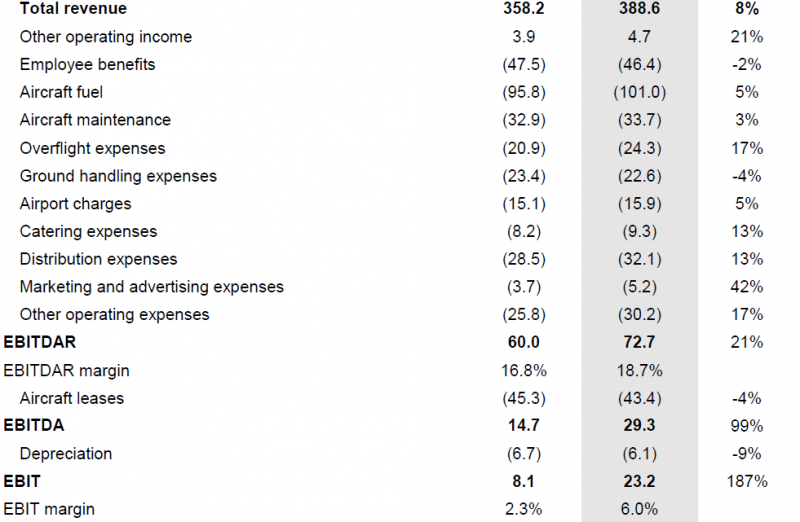 Parent company's EBIT was up 10% in 1H
The accounts of the parent company Aegean Airlines show that its net profit fell by a quarter to EUR12 million in 1H2014, but this was due to an increased in the tax charge for the period. Aegean Airlines' operating profit increased by 10% to EUR18 million in 1H.
Moreover, the deterioration in its operating result that CAPA noted in 1Q2014 was reversed in 2Q. Whereas the EBIT loss of the parent company increased by a little more than EUR2 million to almost EUR9 million in 1Q, this was more than offset by a EUR4 million improvement in 2Q profit to EUR27 million.
See related report: Aegean Airlines Group losses narrow thanks to cuts at Olympic, but parent company losses grow in 1Q
By subtracting the Aegean Airlines stand alone results from the consolidated Group results, we can calculate that Olympic Air's profitability improved sharply in 1H2014 (see table below) as its capacity, revenues and costs were sharply reduced. Olympic now only operates domestic routes.
It is important to stress that Aegean manages the two brands as an integrated network and so analysis of the disaggregated results should be taken with a pinch of salt. Nevertheless, the positive trend for both airlines is encouraging and suggests that the acquisition synergies are having an impact.
Disaggregated summary results for Aegean Airlines (parent company) and Olympic Air 1H2014 versus 1Q2013
| EUR million | 1H2013 | 1H2014 | Change |
| --- | --- | --- | --- |
| Aegean (reported) | | | |
| Revenue | 278.6 | 358.1 | 29% |
| EBIT | 16.5 | 18.1 | 10% |
| Net profit | 16.5 | 12.3 | -25% |
| Olympic (calculated) | | | |
| Revenue | 79.6 | 30.5 | -62% |
| EBIT | -8.4 | 5.1 | -160% |
| Net profit | -9.6 | 3.7 | -139% |
Aegean has ordered seven Airbus A320s
Aegean has recently announced an order for seven new Airbus A320s to add to its existing fleet of 36 A320 family aircraft (two A319s, 28 A320s and six A321s) and 14 Bombardier Dash 8 turboprops (operated by Olympic). The seven new aircraft are due to be delivered between Jun-2015 and early 2016. Five of these A320s had already been ordered, but their delivery had been deferred due to the economic crisis in Greece.
According to the CAPA Fleet Database, the average age of Aegean's A320 family fleet is 6.3 years, already relatively young, and so the new deliveries will further reduce this. They will be equipped with sharklet wing tips, bringing fuel savings of up to 4% on longer sectors.
2014 outlook: 1H was encouraging, but there are challenges
Aegean Airlines plans to fly 13 million seats in 2014, an increase of 9% on the combined Aegean/Olympic offer of 2013 and in line with the growth achieved in 1H2014. A total of 17 international destinations (around 20% of its total number of international destinations) is being added to the network this year.
Aegean appears to be continuing its trend of improving profitability after achieving record profits in 2013. The Airbus order is a sign of Aegean's renewed confidence and healthy finances, also reflected in its decision to submit a non-binding expression of interest in acquiring Cyprus Airways (Cyprus is Aegean's third largest international destination country, after Germany and France and Larnaca is number one international destination, according to OAG data for the week of 1-Sep-2014).
See related report: Cyprus Airways: an airline in need of the turnaround of all turnarounds
The integration of Olympic Air is bringing the Aegean Airlines Group CASK reductions and improved traffic flows, reflected in load factor gains. At the same time, RASK weakness reflects some additional challenges faced by the Group.
These include increased competition in Greece from foreign airlines such as Ryanair. The Irish LCC is Greece's number two airline after the Aegean Group and is also interested in the Cyprus Airways acquisition, a transaction that could have significant implications for the competitive landscape in Greece. In addition, geopolitical uncertainties in Russia (Aegean's number four international destination country) and Ukraine are providing some challenges to demand, visible to some extent in RASK weakness.
See related report: Ryanair's growth in Greece threatens Aegean's turnaround only months after Olympic acquisition
Aegean's strong profits in 2013 were created by a RASK increase and a cut in CASK. The fall in RASK in 1H2014 could be a precursor to its first full year RASK decline since 2010. To its credit, it has managed to reduce its CASK more rapidly than the fall in RASK so far this year, thereby improving 1H profits. It will be a considerable achievement if it can repeat this feat in 2H and report an improved profit for FY2014.
See related report: Aegean Airlines' annus mirabilis, but can it maintain the momentum in 2014?