Aegean Airlines: caught between the devil and the deep blue sea after three annual losses in a row
Analysis
Aegean Airlines seems to be caught between the devil and the deep blue sea, challenged both by a very weak domestic market and by an increasingly competitive international market where it has neither cost leadership nor a global network. If approved by the EU this year, will its planned acquisition of Olympic Air provide a route to safety?
Aegean reported its third successive loss in 2012, albeit a narrower one than in 2011, as passenger numbers fell by 6%. Aegean managed to reduce costs at a similar rate and to limit the revenue fall to 2% by cutting domestic traffic and international traffic from Athens while growing international traffic from provincial Greek cities. Double digit passenger growth from 2003 to 2009 has been followed by domestic-led decline, with Athens (Aegean's main hub, where it is the biggest carrier) a falling market. Although it has leading positions at its other Greek bases, LCCs are increasingly making their presence felt there.
Aegean is part of the Star Alliance, by far the biggest in Greece, but this is probably not enough to compensate for the lack of a long-haul network. Highly cost efficient versus legacy network carriers, with very good labour productivity levels, it is at a cost disadvantage to the LCCs. It has a good track record on unit costs, but this has not been sufficient to offset the collapse in unit revenues since 2008.
Aegean's third successive loss in 2012
Aegean Airlines reported its third successive net loss in 2012, although it managed to contain the loss to EUR10.5 million after losing more than EUR20 million in both 2010 and 2011. The carrier was hit by the impact of the eurozone crisis on the Greek economy. Although incoming international leisure traffic recovered somewhat in the second half of the year, the domestic Greek market remains very weak.
Aegean Airlines financial highlights: 2012 vs 2011
| EUR million except where stated | 2011 | 2012 | Change |
| --- | --- | --- | --- |
| Revenue | 668.2 | 653.4 | -2.2% |
| Other operating income | 10.3 | 5.0 | -51.5% |
| EBITDAR | 61.8 | 73.4 | 18.8% |
| EBIT | -30.7 | -8.9 | -71.0% |
| Operating margin % | -4.6 | -1.4 | +3.2 ppts |
| Net profit | -27.2 | -10.5 | -61.4% |
| Cash & equivalent | 166.8 | 149.3 | -10.5% |
| Net debt /(cash) | -68.3 | -75.4 | 10.4% |
| Capitalised operating leases* | 636.0 | 564.0 | -11.3% |
| Adj net debt | 567.7 | 488.6 | -13.9% |
| Equity | 169.3 | 153.2 | -9.5% |
| Load factor | 68.9 | 74.3 | +5.4 ppts |
| Pax m | 6.5 | 6.1 | -6.2% |
| RASK EUR cent | 7.1 | 6.8 | -4.2% |
| CASK** EUR cent | 7.5 | 6.9 | -7.8% |
| CASK** ex fuel EUR cent | 5.6 | 5.0 | -10.3% |
Ongoing losses are eroding equity; cash, while still healthy, is falling
Since 2008, the first full year after Aegean's 2007 IPO, the airline has lost a cumulative EUR8.5 million at the net profit level. It maintained positive results in the worst phase of the global financial crisis in 2009, but has been loss-making since 2010. Although losses have contributed to an erosion of its equity base, its end-2012 cash pile of EUR149 million is equivalent to 83 days of revenues and provides a reasonable cushion against unexpected events.
The cash balance has been falling since 2009 and Aegean will not want to see this fall further. The company makes extensive use of operating leases to fund its fleet and this means it has very low on-balance sheet debt levels and an overall net cash position. If operating leases capitalised at eight times annual lease payments are added to its on-balance sheet debt, then its adjusted net debt of EUR489 million is more than three times its book equity, a high level of financial gearing.
Aegean Airlines revenues, net profit and operating profit (EUR million): 2004 to 2012
Aegean Airlines development of cash, net debt and equity: 2004-2012

A short/medium-haul, primarily leisure airline
Aegean is entirely a short/medium-haul carrier with 48% of its seat capacity on domestic routes and almost all its international capacity on European routes, split two to one in favour of Western Europe versus Eastern/Central Europe. It has one Middle East destination (Tel Aviv) (source: Innovata database 1-Apr-2013 to 7-Apr-2013).
Its network links Athens and other primarily leisure-oriented Greek markets to the major cities in the rest of Europe.
Aegean Airlines destinations map
Aegean Airlines international capacity (seats) by region: 1-Apr-2013 to 7-Apr-2013
Rapid passenger growth from 2003 to 2009 followed by domestic-led decline
After double digit annual growth in passenger numbers from 2003 to 2009, Aegean has now seen traffic fall by 6% in two of the past three years. The 6.1% fall in passenger numbers in 2012 was driven by a 12.2% reduction in domestic passengers, while international passenger numbers remained stable. Within the international segment, the Athens hub saw a 4.5% decline, while Aegean's international routes from the rest of Greece carried 7.7% more passengers.
This traffic pattern reflects the company's strategy of reducing capacity in the domestic and Athens international market, while growing the international market to more leisure-focused destinations elsewhere in Greece.
Aegean achieved a load factor gain of 5.4ppts in 2012 to reach 74.3% and is significantly above its low point of 66% in 2009. Its load factor remains below the AEA 2012 average of 79.1%, but just ahead of the AEA load factor for routes in Europe, which is 73.0%.
Aegean Airlines development of passenger numbers (million) and load factor (%): 2002-2012
Aegean Airlines passenger numbers (million) by region: 2011 and 2012
Region

2011

2012

Change

% of 2012
passengers

Domestic

3.0

2.6

-12.2%

42.6%

International from/to Athens

2.2

2.1

-4.5%

34.4%

International from/to rest of Greece

1.3

1.4

7.7%

23.0%

All international

3.5

3.5

0.0%

57.4%

Total

6.5

6.1

-5.6%

100.0%
Athens is Aegean's principal hub, but it is a falling market
Aegean generally has leading positions in its principal airports. Athens remains Aegean's most important hub by some distance, with almost three times the seat capacity there compared with its number two base Thessaloniki.
Aegean (39.8% of seat capacity) is the number one carrier at Athens International Airport, with acquisition target Olympic Air (19.1%) number two. So far, Athens has not been a target for LCCs, but it is a declining market.
Athens International Airport annual passenger numbers (million): 2008 to 2012
Aegean Airlines top 10 bases: 1-Apr-2013 to 7-Apr-2013
Athens International Airport seat capacity by carrier: 1-Apr-2013 to 7-Apr-2013
Although Aegean is reducing its international capacity from Athens in order to boost international capacity from other Greek airports, Athens still features in seven of the carrier's top 10 international routes.
Aegean Airlines top 10 international routes: 1-Apr-2013 to 7-Apr-2013
Aegean has leading positions at other Greek bases, but LCCs are making themselves felt
Aegean is also number one at Thessaloniki, with 42.4% of seats, although LCCs Ryanair (number two with 18.0%) and easyJet (number five with 5.1%) have significant positions there too. At Larnaca (Cyprus), its third most important base by seat capacity, Aegean is number two with 18.1% to Cyprus Airways on 29.2%.
At Greek island bases Irakleion (Crete) and Rhodes, it is number one, but the LCCs also have a strong presence. At Chania (Crete), it is number two to Ryanair.
Revenue decline in 2012 due to heavy fall in domestic revenues, partly offset by growth in non-EU countries
Aegean's revenues fell by 2.2% in 2012, not as rapidly as the 6.1% fall in passenger numbers. Revenue per passenger grew by 3.5% due to a change in mix from domestic to international passengers and contrasting trends in revenue per passenger in the two segments. Domestic revenue per passenger fell by 11.8% and is now half its level of 2008, reflecting the very challenging economic environment in Greece.
International revenue per passenger increased by 4.7%. Domestic revenues fell by 22.5% and international revenues grew by 4.7% (driven by revenue growth in non-EU countries). In RASK terms, unit revenues fell by 4.2%, partly the result of longer average stage lengths.
Aegean Airlines revenues (EUR million): 2011 and 2012
EUR million

2011

2012

Change

% of 2012
revenue

Domestic

170.4

132

-22.5%

20.2%

Other EU

440.3

445.4

1.2%

68.2%

Other countries

57.5

75.9

32.0%

11.6%

Total

668.2

653.3

-2.2%

100.0%
Aegean Airlines revenue per passenger (EUR): 2011 and 2012
| | 2011 | 2012 | Change |
| --- | --- | --- | --- |
| Domestic | 57.6 | 50.8 | -11.8% |
| International | 142.2 | 148.9 | 4.7% |
| Total | 103.4 | 107.1 | 3.5% |
Costs fell by more than revenues in 2012
Aegean's costs fell by 5.9% in 2012, more than the decline in revenues. This cost reduction came in spite of a 1.1% increase in fuel costs, Aegean's biggest cost item, and was helped by a fall in labour costs of 18.7%. This latter reduction owes much to the complete outsourcing of ground handling at Aegean's Greek airports. Handling costs increased in 2012 as a result of, but by a lesser amount than, the reduction in labour costs. The outsourcing of handling not only lowers costs, but also makes the cost more variable.
Aegean's unit cost per ASK fell by 7.8%, with ex fuel CASK down 10.3%. This partly reflects longer stage lengths, but also management's focus on cost control.
Aegean Airlines operating costs (EUR million): 2011 and 2012
Cost category

2011

2012

Change

% of 2012
costs

Fuel

183.9

186.0

1.1%

27.9%

Labour

86.0

69.9

-18.7%

10.5%

Airport charges

124.4

117.8

-5.3%

17.7%

Leases

79.5

70.5

-11.3%

10.6%

Maintenance

45.7

47.9

4.8%

7.2%

Distribution/marketing

47.2

42.1

-10.8%

6.3%

Navigation

41.1

38.6

-6.1%

5.8%

Handling

26.3

32.6

24.0%

4.9%

Catering

23.7

18.1

-23.6%

2.7%

Depreciation

13.0

11.8

-9.2%

1.8%

Other

38.4

32.0

-16.7%

4.8%

Total

709.2

667.3

-5.9%

100.0%
Strong labour productivity boosted by outsourcing of handling
The outsourcing of ground handling at airports in Greece helped Aegean to improve labour productivity in 2012 as headcount fell by almost 17%. All the key measures of productivity improved as a result.
On most of these measures, Aegean ranks ahead of the legacy carriers and only behind the LCCs. On employee cost per ATK, it ranks third behind only Ryanair and Vueling.
Aegean Airlines labour productivity measures: 2011 and 2012
| | 2011 | 2012 | Change |
| --- | --- | --- | --- |
| Total full time equivalent headcount | 1615 | 1347 | -16.6% |
| Total labour cost EUR million | 86 | 70 | -18.7% |
| Employee cost per employee (EUR) | 53,251 | 51,893 | -2.5% |
| ATK per employee | 583 | 713 | 22.4% |
| Employee costs per ATK (EUR) | 9.14 | 7.27 | -20.4% |
| Revenue per employee | 413,746 | 485,078 | 17.2% |
European airlines employee cost per ATK (EUR cent) 2012*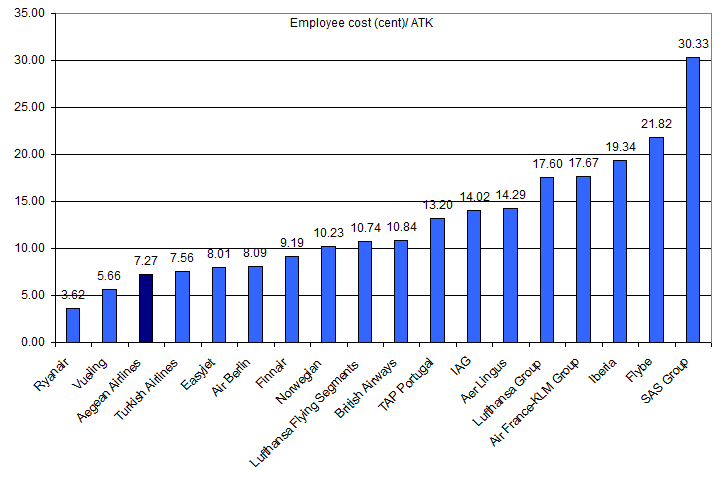 An all Airbus fleet
Aegean Airlines had an all Airbus A320 family fleet, with an average age of five years according to the CAPA Fleet Database.
The total number of aircraft has been fairly stable since 2010 and the mix of aircraft types has changed dramatically from the Boeing/Avro fleet of 2005. It is due to take delivery of one A320 in 2013 and four in 2014.
Aegean Airlines Fleet Summary: as at 4-Apr-2013
| Aircraft | In Service | In Storage | On Order |
| --- | --- | --- | --- |
| | | | |
| | | | |
| | | | |
| | | | |
| | | | |
Aegean Airlines fleet: 2004 to 2012
Cautiously hopeful for better results in 2013
On the 2012 results conference call, executive vice chairman Efthicos Vassilakis told analysts that he was cautiously optimistic that 2013 would bring better results than in 2012, provided that the environment in Greece remains stable. Assuming that the Olympic Air acquisition proceeds, capacity will be cut by 15% in the domestic market, but increased in international markets, keeping overall capacity flat on 2012 levels.
Mr Vassilakis cautioned, however, that the situation in Cyprus would have some destabilising impact on the region, both in terms of the Greek economy and incoming passenger flows from Cyprus. Aegean had already reported that it generated 6-7% of its 2012 turnover from the operation of routes to and from Cyprus, where it bases two aircraft.
2013 to be an Olympic year for Aegean?
Perhaps the most significant development for Aegean in 2013 could be the acquisition of Olympic Air. This deal, which would see Aegean pay EUR72 million in cash, was agreed last October with Olympic's owner, Marfin Investment Group, but is still being investigated by the European competition authorities (who have previously blocked a merger of the two carriers). Mr Vassilakis is optimistic of a decision in the next three months and believes its completion is vital for both carriers: in his view, "the Greek consumer does not have the financial capacity to support any airline" and so Aegean needs extra scale to compete for international passengers.
The proposed acquisition was analysed by CAPA in Oct-2012 (see link below) and we will not examine it again in any detail here. Since that analysis, however, there have been two significant items of news regarding Olympic.
See related article: Greece's Aegean Airlines and Olympic Air try once again to combine forces
First, it reduced its net loss to EUR8.6 million in 2012 from EUR37.6 million in 2011 and moved back into positive territory at the EBITDA level, in spite of a 10% fall in sales (no EBIT figure has been reported). The reduction in the net loss demonstrates that network rescheduling, the removal of non-profitable routes and cost cutting measures are having an impact.
Nevertheless, the fact that Olympic still has net losses (and likely EBIT losses) demonstrates that its costs are still too high for its revenue base and, in the words of the Marfin 2012 results announcement, highlight the "inability to improve yields". There is insufficient data to give a detailed unit cost analysis of Olympic, but there is nothing in the available data to suggest that it is a lower cost operator than Aegean.
The second new development regarding Olympic is that it has decided to consolidate its fleet solely around its turbo-prop aircraft (10 Bombardier Q400 and four Bombardier Dash-400) and so its A319 and A320 aircraft will exit the fleet. This is consistent with its strategic focus towards becoming a regional carrier. If the merger with Aegean proceeds, this strategy may dovetail with Aegean's push to develop its international business from regional Greek cities, but execution will be key.
Olympic Air 2012 results
| EUR million | 2011 | 2012 | Change |
| --- | --- | --- | --- |
| Sales | 240.5 | 216.3 | -10.1% |
| EBITDA | -15.5 | 11.6 | -174.8% |
| Recurring EBITDA | -26.7 | 3.2 | -112.0% |
| Recurring EBITDA margin | -11.1 | 1.5 | 12.6 |
| Net income | -37.6 | -8.6 | -77.1% |
| Recurring net income | -48.8 | -17.0 | -65.2% |
| Passenger millions | 3.4 | 2.9* | -14.0% |
| Sales/pax EUR | 71.3 | 74.6 | 4.6% |
Aegean's good CASK control was not enough to offset a fall in RASK since 2006
The chart below shows the development of Aegean's unit revenues (RASK) and unit costs (CASK), indexed to 2006, the year the company achieved its highest EBIT margin of 10.0%.
To some extent, the analysis of how its RASK and CASK has changed since 2006 is blurred by the doubling of its average stage length from 2006 to 2012, which would lower both unit revenues and unit costs without any fundamental change in its pricing power or cost efficiency. Nevertheless, since stage length should broadly affect both equally, the clear problem illustrated by the chart is that RASK has fallen by 32% over the period, while CASK has dropped only 23%.
Aegean has demonstrated a remarkably consistent track record in managing ex fuel CASK, down by 29% since 2006. In spite of this, the 28% collapse in RASK in just two years, from 2008 to 2010, was a severe blow and it was just not possible to manage costs down quickly enough.
RASK has been relatively stable since 2010, down only 4%, while ex fuel CASK has fallen 16% and CASK is down 7%, but this relative outperformance of RASK over CASK will need to continue for some time in order to restore a healthy level of profitability.
Aegean Airlines index of operating cost per ASK and fare revenues per ASK (each indexed to 100 in 2007): FY2005 to FY2012
Aegean is cost-efficient for a FSC, but competes increasingly with LCCs
Comparing Aegean's unit cost (CASK) against its average sector length with those of other European carriers shows it to be very cost efficient by comparison with the legacy network carriers.
On a sector length-adjusted view, it has the lowest unit costs of any non-LCC in Europe. However, the LCCs, in particular Ryanair and Wizzair, but also easyJet, have a significant cost advantage.
Unit costs (cost per available seat kilometre, EUR cent) and average sector length for selected European legacy and low-cost carriers 2012*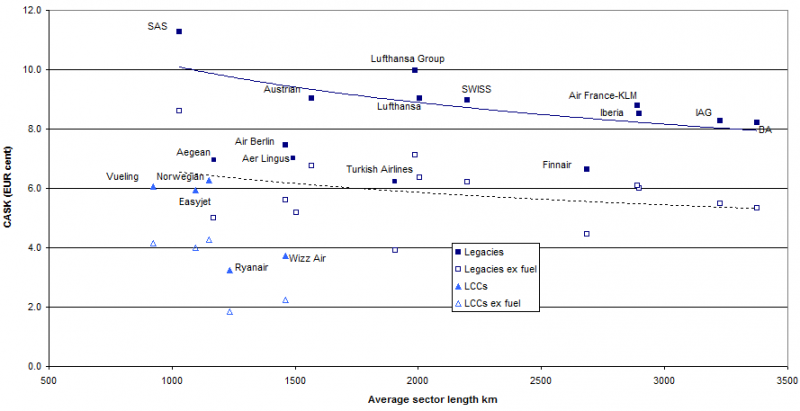 The devil and the deep blue sea: would Olympic help Aegean to overcome both?
Aegean is caught between the devil of a shrinking domestic market that is too weak to sustain it and the deep blue sea of an international market that is either more efficiently served by LCCs (in point-to-point leisure) or more extensively served by large carriers with global networks.
While it is doubtful that the acquisition of Olympic will bring a lower cost structure to Aegean, at least in the short term, it may help it to gain better pricing power in the Greek domestic market.
The Olympic deal would significantly strengthen its fight with this devil, but may not do much to get it over the deep blue sea.