Abu-Dhabi investors planning a third UAE LCC; Jazeera Airways eyeing acquisition in 2010
An undisclosed Abu Dhabi-based investment company has announced firm plans to launch a new LCC in 2010, operating short and medium haul services to regional cities, according to reports by Arabic daily, Al Khaleej. The new airline will be the UAE's third LCC after Sharjah-based Air Arabia and FlyDubai.
Meanwhile, Marwan Boodai, the Chairman of Kuwait-based LCC, Jazeera Airways, told Zawya Dow Jones that the carrier is "on the look now for acquisitions, rather than opening another hub". He added, "we are talking to more than one company at this stage and we feel the time is good in 2010 to close at least one deal". It may increase its capital in order to fund any acquisitions in 2010.
Mr Boodai added that the carrier plans to expand its network to 82 routes in the next five years. Jazeera, which posted a nine-month loss of USD5.2 million, stated it expects to report a profit in 2010 as the global airline industry recovers and the company turns its focus to its hub in Kuwait. Mr Boodai added, "we only sustained a loss in the first six months of this year due to the unforeseen changes of regulation in the UAE".
Also in the region, AirArabia's shares gained 3.3%, reflecting a strengthened UAE market.
North America LCC shares affected by Christmas terrorism scare
North American LCC shares fell on Monday, as a terrorism attempt on a Christmas Day Northwest Airlines flight from Amsterdam to Detroit highlighted potential aviation risks and increased airport security arrangements in the US and around the world.
Shares in AirTran, JetBlue, Allegiant, Southwest and WestJet were all lower yesterday, down 3.5%, 2.0%, 1.6%, 0.9% and 0.4%, respectively.
Also in the US, Southwest Airlines and the International Brotherhood of Teamsters (IBT) Airlines Division, representing the carrier's Stock Clerks, reached a tentative agreement for a new five-year contract that runs until 16-Aug-2013.
In Europe, Air Berlin's shares gained 1.3%, while Ryanair's shares were down 0.2% and shares in easyJet remained flat.
Selected LCCs daily share price movements (% change): 28-Dec-09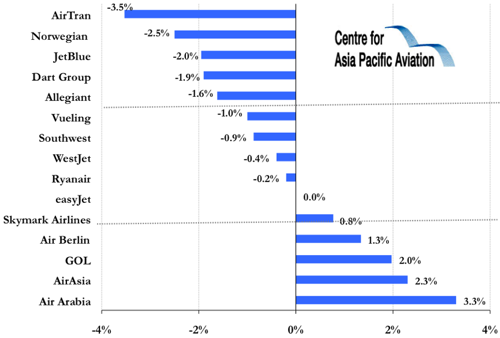 For more analysis, please see The Centre's landmark Global LCC Outlook Report.