13 Chinese airlines could each have a fleet of over 100 aircraft by 2020
Analysis
No-one can have escaped reports of the explosive growth of China's airline industry over the past decade. But to date this has largely been captive within the domestic market. Over the next five years, as the industry diversifies with further expansion, the impact will become much more apparent in international markets, bringing with it significant competitive and structural waves.
Of the 48 passenger airlines in the world today with over 100 aircraft, six are in mainland China: Air China, China Eastern, China Southern, Hainan Airlines, Shenzhen Airlines and Xiamen Airlines. And of the world's 10 largest airlines by passenger fleet size, three are in China.
But, by 2020 there could be over 13 Chinese airlines operating over 100 aircraft. Some seem sure bets: Tianjin Airlines already operates 84 aircraft. At the other end of the scale, West Air's ambitious projection of 80-100 aircraft by 2020 comes on a current fleet size of only 13. There will be adjustments, as seen by Spring delaying from 2015 to 2020 its plan to operate 100 aircraft, an aspiration – albeit probably realistic – that fell short due to import restrictions outside Spring's control.
Of the 2,200 aircraft in service in China in 2014, 81% are narrowbodies (a higher proportion than in the US) with the 737 and A320 each staking an equal share.
Worldwide, 48 airlines have over 100 aircraft; 102 airlines have over 50 aircraft
Globally there are 48 airlines with over 100 passenger aircraft, according to CAPA's Fleet Database. There are 70 airlines with over 75 aircraft, and 102 airlines with over 50 aircraft. This is ranked on AOCs and excludes regional partners operating under a different license, as well as subsidiaries operating under their own license as well.
Airlines with over six aircraft grouped by fleet size: 08-May-2014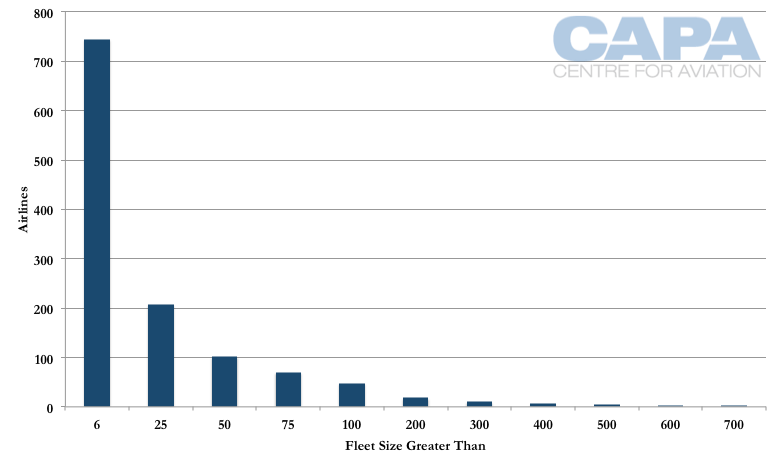 The world's airlines are greatly skewed by the numerous (745) airlines operating at least six aircraft - one reason why the global market is so irrationally competitive.
Looking more closely at airlines with over 50 aircraft, only 18 have more than 200 aircraft, 10 more than 100 aircraft, and finally only two – Delta and United – operate more than 700 aircraft. The integration of American Airlines with merger partner US Airways will create the world's first airline with over 900 aircraft.
Airlines with over 50 aircraft grouped by fleet size: 08-May-2014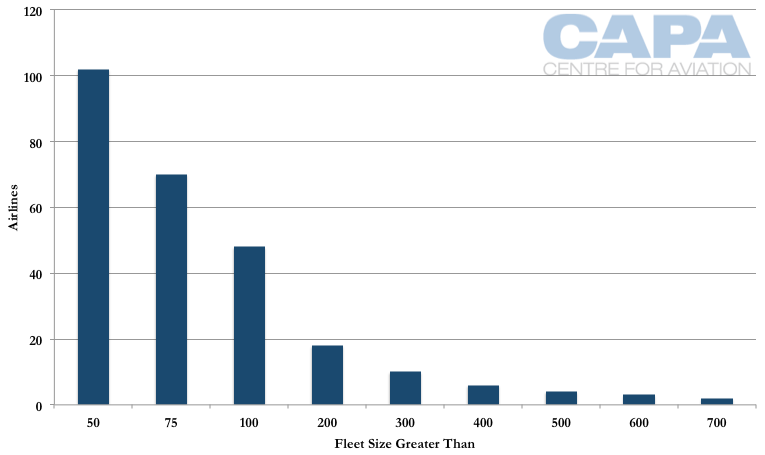 Six Chinese airlines already operate over 100 aircraft
Already 13% of the world's airlines operating more than 100 aircraft are in China. The spread is extensive: Xiamen Airlines only in 2014 had an operating fleet of 100 aircraft - in May-2014 it has 103. China Southern on the other hand has 457 aircraft in May-2014. China Southern is the world's fifth-largest airline based on aircraft and, ranked on aircraft, the largest airline outside the US.
ExpressJet, based in the US, is the world's largest regional airilne and world's sixth-largest by aircraft while the seventh is China Eastern with 350 aircraft. The tenth largest airline is Air China with 316 aircraft. It is not until the 11th largest airline, Ryanair, where a non-US or non-Chinese airline enters the ranking.
World's 15 largest airline ranked on aircraft fleet size: 08-May-2014
| | | |
| --- | --- | --- |
| Rank | Airline | Aircraft under AOC |
| 1 | | 754 |
| 2 | | |
| 3 | | 631 |
| 4 | | 591 |
| 5 | | 457 |
| 6 | | 403 |
| 7 | | 350 |
| 8 | | 339 |
| 9 | | 331 |
| 10 | | 316 |
| 11 | | 297 |
| 12 | | 279 |
| 13 | | 262 |
| 14 | | 238 |
| 15 | | 224 |
Georgia, 'Times New Roman', Times, serif;">Source: CAPA Fleet Database
Seven more airlines plan to operate 100 aircraft by 2020
In addition to the six Chinese airlines with over 100 aircraft, there are four with 70-99 aircraft: Tianjin Airlines, Sichuan Airlines, Shanghai Airlines and Shandong Airlines. There are two Chinese airlines with about 40 aircraft – Beijing Capital Airlines and Spring Airlines – and then four airlines with 20-40 aircraft: Juneyao Airlines, China United Airlines, Lucky Air and Okay Airways.
Tianjin, Sichuan, Shanghai and Shandong are most likely to operate over aircraft by 2020. Tianjin and Sichuan Airlines said in 2009 they expected to operate over 100 aircraft by 2015, but these growth targets are unlikely to be met and new targets have not been disclosed. Shandong Airlines in 2014 said it plans to double its fleet to 140 aircraft by 2020.
Also planning 100 aircraft by 2020 are Spring Airlines, the private Shanghai-based LCC that remains the country's only LCC of significant size; Juneyao Airlines, the private Shanghai-based full-service airline; and West Air. Based in Chongqing, West Air is part of the sprawling HNA Group, and aims to operate 80-100 aircraft by 2020. This would be an accomplishment given its May-2014 fleet size is only 13 aircraft. However, required growth would equate to slightly more than one new aircraft a month, which many airlines have shown themselves capable of achieving.
Airlines planning or likely to have 100 aircraft by 2020
Some of these plans may not eventuate. Likewise, other carriers could end up reaching 100 aircraft by 2020. Aside from West Air, the HNA Group has been quiet in making growth statements.
If Spring and Juneyao, with 40 or fewer aircraft in May-2015, can reach 100 aircraft by 2020, then Beijing Capital Airlines with 44 aircraft in May-2015 might be able to do so as well. China United Airlines has 27 aircraft in May-2014 and is planning 50 by the end of 2015; it could make another leap to 100 by 2020.
Beyond 20120, newly-launched Qingdao Airlines expects to operate 50 aircraft by 2020 and then 100 in 2025. Sutong Airlines, still to launch, expects to eventually (no date specified) operate 100 regional jets.
See related report: China's new airlines – Donghai, Loong & Qingdao – preferring to follow rather than innovate
Import restrictions stifle private carriers from growing
Growth targets will be dependent on a number of factors: the usual economy and competition matters, but unique to China are import restrictions. China's private carriers are already only too familiar with this. Spring Airlines last decade projected it would operate 100 aircraft by 2015, a goal now pushed back to 2020.
This is perhaps still optimistic: while aircraft import permissions are showing signs of improvement, there is considerable ground to be made, especially if airlines like Spring and Juneyao are to undertake rapid growth.
Kunming Airlines meanwhile in 2008 expected to be operating 80-100 aircraft by 2015 and then 150-200 aircraft by 2020. These plans look severely altered: in May-2014 Kunming Airlines has only eight aircraft.
2,200 aircraft in service in 2014, with 600 on order – 6,500 aircraft by 2032?
As of 18-May-2014 there are 2,216 aircraft in service in China with another 668 on order, according to the CAPA Fleet Database.
China projected delivery dates for aircraft being purchased purchased from OEMs and leased from lessors new aircraft order pipelines: as at 18-May-2014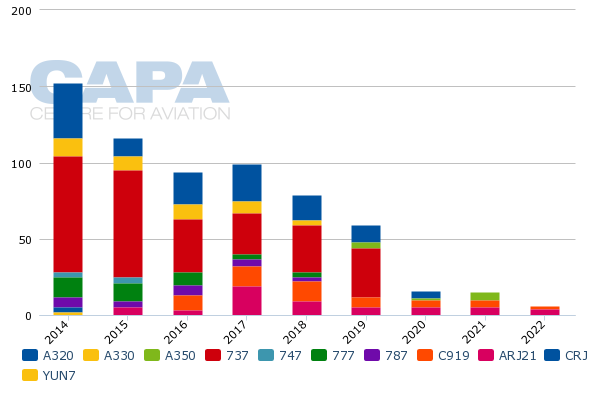 Georgia, 'Times New Roman', Times, serif;">Source: CAPA Fleet Database
81% of aircraft are narrowbodies, with 12% widebodies.
This is a different composition from the United States, the world's largest market (soon to be overtaken by China), where narrowbodies account for only 46% while widebodies are 14% and regional jets are 24%. And in terms of replacement needs as opposed to addition to core fleets, it is notable that the average age of China's major aircraft fleets is around 10 years younger than the US majors, according to CAPA's Fleet Database.
While some argue China will not need regional jets due to high-speed rail, others – including Sutong Airlines – righly observe that there are many city-pairs that cannot be efficiently served by high-speed rail.
China fleet breakdown for aircraft in service: 18-May-2014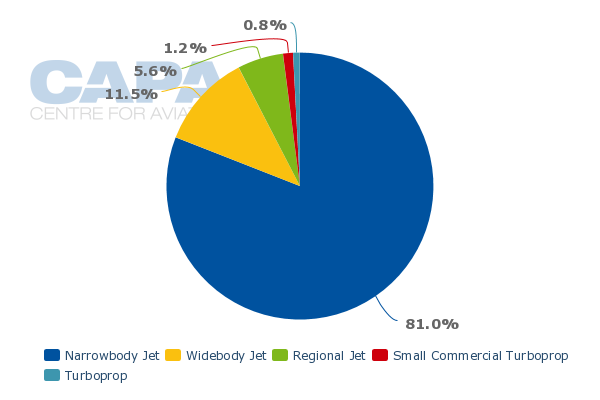 Georgia, 'Times New Roman', Times, serif;">Source: CAPA Fleet Database
United States fleet breakdown for aircraft in service: 18-May-2014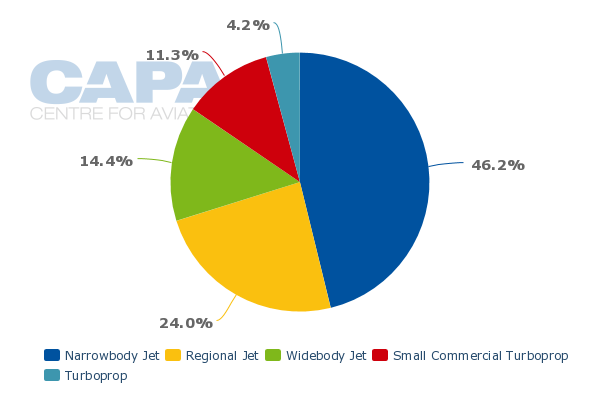 Georgia, 'Times New Roman', Times, serif;">Source: CAPA Fleet Database
The 737 and A320 each account for about 39% of aircraft in China, reflecting the airlines' (and state's) balance of airframers. The A330 is the most popular widebody followed by the 777.
Most Popular In Service Aircraft types in China: 18-May-2014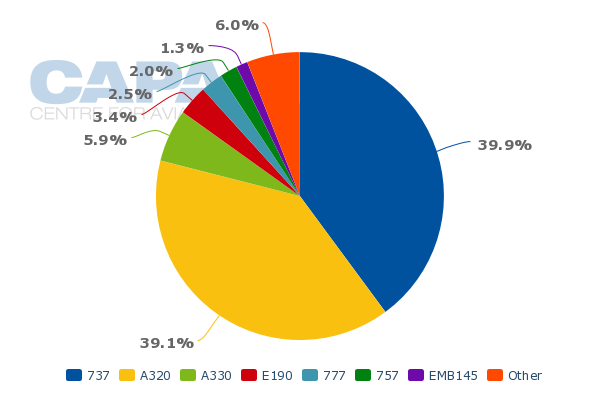 Georgia, 'Times New Roman', Times, serif;">Source: CAPA Fleet Database
Likewise Airbus and Boeing each have about a 46% share of the market.
China fleet breakdown by manufacturer for aircraft: 18-May-2014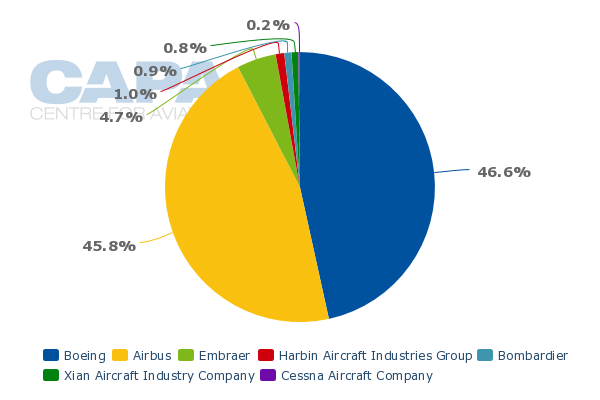 Georgia, 'Times New Roman', Times, serif;">Source: CAPA Fleet Database
Boeing projects that China will need 6,450 aircraft by 2032 (a near tripling of the 2014 fleet).
This will not be a straight line development an there will be some setbacks in growth, as exemplified by Kunming Airlines' unrealised growth plans, but the trend is in one direction - and rapid. Exactly how far and fast depends on the degree of independence afforded to airlines, both private and state-owned.