Southeast Asia Aviation 2018 Outlook
Airline Leader
More rapid growth, low profit margins and intense competition
Southeast Asia is a region of rapid growth and huge potential. Passenger traffic in Southeast Asia grew by approximately 10% in 2017, when at least half of the region's 10 countries recorded double digit growth.
However, it is also a region of intensifying competition and several markets suffer from overcapacity. Yields have been steadily declining for the past few years, resulting in very low profit margins, despite low fuel prices and relatively high load factors.
Yields are now showing some signs of stabilisation, but are not likely to increase sufficiently to offset higher fuel prices. 2018 will be another year of good growth and meagre profits for the Southeast Asian airline sector.
Summary
The Southeast Asian airline sector is profitable, but margins were very thin in 2017 and are not about to improve in 2018;
Southeast Asia has strong traffic growth, but overcapacity remains a challenge, pressuring yields;
The Southeast Asia fleet grew by another 6% in 2017; the rate of capacity and traffic growth was even faster;
The outlook for 2018 is mixed, with solid growth but continued overcapacity, which means profits will be meagre;
The Southeast Asia airline sector was again profitable in 2017 – representing the third consecutive year in the black. Airlines have benefited from low fuel prices, political stability (instability contributed to the last loss in 2014), and rapid economic growth. Several of the region's airlines have also been aided by restructuring initiatives, which have led to a reduction in non-fuel costs and improved profitability.
However, margins have been very thin due to intense competition and overcapacity in several markets, which continued to pressure yields in 2017. Southeast Asia once again underperformed in 2017, compared to other regions within Asia Pacific.
Airlines from North Asia and Australasia were, on the whole, more profitable in 2017. Southeast Asia's profit margin also remained below the global average, which has been at record levels in the past two years.
Yields could stabilise in 2018 but are not likely to increase – or increase significantly. As fuel prices are on the rise, the already razor-thin profit margin of the Southeast Asian airline sector could become even thinner.
Southeast Asia fleet summary*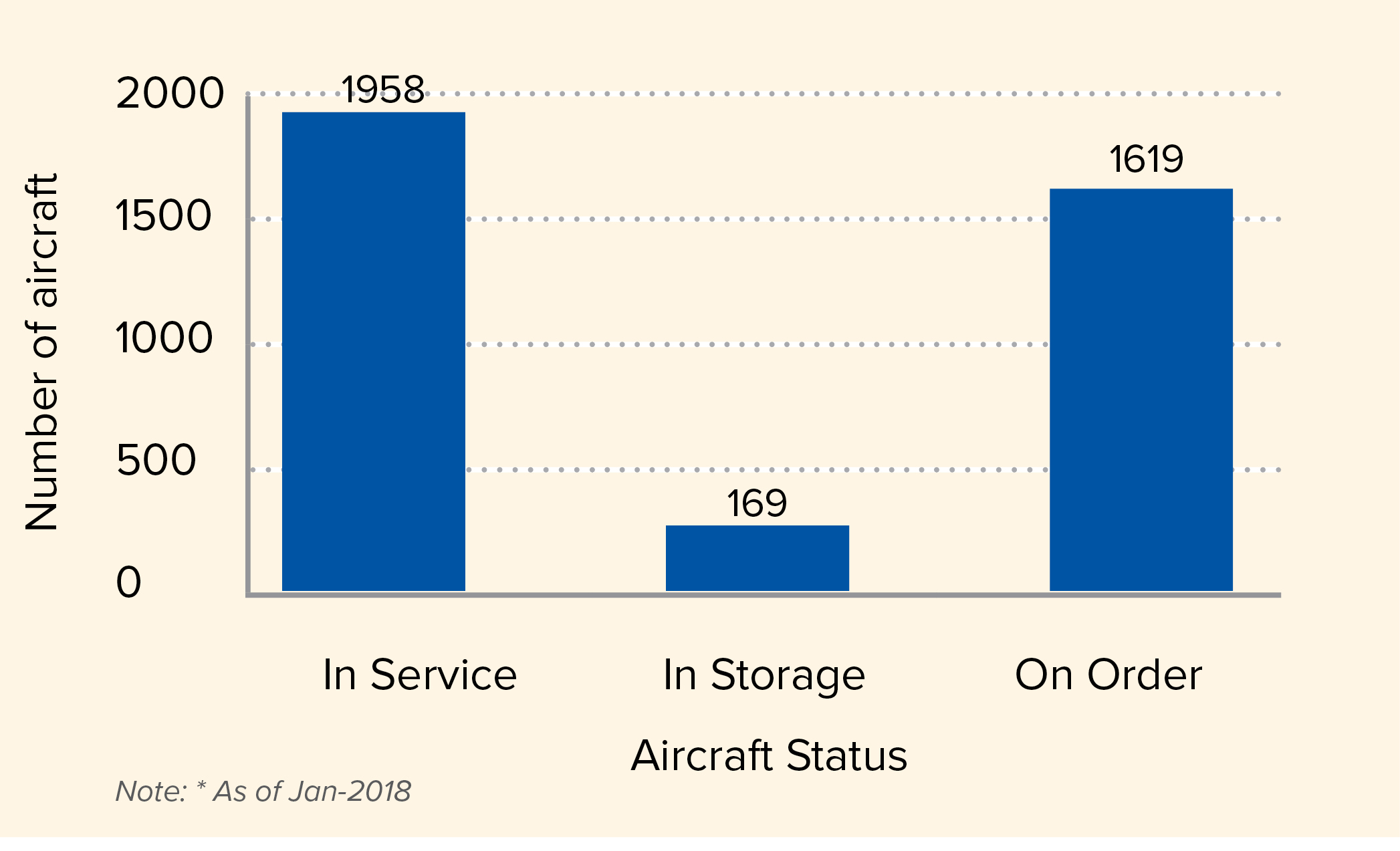 From an economic and traffic growth perspective, Southeast Asia has been a very attractive market. Six Southeast Asian markets have now enjoyed at least three years of double digit, or near double digit, passenger growth: Cambodia, Laos, Myanmar, Thailand, the Philippines and Vietnam.
Overall capacity growth in Southeast Asia increased by approximately 7% in 2017 and should grow at a similar pace in 2018. Traffic growth was slightly higher, as load factors have been increasing.
Vietnam has been one of the fastest growing markets in the world in recent years. Once again it was the fastest growing market in Southeast Asia in 2017, although the rate of growth slowed from a staggering 28% in 2016. Domestic growth in Vietnam slowed to the high single digits in 2017, compared to 25% growth in 2016, but international growth remained very strong, at approximately 30%.
Indonesia, Southeast Asia's largest market, has experienced slow growth in the past five years, following a period of very rapid expansion from 2008 to 2012. Infrastructure constraints, an unfavourable regulatory environment and a relatively weak economy compared to other Southeast Asian countries have hindered growth in Indonesia. However, Indonesia picked up slightly in 2017 and still has huge long term potential.
The more mature market of Singapore has experienced a resurgence in its growth rate. Singapore is positioned well to capture overall growth in the region because of its status as a major hub, and it grew 6% in both 2016 and 2017, after growing less than 1% in 2014 and less than 3% in 2015.
The Southeast Asian fleet is now approaching 2000 aircraft. Slightly more than 100 aircraft were added to the fleet in 2017, representing year-on-year growth of 6%. This is a net figure, factoring in retirements.
Southeast Asia and the Middle East are the only regions (or sub-regions) where there are nearly as many aircraft on order as in service. Southeast Asian airlines currently have more than 1600 aircraft on order.
LCCs account for more than 70% of the aircraft on order. But there were no significant LCC orders from Southeast Asia in 2017 and the rate of deliveries has slowed down the past two years.
The Southeast Asian LCC fleet grew by approximately 8% in 2017, and now consists of 670 aircraft. LCC fleet growth in Southeast Asia initially slowed to 7% in 2016, after growing by 13% in both 2014 and 2015.
FSC fleet growth has, not surprisingly, been slower, with full service airlines using most deliveries to replace existing aircraft, whereas almost all LCC deliveries are growth aircraft.
Singapore Airlines placed the only major order from Southeast Asia in 2017, committing to 20 777-9s and 19 additional 787-10s. These aircraft are mainly intended as replacements. Thai Airways plans to place an order in early 2018 – its first new order in six years – but again, replacement requirements are the driver.
Significant LCC order activity is unlikely in 2018 as the region's main LCC groups already have such a huge order book.
Southeast Asian airlines are projected to take delivery of approximately 200 aircraft p/a over the next few years. However, some airline groups have been seeking deferrals, which could result in a slower rate of fleet growth in 2018.
For example, Garuda Indonesia is seeking to halt all deliveries in 2018 and 2019 as part of an initiative aimed at improving the group's financial position.
Its rival Lion Group has also slowed down deliveries – although continues to expand at a decent rate. The Lion Group's fleet grew by only 22 aircraft in 2017, compared to 36 aircraft in 2016 and 57 aircraft in 2015.
New long haul low cost routes captured headlines in 2017, including Scoot's launch of Singapore-Athens and Norwegian's launch of Singapore-London.
Singapore-London is now the longest low cost route in the world. Further long haul low cost growth is expected in 2018, including Scoot's recently announced Singapore-Berlin route. Singapore-Berlin will become only the seventh low cost route of at least 10 hours from Southeast Asia.
Long haul low cost routes from Southeast Asia*

While long haul low cost operations are growing, they account for a very small share of total LCC capacity in Southeast Asia. The medium haul LCC segment of the market has experienced much faster growth, in terms of the number of new routes and total capacity. For China, in particular, there has been a surge in new routes from Southeast Asia – mainly by LCCs, but also by full service airlines, to some extent.
Rapid growth in Chinese visitor numbers to Southeast Asia has prompted airlines to add capacity in the Southeast Asia-China market – both in terms of new routes, and additional capacity on existing routes.
Southeast Asia will continue to experience rapid traffic growth in 2018. However, capacity growth in many markets will continue to outpace demand.
Yields and profit margins are not about to improve significantly, because of the intense competition and overcapacity.
Southeast Asia is a market of huge potential. Rapid economic growth and a growing, larger middle class provide an ideal environment for airline expansion, particularly LCCs.
In its latest long term market forecast, Boeing predicted 4210 aircraft deliveries for Southeast Asia over the next 20 years, pointing to expected 4.4% GDP growth and 6.2% traffic growth p/a.
Narrowbodies are expected to dominate, accounting for 3230 of the projected deliveries, as Southeast Asia's new middle class start to use airlines (particularly LCCs) to travel within the region.
However, infrastructure constraints and extremely intense competition are challenges.
The Southeast Asian airline sector may again under perform in 2018 in comparison with its peers in the rest of Asia Pacific, and compared with the global averages.
Southeast Asia's fleet in service: Boeing 20 year forecast