26-Sep-2018 8:59 AM
Europe's low cost long haul airlines establish themselves
THIS REPORT OFFERS AN overview of Europe's low cost long haul operators and their long haul fleets.
According to CAPA analysis of the CAPA Fleet Database, Europe has 49 aircraft that are currently deployed on long haul low cost routes. Not surprisingly, the majority of these aircraft are widebodies, but there are now four narrowbodies with low cost airlines based in Europe that are operating trans Atlantic routes.
These 49 aircraft are operated by just six airline brands: Norwegian, Eurowings, WOW air, Primera Air, French Bee and LEVEL.
Nevertheless, little more than five years ago, none of these airlines operated on long haul and some did not even exist at all. In spite of question marks over the profitability of the model (Norwegian, in particular, has struggled with losses in two of the four full years since entering long haul), Europe's low cost long haul operators continue to develop and grow.
Summary
Norwegian: Europe's first and largest low cost long haul operator
Europe's first low cost long haul operator, Norwegian, entered long haul markets in May-2013 with services from Oslo and Stockholm to New York and Bangkok. It had operated as a short/medium haul low cost airline since 2002, when it changed its business model from that of a regional airline.
Norwegian's fleet currently consists of 152 aircraft in service, of which 28 are widebodies and 124 are narrowbodies. Its widebodies, eight Boeing 787-8s and 20 787-9s, are deployed on the majority of its long haul routes.
However, it currently also operates Boeing 737 MAX-8 aircraft on trans Atlantic routes between the US east coast secondary airports of Providence and Stewart and six cities in Europe: Belfast, Bergen, Cork, Dublin, Edinburgh and Shannon.
Norwegian has seven MAX-8s in total, but also deploys them on intra-European routes, so it is not possible to say precisely how many narrowbody aircraft it has on long haul. In total, Norwegian's MAX aircraft operate 58 routes this summer, of which 10 are long haul.
This suggests that the equivalent of two narrowbodies are deployed on long haul. Together with its 28 narrowbodies, Norwegian has 30 aircraft on long haul routes, which is close to 20% of its fleet.
According to OAG data, in Norwegian Group's seasonal peak week of 17-Sep-2018 long haul routes account for 10% of its international seat numbers and 26.4% of its international ASKs (international routes make up 69% of its total seat capacity and 91.2% of its total ASKs).
Norwegian's aircraft order book reveals its future ambitions in long haul. Its orders include 11 more 787-9s on order and 30 A321neoLRs, which it plans to use to grow the narrowbody long haul segment.
Eurowings: second, with nine long haul aircraft
Lufthansa's low cost brand Eurowings flies both short/medium haul and long haul routes and comprises a number of different operating platforms.
These include Eurowings, Eurowings Europe (based in Vienna), Germanwings and LGW (Luftfahrtgesellschaft Walter) for short/medium haul operations. According to the CAPA Fleet Database, these four airlines operate a total fleet of 128 aircraft (108 Airbus narrowbodies and 20 Bombardier Dash 8s), all operating under the Eurowings brand and code.
Eurowings-branded long haul routes are operated by two further platforms, namely SunExpress Germany and Brussels Airlines.
SunExpress Germany, a subsidiary of SunExpress (jointly owned by Lufthansa and Turkish Airlines) operates seven Airbus A330-200s on long haul routes from Cologne/Bonn for Eurowings under wet lease.
Brussels Airlines operates Eurowings-branded flights from Duesseldorf to New York with one A340-300 and from Duesseldorf to Miami and Fort Myers with one A330-300.
The Eurowings-branded long haul fleet currently consists of nine widebody aircraft (seven operated by SunExpress Germany and two by Brussels Airlines), out of a total Eurowings-branded fleet of 137, making just under 7% of this fleet.
Europe's Low Cost Long Haul Operators: Aircraft Numbers*
| | | | | | | |
| --- | --- | --- | --- | --- | --- | --- |
| Airline | Widebodies | Narrowbodies on long haul | Total long haul aircraft | Total fleet | Long haul as % of total fleet | Aircraft types used for long haul |
| | 28 | 2* | 30 | 152 | 20% | |
| | 9 | 0 | 9 | 137 | 7% | 9 A330-200s |
| | 3 | 0* | 3 | 19 | 16% | 3 A330-300s |
| Primera Air Group | 0 | 2 | 2 | 11 | 18% | 2 A321neos |
| | 3 | 0 | 3 | 3 | 100% | |
| Level | 2 | 0 | 2 | 2 | 100% | 2 A330-200s |
| Total of the above | 45 | 4 | 479 | 319 | 15% | 2017 |
The Brussels Airlines long haul operation from Duesseldorf is the first stage in its closer integration into the Eurowings Group. Brussels Airlines is to steer all Eurowings long haul activities, regardless of the operating platform and base, and will also become the main operator for expansion to airports in the French and Dutch speaking part of Europe. Implementation is planned for 2019.
In addition to the two widebodies already operating for Eurowings, Brussels Airlines has a further 12 widebody aircraft (one A340-300, six A330-300s and four A330-200s). This will significantly expand the Eurowings long haul fleet once the new integration is complete. If the Brussels Airlines fleet is added to the existing Eurowings fleet, it will have 21 widebodies out of a total of 187, or 11% of the total.
According to OAG, in Eurowings' seasonal peak week of 10-Sep-2018 long haul routes account for 4.2% of its international seat numbers and 23.7% of its international ASKs (international routes make up 75.0% of its total seat capacity and 90.3% of its total ASKs).
Norwegian Group: International Departing ASKs By Region*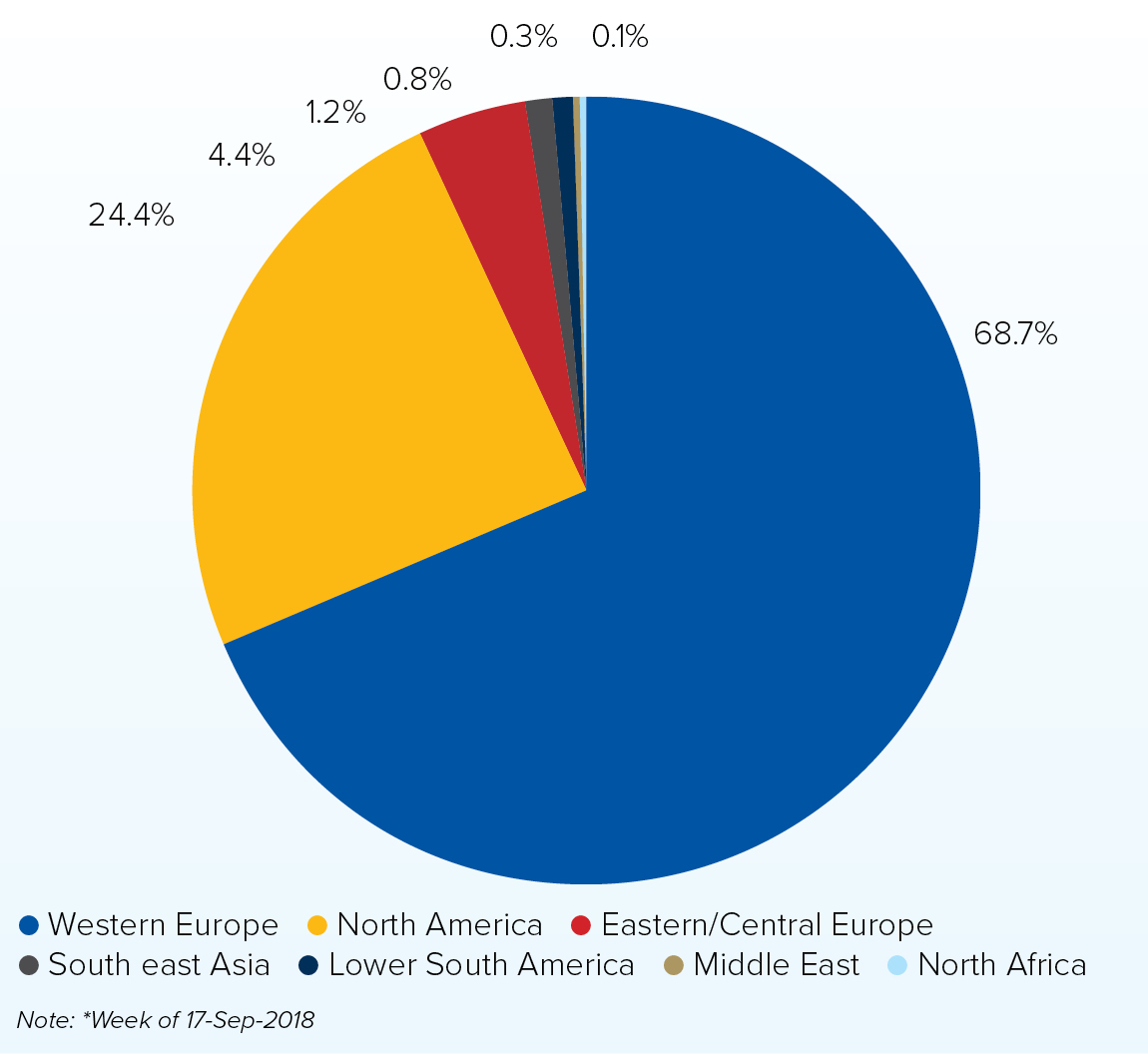 Eurowings: International Departing ASKs By Region*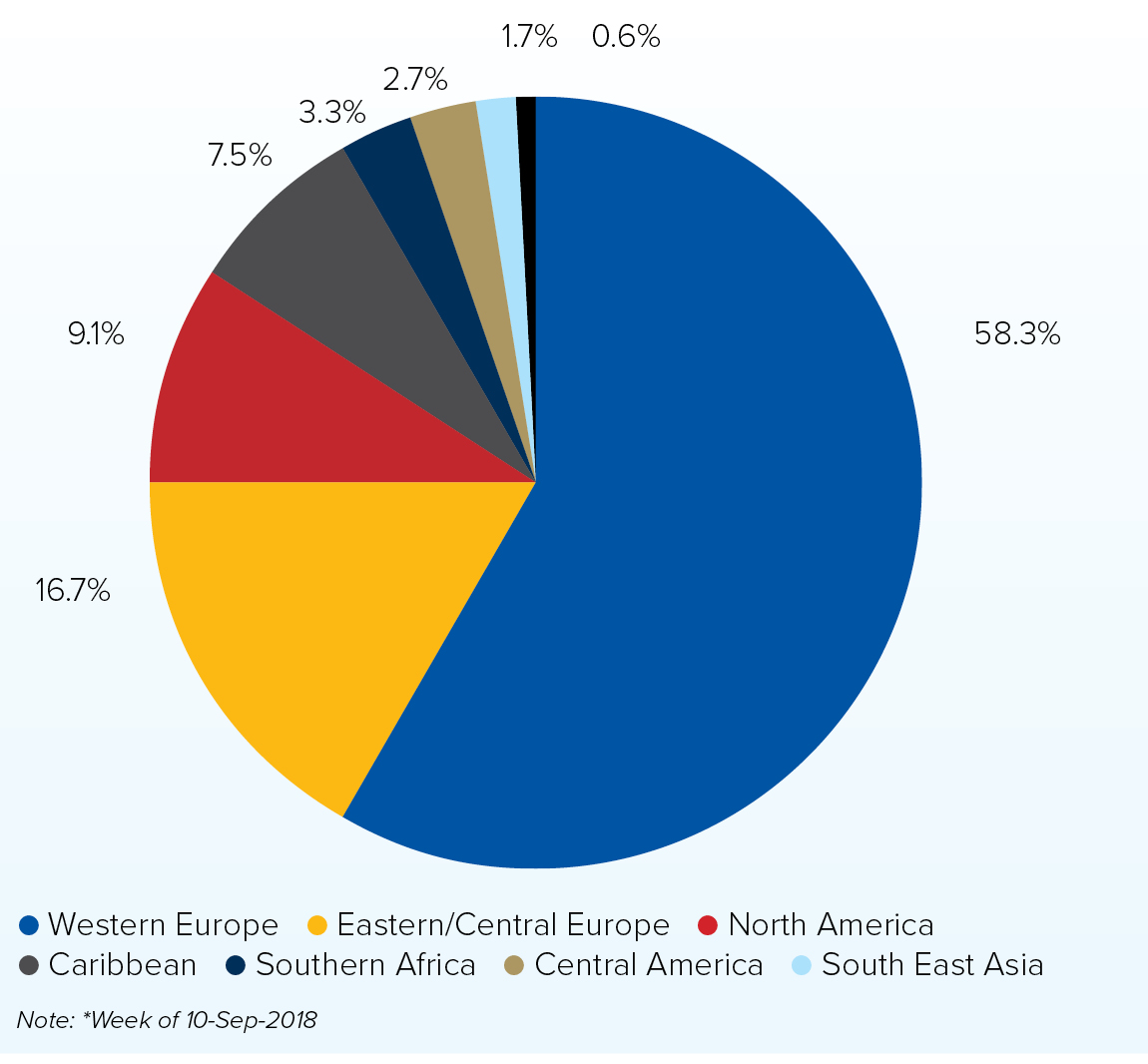 WOW air: Its connecting strategy embraces its entire fleet as long haul

The Icelandic LCC WOW air has a fleet of 19 Airbus aircraft, of which 16 are narrowbodies (two A320s, 12 A321s, one A320neo and one A321neo) and three are widebodies (A330-300s).
According to OAG, in WOW air's seasonal peak week of 09-Jul-2018 Europe accounts for 51.4% of its seat numbers and 32.2% of its ASKs, while North America accounts for 47.3% of its seats and 65.9% of its ASKs (the balance of its capacity is on the Middle East).
The ASK skew towards North America shows that more of its longer routes are to the West. It deploys its widebodies on services to Dallas/Fort Worth, Los Angeles and San Francisco.
Since Iceland is much closer to the US than is the rest of Europe, these two routes and its new St Louis service are its only point-to-point routes that could really be described as long haul.
WOW air serves its other US destinations with A321s (European destinations are served with A320s and A321s).
Widebodies account for 16% of WOW air's aircraft numbers and its two US West Coast destinations (LA and San Francisco) account for 10% of its seats and 19% of its ASKs.
Its St Louis service is operated with A321 equipment, but is similar in distance to London-New York and so can be considered as narrowbody long haul. This route adds another 2% of seats and 3% of ASKs, so that long haul routes make up around 12% of WOW air's seats and 22% of its ASKs.
However, unlike Europe's other long haul low cost operators, WOW air operates a connecting strategy over its Reykjavik hub, offering one-stop services between Europe and North America. In this respect, all of its capacity and fleet could be considered as being part of a long haul operation.
WOW air currently has four more widebodies on order, all A330-900neos.
Primera Air: Europe's only all narrowbody low cost long haul operator
The Nordic LCC Primera Air Group (which comprises both Primera Air and Primera Air Nordic, operating under a single brand) has a fleet of 11 narrowbody aircraft. These consist of nine Boeing 737NG aircraft and two Airbus A321neos.
Its long haul operations consist of services from London Stansted and Paris CDG to Boston, New York Newark and Toronto and from Stansted to Washington Dulles, all launched this summer. It has followed Norwegian in establishing long haul bases outside its home region.
These trans Atlantic services are operated with its A321neo equipment (although initially it had to lease in Boeing 757-200 and 767-300 aircraft to operate some of these services).
This means that Primera Air Group is Europe's only all narrowbody long haul low cost operator. Its two long haul narrowbodies account for 18% of its fleet.
According to OAG, North America accounts for 14.4% of Primera Air Group's seats and 25.1% of its ASKs in its peak week of 17-Sep-2018.
For its size, Primera Air Group has a large number of aircraft on order: 16 737 MAX 9s, five A320neos and two A321neoLRs. In addition to expanding its European network, these orders should further its plans to grow long haul operations.
WOW air: Departing ASKs By Region*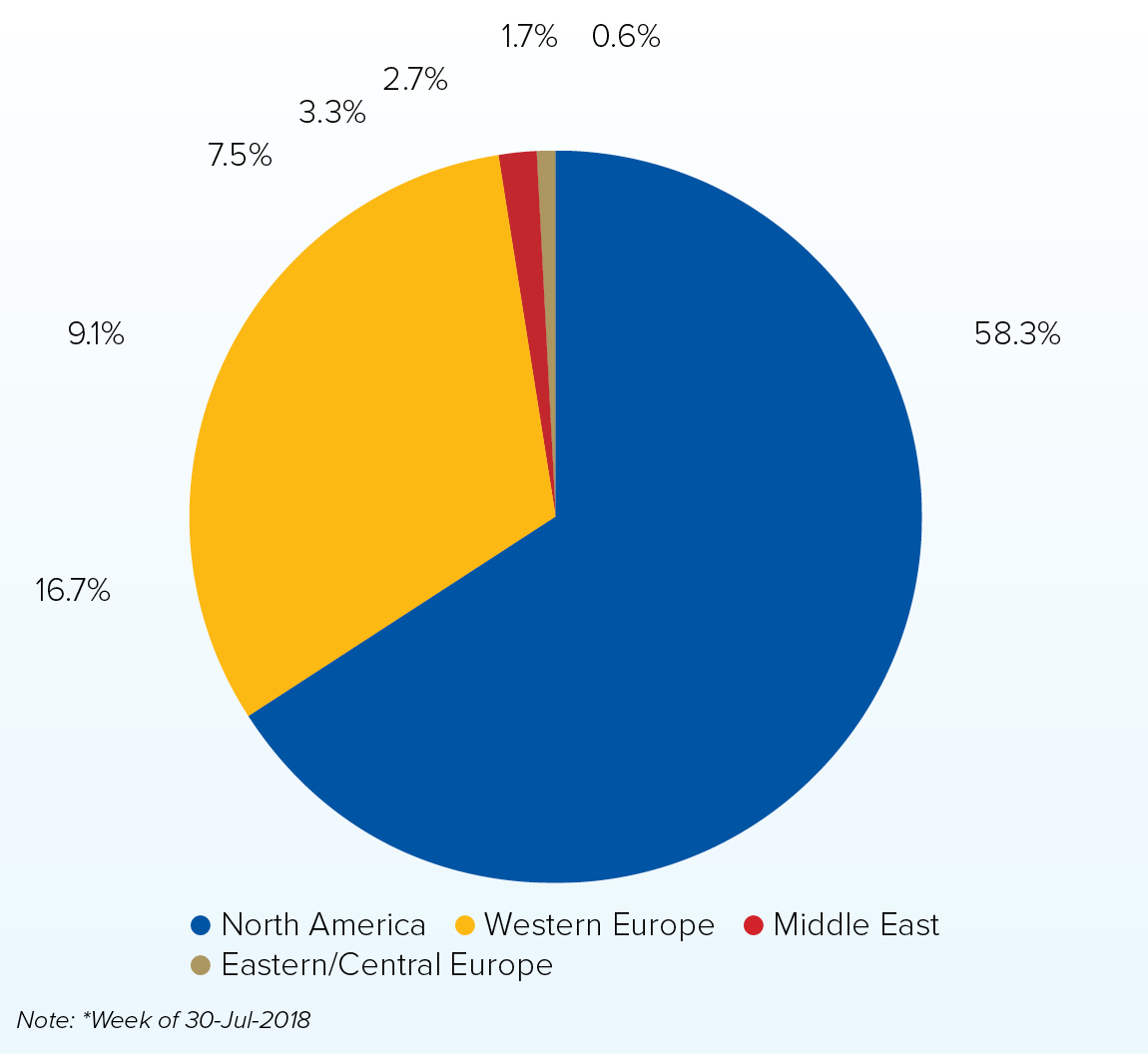 French Bee: Three widebodies in 100% long haul operation
French Bee is an all widebody low cost operator based at Paris Orly since its launch of scheduled operations in Sep-2016. Formerly known as French Blue, it is owned by Groupe Dubreuil, which also owns Air Caraïbes.
French Bee is small, but is growing rapidly. Its seat capacity in summer 2018 is approximately double that of last summer.
Its fleet in service consists of one Airbus A330-300 and two A350-900s. It is the only independent European low cost airline with 100% of its operations on long haul. It operates from Paris Orly to La Réunion in the Indian Ocean, Papeete in the South Pacific and San Francisco.
According to OAG data for French Bee's seasonal peak (week of 9-Jul-2018), Southern Africa accounts for 51.6% of its seats, North America for 32.3% of its seats and Southwest Pacific for 16.1%.
LEVEL: IAG's 100% long haul low cost operator
Like French Bee, LEVEL is also a 100% long haul low cost operator, although that will change when it launches services to 14 European destinations from Vienna in Jul-2018, deploying four A321s. Unlike French Bee, LEVEL is owned by IAG, one of Europe's big three legacy airline groups.
Established at Barcelona in 2017 in response to Norwegian's plans to start long haul services from Vueling's biggest base, Level is to add Paris Orly as a second base in Jul-2018.
From Barcelona, LEVEL serves Boston, Buenos Aires, Los Angeles and Oakland (the Oakland service will switch to San Francisco at the end of Oct-2018). In early Jul-2018 it will start services from Paris Orly to Montreal and Pointe-à-Pitre, and in Nov-2018 it will launch Orly to Newark and Fort de France.
LEVEL has two Airbus A330-200s based at Barcelona and will add a third there and two more in Paris in 2H2018. Its aircraft operate under the IB code and with Iberia crew, but IAG is planning to establish a separate AOC and management structure for it.
Also mentioned (but not really low cost): Brussels Airlines, Aer Lingus, Joon
As on short haul, the lines between the different airline business models are blurred. In addition to the long haul low cost operators noted above, it is worth noting three other airlines that are sometimes mentioned in any discussion European long haul low cost.
Brussels Airlines was fully acquired by Lufthansa at the start of 2017 with a view to integrating it into its Eurowings Group. Although not a low cost airline prior to its acquisition by Lufthansa, its integration with Eurowings is due to be implemented in 2019 (see above).
IAG sometimes refers to Aer Lingus as its low cost trans Atlantic operator, although its unit cost is more consistent with the more efficient full service airlines than with LCCs. Moreover, its brand and network strategy do not group it with low cost airlines.
Aer Lingus has 13 widebodies (five A330-200s and eight A330-300s), making up 26% of its total fleet strength of 50 aircraft.
Air France-KLM launched a new airline in Dec-2017 – Joon. Joon does not claim to be a low cost airline, but Air France (its immediate parent) has described it as 'lower cost'. Previous CAPA analysis has suggested that Joon's target unit cost is similar to that of KLM.
Joon operates short/medium haul and long haul routes and its fleet of 14 aircraft includes three A340-300X widebodies, which make up 21% of the total. Its long haul destinations are Cape Town, Fortaleza, Mumbai and Seychelles, and it also deploys its widebodies to Tehran and Cairo.
Based at Paris CDG and aimed at millennials, Joon represents Air France-KLM's efforts to establish a more cost efficient operation with a fresh brand in order to demonstrate to Air France labour unions that they cannot expect the mainline operation to grow without significant reform of working practices and improved productivity.
Air France-KLM chairman and CEO Jean-Marc Janaillac resigned in May-2018 after Air France unions rejected a new pay deal. This suggests that Joon has not yet changed the culture at Air France.
European low cost long haul is digging itself in
Europe's low cost long haul fleet of 47 aircraft makes up only 0.6% of the 7330 aircraft currently in service with European airlines. The 44 widebody aircraft operated by European LCCs represent just 3.9% of all widebodies in Europe.
Moreover, Europe's biggest low cost long haul operator, Norwegian, has struggled to establish sustainable levels of profitability since leading the way onto long haul routes in 2013.
Nevertheless, with new low cost long haul brands launching and existing operators adding new routes each year, European low cost long haul looks to be digging itself into the aviation landscape.