Etihad Airways and Emirates big winners in CAPA Aviation Awards for Excellence
Press Release
Etihad Airways president and CEO James Hogan has been named the CAPA Aviation Executive of the Year while Emirates has been named CAPA Airline of the Year at the 10th annual CAPA Awards for Excellence at a gala ceremony in Hong Kong.
Peter Harbison, executive chairman of CAPA said, "As the Gulf carriers have progressively disturbed the global airline equilibrium over recent years, 2012 has seen a rapid escalation of this process. None has been more distinctive and mould-changing than Etihad, under the leadership of James Hogan". The strategy the CAPA Aviation Executive of the Year has adopted, of penetrating each of the key regions with targeted partnerships and equity investments, "has set a new – and irreversible – direction for the aviation industry", Mr Harbison said.
Emirates has been named CAPA Airline of the Year for the third time. "Emirates has formulated a comprehensive model which has become a game changer, most notably in 2012 as its network density has gone to a new level. Its strategic leadership in air services liberalisation, despite reaction in some markets, has helped transform traffic flows, contributing to enormous strategic change in the industry. All the while, Emirates has continued to be profitable in face of difficult market conditions".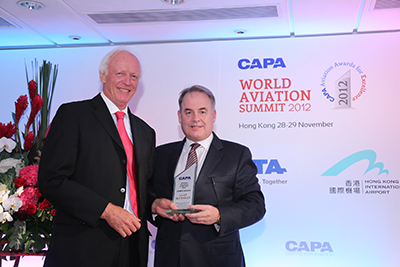 Aviation Executive of the Year, Etihad President and CEO James Hogan.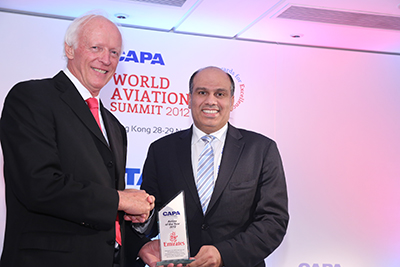 Salem Obaidalla, SVP Commercial Operations – Far East & Australasia,
accepts the CAPA Airline of the Year award on behalf of Emirates.
The CAPA Airline of the Year is awarded to the carrier that has had the greatest impact on the development of the airline industry
, established itself as a leader, and the benchmark for others to follow.
Amsterdam Airport Schiphol
is
CAPA's International Airport of the Year
. Mr Harbison said: "
Schiphol
's customer-oriented strategy has provided a solid base which permitted a substantial expansion in airline services in 2012 - making AMS a worthy winner of our peak airport award.
Schiphol
and its airline partners have shown leadership by succesfully demonstrating the value of air services and the negative impact of reflex taxation. This has become a reference point in providing sound arguments against excessive taxing of the aviation industry".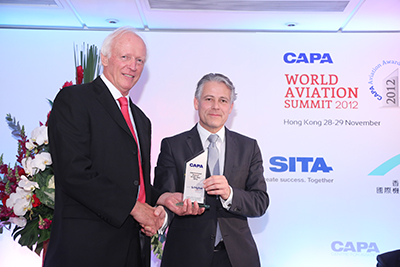 Maarten de Groof, Chief Commercial Officer of Amsterdam Airport Schiphol,
receives the CAPA International Airport of the Year Award.
Brazil
's
Azul
is
CAPA's Low-Cost Carrier of the Year
. Expanding from an intelligent niche position,
Azul
has been one of the fastest growing airlines in the region amid highly challenging market conditions. Mr Harbison lauded
Azul
's demonstration of how a smaller aircraft fleet can form the basis for a genuine low-cost operation, successfully stimulating demand in markets that were under-served or not served at all, on smaller routes. "Acquiring TRIP in 2012, the largest regional airline in
Latin America
, has cemented
Azul
's strong position in secondary cities in
Brazil
and its focus on point-to-point routes, bypassing the major (congested) hubs has proven a sound strategy", said Mr Harbison.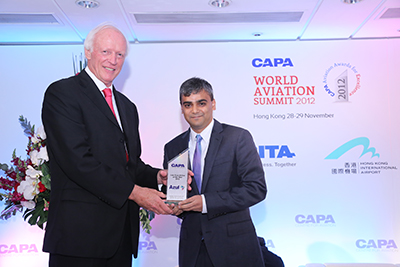 Azul Revenue Director Abhi Shah accepts the CAPA Low-Cost
Airline of the Year Award.
China
's
Spring Airlines
is
CAPA's Regional Airline of the Year
. Mr Harbison said, "Spring's focussed attention on cost reduction has demonstrated how efficient operations can reshape market demand, despite an often inhospitable regulatory environment. Spring has grown the product into new international markets against heavy competition and demonstrated adaptability, reshaping the product to adapt for domestic and for international operations".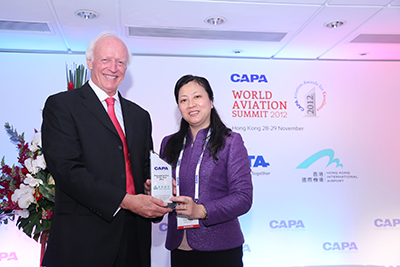 Xiuzhi Zhang, Spring Airlines CEO, winner of the CAPA Regional
Airline of the Year.
The CAPA IT Innovation of the Year category recognises the Airport, Airline and IT company responsible for the most powerful information technology innovation in the market over the past 18 months. Peter Harbison said, "ChangeYourFlight has created a unique online platform to offer partial refunds to passengers with unused nonrefundable tickets. In an era where airlines are turning to online tools to extract maximum value from their core inventory and ancillary revenue possibilities, ChangeYourFlight has created a valuable tool that can be plugged into airline booking systems and shown to be delivering solid results".
The CAPA IT Innovation of the Year was awarded to ChangeYourFlight,
with CEO Inaki Uriz accepting the award.
2012 marks the first time CAPA has offered Airport Marketing Awards. This addition is specifically to recognise the vital role route development has for driving our industry forward, opening up new opportunities and convenience for travellers and business. Airports now dedicate a huge amount of effort into attracting new and expanded air services, to support their local communities, often working closely with the local bodies. For some, the process is made more challenging as airlines change strategies, enter major restructuring, or in extreme cases, go out of business entirely. Life is always interesting for airport network development teams. There are three airport marketing categories, to recognise the smaller, medium and large size airports that are all competing for air services.
Mr Harbison said, "The winner of the Under 5 Million Category for 2012 is an airport that has gone through its share of hard times since the global financial crisis. Located in one of Asia's most competitive and congested air markets and with a local population of just over half a million people,
Macau International Airport
is a previous winner of the CAPA International Airport of the Year award. Today it has over 20 airlines serving the airport representing the LCC, hybrid and legacy airline models. In the year to date, five new airlines have commenced operations in
Macau
, making it one of the most successful airports in the region in attracting new carriers in 2012".
The winner of the 5-15 Million Passenger Category for 2012 has undergone wrenching changes in recent history, reworking from a hub-and-spoke to point-to-point operation since the failure of its home-based flag carrier. "Since the grounding of
Malev
on 'Black Friday', on 03-Feb-2012, the
Budapest Airport
team completely restructured its airside services to allow for LCC-style boardings and worked tirelessly to recover lost routes and traffic. In 2012 the airport has added eight new carriers and over 50 routes, as well as frequency increases on a further two dozen other sectors", Mr Harbison said.
"The winner of the 15 Million and Above Passenger Category has also attracted a significant number of new carriers over the past 18 months – 10 in total, offering 46 new city pairs – an outstanding effort for a large hub and a record period of growth in city-pairs in the airport's 38-year history. Despite a soft national economy,
Dallas/Fort Worth International Airport
has seen new
oneworld
capacity from carriers including
Qantas
and
American Airlines
as well as several non-
oneworld
and LCCs adding capacity to the city, each supported by DFW's broad-based and innovative marketing efforts", said Mr Harbison.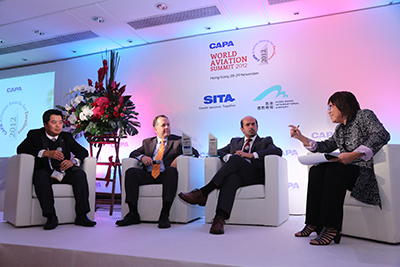 The three winners of CAPA's inaugural Airport Marketing awards :
Eric Fong, Marketing Director, Macau Airport (for an airport handling less than 5 million pax);
Chris Poinsatte, CFO, Dallas/Fort Worth International Airport (for an airport handling more than 15 million pax)
and Kam Jandu, Director Aviation, Budapest Airport i(for an airport handling 5-15 million pax).
CAPA has also added two industry legends to the CAPA Hall of Fame. Over the past 10 years, certain individuals have stood out as making a substantial difference to the industry in which they work. They display rare talent and people skills, so that not only do they change the external environment, they invariably also generate substantially positive corporate improvements.
In 2012, CAPA recognises two Legends, for the first time including an airport leader.
"
Rob Fyfe
brought to
Air New Zealand
a change of style which drastically reshaped the mentality of the airline, engaging the workforce and its travelling public. He led from the front at all times – including the globally renowned marketing product designed to illustrate the airline's all-in offering. Under his leadership the airline took on vital roles in community support during domestic tragedies over the past two years. He has shown leadership in social media marketing and many other finer touches, including changing the way airlines do, until now, inflight safety announcements, encouraging passengers to pay attention to safety messages!" said Mr Harbison.
"Since
CW Lee
became CEO of
Incheon International Airport
Corp in 2008, the airport every year has been voted by
Airports Council International
as the world's best. Under his leadership the airport has been highly profitable while maintaining a high level of service at very low cost to airlines, and offering one of the world's best retail operations. After supervising the introduction of Phase 2 of the airport's now 44 million passenger capacity with a new runway and terminal expansions, CW Lee has prepared the financial and operational groundwork for Phase 3, which will see the airport capable of handling 62 million passengers annually and 5.8 million tonnes of cargo. Mr Lee has also diversified the company into consulting services for other airports, including taking a 10% holding in
Vladivostok
's
Khabarovsk Airport
", said Mr Harbison.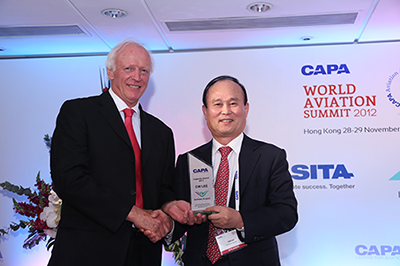 CW Lee, CEO of Incheon International Airport, was inducted into the
CAPA Hall of Fame at the Award ceremony, along with outgoing
Air New Zealand CEO Rob Fyfe.
ABOUT CAPA AND THE CAPA AWARDS
Established in 1990, CAPA – Centre for Aviation is the leading provider of independent aviation market intelligence, analysis and data services, covering worldwide developments.
The Centre's analytical reports and industry research enable senior executives to stay ahead of trends and developments in this fast changing, complex and dynamic industry.
Understanding aviation markets is our great strength and passion. Providing our CAPA Members, clients and partners with an unparalleled level of expertise and insight is our business. We offer an extensive range of information services developed by analysts covering the entire spectrum of commercial aviation.
In addition to our regular research activities we also release annual or bi-annual reports on a number of geographies and industry issues, several of which have been at the vanguard of industry thought on key strategic developments. We don't just research the industry; we help shape its direction.
The CAPA Awards judging panel includes European (Dr Barry Humphreys, formerly
UK CAA
and
Virgin Atlantic
; chairman of BARUK and director of
NATS
),
American
(Professor Nawal Taneja, executive consultant to airlines, author of numerous aviation management books) advice and the regular assessments of the CAPA analysis and executive team, including Peter Harbison, Brendan Sobie, Binit Somaia, Will Horton and Derek Sadubin.
Click here
for more information about the CAPA Awards for Excellence, including past winners.