11-Nov-2011 5:56 PM
Europe shut out as Jetstar uses 787s to open Asia and bring economics to existing network
Timing, they say, is everything. Jetstar's announcement that it will deploy the B787 Dreamliner on its Singapore-Auckland route comes as competitor Air New Zealand, the launch customer for the B787-9, is gearing up for a demonstration B787 to arrive in Auckland on 12-Nov-2011 for a high-profile visit. Competition is fair, but Jetstar's announcement could hardly be considered news since it has long been evident the budget off-shoot of Qantas will use the aircraft not to open new routes to Asia as previously planned but replace A330s on the carrier's few long-haul routes, which include Singapore-Auckland.
The carrier's carefully-worded statement said, "Jetstar passengers will be among the first New Zealanders to experience the Boeing 787 Dreamliner, with the airline expecting to put to the aircraft on its Auckland-Singapore route in 2013."
Jetstar snubs national carrier Air New Zealand for bragging rights on which one of them gets to first transport Kiwis on the B787 (United, which is launching a Houston-Auckland route, will beat both of them). While this is the first B787 route Jetstar has definitively announced, it will not be the first operational route. A spokeswoman says the Singapore-Auckland route "is among the first" B787 routes Jetstar will operate. (Perhaps so as not to offend passengers in Jetstar's other markets, the B787 statement was only distributed in New Zealand.)
The first B787 for the Qantas Group will be for Jetstar, and is expected in 2013, a slip from the previous date of late 2012. OAG Fleet iNET projects Jetstar to take delivery of eight B787s in 2013.
Qantas Group projected future aircraft deliveries (2011-2023, as of 11-Nov-2011)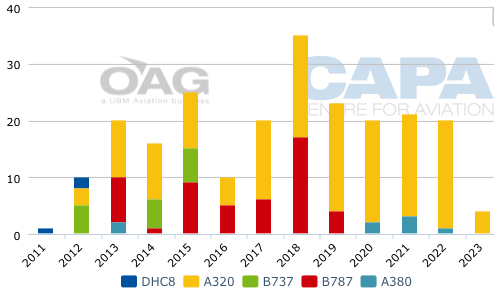 The announcement follows a three-year marketing deal Jetstar has struck with Tourism New Zealand. Jetstar operates trans-Tasman flights as well as domestic New Zealand flights and is in competition with the trans-Tasman alliance between Air New Zealand and Virgin Australia. Air New Zealand has also flagged its intention to work more closely with tourism bodies following its order of 12 ATR72-600s to expand its presence in regional New Zealand, with an eye to increase inbound tourism to regional centres.
After the Qantas Group ordered B787s in Dec-2005, Jetstar made known it planned to use the aircraft to open new routes to European destinations like Rome and Athens. More recently the expansion has gravitated to Asia, where Jetstar next month will commence Singapore-Beijing services, with an eye on a future Shanghai route. The B787s, Jetstar CEO Bruce Buchanan tells CAPA, will be used to first replace A330s on long-haul routes, which include Auckland-Singapore, Melbourne-Singapore and routes to Japan. That further pushes back European expansion, but the opportunities for Jetstar are in Asia, and Europe's economy looks set to struggle for some time.
See related article: Jetstar's new North Asia focus leaves room for Qantas Singapore expansion to Europe and India
For more on B787 deployment coverage, see: Boeing Dreamliner delivery to ANA begins 787's Asia-Pacific dominance