Australian air fares continue to climb post-Tiger grounding
The upward pressure on domestic Australian air fares, which started after low-cost operator Tiger Airways was grounded in Jul-2011, is showing no signs of relenting. Fare decreases are expected from the peak September period to the comparatively slower October, but the drop this year is lower than the corresponding drop in 2010, suggesting fares - which soared after Tiger's grounding - are not plateauing.
Fares in Oct-2011 dropped 11.3% from Sep-2011, a lower decrease than the previous year's drop of 15.6% from Sep-2010 to Oct-2010.
Although jet fuel has surged in the past year, and could explain an increase in ticket prices, Australian air fares were relatively flat until Tiger's grounding saw fares increase.
Comparison of best discount fare index (July 2003=100) and fuel prices (USD/barrel for Brent) for Aug-Oct 2009-2011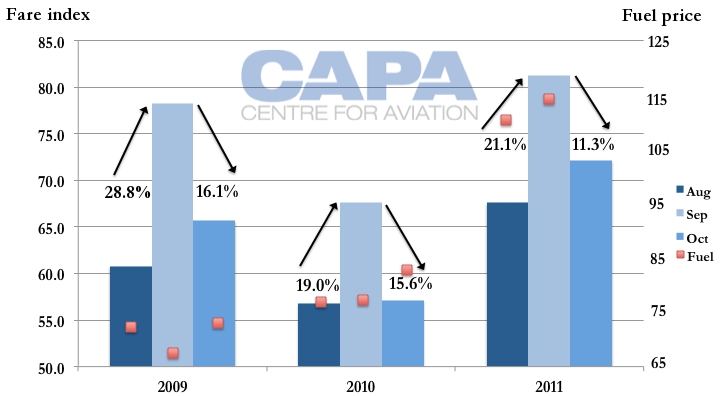 The out of proportion decrease is despite 2010 and 2011 having commensurate increases in fares from August to September: a 19.0% increase in 2010 and a 21.1% increase in 2011. (Fares can be expected to rise from August to September due to school holidays in September.)
It has been difficult until now to see if there has been continuous upward pressure on fares since Tiger resumed flying on 12-Aug-2011. The Aug-2011 fare index was calculated while Tiger was still grounded and the Sep-2011 index was compounded by school holidays, which would have increased fares irrespective of Tiger's status. A decrease out of proportion with the past few years, coupled with higher year-on-year fares, indicates airlines are not yet settling in to the new pricing regime. Further reordering of the fare status quo is likely when Strategic Airlines, which will re-brand this year as low-cost carrier "Air Australia", enters the domestic trunk route market with an initial route from Brisbane to Melbourne.
Tiger is currently operating 31% of its pre-grounding ASKs and is also typically charging more for fares. Despite the evident increase in fares after Tiger's grounding, Qantas filed a formal complaint to the Australian Competition and Consumer Commission regarding a Tiger marketing e-mail sent on 10-Aug-2011. The message announced Tiger's resumption of services and stated "Since we haven't been flying, our competitors have raised their fares by more than 30%". (The message, sent to CAPA, is below and watermarked by us so if you see the image elsewhere, you know its provenance.)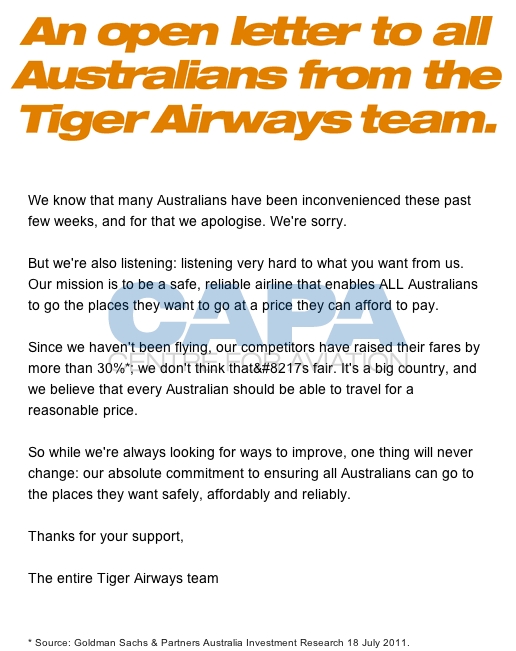 Tiger attributed the 30% figure to a Goldman Sachs report, but the ACCC sided with Qantas and Tiger was forced to issue a corrective notice (also sent to CAPA and watermarked by us) saying it did not have a "proper basis for which to make this statement".