Zurich Airport slumps as SWISS cuts Winter capacity, Auckland hit by charges decision
Shares in European airports continue to ease as European stock markets lost further ground yesterday. Zurich Airport led the decline, slumping 7.3%, as SWISS announced plans to reduce capacity under its Winter Schedule by approximately 9%, grounding three aircraft and reducing frequencies to North America and most other long-haul destinations.
Shares in Copenhagen Airport, Fraport and Vienna Airport were down 3.5%, 2.0% and 1.5%, respectively.
Asia Pacific airport shares were generally up yesterday, led by the Chinese airports. Auckland Airport's shares fell 3.2% to their lowest level in six months as the airport announced plans to cut international landing charges and abandon plans to raise domestic charges. (see below)
Elsewhere in Asia, Korea Airport Service Co Ltd's shares fell 1.6%, as Incheon International Airport report mixed traffic results in Jun-2009. The group's principal activity is the provision of domestic and international air and land freight handling.
Selected airports daily share price movements (% change): 06-Jul-09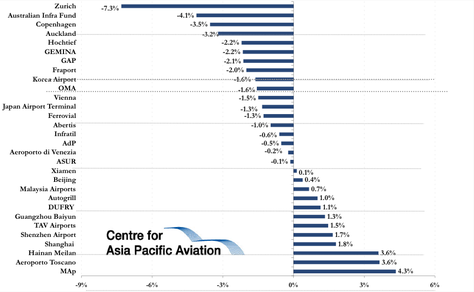 Auckland Airport cuts international landing fees – edited press release
Auckland International Airport Ltd announced it will reduce international landing fees by 5% and abandon plans to raise domestic charges as the global downturn in demand for air travel erodes airline profits.
The airport company stated it will proceed with plans to raise its international passenger service charge to NZD13.50 from NZD13, adding the increase in the PSC will make up for the reduced revenue from landing charges.
Auckland Airport spokesperson, Richard Llewellyn, stated "today's announcement is a relatively small measure in the overall strategy. It's a reasonably tough environment". Mr Llewellyn added the airport will be reigning in its non-essential spending to try and reduce the burden being borne by its customers.
Auckland Airport stated the global economic slump is eroding earnings for airlines, which are being forced to cut capacity as ticket sales fall. Air New Zealand's long-haul passenger volumes tumbled 19% in May-2009, led by routes through Asia, Japan and the UK, while rival carrier, Qantas, last month slashed its order for Boeing's Dreamliner aircraft, citing an operating environment that had "changed dramatically" since it first placed the order in 2005.
The airport stated it will review its pricing arrangements in six months.
Meanwhile, New Zealand has stepped up efforts to attract passengers from Australia, the biggest source of visitors, as demand from other markets abates. Australian tourists have been targeted by a joint NZD5 million marketing campaign by the government and Air New Zealand, which New Zealand Prime Minister, John Key, estimates may generate some NZD65 million of economic benefits.
Short-term visitors to New Zealand rose 1% in May-2009 year-on-year as an increase in Australian tourists offset a slump in tourism out of Asia, according to government data.
Auckland Airport's credit rating was cut to 'A-' from 'A' by Standard & Poor's in May-2009, reflecting the tough climate in the aviation sector and dwindling passenger numbers. The airport had forecast its full-year profit would be at the low end of its NZD100-110 million forecast range.
The airport is expected to provide its earnings guidance for 2010 when it releases its 2009 results on 28-Aug-2009.