Zurich Airport on the rise, Fraport and Macquarie Airports gain while Aeroports de Paris falls back
Macquarie Airports' shares gained 0.4% in trading yesterday after a 1.4% dip the previous trading day. The investment group today announced plans to divest its 35.5% stake in Bristol Airport for GBP128 million. The sale price represents a discount of 12.7% (see below).
MAp meanwhile plans to acquire a further 3.9% stake in Copenhagen Airport for DKK570 million, taking its share in the Danish airport to 30.8%.
Beijing traffic recovering
Beijing Airport's shares eased 0.4% yesterday following the release of its Jul-2009 traffic results, which showed traffic recovering from last year's low base. Cargo volume growth remained in negative territory for the month:
Passenger numbers: 5.9 million, +22.5% year-on-year;

Domestic: 4.7 million, +26.0%;
International: 1.2 million, +11.1%;

Cargo volume: 118,309 tonnes, -3.0%;

Domestic: 64,684 tonnes, +3.3%;
International: 53,625 tonnes, -9.5%;

Aircraft movements: 42,391, +9.0%;

Domestic: 34,358, +12.0%;
International: 8,033, -2.4%.
Rome passenger traffic improving
In Europe, shares in Gemina, operator of Italy's Aeroporti di Roma, gained 1.4% yesterday. Aeroporti di Roma released traffic highlights for Aug-2009 yesterday, which showed improvements in passenger, traffic while cargo volume and aircraft movements deteriorated from Jul-2009 figures:
Passenger numbers: 3.9 million, -5.3% year-on-year;

Domestic: 1.2 million, -3.2%;
International: 2.7 million, -6.1%;

Cargo volume: 10,680 tonnes, -18.4%;
Aircraft movements: 33,085, -9.4%.
Elsewhere in Europe, Aeroports de Paris' shares fell 1.6% while Fraport gained 0.5%.
Selected airports daily share price movements (% change): 15-Sep-2009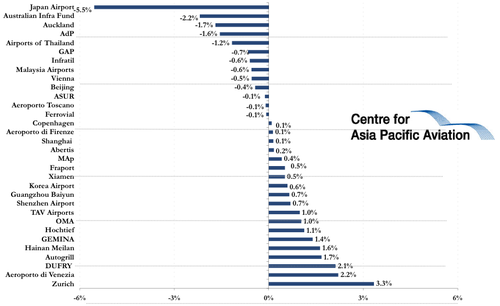 MAp Divestment of Interest in Bristol Airport – edited press release
Macquarie Airports (MAp) announced it has agreed to divest its 35.5% interest in Bristol Airport to Ontario Teachers' Pension Plan (OTPP) for GBP128 million. The sale price represents a 12.7% discount to MAp's 30-Jun-2009 valuation of Bristol Airport and an historic EV/EBITDA multiple above 20x. MAp will also acquire a further 3.9% interest in Copenhagen Airports from OTPP, bringing its interest in Copenhagen Airports to 30.8%. The proposed consideration is DKK570 million.
This represents a discount to MAp's 30-Jun-2009 valuation of its holding in Copenhagen Airports via its Danish holding company. The additional interest will be held directly rather than through the existing holding company structure. MAp Chief Executive Officer, Kerrie Mather, stated "Bristol Airport was one of MAp's original investments and has generated an excellent return over the period of our ownership. With the MAp portfolio having grown significantly over the last five years, Bristol now represents just 4% of our portfolio by value, and we feel that our investors are better served deploying our resources elsewhere. While Copenhagen Airports has experienced a challenging twelve months, traffic performance has started to benefit from the improving economic environment and new low cost carrier capacity. Pleasingly the airport has recently reached a long term aeronautical charging agreement with airlines, positioning the airport well for growth."
Ms Mather added "as a result of the two transactions, MAp will receive a net cash inflow of approximately AUD120 million, bringing MAp's cash reserves to approximately AUD900 million and providing further enhancement to MAp's capital flexibility. The combined transaction is expected to be modestly accretive to both proportionate earnings and operating cash flow, and is consistent with our continued delivery of security holder value."
The transaction is subject to a number of conditions including European Union anti-trust clearance. Completion is anticipated before year end. There is no change to MAp's distribution guidance of 21 cents per stapled security for 2009, of which 13 cents was paid on 19-Aug-2009, which remains subject to external shocks to the aviation industry and material changes to forecast assumptions.