Zhengzhou aims to be an aviation hub in China, complete with Cargolux and two startup airlines
Analysis
Zhengzhou is being propelled from a sleepy backwater to one of China's new aviation hubs. Located in central China's Henan province, Zhengzhou boasts reasonably quick transfers – passengers on high-speed rail or cargo on roads – to all major parts of the country. In the first eight months of 2014, Zhengzhou was the eighth largest cargo airport in China and 17th largest for passenger traffic.
Henan Civil Aviation Development and Investment Co, HNCA, has bought 35% of Luxembourg's Cargolux, which has commenced flights to Zhengzhou. The two will also establish a Chinese JV freight carrier, initially operating to North America, but there are concerns if the two will overlap and Cargolux will lose out to its Chinese sister. On the passenger side, HNCA has supported a larger presence from China Southern Airlines, but Zhengzhou city is partnering with Hong Kong's First Eastern (which owns Japanese LCC Peach Aviation) to establish a LCC. That carrier and China Southern may also clash. There could also be conflict between China Southern's cargo operations, which link China and North America, with the JV cargo carrier. The incredible speed with which Zhengzhou and Henan are moving will undoubtedly create some casualties along the way.
Cargo growing fastest at Zhengzhou
Zhengzhou ended 2013 as China's 18th largest airport based on passenger traffic. Zhengzhou grew passenger traffic 12.5% in 2013. This clip is well down from previously higher growth rates, but declines are to be expected when growing from a small base. That said, Zhengzhou's traffic in the seven months to Jul-2014 is 25% higher than the comparable period in 2013.
Zhengzhou airport passenger throughput annual growth rate: 2009-2013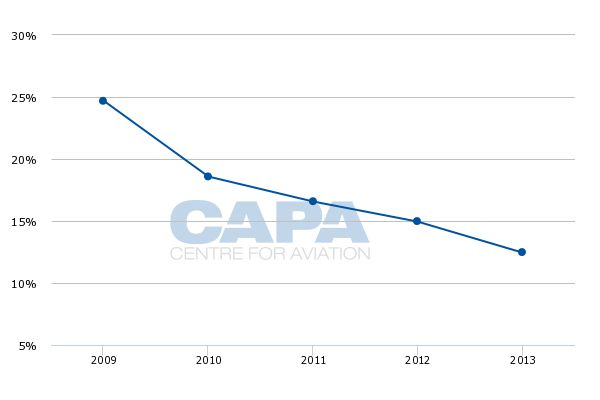 Zhengzhou's seat capacity in Dec-2014 makes it larger than airports such as Auckland, Cairo, Helsinki and Manchester.
China's largest airports typically have similar passenger and cargo rankings within a few places, but Zhengzhou is distorted to the cargo side, where it was 12th largest in 2013 based on reported tonnes. Zhengzhou is a heavy manufacturing hub that produces, amongst other electronics, Apple devices.
See related report: Chinese air cargo shifts from Shanghai to the Three Cs: Chengdu, Chongqing and CGO
Cargo tonnage however has seen an increase in growth rate, including 47% in 2012 and 69% in 2013. In the seven months to Jul-2014, Zhengzhou's cargo tonnage is up 115%.
Zhengzhou Airport annual cargo volume (Tonnes): 2009-2013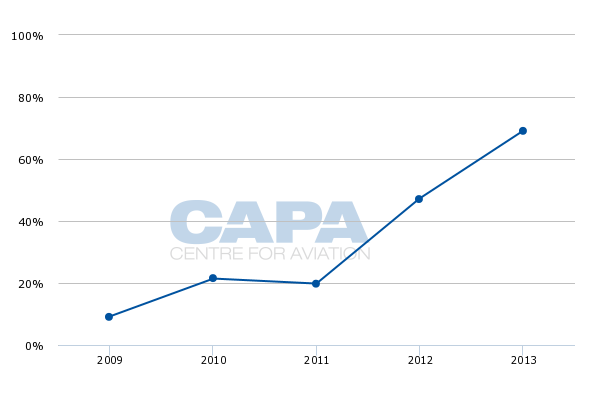 Zhengzhou airport has quickly moved up the passenger and cargo ranks
Zhengzhou's growth has seen it outpace other airports. Zhengzhou has moved from being China's 25th largest airport as recently as 2003 to being the 17th largest. The most noticeable gains are on the cargo side, where Zhengzhou has moved from being 28th largest in 2003 to eighth largest in the first eight months of 2014, the latest data available. The advancement of four ranking places between 2013 and 8M2014 has been made partially possible through Cargolux's presence.
Zhengzhou airport passenger and cargo traffic rank in China: 2001-8M2014
| | | |
| --- | --- | --- |
| Year | Passenger Rank | Cargo Rank |
| 2001 | 25 | 28 |
| 2002 | 25 | 27 |
| 2003 | 25 | 28 |
| 2004 | 24 | 26 |
| 2005 | 26 | 22 |
| 2006 | 22 | 22 |
| 2007 | 21 | 21 |
| 2008 | 20 | 21 |
| 2009 | 20 | 21 |
| 2010 | 20 | 21 |
| 2011 | 21 | 20 |
| 2012 | 18 | 15 |
| 2013 | 18 | 12 |
| Jan-Aug-2014 | 17 | 8 |
Zhengzhou's passenger traffic behind other Chinese airports, but cargo catching up
To put Zhengzhou's traffic in perspective, it is worthwhile to compare its traffic to other Chinese airports. On the passenger side, Zhengzhou is well behind other secondary airports such as Changsha, Chengdu, Chongqing and Xian but catching up to Wuhan and already exceeding Shijiazhuang.
Zhengzhou airport passenger traffic comparison to select Chinese airports: 2008-2013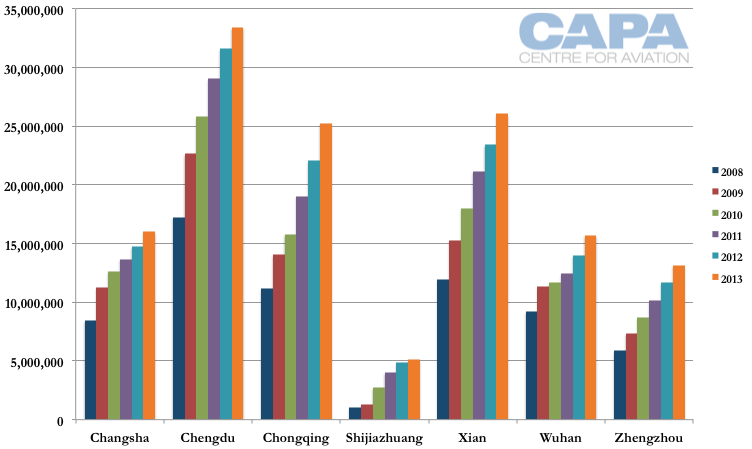 For cargo, Zhengzhou in 2013 was just behind Chongqing but had half the volume of Chengdu while big freight hubs like Shanghai but also Beijing and Guangzhou were some distance ahead of Zhengzhou.
Zhengzhou airport cargo traffic (tonnes) comparison to select Chinese airports: 2008-2013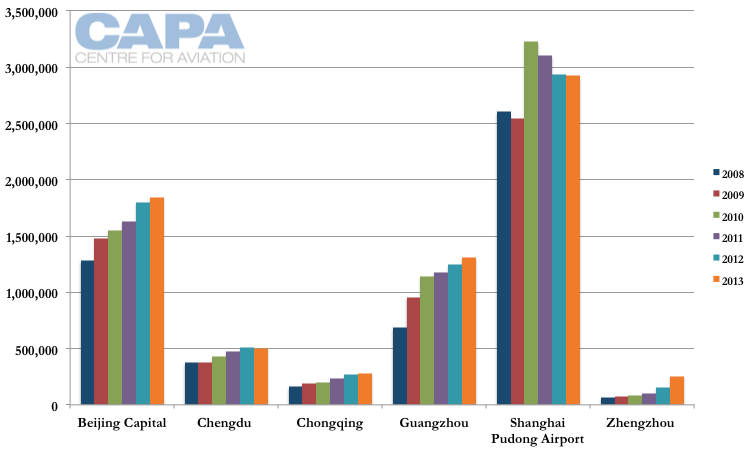 Henan and the CAAC have agreed to expedite cargo traffic right approvals for Zhengzhou as well as facilitating a logistics centre and multi-modal transport links.
Cargolux acquisition boosts cargo throughput but feelings are uneasy
Zhengzhou and Henan quickly became better known when Cargolux in Dec-2013 approved closer cooperation with HNCA following Luxembourg's decision to sell its 35% stake to HNCA. The transaction was difficult and sour feelings remain. The European side sees the deal as short-sighted on Luxembourg's part and is sceptical if HNCA is committed to Cargolux for the long term or is using the investment to learn about cargo and then start an operation that would challenge Cargolux – part of which has come true (see next section).
As part of the cooperation, Cargolux commenced flights to Zhengzhou, adding to its existing services to mainland China. Henan helped facilitate rights and permits although the service launch was repeatedly delayed. Cargolux commenced Zhengzhou services in Jun-2014, initially twice weekly but with plans to increase to four weekly in Jul-2014 and six weekly in Sep-2014. However, the fifth weekly service was only introduced in Nov-2014.
Although the partnership remains difficult, the two sides present a chirpy marketing view. Cargolux named one of its 747-8 freighters "City of Zhengzhou" and in Nov-2014 both sides celebrated Cargolux carrying its 10,000th tonne of cargo on the Luxembourg-Zhengzhou route since its Jun-2014 commencement.
Cargolux has grown outside of Zhengzhou during the partnership, increasing flights to Beijing and Xiamen.
Zhengzhou and Henan Province to establish new cargo airline with Cargolux
Cargolux and HNCA will form a new JV carrier, Cargolux China, that in 2015 will reportedly operate trans-Pacific routes from Zhengzhou to Chicago and Los Angeles. Operations to Australia are also reportedly being considered, with the JV airline considering 747 and 777 freighters, as well as 737 freighters.
Cargolux China operating to North America means it will not compete with Cargolux between China and Europe – or at least not yet. Cargolux does not operate from China to North America but it does operate from Hong Kong to North America. This raises the question if Cargolux at a later stage could have operated from China to North America, but Cargolux China's operation seems to make that possibility redundant.
Second new Zhengzhou airline to be LCC with First Eastern Investment, co-owner of Japan's Peach Aviation
While cargo is Zhengzhou's strength, it is also trying to boost its passenger side. In Jun-2014 it was reported that First Eastern Investment and Zhengzhou City Manli Transportation Group signed an agreement to jointly establish a LCC based in Zhengzhou. First Eastern Investment will invest USD50 million for a 49% stake in the proposed LCC, which could commence operations in mid-2015 at the earliest with an initial fleet of three leased A320s growing to six A320s in its second year. Domestic and regional (Hong Kong, Japan) destinations were being considered.
First Eastern is a Hong Kong company and is an investor in Peach Aviation, the Osaka Kansai-based LCC. At the time First Eastern said Peach was invited to support the launch or even become a stakeholder but there has been no update since.
Having an eventual presence in mainland China is partially what attracted All Nippon Airways to having First Eastern invest in Peach. ANA is a minority shareholder in Peach but was actively involved in Peach's launch. However, it is unlikely a LCC in a smaller inland city holds much interest for ANA or Peach; Beijing and Shanghai or a larger second-tier city would have been interesting and more sustainable. Peach's involvement would have far greater benefit to the Chinese LCC than to Peach, where synergies would be limited. The China-Japan mood has been further dampened by China-Japan relations that have weakened considerably.
Zhengzhou airport will see expanded passenger operations from China Southern Airlines Henan, a JV launched on 19-Sep-2014 between China Southern and Henan Civil Aviation Development and Investment Co. The airline is wholly integrated within China Southern so that passengers do not notice the development. Henan benefits by potentially gaining a larger network than if China Southern developed on its own. Some routes that Henan will likely want will probably be subsidised. China Southern benefits from gaining local support in slot and traffic rights while also receiving various financial benefits. The JV is 60% owned by China Southern with capital of CNY3600 million (USD562.5 million) and 40% by Henan with CNY2400 million (USD375 million). Total investment is CNY6000 million (USD937.5 million).
China Southern Henan is built on the assets of China Southern's Henan branch company, which has 25 737s. China Southern accounts for about one third of the available seats at Zhengzhou and, according to China Southern, half in Henan province. 95% of Zhengzhou's passenger capacity is within the domestic market.
It is unclear how China Southern's expanded presence will mesh with Zhengzhou's planned LCC. China Southern serves 32 Chinese airports from Zhengzhou, according to OAG data. That does not leave much room for a LCC. The central and western market is low yielding, meaning China Southern will already be competing aggressively and is unlikely to want further competition. It is also unclear how China Southern will co-exist with Cargolux and the planned cargo start-up. Both of those parties will look to have a role in the freight market from China to North America. China Southern has two weekly freighter flights from Zhengzhou to Anchorage and onwards to Chicago, and then two weekly flights from Los Angeles to Zhengzhou and back to Guangzhou, according to OAG data.
Zhengzhou airport system seat capacity by carrier: 1-Dec-2014 to 7-Dec-2014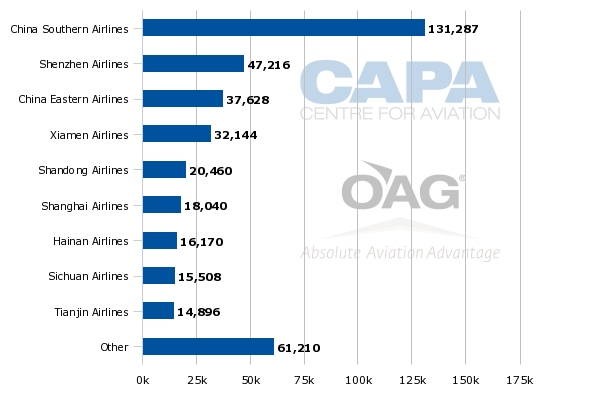 Henan Province trying to woo Boeing for a delivery completion centre
Henan wants to create a hub for traffic but also airframe activity. Henan has expressed interest in aircraft-focused activity ranging from assembly lines to MRO to training. Assembly is surely an ambitious aspiration; Tianjin supports final assembly as it is linked with a free trade zone. Henan and the CAAC have reportedly agreed to try to woo Boeing to establish a delivery centre in Zhengzhou. Boeing has declined to comment on these reports.
A Boeing delivery centre could theoretically be similar to Airbus' planned A330 completion centre, although Boeing lately has been looking to insource assembly and finishing work. Boeing already has completion activity in China through JVs although for VIP and special outfit aircraft. It is clearly Henan that is pushing for this and could stand to gain the most directly. Boeing's indirect benefit would be a Zhengzhou centre creating more business for it in China, or keeping business it could lose if it did not have the centre.
Outlook: hubs need investment and nurturing, but also time
Henan has clearly realised the profound impacts of being an aviation hub and supporting it will have on the economy. Henan sees hubs need financial investment as well as nurturing through advice and partnerships, and is doing all of this. The downside is the compressed time in which Zhengzhou is aiming to do all of this. Hubs do not sprout overnight; time allows for sustainable growth as the hub sees what does and does not work. The rushed speed has also lessened the ability to have a pleasant bedside manner, so to say, leaving many parties feeling bruised – and probably rightfully so. Zhengzhou and Henan have a strong determination to be a hub and are working towards it, but will find they cannot reach their objective alone.