Yield deterioration at EVA Air and China Airlines shows no signs of slowing
Analysis
Two of Asia's biggest air freight market participants, EVA Air and China Airlines (CAL), reported further worrying declines in freight yields last month. Yield growth for both carriers peaked around July/August last year, but the trend has been relentlessly down since, to be down by more than a third last month.
IATA warned overnight of the potential impacts of so-called 'de-globalisation', where domestic economic recovery is not translating into increased international trade flows.
EVA Air and China Airlines freight yield growth: Jun-2008 to Jun-2009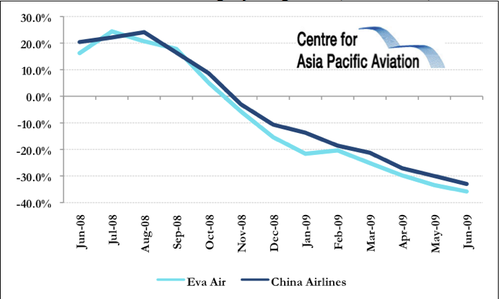 Passenger yields on slippery slope despite cross-Strait boost
Passenger yields entered negative territory in Feb-2009 and are plunging, though not yet as much as freight yields, despite the introduction of higher yielding cross-Strait passenger services.
EVA Air and China Airlines passenger yield growth: Jun-2008 to Jun-2009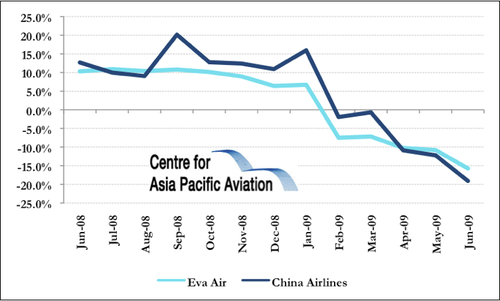 Outlook: Swine flu and 'de-globalisation' risks
The outlook for earnings for both carriers is poor this year. EVA and CAL will be pinning their hopes on the coming Summer travel peak and pre-Christmas build-up in cargo traffic this year. But the risks to both, from the spread of swine flu and the 'de-globalisation' theory, respectively, remain elevated.