WTTC report on economic value gained by cities from tourism – shift towards the east
Analysis
The World Travel & Tourism Council (WTTC) has published a report on a topic that is slightly unusual: namely, the economic value of tourism to cities, taking into account its contribution to GDP and employment as well as the usual traveller 'spend.'
The main conclusion is inescapable.
While 'old world' cities in Europe still top the list, as well as North American resort cities such as Orlando and Las Vegas, there is a shift in favour of Asia Pacific. Beijing, for example, is expected to more than double its tourism sector value to USD77 billion in the next 10 years, leapfrogging the current first-placed Paris.
Where actual tourist spend alone is concerned, the top two cities in 2022 were Dubai and Doha, both helped by the Soccer World Cup being played in Qatar.
Again, Asia Pacific cities are expected to overtake or challenge them in the next 10 years.
Summary
World Travel & Tourism Council (WTTC) reports on the world's top city tourist destinations.
Paris leads on tourism contribution to GDP and employment.
But Asia Pacific cities will soon be moving up the table – Beijing is expected to leapfrog Paris.
In some cases tourism can be 40-60% of a city's GDP.
Tourists migrated to beach resorts and the countryside, but they are now returning to cities.
Middle East cities head the table of actual tourist spend, but are again likely to be overtaken by several in Asia Pacific.

WTTC reports on 82 cities globally for tourism statistics and prospects
The World Travel & Tourism Council (WTTC) has reported on the top city destinations for 2022 based on the travel and tourism sector's direct contribution to city GDP.
There were 82 cities around the world that were put under the microscope.
The report, sponsored by Visa and researched in partnership with Oxford Economics, analysed key indicators in these cities, such as Travel & Tourism's contribution to GDP, employment and traveller spend.
Julia Simpson, WTTC President & CEO, says that although major cities such as London, Paris and New York will remain global powerhouses, over the next few years Beijing, Shanghai, and Macau will be moving up the list of top city destinations.
Paris tops the tourism value list
WTTC revealed the French capital Paris as the world's most powerful city destination, but predicts that it will be overtaken by Beijing by 2032.
The Paris travel and tourism sector was valued at USD35.6 billion in 2022. That value is expected to increase to USD49.1 billion by 2032, but Paris is forecast to drop to third place in the global ranking. Travel and tourism represents 3.5% of Paris' economy.
Tourism to France is not limited to Paris of course. France has extensive Mediterranean and Atlantic coastal areas and charming countryside, but Paris has always held a particular attraction to visitors from around the world.
According to CAPA data (2018, the most recent available), the UK provided the highest number of visitors there (14.6%), just ahead of Germany and Belgium/Luxembourg.
But not all those visitors arrive by air, by any means. There is an increasing push in Europe – France especially – to move to other forms of transport.
Chinese visitors amounted to 2.5% of the total, but that is expected to increase rapidly.
Visitor arrivals by market for 2018 – France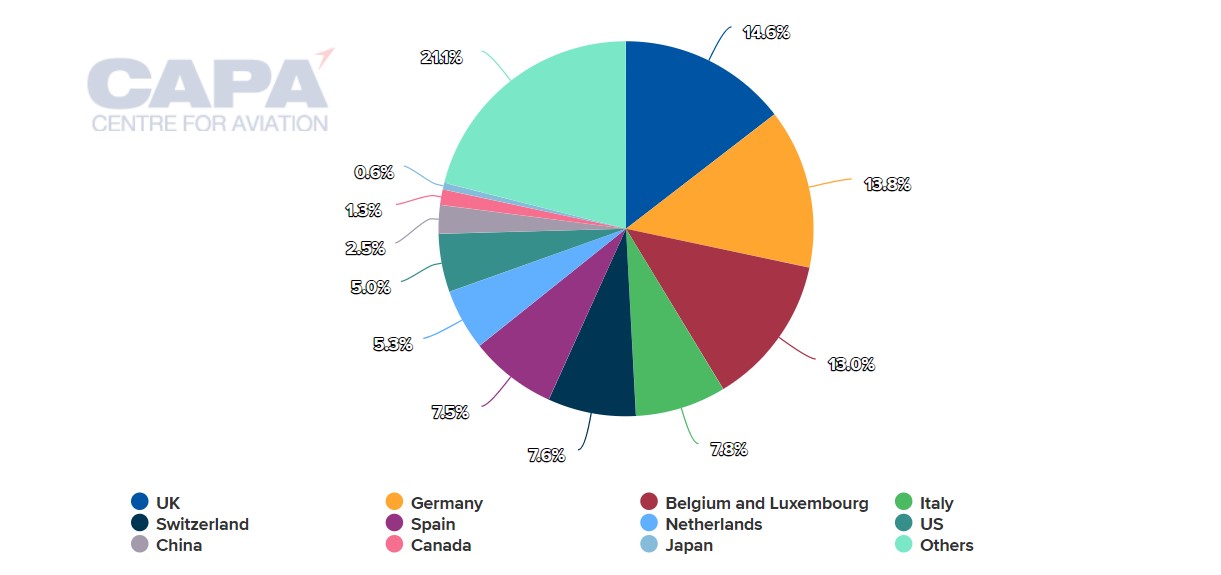 Paris Charles de Gaulle Airport was the ninth busiest globally in 2019 and the second busiest in Europe.
Beijing projected to 'leapfrog' Paris
In second place was the Chinese capital Beijing, with a Travel & Tourism sector worth nearly USD33 billion.
However, WTTC predicts that Beijing will leapfrog Paris within the next 10 years, growing to a "staggering" USD77 billion.
China has, of course, been hard hit by the COVID-19 pandemic, with travel restrictions only having been removed in the second week of Jan-2023.
In 2019 the vast majority of visitors to China as a whole came from Hong Kong, followed by Macau, which are both 'Special Administrative Areas'.
No country apart from Taiwan provided more than 4% of visitors.
Visitor arrivals by market for 2019 – China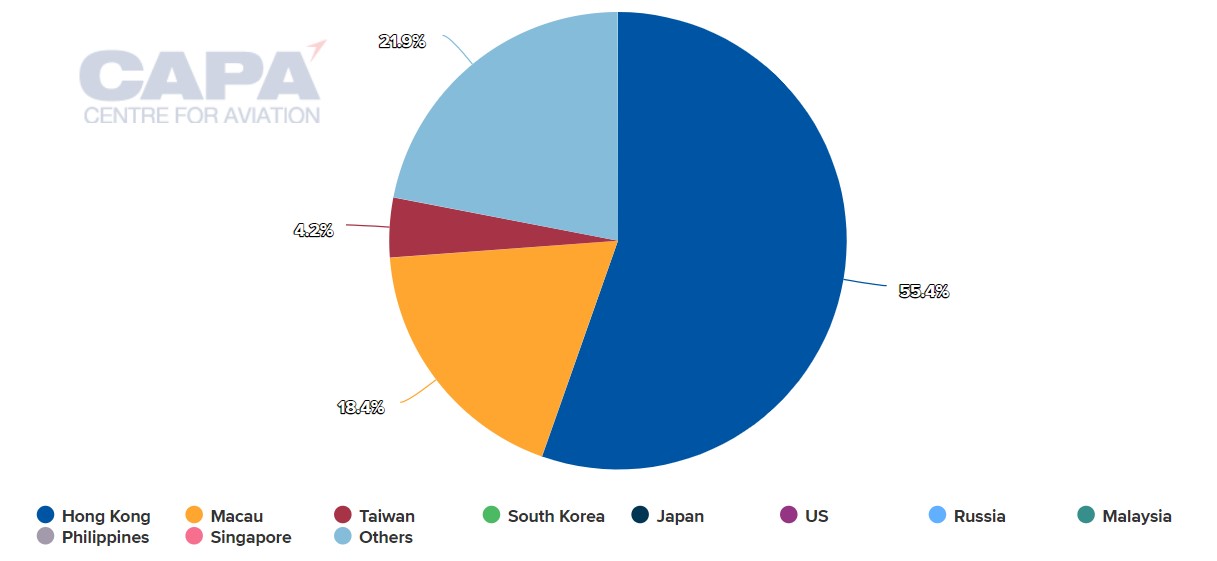 China's national Travel & Tourism sector has witnessed phenomenal growth over the last decade as the country has invested in new hotels, transport infrastructure and new tourist destinations.
However, what the WTTC may not have taken into account is the potential for initial reluctance on the part of western tourists to travel to China while there remains such a high prevalence of COVID-19.
Beijing's main airport has spiralled down the rankings during the pandemic
Beijing Capital Airport was the world's second busiest in 2019, falling to seventh place in 2020, after which it spiralled down the rankings on account of continuing lockdowns and travel restrictions.
Conversely, the new Beijing Daxing Airport did grow throughout that period.
Tourism represents a fifth of Orlando's economy
In third spot is Orlando, Florida, home to Disneyworld and an array of other theme park-style entertainment in the area and the most visited tourist destination in the US.
The travel and tourism sector there was valued at USD31.1 billion; it is expected to grow to USD45 billion but drop to fourth rank by 2032, despite growing by 50%.
Travel and tourism represents 20.4% of Orlando's economy. The main countries from which visitors to Florida generally came in 2021 were Colombia, Canada, Mexico, Peru, and Ecuador.
That small city of only 300,000 people had the world's 31st busiest airport in 2019 (Orlando International), and is also served by the smaller Orlando Sanford Airport.
China returns in fourth place in the shape of Shanghai, where tourism was valued at USD29.7 billion.
Shanghai's tourism value is expected to grow to USD70.9 billion and it will become the second-ranked city destination by 2032.
In 2019 Shanghai's Pudong (international) airport was the eighth busiest in the world, just behind Paris CDG.
Las Vegas retains its position on the list
Next on the list, and not unexpectedly, is Las Vegas, the world's gambling capital and where tourism value was USD23 billion.
Las Vegas is the only city in the top 10 list which holds its place, firmly staying as the fifth largest city destination.
The city is expected to grow to USD36.5 billion in tourism value and remain in fifth place by 2032.
Travel and tourism represents 16.3% of Las Vegas' economy.
Las Vegas and Orlando are the only cities currently in the top 10 most powerful city destinations based on the sector's value, being cities that rely heavily on the sector as a share of the city's overall economy (16.3% and 20.4% respectively).
Passenger traffic at the recently renamed Harry Reid (previously McCarran) International Airport slumped by 57% in 2020 on account of COVID-19, but grew back by 79% in 2021.
In 2022 (Jan-Nov) traffic was up again by 35%, to close to 2019 levels overall.
Las Vegas Harry Reid International Airport: annual traffic, passenger numbers/growth, 2019-2022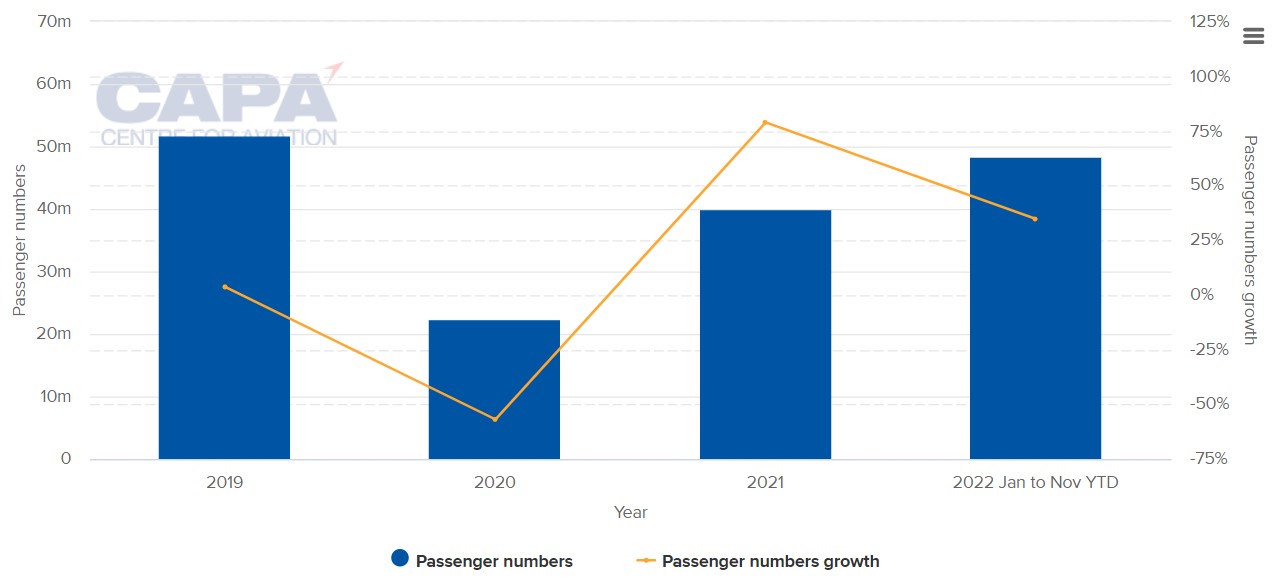 Other notable cities in the report include:
New York: USD21.2 billion value, increasing to USD34.3 billion by 2032 and dropping to seventh.
New York's three main airports collectively achieved in excess of 100 million passengers in 2022 – New York being one of only two cities (the other is London) to have done so.
Tokyo: USD18 billion, increasing to USD29.9 billion and dropping to 10th.
Mexico City: USD16.8 billion tourism value in 2022.
Mexico is still assimilating a new airport into its aviation system, making three airports in all.
That may seem a low figure for what is historically a big draw, and especially in light of the fall in the value of the pound (GBP) against the dollar (USD). But this measure is of contribution to GDP rather than direct 'spend' (see later).
But in any case, it was still influenced by a delay in removing travel barriers early in the year. That was then followed by mass flight cancellations owing to staff shortages, and latterly by flight caps put in place by airports and strikes by key airport and border control workers, which have made the UK capital less of an attractive proposition to travellers.
Guangzhou: USD13.1 billion, increasing to USD34.9 billion and ranked sixth.
Guangzhou's airport was the world's busiest in 2020, overtaking facilities such as Dubai, Beijing Capital and even Atlanta – although that was largely due to travel restrictions in these destinations not being so severe compared to other Chinese and world cities.
There is a multitude of tourist attractions in this city, which is visited by many Chinese residents each year, but its tourism statistics might also be inflated by miscounting (or correctly counting – employment is one of the indices) some of the enormous 'floating population' – migrants who come in each year to work for short periods.
Macau is expected to grow to USD33.3 billion and be ranked eighth by 2032.
Bangkok is expected to grow to USD31.5 billion and be ranked ninth by 2032.
Bangkok hoping to boost tourism with more Chinese visitors
Bangkok is an interesting case, only just getting into the top 10 of this tourism value table, despite being the world's most visited city in 2019.
COVID-19 had a particularly devastating impact on travel to Thailand, to the capital and also to regional tourist cities like Chiang Mai, as well as to coastal and island resorts, allied to what might fairly be described as draconian restrictions on movement within the country.
The Thai authorities are welcoming the return of Chinese visitors, and actively encouraging it, but at what potential price?
They accounted for only 2.5% of visitors in 2022, compared to 27.6% (almost 11 million) in 2019 – the highest ratio by far.
Visitor arrivals by market for Thailand in 2019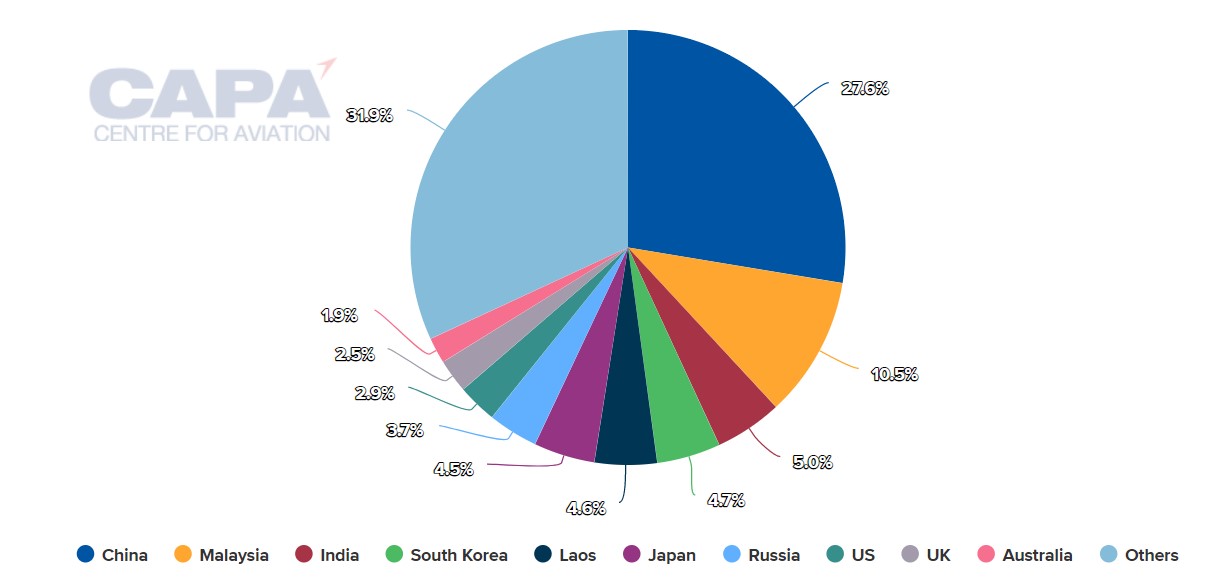 Tourists migrated to beach resorts and the countryside, but are now returning to cities
WTTC makes the interesting observation that as borders reopened, many leisure travellers swapped city visits for less populated destinations, such as coastal and rural destinations, but its latest research shows that city holidays are back and growing in popularity.
Also they observed that tourists will always have favourite cities that they will return to. But as other countries prioritise Travel & Tourism, we will see new and emerging destinations challenging what have historically been the favourites.
Outside the top 10, other cities showing promising growth as emerging destinations include the Polish capital of Warsaw, which has experienced a 14.4% increase in its GDP contribution in 2022 versus 2019.
A new Central Polish Airport is to be built close to Warsaw, connected to the major Polish cities by high-speed rail lines.
Sanya, the Chinese coastal city that has become a popular tourist destination in recent years as holidaymakers visited its stunning beaches, witnessed a 10.2% growth during that same period.
Sanya's Travel & Tourism sector represents an incredible 43.6% of the city's total economy.
Macau's tourism sector accounts for 40% of the economy
Meanwhile, Macau's Travel & Tourism sector (Macau is another world-scale gambling resort) represents 40.4% of the city's total economy – double that even of Orlando and Las Vegas, and well over 10 times the ratio in Paris (3.5%).
Dubai heads the list of highest international traveller spend
The WTTC report also lists the top cities with the biggest international traveller spend (as opposed to the 'contribution to GDP and employment' calculation) in 2022.
They were:
| | | |
| --- | --- | --- |
| Rank | City | 2022 International Traveller Spend (USD billion) |
| 1 | Dubai | 29.42 |
| 2 | Doha | 16.79 |
| 3 | London | 16.07 |
| 4 | Macau | 15.58 |
| 5 | Amsterdam | 13.59 |
| 6 | Istanbul | 13.13 |
| 7 | Barcelona | 12.73 |
| 8 | New York | 12.45 |
| 9 | Singapore | 10.97 |
| 10 | Paris | 9.76 |
This table reveals more of the big hitters in tourism expenditure in, for example, Middle East countries where the GDP/employment contribution will be relatively small on account of oil and other commercial revenues.
Doha will certainly have been boosted by the FIFA Soccer World Cup as will have been (to a lesser degree) Dubai, where many fans stayed.
London figures more prominently in this table. In fact, the amount of tourist spend exceeds the 'tourism value' that arose from it, which perhaps the WTTC should explain to readers.
Similarly with Paris, which is something of a conundrum. The tourism value calculation there is USD35.6 billion, placing it at the top of the table.
But international tourism expenditure was just USD9.76 billion, which is totally at odds with the comparison in London.
Moreover, why was travel and tourism only 3.5% of Paris' GDP in 2022, even allowing for protracted lockdowns and associated business closures? That is a very low figure given the vast number of hotels, cafes and restaurants and tourist attractions, not to mention Disneyland Paris on the city's eastern periphery.
Top cities for international spend will be in Asia Pacific and the Middle East
In 2032 WTTC predicts the top 10 cities with biggest international traveller spend will change to be:
| | | | |
| --- | --- | --- | --- |
| Rank | City | 2032 Predicted International Traveller Spend (USD billion) | Change versus 2022 |
| 1 | Hong Kong | 52.06 | +38 |
| 2 | Macau | 43.14 | +1 |
| 3 | Dubai | 42.98 | -2 |
| 4 | Singapore | 37.43 | +5 |
| 5 | Bangkok | 33.45 | +7 |
| 6 | Doha | 31.63 | -4 |
| 7 | Tokyo | 25.44 | +30 |
| 8 | New York | 21.73 | - |
| 9 | Amsterdam | 21.53 | -4 |
| 10 | Shanghai | 21.3 | +11 |
The drift again is clearly towards the east.
All but two of the cities are in Asia Pacific or the Middle East.
WTTC concludes its report by saying that over the next decade Travel & Tourism is on track to become a key driver of economic growth once again, with faster GDP growth than other sectors, generating 126 million new jobs around the world.