WestJet seeking to raise USD160 million share issue; AirArabia to launch LCC in Egypt
Analysis
WestJet's shares were down 2.5% yesterday, before trading was halted prior to the carrier's announcement that it plans to raise up to CAD172.5 million (USD160 million) in a share issue to help it finance aircraft purchases and for other capital spending.
The carrier has agreed with a syndicate of underwriters, led by CIBC, to sell 13.39 million shares for CAD11.20 per share to raise CAD150 million. The carrier's stock last traded at CAD11.70, prior to the share suspension, meaning the purchase price is a 4% discount from this close price.
WestJet, which has close links with Virgin Blue, may have been buoyed by the success of the Australian airline's recent capital raising.
Selected LCCs daily share price movements (% change): 09-Sep-09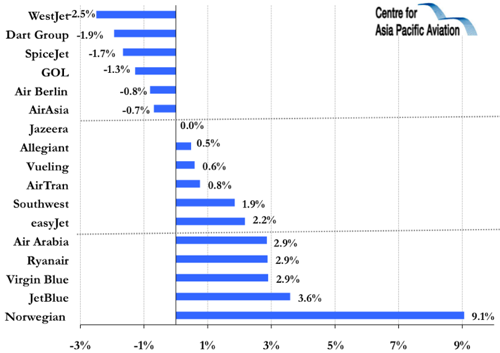 NB: DAILY LCC SECTOR strategic updates from around the world are NOW AVAILABLE! Sign up today for your free trial subscription to Peanuts! Daily.
Air Arabia to launch LCC in Egypt with Travco Group
AirArabia's shares also gained yesterday, up 2.9%, as LCC signed a JV agreement with Travco Group to launch a new LCC in Egypt. See related article: Air Arabia to launch LCC in Egypt with Travco Group; the Middle East's seventh LCC

In Europe, Norwegian's shares jumped 9.1% on Wednesday, following gains of 6.5% on Tuesday and 13.0% on Monday. Ryanair and easyJet were also both up, by 2.9% and 2.2%, respectively. See related article: Scandinavian yields continue to show weakness but traffic starting to thaw