WestJet beats consensus in 2Q with 247% gain in net income
Analysis
Finishing the second quarter with a CAD25.6 million net income on a 21.4% rise in total revenues of CAD742.3 million, WestJet beat analysts projections with a four-fold rise in earnings. The second quarter was its 25th consecutive profitable quarter.
Advanced bookings are strong, the company reported with no weakness spotted in the August/September period although CEO Gregg Saretsky was quick to note it is early days yet especially since the market volatility is at an all-time high.
Westjet's 2Q2011 operating margin rose 2.6 points to 6.9% and an earnings before tax margin of 4.9%. However, using the trailing-12-months metric it posted a 10.5% margin up from the 9.8% in the first quarter.
Despite the outstanding performance, it joined the rest of the North American industry in expecting growth to slow in the back half of 2011, when difficult comparisons would slow revenue growth. It projected 7-8% growth in system capacity in 3Q2011 including a 3-4% growth in domestic capacity, down from year-to-date levels. The good news is that should increase market share with its aggressive Eastern Canada growth plans.
Over the last year Westjet has already been growing capacity faster than rival Air Canada.
Westjet ASM growth vs Air Canada ASM growth, Jan-2009 to Jul-2011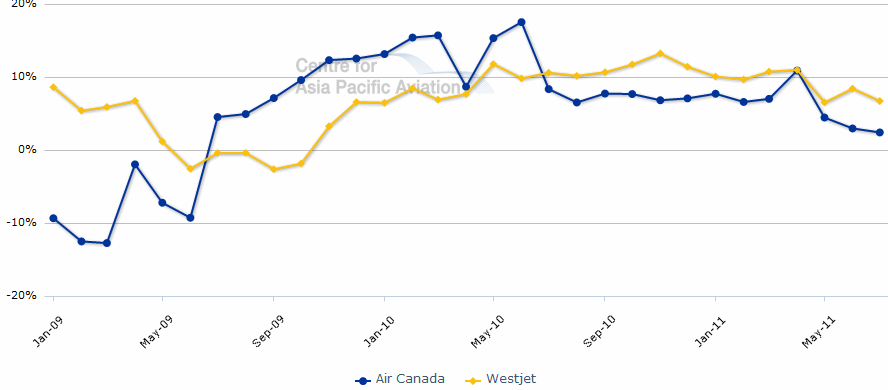 It continues to expect year-on-year revenue per available seat mile (RASM) growth for the third quarter judging from advanced bookings and is looking for a 10% increase to fuel increases.
On the call
Analysts were clearly worried what WestJet's plan would be should demand drop off a cliff, but executives only pointed to its actions during the 2008 collapse when it grew capacity with the additional jets but still remained profitable. However, it will probably improve on the profitability it posted three years ago given its moderated delivery schedule which pushes back deliveries.
It is also expecting a RASM boost for the increasing traffic it is seeing from its codesharing and interline deals which Mr Saretsky described as "massive" albeit off a small base. It added China Eastern, JAL, Qantas and Alitalia to its interline partnerships and starts such a relationship with Korean next week. It also expects to add another three to four codeshare partnerships by the end of the year.
The company is now set with its fleet plans but is obviously anxious to discuss the planned 737 re-engining programme and whether future deliveries can be converted. For now it is studying whether a premium economy products such as JetBlue's Even More Space would work for WestJet, having rejected a business cabin because it takes up too much real estate.
However, Mr Saretsky did indicate there are many markets that would benefit from competition but could not now be served by the 737. Noting that some markets have fares that are two-to-three times WestJet's average fare, Mr Saretsky said the company may look at smaller or larger aircraft to accommodate some of the monopoly markets the company has identified.
Westjet fleet plan, 2011-2018

Company executives on the call indicated that full-year 2011 costs would be in line with 2010 costs despite a 20-cent jump in fuel which is expected to be in the USD 90-93 cent range per litre in the third quarter. Fuel costs rose 28.1% on a much smaller jump in consumption at 9.1%. It is also experiencing 27.4% rise in maintenance headwinds owing to a fleet increase. Third quarter CASM ex fuel and profit sharing will be slight up year on year but is but flat for the full year.
July revenue per available seat mile jumped 8.4% nicely outpacing the 7.2% in capacity resulting in an 81.6% load factor. And as with most of the industry August and September booked load factors were exceeding the year-ago period. This compares with a 9.5% increase in available seat miles and a load factor decline of 1.9 points to 78.1% in the second quarter.
Westjet deployed 63.5% of its capacity during 2Q2011 on domestic routes, compared to 66.8% in 2Q2010. Westjet typically shifts a large portion of its international capacity back to the domestic market every second quarter in response to seasonal fluctuations in demand.
Westjet transborder and international ASMs as a percentage of total ASMs (includes charter and scheduled), Jul-09 to Jun-2011

Yield rose 13.4% to 18.14 cents while revenue per available seat mile (RASM) rose 10.8% to 14.17 cents. Cost per available seat mile rose 7.8% to 13.19 cents.
Passenger revenue jumped 20.9% to CAD675.8 coming from a 7% increase in traffic and a 13.4% increase in yield to 18.14 cents. Other revenue rose from CAD5.6 million in 2Q-2010 to CAD66.4 million in the 2011 second quarter.
Background Information
Westjet financial highlights for last eight quarters

Westjet operational highlights, 1Q2011 and 1H2011 vs 1Q2010 and 1H2010

Westjet load factor, 3Q2009 to 2Q011