WestJet and Air Canada slip on weak yield/loads, Gol yields steady, Republic sold off
Analysis
Shares in WestJet and Air Canada (B shares) fell 4.3% and 0.7%, respectively, yesterday as both carriers reported weaker load factors for the month of June (see below). WestJet President and CEO, Sean Durfy stated, "we anticipate second quarter revenue per available seat mile (RASM) to be in line with our original expectations of a second quarter year-over-year decline of 16 to 18%". It's a cold world out there.
Mr Durfy added, "as we move into the second half of 2009, we will continue to assess our capacity and where we are deploying our aircraft".
Gol's shares gained 1.8% as the carrier's shift in focus to defend yields appears to be paying off. In its Jun-2009 traffic report, Gol noted, "this seasonal positioning reflected the strategic reduction in yield, which reached its lowest level of the year in June, below the BRL 19.43 cents (USD 9.43 cents) recorded in 2Q2008. For the second quarter as a whole, yield increased in year-over-year terms, but was below the BRL 21.93 cents (USD 11.11 cents) posted in the first quarter, albeit within the Company's expectations".
Meanwhile, Republic Airways' stock continues to bounce around after its acquisition spree last month, with Avondale Partners carving its price target for the carrier from USD19 to just USD4, stating a "riskier business model and investor doubts will likely drive Republic shares downward until the likely outcome of recent acquisitions is clearer".
North & South America selected airlines daily share price movements (% change): 06-Jul-09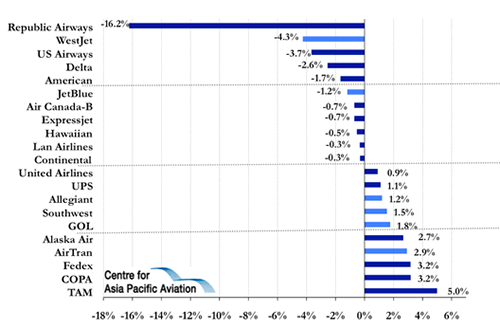 WestJet announced June traffic results with a load factor of 72.9%. Revenue passenger miles (RPM) decreased 7.1% year-on-year and capacity (ASMs), declined 2.5% over the same period.
President and CEO, Sean Durfy stated, "we continue to tackle the difficulties of a tough economy". He added, "staying true to our fundamentals is extremely important in this challenging time for the airline industry. As we continue adapting to the demand environment, we are thankful for our WestJetters who are tirelessly demonstrating an overwhelming willingness to help us reduce costs, while ensuring that our guests are always experiencing exceptional service."
In mid-June, WestJet bought out the lease of an 800-series aircraft that it took delivery of in early 2009. Mr Durfy stated, "it is important for us to explore every area where we can save, and find the most effective opportunities to deploy capital".
Air Canada meanwhile reported a load factor of 80.9% on a consolidated basis with Jazz, versus 82.2% in Jun-2008, a decrease of 1.3 ppts. System traffic decreased 9.1% on a capacity reduction of 7.6% system wide. Air Canada mainline reported a load factor of 82.2% in June 2009 compared to 83.1% in June 2008; a decrease of 0.9 percentage points. The mainline carrier flew 9.4% fewer revenue passenger miles (RPMs) in June 2009 than in June 2008 on a capacity decrease of 8.5%.
President and CEO, Calin Rovinescu, stated, "our disciplined approach to capacity management continues to produce relatively stable load factors across our network, despite the on-going negative impact of a weak economy on the industry overall. We will continue to ensure assets are efficiently deployed as we pursue new strategic revenue generation opportunities".
Over the past weeks, Air Canada has introduced a number of non-stop services, including Montreal-Geneva, Montreal-Rome, Montreal-Martinique and Calgary-Portland.