Wave of selling hits Asia Pacific airline shares. AAPA warns of volatility ahead
Equity markets around the world continue to tumble as investors worry about the state of the global economy. Asia Pacific airline stocks have been hard hit lately, with Chinese airlines, Thai Airways and the LCC sector particularly volatile.
AAPA traffic very strong in April
Preliminary figures released today by the Association of Asia Pacific Airlines (AAPA) indicate that the region's passenger and air cargo markets showed further improvement in Apr-2010, despite the effects of the European airspace closures.
A total of 15.2 million international passengers were transported by AAPA airlines in Apr-2010, 11.7% more than in the same month last year. International passenger traffic (RPKs) grew by 8.9%, while available seat capacity posted a modest rise of 1.2%. As a result, the average international passenger load factor increased by 5.6 ppts to 78.4%.
AAPA RPK growth and ASK growth: Apr-2009 to Apr-2010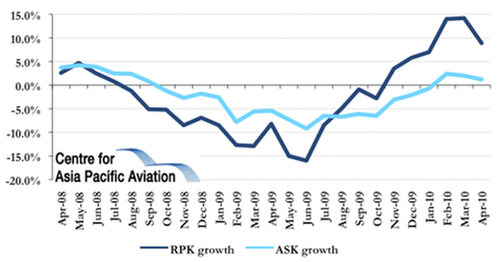 AAPA PLF and pax numbers growth: Apr-2009 to Apr-2010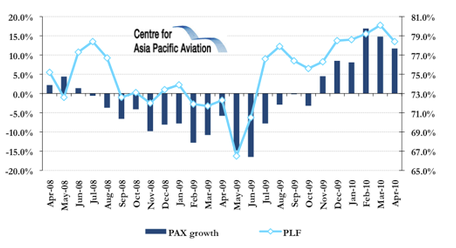 Air cargo demand remained strong, maintaining the positive trend of recent months, with 32.1% growth in freight tonne kilometres (FTK) last month, off a weak base. Freight capacity expanded by 13.2%, leading to a 10.3 ppts surge in the average international cargo load factor to 71.9%.
AAPA FTK growth and FATK growth: Apr-2009 to Apr-2010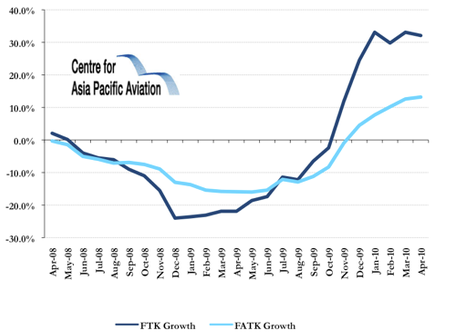 Commenting on the results, Andrew Herdman, AAPA Director General said, "notwithstanding the recent impact of disruptions to European air services, Asia Pacific carriers have recorded positive growth in both passenger and freight demand in April. For the first four months of 2010, international passenger traffic for Asia Pacific carriers achieved 11% growth compared with the same period last year, reflecting the robust recovery in business and consumer confidence across the region." He added, "the 34% growth we have seen in international air cargo traffic for the first four months of 2010 provides further confirmation of the strength of the global economic recovery currently underway, particularly here in Asia."
Mr Herdman concluded, "Overall, traffic demand is now back to the levels seen before the recession. The outlook for the coming months remains broadly positive, supported by Asia's buoyant economic growth, although concerns remain over regional imbalances, as well as oil and currency volatility."