Vueling gets Arabia rights. How well will the magic carpet fly?
Analysis
Vueling has provisionally been assigned two weekly frequencies to operate between Spain and Saudi Arabia by Spain's Directorate General of Civil Aviation. The rights allow it to operate from anywhere in Spain to Jeddah and/or Dhahran (via the airport of Dammam) in Saudi Arabia. Spain's bilateral with Saudi Arabia allows for seven weekly frequencies, but, to date, Vueling is the only Spanish carrier to apply for rights.
Jeddah is the number one Saudi airport and Dammam number three by seat capacity (week of 13-Jan-2013, source: OAG). Vueling has not yet made public any plans to launch routes utilising these rights, but the Saudi market has some attractive characteristics. Moreover, Saudia is currently the only scheduled operator between the two nations, operating Jeddah to Madrid.
However, routes to both Saudi cities from Vueling's Barcelona base would be significantly longer than any of its existing routes. Indeed, at more than 4,000km, they would rank among the longest narrowbody LCC flights anywhere in the world. Could Vueling's skills in evolving the LCC model extend to what would effectively be a long-haul service?
Vueling's current focus is short-haul
Vueling current* destinations from Barcelona and location of possible new destinations in Saudi Arabia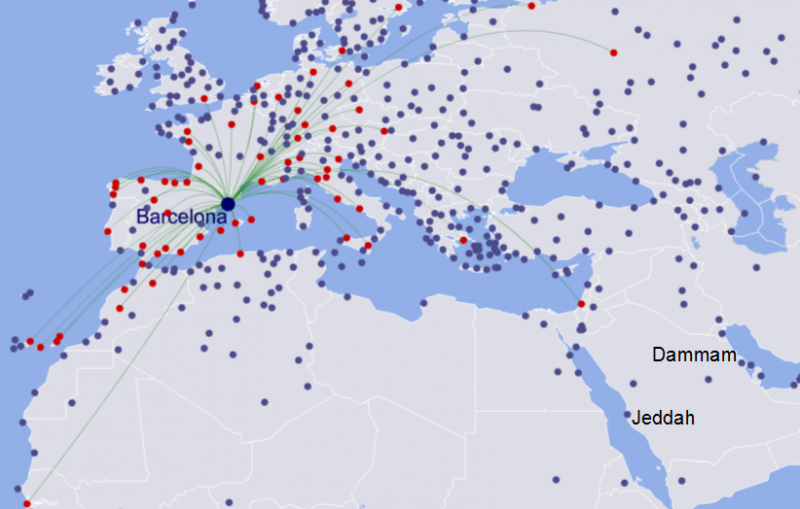 Vueling's network is strongly focused on domestic and European routes, which together account for 62 out of its 70 destinations (source: OAG, week of 19-Jan-2013). Outside Europe, it has a small number of destinations in (mainly north) Africa and one in the Middle East.
Vueling Airlines Network Summary (at 19-Jan-2014)
Region

Number
of destinations

Domestic

23

39

7

1

Total non-stop passenger destinations

70
Vueling Airlines international vs domestic seat capacity: 13-Jan-2014 to 19-Jan-2014
The domestic market is important to Vueling, taking 39% of its seat capacity, and Western Europe dominates Vueling's international capacity, accounting for 88% of international seats in the week of 13-Jan-2014, according to OAG. Within Western Europe, its most important country destinations are France and Italy, the two closest major European nations to Spain.
Vueling Airlines international seat capacity: 13-Jan-2014 to 19-Jan-2014
Vueling Airlines top 10 countries by seat capacity: 13-Jan-2014 to 19-Jan-2014
Almost 90% of Vueling's weekly frequencies have a flight time of less than 2.5 hours and more than one half of them are less than 1.5 hours. Quite simply, Vueling is a short-haul, Western European carrier. Vueling only has three routes of more than 3,000km currently. Its longest flight from Barcelona is Banjul in Senegal (5hrs 30min), followed by Moscow (4hrs 25min) and Tel Aviv (4hrs 20min).
Vueling Airlines weekly frequencies by flight time: 13-Jan-2014 to 19-Jan-2014
Vueling's three longest routes: week of 13-Jan-2014
| Barcelona to | Weekly freq | Distance (km) | Flight time |
| --- | --- | --- | --- |
| Banjul | 2x | 3,595 | 5hrs 30min |
| Moscow | 8x | 3,027 | 4hrs 25min |
| | 3x | 3,079 | 4hrs 20min |
Vueling is happy operating low frequencies
Vueling is also primarily a low frequency carrier. Out of 74 routes, it operates more than a daily frequency on only 12. It operates more than double daily on only four routes. There is a significant degree of seasonality in Vueling's schedule and the number of higher frequency routes increases in the summer months.
However, the number of low frequency routes also increases so that the proportion of routes with more than a daily frequency rises only a little (20% in Jul-2014 versus 16% in Jan-2014, based on data from OAG). In both winter and summer, the most common weekly frequency is twice (27% of routes have a twice weekly frequency in both Jan-2014 and Jul-2014).
This relatively low frequency network is generally more suited to leisure traffic than to business demand. The limited frequencies (twice weekly) now available for Vueling to operate to Saudi destinations are consistent with this leisure orientation.
Vueling Airlines destinations by weekly frequencies: 13-Jan-2014 to 19-Jan-2014
Vueling has a good distribution of slots at its principal base, Barcelona. This would allow it to schedule flights to Saudi Arabia at a range of possible times, whether to optimise potential connecting feed or higher yield point-to-point traffic.
Vueling Airlines slots at Barcelona El Prat Airport: 13-Jan-2014 to 19-Jan-2014
Spain and Canary Islands to Saudi Arabia (seats per week, one way): 21-Oct-2013 to 20-Jul-2014
Saudia operates a three times weekly A320 service Jeddah-Madrid and is the only carrier flying between Spain and Saudi Arabia. It is also the leading carrier between Saudi Arabia and Western Europe.
In the week of 13-Jan-2014, Saudia has a share of 54% of seats in this market, more than twice Lufthansa's 21% share and more than three times British Airways' share. KLM and Air France also operate to Saudi Arabia from Western Europe, each with a single digit market share.
Saudi Arabia to Europe : Western Europe (seats per week, one way): 14-Jan-2013 and 13-Jan-2014

| Airline | Week of 14-Jan-2013 seats | Week of 14-Jan-2013 percentage share | Week of 13-Jan-2014 seats | Week of 13-Jan-2014 percentage share |
| --- | --- | --- | --- | --- |
| | 9,082 | 49% | 11,235 (+24%) | 54% |
| | 4,493 | 24% | 4,394 (-2%) | 21% |
| | 3,243 | 17% | 3,435 (+6%) | 16% |
| | 864 | 5% | 1,149 (+33%) | 5% |
| | 1,040 | 5.55% | 832 (-20%) | 4% |
Saudia has significantly grown its capacity to Western Europe over the past year. It flies to Frankfurt, Geneva, London Heathrow, Madrid, Milan Malpensa, Paris CDG and Rome Fiumicino. A SkyTeam member, it code shares with Air France, Alitalia, KLM and also with Etihad, Gulf Air and Middle East Airlines.
Vueling would be a monopolist on routes from Barcelona
If Vueling takes advantage of its new rights and launches new services, it is almost guaranteed that it would choose to operate from Barcelona, by far its biggest base. Any Vueling service from Barcelona to either Jeddah or Dammam would enjoy the advantage of being a monopoly offer on these routes.
The national carrier of Saudi Arabia's feed into Jeddah from across the country onto its Madrid service might provide some limited competition in the wider market between the two countries, but the likelihood is that a new Vueling service would tap into unserved demand. Moreover, Vueling might even be able to drive some feed from Madrid into its Barcelona-Jeddah operation (in the absence of any Madrid service from its fellow IAG carrier Iberia).
Vueling would also enjoy the advantage over the other European carriers operating to Saudi Arabia in offering a direct service from Barcelona, where demand can only be met currently by connecting services via other European hubs. Opportunities to coordinate with British Airways, Vueling's other IAG sister carrier, would be limited: BA operates to Jeddah and Riyadh from London Heathrow, while both it and Vueling serve London from Barcelona via Gatwick.
Strong growth in the Saudi market, where LCCs still have relatively low penetration
The Saudi market has seen strong growth, with each of the four largest airports seeing average annual growth of more than 10% p/a since 2003. Total traffic at all Saudi airports has more than doubled over this period (according to data from the country's General Authority of Civil Aviation). The country's largest carrier, Saudia, has participated in this growth, but LCC flynas is its fastest growing airline.
See related report: Saudia faces new competitive threats in 2013 as Saudi Arabia loosens the regulatory reins
While LCCs overall have seen their share of seats grow, they accounted for a relatively low 15.5% in 2013. Moreover, foreign LCCs have a lower combined share than flynas on its own and European LCCs are, as yet, non-existent in Saudi Arabia.
There are also no LCCs operating between Europe and Saudi Arabia, although a number of media reports have suggested that flynas is examining launching routes to Western Europe, including the UK and France.
LCC Capacity Share (%) of Total Seats: 2001 - 2014*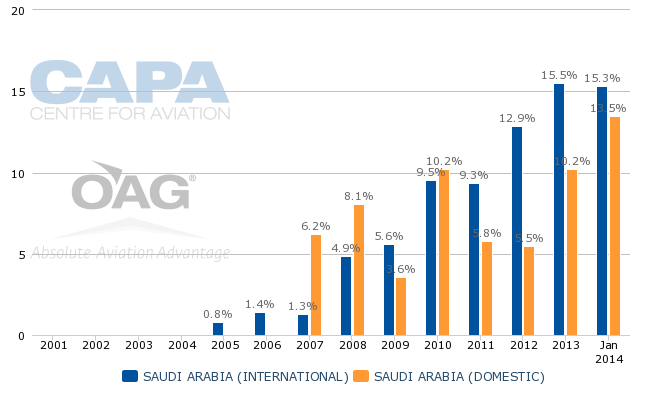 An opportunity for Vueling, but this entails stretching the model
The combination of a large market, strong growth and low LCC penetration make for a potentially attractive opportunity for a European LCC in Saudi Arabia. Moreover, there are signs that it is gradually liberalising access to foreign carriers.
For Vueling, the addition of routes to Jeddah and/or Dammam would push its business model into new territory in terms of flight length. From Barcelona, Jeddah is more than 4,000km and Dammam is more than 4,600km, compared with Vueling's existing longest route at 3,600km (Banjul). Although Vueling is not a pure LCC, this raises the question of whether a single class A320 product is sustainable on such long routes.
Vueling's three longest routes and length of possible new Saudi Arabia routes: week of 13-Jan-2014
| Barcelona to | Weekly freq | Distance (km) | Flight time |
| --- | --- | --- | --- |
| Banjul | 2x | 3,595 | 5hrs 30min |
| Moscow | 8x | 3,027 | 4hrs 25min |
| | 3x | 3,079 | 4hrs 20min |
| | Max 2x* | 4,096 | Approx 6hrs |
| | Max 2x* | 4,643 | Approx 6hrs 30 mins |
Both routes are comfortably within the A320's range, but the 4,000km mark seems to act as a threshold beyond which LCCs have not taken the narrowbody model. This threshold has generally held in all regions of the world. There are a couple of minor exceptions: Norwegian Air Shuttle operates 737-800 equipment on winter-only routes from Dubai International to Oslo, Stockholm and Copenhagen (routes of around 4,800-5,000km) and transavia.com operates the same equipment from Dubai to Amsterdam (a 5,100km route). However, these are more an illustration of exceptions that prove the rule.
See related report: Wizz Air: to Dubai and beyond! Pushing the frontier of the narrowbody LCC model
Moreover, the two Saudi cities that Vueling may now serve do not have the same level of point-to-point leisure demand as Dubai, nor do they have its onward connections. Dammam, on Saudi Arabia's Gulf coast, is less than 600km from Dubai and Abu Dhabi and even closer to Doha. It has connections to all three of these airports, but it seems unlikely that onward connections via the Gulf carrier hubs will be a major driver of demand for any Vueling service to Dammam.
The six hour (or more) flight duration of the routes from Barcelona to Saudi Arabia demands additional on-board services. In addition, with business travellers likely to represent an important element of demand to destinations that do not have a strong profile among European leisure passengers, Vueling may even need to consider some form of business class product.
It is known for its extension of the pure LCC approach into a hybrid model, with features such as multiple fares, transfer ticketing, interlining and code-sharing, its FFP and on-board extras such as WiFi.
See related report: LCC experiences: how was it for you? Hybridisation and Airlines in Transition
The challenges are not insurmountable…
Taking its model long-haul would be a new development for Vueling, although, as CAPA observed when discussing Eastern European LCC Wizz Air's launch of routes to Dubai, this need not be an insurmountable hurdle.
Success in the Saudi market, as a toe in the water, could point the way to other markets in the Gulf region.
The challenge would be to offer additional on-board comforts without significantly adding cost to the business or unduly distracting management. The ability to offer low fares profitably is key and this is an ability that Vueling has demonstrated in the past.
See related report: International Airlines Group: 2015 target raised thanks to BA & Vueling; Iberia still has work to do