Volotea, Europe's youngest LCC, sees more opportunities in France and plans a base in Bordeaux
Analysis
Volotea is pursuing its strategy of linking Europe's small and mid-sized cities with direct air services and plans to establish a base at Bordeaux Airport and Palermo in summer 2013. Bordeaux will be the young LCC's second base in France after Nantes Atlantique Airport. Air France has a market leading capacity share at both Nantes and Bordeaux Airport, but Volotea does not shy away from this formidable force. The young carrier will base two 125-seat Boeing 717s at Bordeaux and will offer 13 routes from the airport. With the Bordeaux base launch, Volotea will operate 45 routes from 14 French airports.
It is unlikely that Air France will sit back and hand over key routes to a much smaller competitor. The French airline is working on a major overhaul of its domestic and European operations, which should make it more fit and dynamic to halt the expansion of low-fare rivals in its market.
Volotea launched operations in Apr-2012 with a base at Venice Marco Polo Airport in Italy and two leased 717s. The LCC was founded by Carlos Muñoz and Lázaro Ros, who established Spanish budget carrier Vueling Airlines in 2004 at Barcelona El Prat Airport. Mr Muñoz and Mr Ros left Vueling after a dispute with some shareholders and Vueling in 2009 merged with Iberia's LCC Clickair. Iberia's parent company, on 08-Nov-2012, announced it intends to make a formal takeover offer for the 54% of Vueling that it does not already own.
See related article: IAG seeks full ownership of LCC Vueling as it cuts Iberia to the bone
So far, so good: Volotea survived its first season despite deepening euro woes
Also Volotea is headquartered in Barcelona, which was the main hub for Spanair, however the new LCC decided to stick to its strategy of forging "new and efficient air connections between Europe's small and mid-sized cities currently not well served by direct flights" instead of filling the void left at Barcelona Airport by Spanair's bankruptcy in Jan-2012. Mr Muñoz and Mr Ros, who are Volotea's CEO and managing director respectively, must have considered a last-minute change of strategy as Barcelona is Europe's fourth largest O&D air travel market after London Heathrow, Paris Charles de Gaulle and Madrid Barajas, but opted to leave Barcelona out of their plans for their new venture.
See related article: Europe loses four airlines in an unhappy start to 2012
Volotea's strategy in using a smaller aircraft to develop a very fluid network of thinner routes has worked so far. During the summer of 2013, the carrier's all-Boeing fleet will be comprised of 12 aircraft, up from nine aircraft in 2012. The airline carried about 500,000 passengers in the first six months of its operations. Its initial network concentrated on Italy, France and Spain but it was rapidly extended to span some 50 airports across 10 countries, including Germany and the Czech Republic. Volotea's summer 2012 schedule included several seasonal destinations such as Heraklion/Crete, Ibiza, Kos, Rhodes, Santorini and Skiathos. At present the airline serves 19 scheduled passenger destinations, according to Innovata data.
Volotea network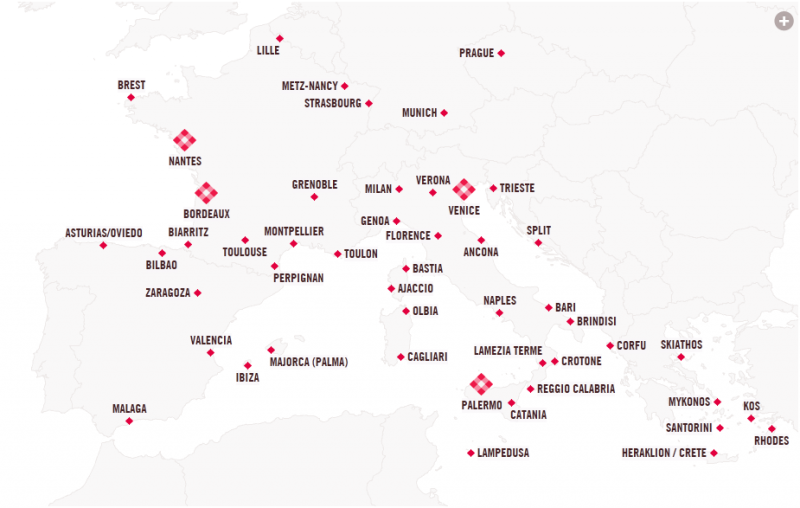 Venice Marco Polo Airport was the LCC's first base and Volotea now accounts for an approximate 13% share of seats deployed on domestic routes from/to the airport in spite of the dominant position of Alitalia and the presence of easyJet. Venice Marco Polo is a base for Air One Smart Carrier, Alitalia Group's low-cost subsidiary, and Air One and Alitalia jointly represent a near 70% share of domestic seat capacity. easyJet has a roughly 21% share of domestic seat capacity, based on schedules in Innovata for the week of 12-Nov-2012 to 18-Nov-2012.
Venice Marco Polo Airport domestic capacity share (% of seats): by carrier 12-Nov-2012 to 18-Nov-2012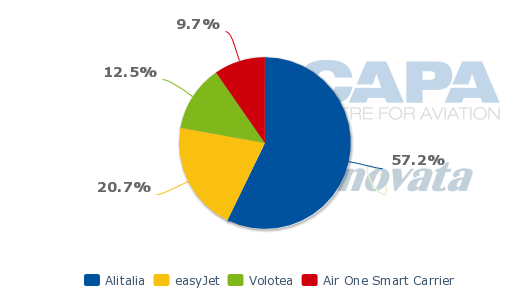 Volotea's network at Venice Marco Polo is mainly domestic. It currently produces about 6,400 seats on 51 weekly frequencies to/from the airport, of which 5,125 seats are on 41 domestic flights. Systemwide, the LCC holds only a near 4% share of weekly seat capacity at the airport. Volotea is the sole operator on six of the 10 routes it now operates from Venice Marco Polo, according to schedules in Innovata for the week of 12-Nov-2012 to 18-Nov-2012. This includes the route to Nantes, which it commenced on 28-Oct-2012 and is served with two flights per week, but this monopoly is only temporary.
Transavia.com France, a wholly owned subsidiary of Air France-KLM Group, will enter the sector on 20-Dec-2012 with a twice weekly service aboard 189 Boeing 737-800. Vueling operated Venice Marco Polo-Nantes from 28-Mar-2012 to 28-Oct-2012 and also leisure carrier XL Airways France deploys seasonal capacity on the segment.
Volotea's choice to establish its first base at Venice Marco Polo was a daring move and it is too early to conclude if it will be successful in the long run. Ryanair has a base at Venice's second airport Venice Treviso and the airline is Italy's second largest airline on domestic routes in terms of passenger numbers, after the combined Alitalia Group airlines.
Europe's leading ultra low-cost carrier is a competitor to Volotea on several city pairs, such as Venice to Bari, Cagliari and Palermo.
Volotea routes at Venice Marco Polo Airport and capacity share (% of seats): 12-Nov-2012 to 18-Nov-2012
Route

Current operators

Capacity share (% of seats)

VCE-BRI

29%

71%

VCE-BIO

100%

VCE-BOD

100%

VCE-BDS

26%

74%

VCE-CAG

100%

VCE-SUF

65%

35%

VCE-NTE

100%

VCE-OLB

100%

VCE-PMO

28%

72%

VCE-REG

100%
Volotea's summer 2013 schedule for Venice Marco Polo includes numerous seasonal routes, such as to Crotone, Corfu, Lampedusa and Split. The airline will be the sole operator on Venice Marco Polo Polo-Crotone, Venice-Skiathos, Venice-Lampedusa, Venice-Mykonos and Venice-Thira services, according to current schedules in Innovata.
Volotea's Venice Marco Polo planned summer 2013 network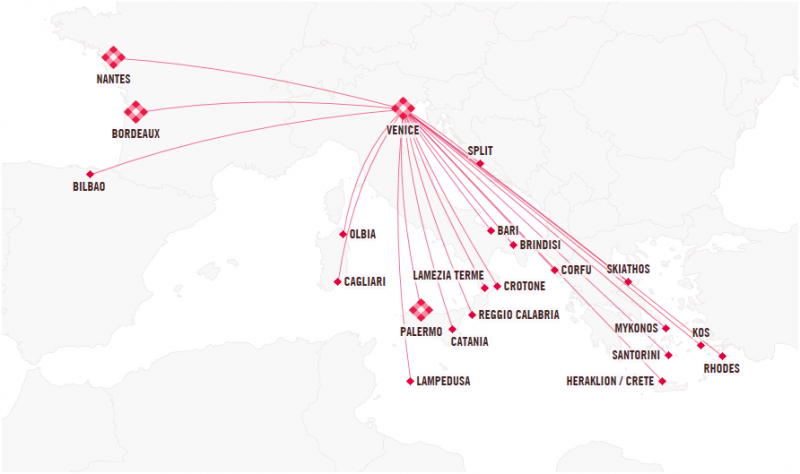 Bordeaux airport attracts with its low-cost terminal, 'billi', but Air France is omnipresent
Volotea clearly revels in challenging circumstances; the company on 29-Oct-2012 announced it had chosen Bordeaux-Mérignac Airport as the site for its fourth European base, after Venice Marco Polo, Nantes Atlantique and Palermo. The airline's Bordeaux and Palermo bases will start on 28-Mar-2013 and the airline thus will have two operating bases in Italy and two in the hexagon. Its Nantes base was launched on 01-Jun-2012.
Bordeaux is France's eighth largest airport in passenger throughput and has grown exponentially since it opened its dedicated low-cost terminal "billi" in 2010. Passenger numbers rose year-over-year with almost 10% in the first nine months of 2012 to 3.4 million, and passenger numbers on LCCs using the airport soared 39% to one million. Volotea most likely is attracted by the cost advantages of the low-cost facility and the growth of the airport.
Bordeaux Airport annual passenger numbers (million): 2009-2011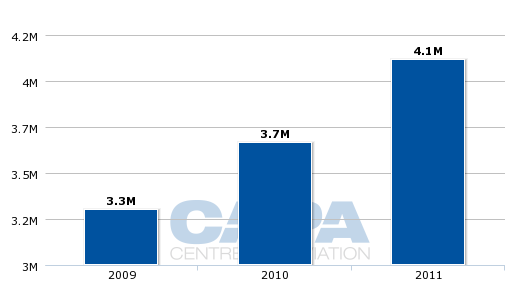 The LCC will offer 13 destinations from the new Bordeaux base in summer 2013:
Volotea's Bordeaux-Mérignac Airport planned summer 2013 network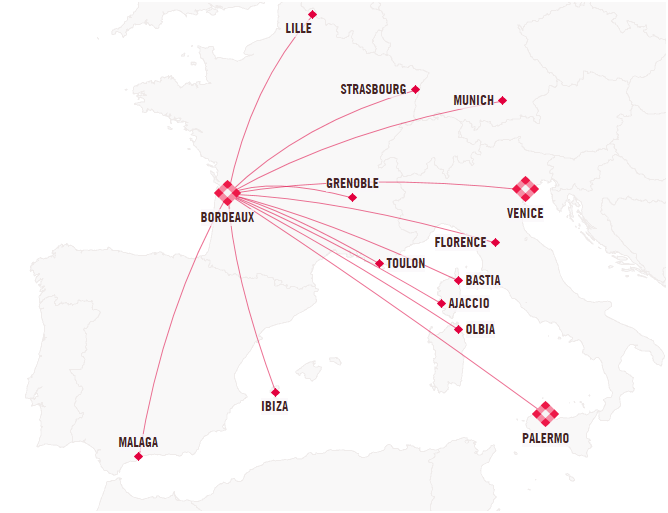 Volotea launched its first flight from Bordeaux on 25-Apr-2012 to its base at Venice Marco Polo and added several seasonal routes from Bordeaux in summer, including Ajaccio, Bastia, Toulon, Ibiza, Malaga and Palermo. Those routes will be part of its summer 2013 network. It added Lille Lesquin and Strasbourg in Oct-2012. Lille is now served four times a week and Strasbourg five times a week and Volotea competes head-to-head with France's largest carrier on both routes.
Air France stopped operating the Bordeaux-Ajaccio segment in Sep-2012 and at that time offered just 50 one-way seats per week on the service. Volotea is now deploying 250 weekly one-way seats on Bordeaux-Ajaccio, according to schedules in Innovata for the week of 12-Nov-2012 to 18-Nov-2012.
Air France is by far the largest airline at Bordeaux Airport, accounting for an approximate 67% share of system capacity (seats) and an 87% share of domestic capacity. Also Ryanair and easyJet are present at the airport and this will put further competitive pressure on Volotea. The airline has currently a mere 2% share of system seat capacity and an approximate 3% share of domestic seat capacity.
Bordeaux Airport system capacity share (% of seats): by carrier 12-Nov-2012 to 18-Nov-2012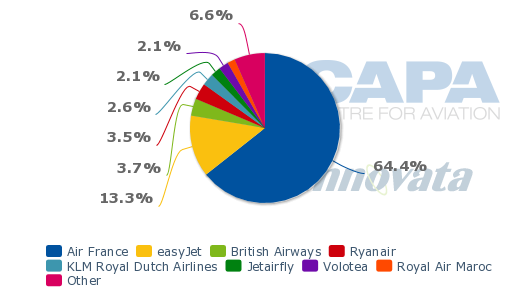 Volotea's strategy with the 717s is to target only thinner routes that are of no interest to the traditional LCCs and its planned network has 11 routes with no competition, based on present schedules in Innovata. However, it remains to be seen if they all will be viable even with a 125-seat Boeing 717 operation and even though most routes are seasonal and/or operated with low frequency. As previously noted, Air France abandoned the Bordeaux-Ajaccio segment which it operated once a week with a 50-seater aircraft whereas Volotea now offers 250 one way seats on the segment.
Bordeaux-Lille is moving from one operator (Air France) to three in a two month time frame, risking an unsustainable drop in yields. It will certainly create challenges for all concerned.
Planned summer 2013 Volotea routes at Bordeaux Airport and operators: 12-Nov-2012 to 18-Nov-2012
Nantes gave Volotea a first taste of operating a base in France
Nantes Atlantique Airport was Volotea's second operating base and the airline is now the third largest operator there, with an approximate 6% share of system wide capacity expressed in seats and a 7% share of domestic seat capacity, based on schedules in Innovata for the week of 12-Nov-2012 to 18-Nov-2012. Domestic capacity counts for the bulk of Nantes Airport's capacity, with a 66% share of all seats.
Nantes Atlantique Airport domestic capacity share (% of seats): 12-Nov-2012 to 18-Nov-2012
Air France has an overwhelming market leadership position at the airport (it is the home airport of its regional subsidiary Regional), but LCCs are gradually growing their presence and now represent a 34% share of total seat count deployed from/to the airport. Ryanair, easyJet, Vueling and Jetairfly operate to the airport, as does Air France-KLM's low-cost/leisure subsidiary Transavia.com France.
Nantes Atlantique Airport capacity share by carrier type (% of seats): 12-Nov-2012 to 18-Nov-2012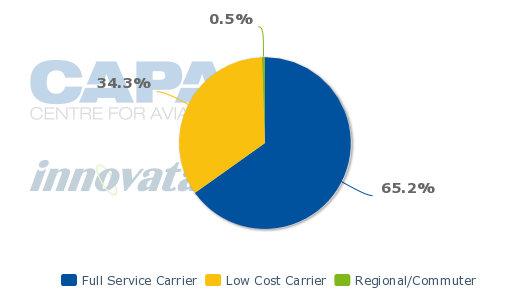 Volotea's network pattern at Nantes, which is France's 10th busiest airport with 3.2 million passengers in 2011, is similar to its other bases at Venice Marco Polo and Bordeaux: very fluid, with only a limited number of year-round routes. The LCC at present operates to seven destinations from Nantes whereas its schedule on www.volotea.com comprises up to 20 destinations and some routes are bookable only for a couple of weeks in summer or in winter. The Nantes-Metz/Nancy Lorraine service will be pulled on 05-Jan-2013 while Milan-Bergamor is no longer open for reservations after 07-Jan-2013.
Volotea's Nantes-Atlantique Airport network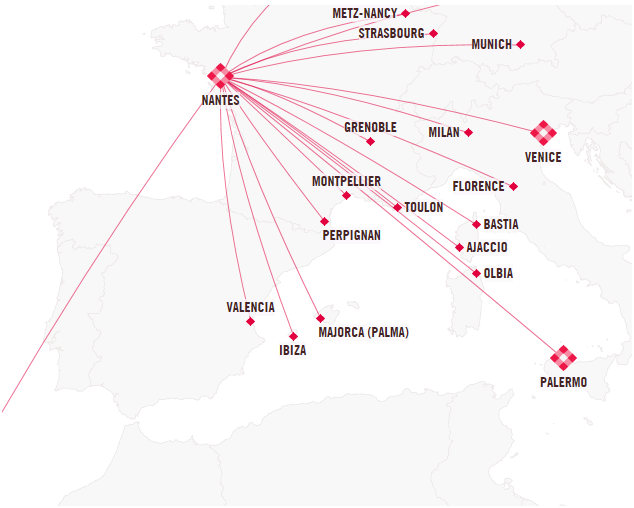 The airline competes with Air France on three of the seven routes it currently operates (Nantes-Lille Lesquin, Nantes-Montpellier and Nantes-Strasbourg) and Air France has a dominant capacity share on the three routes. It is unlikely that Air France will retreat from these routes and hand over its market leading position. Air France operates the sectors with smaller capacity aircraft than Volotea (it uses 50-seat Embraer 145s on Nantes-Lille Lesquin and Nantes-Montpellier services and 71-seat Bombardier CRJ700s on Nantes-Strasbourg services), and with higher frequency, making it more difficult for Volotea to effectively compete on schedule. Despite the French flag carrier's much higher cost base, it has the luxury of some underwrite of network operations, as well as simply cross-subsidising these routes.
The French group is watching Volotea's moves very closely and here too its in-house LCC, Transavia.com France, will start competing with Volotea on the Nantes-Venice Marco Polo route from 20-Dec-2012.
Present Volotea routes at Nantes Atlantique Airport and operators: 12-Nov-2012 to 18-Nov-2012
Route

Operators

Capacity Share (% of seats)

NTE-AJA

100%

NTE-LIL

32%

68%

NTE-ETZ

100%

NTE-MPL

32%

68%

NTE-MUC

100%

NTE-SXB

29%

71%

NTE-VCE

Transavia.com France (20-Dec-2012)

100%
Volotea also intends to elevate its operations at Palermo Punta Raisi Airport to a full operating base from 28-Mar-2013 with routes to Ancona, Bordeaux, Florence, Genoa, Ibiza, Nantes, Naples, Olbia, Palma de Mallorca, Santorini, Trieste, Venice Marco Polo and Verona. The LCC already operated on eight routes from the airport in summer 2012 (five domestic and three international) and at present has services to Venice Marco Polo and Genoa Airport, according to schedules in Innovata for 12-Nov-2012 to 18-Nov-2012. This gives it an approximately 2% share of domestic seat capacity deployed from the Sicilian airport.
Palermo Punta Raisi Airport domestic capacity share (% of seats) by carrier: 12-Nov-2012 to 18-Nov-2012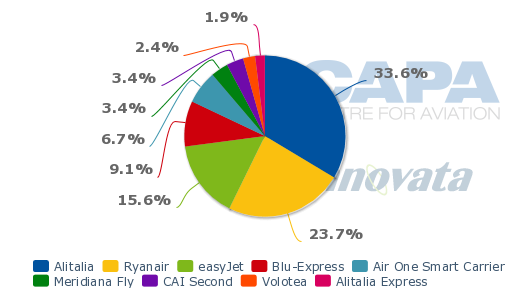 Alitalia Group, Ryanair and easyJet increased their footprint at Palermo Airport following the collapse of Wind Jet in Aug-2012 and Alitalia Group airlines (Alitalia, Smart One, CAI Second and Alitalia Express) jointly account for a 45% share of domestic capacity and a 38% share of system capacity. The strong presence of LCCs, such as Ryanair and easyJet, and the Alitalia Group will not make it easy for Volotea to build a year-round strong market position.
See related article: The failure of Italy's Wind Jet could prove to be a windfall for Alitalia
Volotea must also compete with the winter and Europe's permi-recession
With its strategy of serving smaller regional routes and open routes that were not served by another carrier, Volotea hopes to stay under the radar of Europe's main LCCs and steer away from head-to-head competition with home based carriers such as Air France or Alitalia. The strategy seems well thought-out and the airline's presence in the market is well received so far. Passenger numbers have shown good growth, although assessing the overall performance is not possible as the company does not provide details on its financials.
Europe's present operating environment is unforgiving, with the fear of a "permi-recession" (a recession that may last the rest of this decade) making daily headline news. Demand will subside this winter as governments implement more austerity measures and unemployment increases further. Despite its small market approach and a much reduced flying schedule, Volotea's neat niche strategy will undergo a stern test this winter season. If it comes through this period with colours still flying, the founders' strategy will have been largely vindicated.