Virgin Blue, Air China shares jump, Korean, EVA and most airlines rise on strong markets
Analysis
Virgin Blue shares (+17.0%) jumped yesterday, on news of a new domestic codeshare with South African Airways. Air China (+10.4%) also continued its long march upwards, to be nearly a third higher than its year-beginning price.
Air China has been surging upwards almost in step with its home base, Beijing Capital Airport (see Airport shares today on the Centre site).
For the first day for a long time, almost all of the region's airlines rose, with strong market sentiment prevailing around the G20 meeting. Only troubled Thai (-2.0%), Hainan (-1.6%) and Air Arabia (-1.0%) erred on the downside on the day.
For daily updates on American aviation stock prices and a complete wrap of the day's breaking news, sign up now for a complimentary subscription to America Airline Daily.
Asia Pacific airlines daily share price movements (% change): 02-Apr-09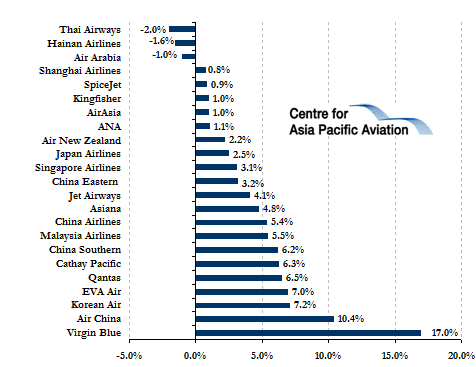 After a rocky year in 2008, with the Olympics and a host of other security, weather and economic problems, Air China has been looking much better in 2009, regaining international dominance among Chinese flags and strengthening its domestic growth position.
Air China share price: 02-Jan-09 to 02-Apr-09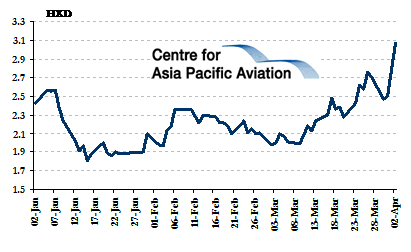 Virgin Blue - fighting its way back
Virgin Blue shares are still way below their float level. But, having plumbed the depths last month, as V Australia commenced Australia-US service in possibly the worst conditions ever, as well as having to reduce domestic Australian capacity by nearly 10%, the airline is fighting back.
After concluding a potentially valuable codeshare with Delta for the US market, yesterday's announcement of a domestic Australia codeshare with SAA, investors perked up.
This is still a basic domestic feeder codeshare for connections beyond SAA's Australian services and details are not yet clear on the extent of this. But it appears to leverage the stranglehold of the SAA/Qantas stranglehold on this bilateral market.
If it were to lead further, to a joint international codeshare, the financial implications for V Australia/Virgin Blue would be very positive.
Meanwhile, SAA is presumably playing off both Australian airlines to extract the best price it can...
Virgin Blue share price: 02-Jan-09 to 02-Apr-09