Virgin America expects positive industry capacity reductions in Dallas during early 2016
Analysis
Virgin America is welcoming competitive capacity reductions in early 2016, in one of its most challenging markets of 2015 – Dallas Love Field. Southwest's massive push from the airport, started in late 2014 and continuing through 2015, has resulted in a weak revenue environment, affecting all airlines that serve the greater Dallas market.

Just as capacity growth in Dallas begins to moderate, Virgin America is planning 13% to 16% capacity growth in 2016, after culling its growth of supply in 2014 and part of 2015. Most of the capacity growth is driven by frequency additions in markets that Virgin America had to cull to support growth in Dallas, but new markets in Hawaii and the addition of Denver are also driving the airline's 2016 capacity expansion.

The company is capping off 2015 by striking a deal to lease 10 Airbus A321neos, scheduled for delivery from 2017. Those new generation jets are necessary for Virgin America to meet its stated average annual capacity growth targets of approximately 10% for the medium term.
Virgin America fights falling unit revenues from Dallas throughout 2015
Virgin America moved its Dallas operations from Dallas/Fort Worth to Dallas Love Field in late 2014, taking advantage of concessions required by the US Department of Justice for American and US Airways to proceed with their merger. The airlines were required to divest two gates at Love Field, which Virgin America ultimately secured.
Virgin America currently operates flights from Love Field to New York LaGuardia, Washington National, Las Vegas and its two largest bases San Francisco and Los Angeles. Among its largest markets from the airport, measured by seat deployment, are Los Angeles, San Francisco and New York LaGuardia. Virgin America served Austin from Love Field for a brief period of time in 2015, but traded that route for flights to Las Vegas, which debuted in late Nov-2015.
Virgin America approximate one-way seats on its Dallas Love Field routes: 14-Dec-2015 to 20-Dec-2015
After the lifting of the Wright Amendment restricting certain long haul flights into Love Field, Southwest engaged in a massive expansion from its headquarters, adding new markets that included Washington National and LaGuardia.
Southwest's capacity additions pressure all airlines operating in the Dallas market, including those operating from DFW. That airport's largest and second largest airlines, American and Spirit, have consistently cited Dallas as a major factor in their declining passenger unit revenues in 2015.
Virgin America also felt the effects of Southwest's push from Love Field. At one point, it stated that capacity in some of Dallas' most important markets had jumped 25% to 30%, and fares to Washington and New York were trending in the double digits. In 1Q2015 Virgin America recorded a 19% decline in its Dallas unit revenues year-on-year, a 17% decline in 2Q2015, and a 19% decrease in 3Q2015.
See related report: Virgin America maintains an optimistic outlook despite competitive capacity pressure
Dallas Love Field is Virgin America's third largest base behind its main bases in San Francisco and Los Angeles.
Virgin America global top 10 hubs/bases/stations by seats: 14-Dec-2015 to 20-Dec-2015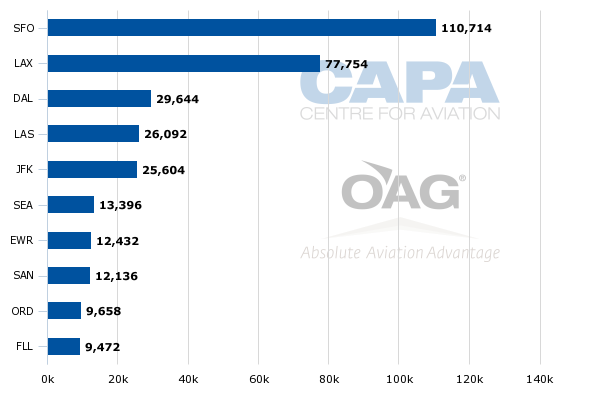 Southwest dials down selected Dallas markets during early 2016 - a move welcomed by rivals
Despite the revenue weakness in Dallas, Virgin America's passenger unit revenue performance has been one of the best in the US industry during 2015. For 1H2015, when most US airlines except JetBlue were posting declines in that metric, Virgin America recorded growth of 1.3%. Its 2.7% drop in 3Q2015 was a lower fall than those of most US major airlines.
The airline is projecting a 3% to 5% drop in passenger unit revenues during 4Q2015, but the company has previously stated that there is visible benign industry capacity growth for 2016 in markets that are already averaging 90% loads. That should help yields start to trend in the right direction.

See related report: JetBlue and Virgin America create interesting dynamics for the hybrid business model in the US

Recently, Virgin America CFO Peter Hunt has stated that capacity from Dallas to New York and Washington was falling by double digits in 1Q2016. Data from CAPA and OAG show for the week of 11-Jan-2016 to 17-Jan-2016, Southwest's one-way seats deployed from Dallas Love Field to LaGuardia are dropping from roughly 5,278 to 3,718 year-on-year, a 29% drop.
Dallas Love Field to New York LaGuardia (seats per week, one way): 27-Oct-2014 to 29-May-2016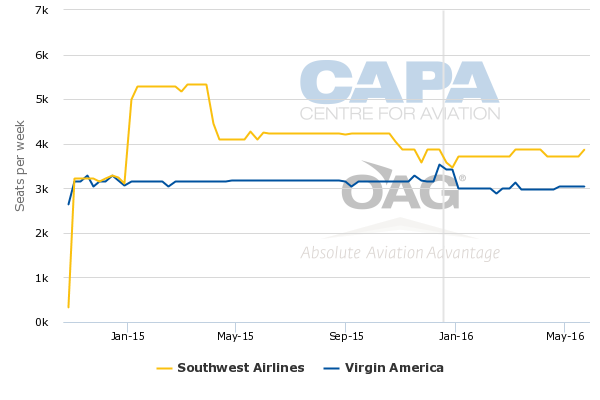 Southwest's one-way seats between Dallas Love Field and Washington National for the same time period are falling from 6,311 to 3,718, a 41% decrease.
Dallas Love Field to Washington National (seats per week, one way): 27-Oct-2014 to 29-May-2016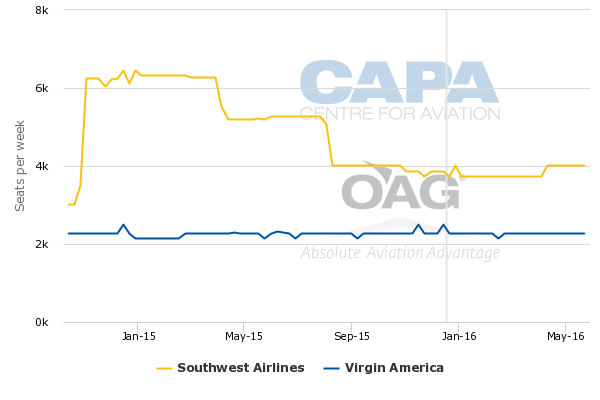 The capacity declines, coupled with reducing the overall pressure that Virgin America has experienced in Dallas, are a positive sign for 2016, but it will take some time for unit revenues and yields to fully recover from double digit declines in the market.
Virgin America expands its network with flights to Hawaii and Denver
Virgin America has five aircraft deliveries scheduled for 2016, and as previously stated, the airline projects system capacity growth of 13% to 16% for the year.
Virgin America projected delivery dates for aircraft purchased from OEMs and leased from lessors as at 18-Dec-2015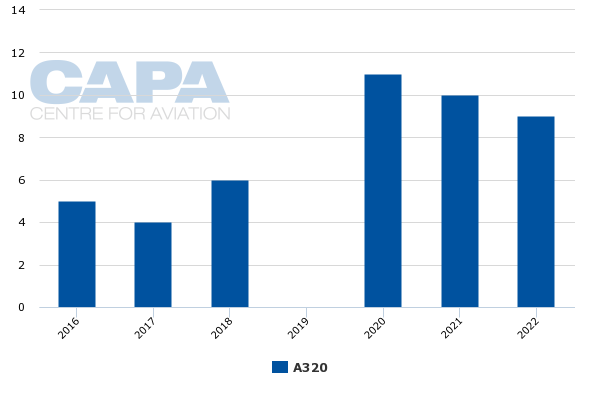 Much of the airline's capacity growth is dedicated to adding back frequencies in transcontinental markets, and on routes to Florida that Virgin America cut to support its growth in Dallas. The airline's capacity growth in 2014 was flat, and increased just 0.7% in 1H2015.

Some of Virgin America's capacity growth is driven by its entry into the Hawaii market in late 2015, with the launch of flights from San Francisco to Maui and Honolulu.
The airline's decision to enter the market raised some eyebrows, given that routes from Hawaii to the US west coast have been prone to overcapacity during the last few years. However, Virgin America maintains that its strong point of sale in San Francisco will drive a solid performance on its routes to Hawaii. The airline has concluded that Honolulu was one of the top 20 domestic markets from San Francisco on its network.
The 10-20 largest O&D markets from San Francisco as of Dec-2015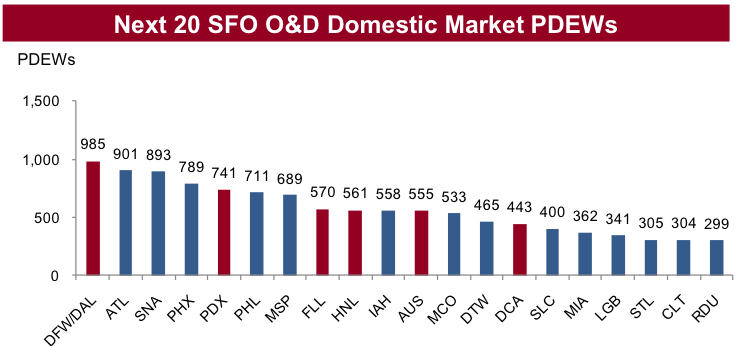 See related report: Virgin America opts to enter crowded Hawaii market as pressure lingers elsewhere in its network

Virgin America will fill a noticeable hole in its network in Mar-2016 when it launches flights from San Francisco to Denver. Once the addition of Denver is complete, Virgin America will be serving the top ten largest US domestic O&D markets from San Francisco.
The 10 largest O&D markets from San Francisco as of Dec-2015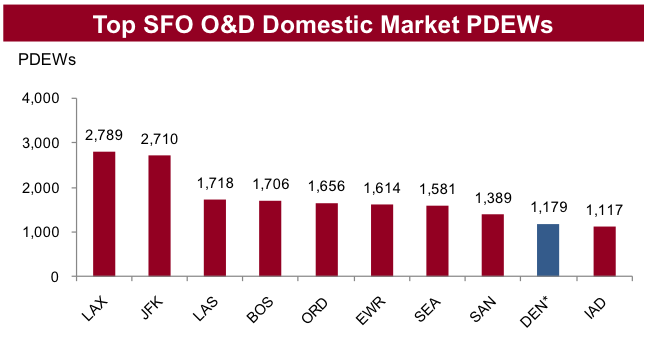 The route is already populated by Denver's largest airlines, United, Southwest and Frontier. United appears to be responding to Virgin America's entry by adding capacity into the market. This response was similar to that adopted when Virgin America added flights from United's Newark hub to San Francisco and Los Angeles in 2013. After United amped up its capacity on those routes, where it held a monopoly before Virgin America's entry, Virgin America hinted that the markets were performing solidly, in their early days

Virgin America has enough of a passenger following in San Francisco to absorb the capacity it is adding to the market. Between its Mar-2016 debut and the end of May-2016, Virgin America's seat share on the route will range from 10% to 13%.
San Francisco International Airport to Denver International Airport (seats per week, one way): 19-Sep-2011 to 29-May-2016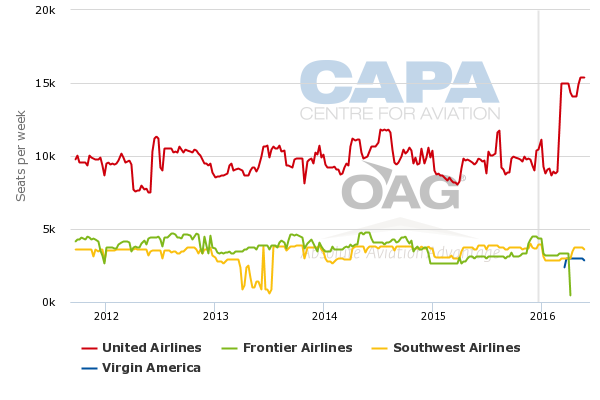 Virgin America opts to lease A321neos; is likely to obtain improved financial terms
In order to support its 10% annual average growth projections for 2017 and beyond, Virgin America in mid-Dec-2015 forged a deal with GECAS to lease 10 Airbus A321neo, for delivery starting in 1Q2017.

The airline plans to configure its A321neos with 185 seats, which is a 20% increase over its current fleet of A320 narrowbodies. Virgin America CEO David Cush told Yahoo Finance that missions for the new jets include operating to slot controlled airports such as New York JFK and LaGuardia and on flights from Los Angeles to Hawaii, a market under consideration by the airline.
Virgin America's improved liquidity – its net debt to EBITAR fell from 6.2x to 2.5x year-on-year as of 30-Sep-2015 – should bolster the airline's ability to negotiate favourable lease rates. Prior to Virgin America announcing its agreement with GECAS, Mr Hunt stated that the airline could achieve aircraft leasing rates that were much more competitive than negotiated in the past.
Virgin America resumes its growth during a lower risk period of falling fuel prices
Lower fuel prices have helped Virgin America weather some challenges on its network during 2015. It is also opting to resume its growth while energy prices remain far below historical highs. Although the airline's capacity increases are larger than the industry average, the company remains a growth vehicle, attempting to reach a favourable level of scale in its network.

Virgin America has stated much of its growth in the future will centre on markets from Los Angeles and San Francisco. For clues to where it may next land, look no further than the largest markets from each airport where Virgin America is notably absent.