Virgin America expecting full year profit in 2010; Frontier to leave bankruptcy next month
Analysis
Among the non-listed US LCCs, Virgin America stated it could be profitable by the end of 2009 and is targeting full year operating profitability in 2010, after it reported an improved second quarter net loss of USD15.7 and an operating loss of USD11.4 million (from losses of USD64.4 million and USD62 million in the previous corresponding period, respectively).
Virgin America's revenues jumped 47% to USD136 million, while operating expenses were down by 5%, despite a 48% increase in capacity (ASMs) in the period. The carrier also had success on a unit cost basis, with CASM down 36%, with non-fuel CASM down 21%, with the carrier also reporting its highest load factor in its history of 85.3% in the quarter, an 8 ppt year-on-year improvement.
Meanwhile, Frontier Airlines reported a net profit of USD18 million and an operating profit of USD25 million in Jul-2009, for nine consecutive months of operating profit. Excluding one-off reorganisation items, Frontier said it would have reported net income of USD23.1 million, for a net margin of 20.4%.
The results prompted President/CEO, Sean Menke, to label the results as "absolutely outstanding." Frontier expects to emerge from bankruptcy in late Sep-2009 as a wholly-owned subsidiary of Republic Airways Holdings.
Also in the US, Southwest's shares slipped 1.7% yesterday with JetBlue, Allegiant, AirTran and WestJet also weaker.
In Europe, SkyEurope's shares slipped 3.7% yesterday, as the carrier announced it would delay the publication of its 3Q2009 Financial Report from 28-Aug-09 to 04-Sep-09, as the accounting policies and disclosure requirements have to be adopted due to the creditor protection granted to the carrier.
Also in Europe, easyJet and Ryanair shares were both weaker, down 1.0% and 0.9%, respectively. Air Berlin gained 1.0%. See separate report: Air Berlin better than expected second quarter profitability; expects stable yields in 2H2009
Elsewhere, AirArabia jumped 2.0%, while AirAsia was down 0.7%.
Selected LCCs daily share price movements (% change): 27-Aug-09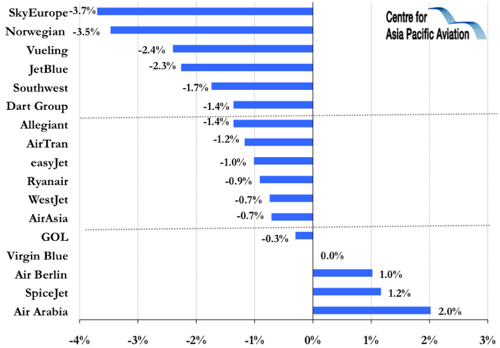 LCC SECTOR strategic updates from around the world are NOW AVAILABLE! Sign up today for your free trial subscription to Peanuts! Daily.