Vietjet reports USD12 million profit in Q4; ancillaries earned 50%
Analysis
Vietjet Aviation Joint Stock Company, parent of Vietnamese LCC Vietjet, has become one of a tiny number of airlines to have made a profit for the full year 2020.
Vietjet reported a USD11.9 million after tax profit for the fourth quarter of 2020, and a net return of USD3 million for the full year.
According to the airline, ancillaries accounted for nearly 50% of total revenue.
Vietjet has also carried 60,000 tons of cargo for the year.
After a shaky mid-2020, Vietjet has recovered well
Vietjet Aviation Joint Stock Company the Vietnam airline holding company of LCC, VietJet Air, also has a minority stake in Thai VietJet. Based in Ho Chi Minh City, the airline group was established in Dec-2011.
The group's parent company included Sovico Holdings and HDbank, with a 24% stake sold to more than 20 international investors following a prelisting sale in late-2016; it was listed on the Ho Chi Minh Stock Exchange on 28-Feb-2017. In today's febrile market, Vietjet's debt-to-equity ratio at 0.66 and liquidity ratio of 1.2 position it relatively well. Certainly, most airlines would envy its share performance.
Vietjet's share price has recovered to its pre-COVID levels

Vietjet reports USD192 million in after-tax profit in Q42020, making profits for the full year
According to the company, Vietjet Aviation Joint Stock Company had VND4,430 billion (approx. USD192 million) of consolidated revenue in the fourth quarter of 2020 and a total of VND18,210 billion (approx. USD790 million) of consolidated revenue in 2020.
After-tax profit of Vietjet's parent company was VND274 billion (approx. USD11.9 million) in Q4/2020 while its consolidated after-tax profit reached VND995 billion (approx. USD43 million). For the full year of 2020, Vietjet recorded a consolidated after-tax profit of VND70 billion (approx. USD3 million), making it one of the few airlines in the world which had no reduction in workforce and still achieved a profit.
The LCC's total assets reached VND47,036 billion (approx. USD2 billion) and owner equity was at VND17,326 billion (approx. USD746.2 million) including treasury shares. Its debt-to-equity ratio stayed at as low as 0.66 while the liquidity ratio remained at 1.2, a good performance given the current situation of the aviation industry.
Vietnam has kept COVID well under control, allowing much greater freedom of movement domestically
Despite some sporadic outbreaks accompanied by constraints on domestic flying in 2020, the domestic travel market has recovered well, although cases are trending upwards since mid-Jan-2021.
The inverse correlation between COVID cases and Vietjet's share prices is apparent, including the downtick in the past few days.
Vietnam daily COVID new cases 2020-2021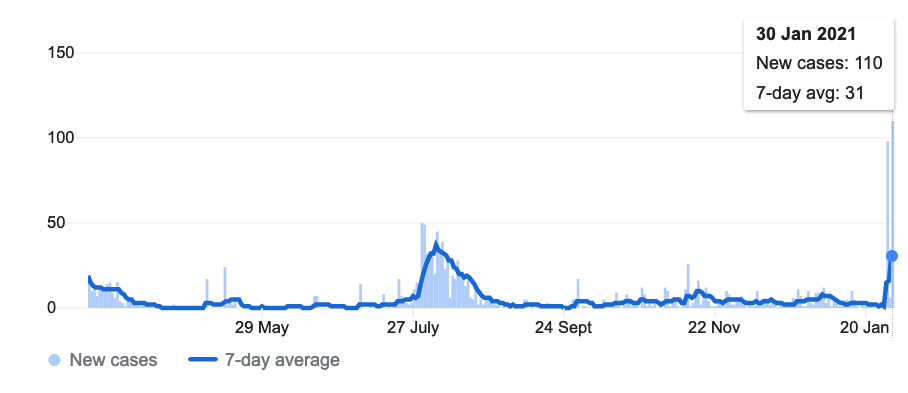 Vietjet has aggressively and innovatively addressed a very soft market
Ancillary revenue has accounted for nearly 50% of the airline's total revenue, emphasising Vietjet's efforts to promote ancillary services to offset decreasing air travel revenue.
Aside from substantial cost reductions and capital raisings, the LCC has issued literally millions of zero priced fares, along with other promotions taregetting the areas that its local market has responded well to.
One included a promotion themed "Fly high, Win a car, Enjoy the festive season and Fly with Vietjet!", for all passengers buying tickets from December 9, 2020 to February 20, 2021 on the airline's website, on Vietjet Air mobile apps and other booking channels. "Buying each Eco – Deluxe – SkyBoss ticket, passengers will have 01, 02 and 03 times respectively to participate in weekly lucky number draws as well as the opportunity to win the final prize of the promotion campaign."
Also in Dec-2020, a system wide discount programme was run: "a super promotion applied for the entire domestic flight network across Vietnam from December 8 to December 31, 2020 (*), with up to 50% reductions through to 31-Dec-2021.
And, as traffic was starting to recover during Nov-2020, the airline offered "millions of VND0 (ie zero cost) tickets to fly on all domestic routes across Vietnam" for the period from 11-Dec-2020 to 31-May-2021, along with "a 50% discount on all checked baggage purchases besides free luggage included in all fare types".
Freight has also been a valuable earner
Vietjet last year configured some of its passenger aircraft for freight transportation purpose while applying new operational methods to strengthen its cargo service capacity. It has since delivered more than 60,000 tons of cargo internationally, helping its freight revenue rise 75% in Q4/2020 year-on-year, contrasting with its 2020 air cargo growth of 16%.
The airline also launched Vietjet Ground Services Center (VJGS) at Hanoi's Noi Bai International Airport, allowing improved operating cost management.
Vietjet cost reductions have made a big difference
Successful cost reduction has been an important feature in what was already a very lean operation. VietJet Air announced it had made "drastic cuts" to operating expenses in 2020 by optimising fleet operations with a 10% cost reduction and negotiating 20% to 25% discounts with suppliers while bringing down at least 10% of daily operating costs.
The carrier also successfully hedged its jet fuel in May-2020, when oil prices were around half of today's levels, helping to save 25% of fuel costs relative to market price.
And despite significantly reduced revenues and seats flown, the airline has managed to achieve a load factor of "over 80%" across the year.
So has some government support
According to Vietjet, "The airline has received support from the Government for tax discounts, tax-payment extensions and reductions in landing/take-off fees, ground services fees and air traffic control fees, as well as being considered for the government's financial aid proposal for local airlines.
The overall result has been that Vietjet has resumed its entire pre-COVID domestic network of more than 47 routes.
Vietjet continues with its ambitious expansion plans, for now
But it will no doubt be talking to both OEMs about prices and timings.
On 14-Jan-2021, while she was announcing a VND650 billion (USD28.1 million) cash injection following a bond issue in early Dec-2020, Reuters reported VietJet Air president and CEO Nguyen Thi Phuong Thao as saying the carrier will continue to "receive new modern planes" in 2021, adding it will also "invest in maintenance and training facilities, and the investment will be higher than in 2020".
Vietjet operates an entirely narrowbody fleet, with 347 aircraft on order, all A321neos and MAXs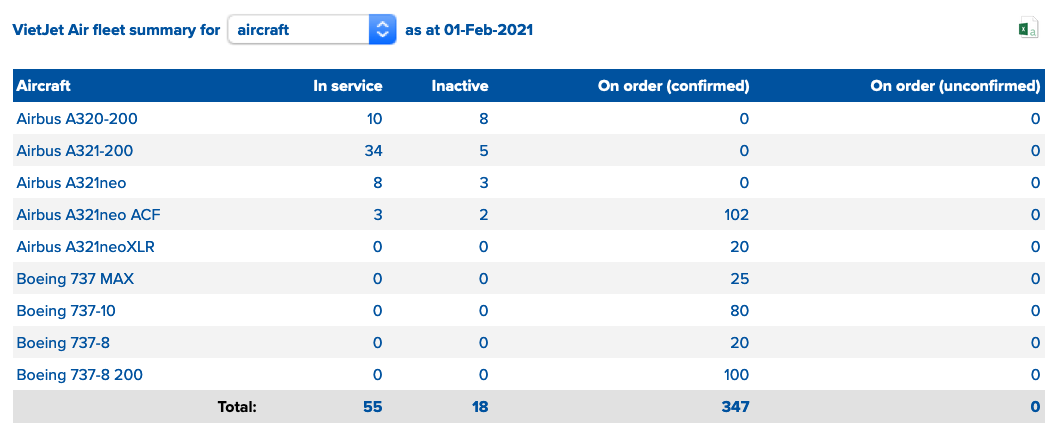 With most of its fleet flying, over eight out of 10 of Vietjet's aircraft are leased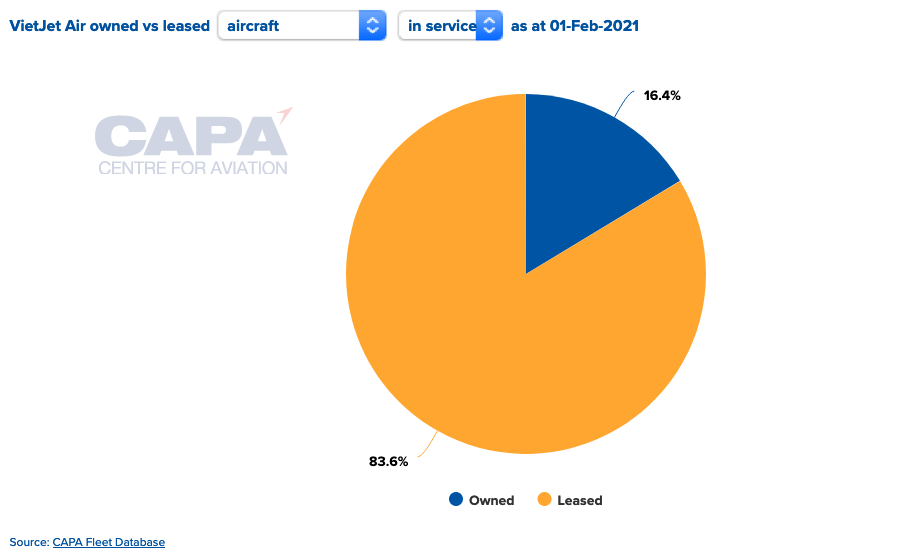 100 of Vietjet's aircraft on order, mostly MAXs, are scheduled for delivery in 2021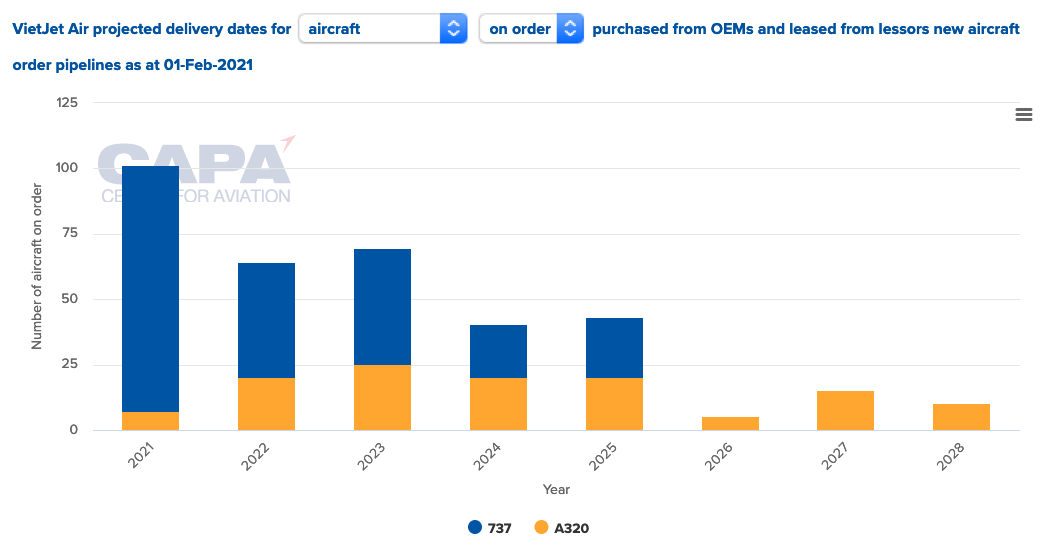 A good platform for 2021 growth - provided COVID can be contained
Vietjet has illustrated how profitability can be maintained in a highly charged industry - provided COVID cases can be kept under control.
The past week's upturn in infection numbers is concerning in this regard, but the ambitious LCC has show it has great resilience in weathering difficult conditions.