USD1 trillion for airport construction globally - but it's not enough. CAPA Database
Analysis
New CAPA research has shown that some USD255 billion is being invested in new (greenfield) airport projects around the world.
Together with the investment at existing airports in projects such as new runways and terminal buildings, runway and terminal extensions and miscellaneous ones (USD845 billion), that means that USD1.1 trillion in airport infrastructure projects are planned or under way within a timescale that continues (in some extreme cases) for four decades into the future.
The research is drawn from CAPA's newly relaunched Global Airport Construction Database, which tracks airport projects in every region around the world. The database is updated daily and is constantly live and viewable for premium CAPA Members via centreforaviation.com
There is USD1 trillion in planned airport capacity expansions around the world. But it's not enough
Political and industry representative bodies in Europe, for example, repeatedly insist that more must be done to tackle a looming infrastructure crisis in the sector.
CAPA's research shows that there are more construction projects taking place in Europe than is often appreciated, though much of it is in Eastern and Central Europe rather than the western part of the continent.
Similarly, Airports Council International in North America frequently laments the lack of capacity and the ageing of airport facilities there. CAPA research demonstrates again that investment at existing airports is in fact higher than might be assumed (and at a very similar level to that of Europe), while at the same time the woeful lack of it on new airports is emphasised – a miserly USD3.6 billion on 11 projects in the whole of the US and Canada.
Elsewhere in the world, Latin America as a whole underperforms where new airport construction is confirmed. The investment level is barely more than that of Africa, and the Middle East has the second lowest investment level overall, after North America. A similar situation exists with infrastructure investment into existing airports; indeed Latin America slightly lags Africa in that category.
Meanwhile, investment at existing airports is high in the Middle East, exceeding that of Europe and North America. But while there are huge projects there, such as Dubai's Al Maktoum Airport, there are some that are more 'speculative' in their nature.
Construction projects for existing airports (by investment amount/region for projects in progress: Jul-2017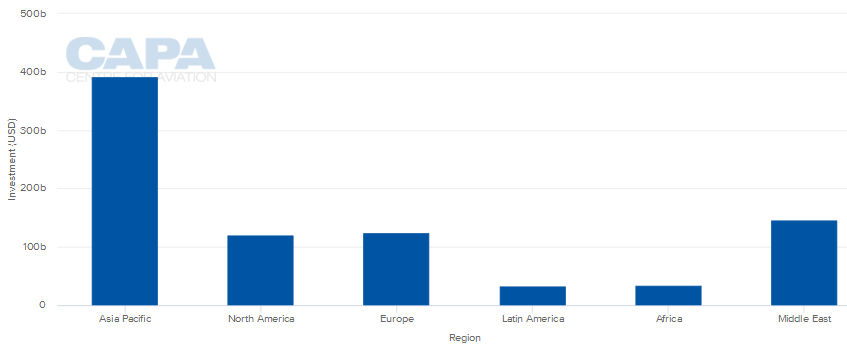 The projections for passenger traffic, whether they emanate from IATA, ICAO, ACI or other organisations are uniformly good, though. Together with the anticipation that oil prices will remain stable (partly from the provision of shale gas and oil, partly because of competition from renewable energy sources), this must shape the thinking of the authorities responsible for the future planning of airports – even allowing for the unanticipated shocks that the air transport industry has suffered from all too often in the past.
Lack of airport infrastructure could be aviation's Achilles Heel
In a recent interview on CAPA TV, ahead of his Keynote Address on the future of the airline business at the CAPA Australia Pacific Aviation Summit in Sydney on 1-2 August, Peter Bellew, the CEO of Malaysia Airlines, made the point that it is at least feasible that oil prices could settle as low as USD30-35 from the beginning of the next decade, and for the entirety of that decade.
Such a scenario, he says, would permit airlines to earn 'super-profits', much of which could be reinvested in fleets that are already growing apace. At the same time, aircraft that are now effectively redundant could find a new lease of life in this low cost environment, prompting a new raft of airline start-ups, (perhaps) mainly in the long haul low cost segment.
But as Mr Bellew argues, in such a scenario "the lack of infrastructure required to handle all these additional aircraft could be the Achilles Heel".
Even the potential for such a lack means that governments, investors and operators need to start work on tackling it straight away.
The CAPA Global Airport Construction Database. 415 new airport projects

CAPA tracks airport projects in its Global Airport Construction Database within the premium data section of the CAPA website, at www.centreforaviation.com/Data.
Following the relaunch of the new CAPA website, the Airport Construction Database is accessible on that website to CAPA members holding tappropriate access status.
The CAPA Airport Construction Database is intended primarily for application as a customer market research tool. It provides the most comprehensive listing available, covering airport construction projects on all continents; several thousand of them in total.
Unlike some other sources, CAPA does not only restrict the database to known projects that take place in the year in which it is published.
Information is gathered and collated daily from worldwide sources by a dedicated team of profilers, which means that the database will often be able to offer information, data and sales leads on projects that are not reported elsewhere, and which may not take place until several years into the future (in fact, as far ahead as 2069, which is the latest project completion date included at this point).
For example, the database contains a section on' New Airports' (i.e. greenfield projects), arranged alphabetically. Currently there are 415 new airport projects. As a new airport development is completed and the facility opens, it passes into the main database if there are further construction projects (as there often are); otherwise it becomes a 'historical project' in the archives.
Below is an example of the entry for the Istanbul New Airport, aka Istanbul Grand. Data is provided on ownership and the airport's anticipated capacity (passenger and cargo).
The initial 'About' section is followed by detailed news updates on a month-by-month basis, with the most recent shown first. These news items may concern changes to construction schedules, appointment of contractors, tenders, financing information and the general political/economic background to the project.
Clicking on the 'website' button takes the user directly to the website for the airport or developer, if one exists. Completion dates refer to Phase 1 if there are multiple stages, which may have to be estimated, and are subject to update.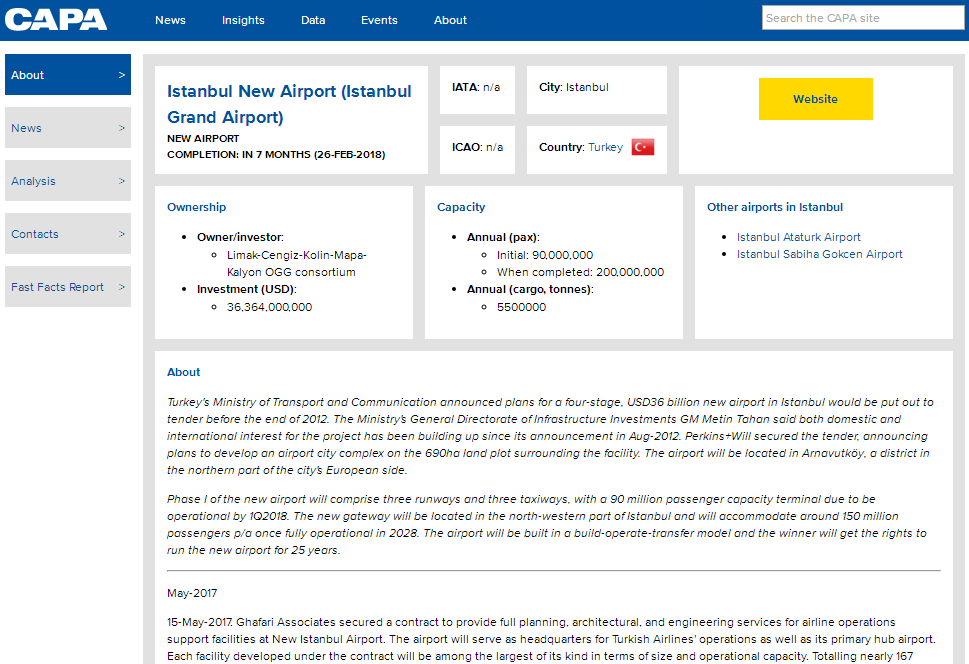 A summary of all these new airport projects is available, ranked by opening date, investment amount, city, country, subregion and region.
'Combined data' on both projects and investment, by world region, is available by way of a map, column chart or pie chart. In the example below the map is shown, with Europe identified (by pointing) as having 58 new airport projects.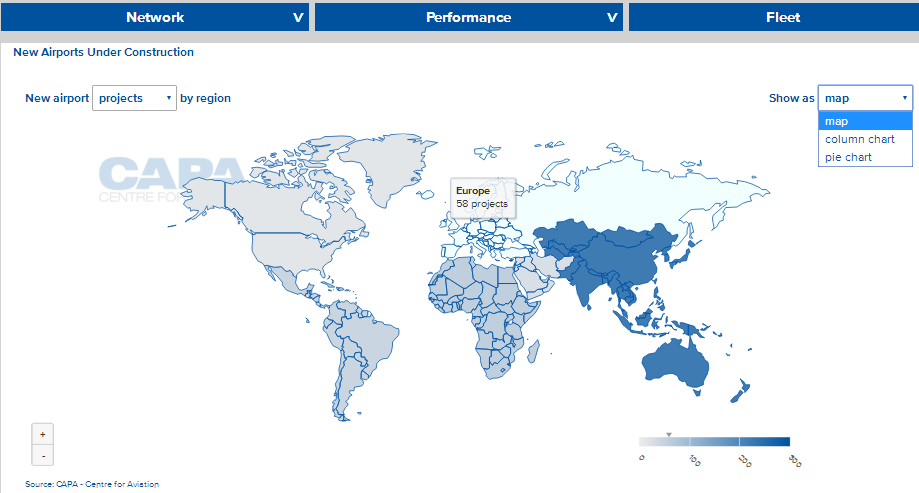 In this example, the investment amounts by region are shown, led by Asia (selected by clicking on that region) as a column chart. (Note the very high investment levels in new airports in Asia Pacific compared to the very low level in North America).