US yields in free fall - US carriers expected to target Asia as Atlantic competition intensifies
Analysis
Yield growth among the US carriers peaked around August/September last year, but dropped off sharply after the Summer peak. Domestic yield started to fall year-on-year in Nov-2008, while Atlantic and Pacific yield growth entered negative territory the following month. Atlantic yields turned deeply negative last month, plunging 10.7% year-on-year, following a 7.5% reduction in Jan-2009.
Pacific yields fell 2.9% last month, following a 1.4% reduction in Jan-2009 and are expected to continue to ease as more capacity enters key markets to China and Australia in coming months.
Domestic yields slumped 8.7% in Feb-2009, following a 3.5% reduction in Jan-2009. It is a sharp turnaround from the double-digit increases in domestic yields experienced just six months ago (in Sep-2008).
North America yield growth (% year-on-year) by region: Jan-08 to Feb-09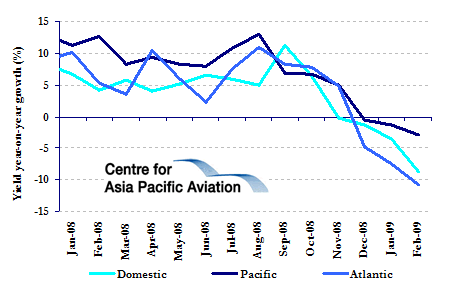 Pacific yields now equivalent to the Atlantic
The weakness on the Atlantic has meant that Pacific yields, which have traditionally been the poorer cousin, have finally caught up. If trends of recent months continue, Asia Pacific airlines could expect to see more US airline tails at their home airports in the months ahead, as US carriers chase better margins and Atlantic routes bathe in red ink.
North America yield growth (% year-on-year) by region: Jan-08 to Feb-09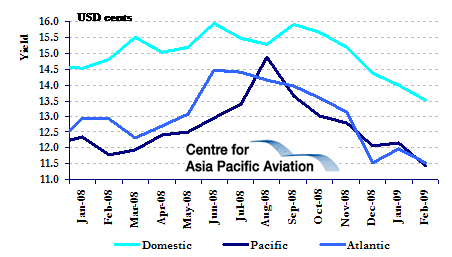 Falling greenback boosts US carrier competitiveness
Depressed yields will hit first quarter profitability, although US carriers are benefiting from substantially lower fuel prices year-on-year (albeit with one-off charges related to hedging losses). Meanwhile, the weak US dollar lowers the cost bases of US carriers relative to their peers, raising their international competitiveness.