US yield data suggests economic 'green shoots' are withering
Analysis
ATA President and CEO, James May, stated, "despite extreme price discounting, June data reflect ongoing weakness in demand for air travel. The airline industry remains fragile as this country continues to suffer from the worst recession since the 1930s".
Domestic airline yields in the US slumped 18.9% last month, year-on-year, while Atlantic yields fell an eye-popping 25.2%, according to the Air Transport Association of America (ATA), the industry trade organisation for the leading US airlines. The decline in yield has surpassed even those witnessed during the 2001 recession and post-9/11 terrorist attacks, according to the ATA.
ATA yield growth: Jan-2008 to Jun-2009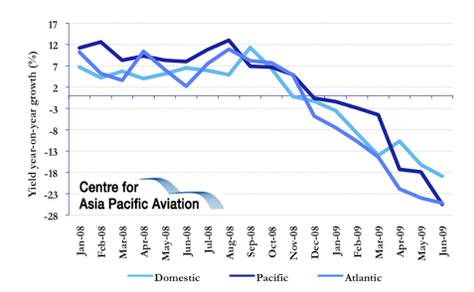 Yield deterioration also accelerated in Latin American markets (down 21.8% against a 16.6% fall in May-2009) and the Asia Pacific region (a massive 25.5% fall in Jun-2009 after a 17.9% fall in May-2009). In terms of cents per ASM, Asia Pacific region yields failed to experience the traditional seasonal lift in Jun-2009.
ATA yield: Jan-2008 to Jun-2009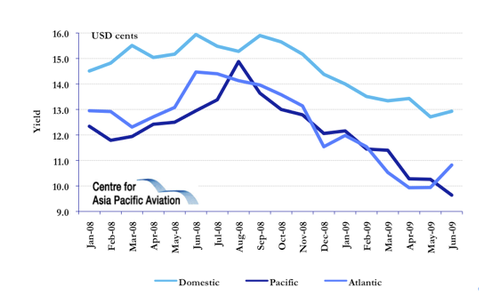 Revenues down by more than a quarter
ATA members' passenger revenue tumbled 26% last month – the eighth consecutive month in which passenger revenue has fallen from the prior year. The number of passengers travelling on US airlines in June fell 6.5%, while cargo traffic – as measured in revenue ton miles – declined 20% year-on-year in May-2009 (June 2009 cargo data is not yet available). Notably, cargo traffic in the Pacific region fell 26% in May-2009.
The industry body attributed the poor results in Jun-2009 to the "weak global economy and the lingering impact of the H1N1 (swine) influenza outbreak".