US uncertainty mounts - but airline capacity squeeze lifting yields
Analysis
Mr Bernanke did not go as far as comparing the current crisis with the Great Depression, but he did venture to say it was the biggest threat the economy has faced since World War II. He stated that frozen credit markets would cause the broader economy to decline and be much weaker than it otherwise would be, with impacts on the unemployment rate, job creation, real incomes and standards of living - "perhaps over a period of years". The previous day he urged a Senate Banking panel to act swiftly, stating, "our modern economy cannot grow, cannot create jobs, cannot provide housing without effectively working credit markets".
While the squeeze is now on US law makers, the airline capacity squeeze in that country is producing some handsome yield results for airlines. US carriers (according to ATA data) have reduced their domestic and Asia Pacific capacity this year, while Atlantic capacity has been growing at double digits and Latin American capacity has also been strong.
ATA member carriers' monthly passenger traffic (RPM) growth by region: Jan-06 to Aug-08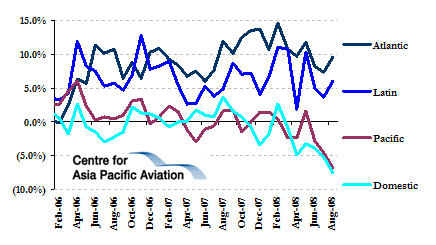 The result has been some high single-digit increases in yields on domestic services, which combined with falls in oil prices off their peak, has prompted some analysts to suggest US carriers could actually make some money next year.
ATA member carriers' monthly passenger numbers growth vs yield growth on domestic services: Jan-07 to Aug-08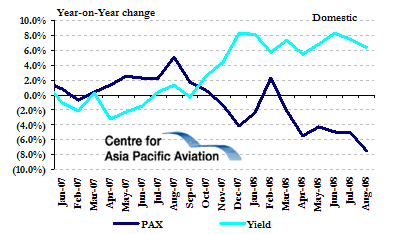 Yield growth on Asia Pacific services this year has been even more impressive, with regular double-digit increases off already high bases. US airlines have had just one monthly increase in passenger numbers on Asia Pacific services in the past two years, as they clamp down on capacity. This has provided the room for the likes of Cathay Pacific, Singapore Airlines and others to seize market share through aggressive network expansion to the US.
ATA member carriers' monthly passenger numbers growth vs yield growth on Asia Pacific services: Jan-07 to Aug-08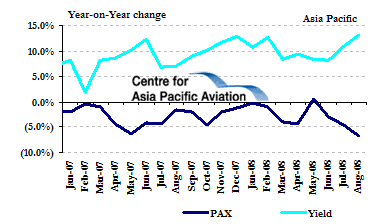 But these figures suggest the US airlines are winning the yield battle - for now.