US regional airline outlook: To morph into new models?
Analysis
The relationship between regional airlines and the majors is constantly evolving. In the future, we may see regionals morphing into a kind of hybrid business model similar to what is currently happening with Republic Airways Holdings, according to Aviation Consultant, George Hamlin, who spoke before the FAA forecast conference last week. Republic is now trying to find its way in both the capacity purchase and branded models.
Regional airlines have taken on an increasing role in domestic air transport, Hamlin noted, citing the fact that regionals account for more than half the departures at Atlanta and Chicago, the nation's two busiest airports. However, he also said that the traditional 200- to 400-mile radius around a hub is no longer economic, unless they can sustain a premium price, pushing regional routes further out and aircraft sizes larger.
Regionals at hubs: How much longer will this make sense?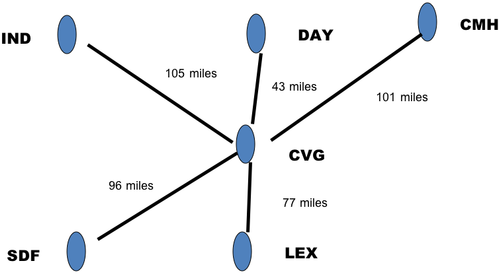 "It's all about size, not geography," said Hamlin, pointing to the fact that the shuttle markets – once an icon of mainline service – are now being served by regional aircraft.
"US Airways also will reassign the 124-seat Airbus A319s now serving the Boston-LaGuardia leg of its Shuttle operation to its mainline fleet, and replace them with some of the 15 Embraer E-190s left in its fleet.Look at a recent article from the Chicago Tribune. 'United and American Airlines, [O'Hare's] two major tenants, schedule about two regional jet flights for every one flown on far-larger Airbus or Boeing jets at O'Hare, according to data compiled by OAG for the Tribune. Ten years ago, the numbers were reversed: American operated two traditional jet flights for every flight by its American Eagle regional jet subsidiary. United flew three flights for every flight subcontracted to its United Express carriers…Experts say there is likely no going backward: In the future, domestic flights of two or three hours will likely be flown by smaller planes. United's summer schedule has unveiled 16 new city pairs, 11 of which are being served by SkyWest United Express", he said.
Regionals are more national than geographical
Hamlin also noted that the definition of regional has changed from airlines flying smaller aircraft in short-and-medium haul service to "Airlines operating turboprops and jets that are generally smaller than those produced by Airbus and Boeing in scheduled airline service, typically in conjunction with 'Major' airlines," he said, adding that he is not even sure that future regional airline service will include a significant number of turboprops despite success at Horizon and Pinnacle.
"We should be thinking in terms of re-naming this sector of the market," he said, pointing to the fact there is nothing regional about it, unless the region one is talking about is North America. Most regionals now have a nationwide breadth of service, rather than the niche markets they once served when they were known as commuter/regional airlines.
Hamlin pointed to three charts citing the fact that departures have essentially not increased, but available seat miles and aircraft size and stage length have. ASMs plateaued in 2005. Revenue passenger miles were growing at a faster rate, resulting in higher load factors.
Regional Traffic, indexed to 1999
Regional Capacity, indexed to 1999
Regional Traffic & Capacity, indexed to 1999
Another trend he has spotted is regional service only works at hubs that do not have a lot of low-cost carrier competition.
Top 20 Airports: Regional % of Total (Lowest to Highest)
| Rank | Airport | Regional Departures | Total Departures | Regional % of Total |
| --- | --- | --- | --- | --- |
| 1 | MCO | 279 | 12046 | 2.3% |
| 2 | OAK | 352 | 4664 | 7.5% |
| 3 | DAL | 332 | 4132 | 8.0% |
| 4 | TPA | 616 | 6650 | 9.3% |
| 5 | | 807 | 8360 | 9.7% |
| 6 | HOU | 520 | 4703 | 11.1% |
| 7 | | 639 | 4280 | 14.9% |
| 8 | BWI | 1648 | 10308 | 16.0% |
| 9 | SAN | 1276 | 7861 | 16.2% |
| 10 | | 1496 | 8855 | 16.9% |
| Rank | Airport | Regional Departures | Total Departures | Regional % of Total |
| 11 | MIA | 1981 | 11515 | 17.2% |
| 12 | SMF | 824 | 4417 | 18.7% |
| 13 | PHX | 3488 | 16908 | 20.6% |
| 14 | MSY | 812 | 3615 | 22.5% |
| 15 | LAX | 5181 | 22718 | 22.8% |
| 16 | SJC | 1081 | 4618 | 23.4% |
| 17 | JFK | 4432 | 18622 | 23.8% |
| 18 | ABQ | 874 | 3469 | 25.2% |
| 19 | AUS | 1041 | 4056 | 25.7% |
| 20 | SFO | 4263 | 15903 | 26.8% |
Future challenges: Hybrid model unproven

"Regionals have a lot of challenges ahead of them," said Hamlin. "In addition to fuel, the economy and aircraft, there will likely be industry consolidation, which means there won't be a need for all the regional airlines that are now out there. There are likely to be fewer majors through either mergers or failures. There is also the scope clause which limits their ability to grow into larger aircraft.
"There are three models they can pursue," he continued. "Stay the course with the current major/regional relationship, going independent which we have seen with both Independence Air and Express Jet clearly doesn't work, or becoming a hybrid which is what we are seeing with Republic Airways Holdings." (RJET)
Hamlin pointed to a quote by RJET indicated that pursuing solely the traditional major/regional strategy will not be healthy in the long term. "The company believes its dependence on the financial health and strategic decisions of its airline partners makes future growth prospects as a regional provider limited at best," said a Republic spokesperson, according to Hamlin. "With limited or no growth prospects, 'you can either be proactive or wait until things get better.'"
But this hybrid model remains unproven. Only one carrier is pursuing this successfully to date and that is Horizon with Alaska. It's a model that seems to work for both Alaska and Horizon, despite the fact that only 28% of travel flows between Alaska and Horizon. Some 50% of Horizon's traffic remains on the Horizon system either as O&D traffic or connecting to another Horizon flight. In addition, about 13% connect off line to other carriers. Horizon has been successful building its operation to profitability within the last few years ending the ending 2009 with over USD22 million profit. It also has a branded operation that resulted when its Frontier Jet Express operation ended a couple of years ago and it needed new missions for those aircraft.
Republic, on the other hand, is facing stiff competition with three-way races in both its major branded markets – Denver and Milwaukee. While some have suggested Southwest's incursion into Milwaukee could dilute Midway, Hamlin disagrees, instead saying it is important to see Milwaukee as separate from the Chicago market which is huge, and, at the same time, poaching from the Northern Illinois market. If that is the case then the market power of both Southwest and AirTran may overwhelm the Frontier/Midway brand or whatever brand it morphs into.
Hamlin noted it faces the same thing over Denver with Frontier fighting both Southwest, now with its third largest hub there, and United. Perhaps that is why both Midway and Frontier are also focusing on Midwest's strengths at Kansas City.
He also noted that clearly the regional and low-cost models are successful, while the legacy model has been highly unsuccessful.
Passenger revenue vs. total operating expenses by carrier category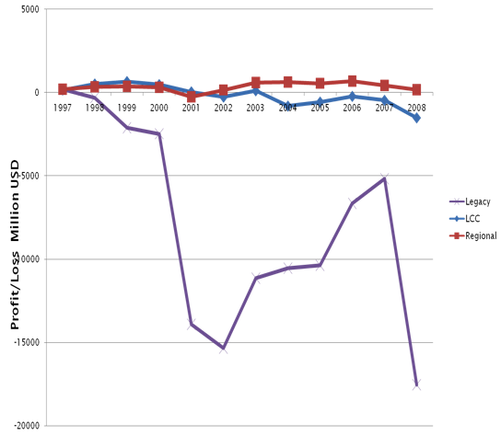 Passenger revenue vs. total operating expenses by carrier category & Southwest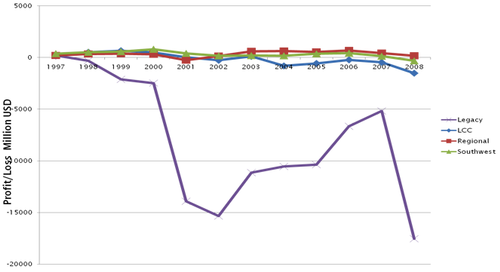 Passenger revenue as % of operating expense by carrier category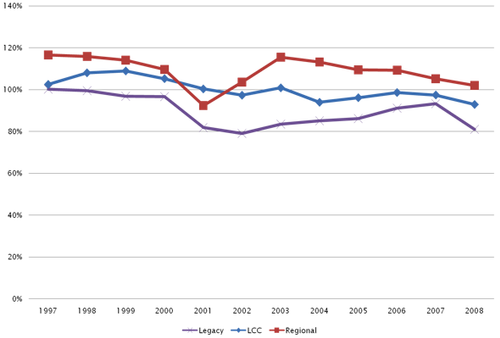 Passenger revenue as % of operating expense by carrier category and Southwest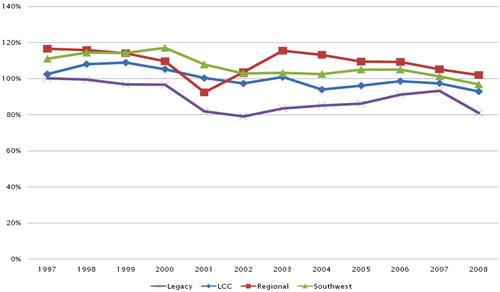 The regional future means increasing stage lengths and the disappearance of short-haul segments, he said. "There will be a diminished role for turboprops which will be down but not out. 70- to 90-seaters will have a growing role…but what happens to scope is unclear. There will also be a further blurring of major/regional distinction and there may be a new 'third tier' airline to serve markets being shed by majors and their regional partners. There will be an obvious need for regionals, but questions remain. Who will provide the service and how will they do it and at what cost?"
Therein lays the attractiveness of the hybrid model for regionals. They no longer can rely on the changing fortunes of their major partners. However, they will then have to compete with the big boys at a time when their experience in competing in the real airline marketplace is almost nil. Even so, they do know how to compete on lower costs and quality of service. After all, that is how they won their capacity purchase contracts in the first place. But building the back office functions they dismantled with the maturity of code sharing is extremely expensive and time consuming as proven by ExpressJet.
Still, if they do that, they could morph into another model, suggests Hamlin – one proved very successful by former regional airline president Maury Gallagher, who now runs Allegiant.