US network carriers' Asia Pacific load factors slump in Mar-2011 as Japan disaster felt
Analysis
American Airlines and Delta Air Lines have revealed sharp declines in Asia Pacific load factors following the 11-Mar-2011 earthquake/tsunami/nuclear concerns in Japan. The load factor declines occurred as both carriers significantly expanded Asia Pacific capacity to record-high levels - a situation now being unwound on services to Japan.
On Asia Pacific services, American reported a 13.9% increase in traffic as capacity soared 32.0%. This demand-capacity gap, which has seen capacity to/from Asia Pacific reach record levels, resulted in an 11.9% load factor slump on these services to 75.2% - well below GFC levels.
American Airlines Revenue Passenger Miles (International, Asia Pacific) (2009 to 2011)
American Airlines Available Seat Miles (International, Asia Pacific) (2009 to 2011)
American Airlines Passenger Load Factor (International, Asia Pacific) (2009 to 2011)
American Airlines reported an 0.8% increase in overall traffic (RPMs) in Mar-2011, outpaced by a 2.6% capacity (ASMs) growth. This resulted in a load factor decline of 1.5 ppts to 80.2%. International traffic increased by 5.2% year-on-year on a 7.1% capacity increase. Domestic traffic decreased 1.7% year-on-year on a 0.1% capacity reduction.
NB: CAPA Members can view and create graphs on American Airlines traffic on demand. Data can also be exported to excel. Click here for American Airlines' monthly traffic graphs.
American Airlines suspends two of six daily services to Japan as demand for Japan services decline
American's Asia Pacific capacity levels, which has been continually growing on a year-on-year basis over the past few years, is set to reverse over the near term. The carrier has announced plans to suspend two of its six daily services to Japan between 06-Apr-2011 until 25-Apr-2011 due to a slump in traffic since the earthquake and tsunami. "It's purely due to passenger demand," spokesman Ed Martelle said. The suspended services include New York JFK-Tokyo Haneda and Dallas-Tokyo Narita service.
American Airlines has seen a "modest decline" in revenues as a result of the earthquake and tsunami that hit Japan, according to Treasurer Beverly Goulet. However, the carrier is seeing an increase in bookings for Japan services on 29-Apr-2011 and 03-May-2011 through 04-May-2011 for the Golden Week annual vacation period, according to spokesman Jim Faulkner. "We've seen an uptick in advance bookings on outbounds from Japan then," Mr Faulkner said.
The carrier has meanwhile proceeded with the 01-Apr-2011 launch of its JV with Japan Airlines, enabling the carriers to coordinate schedules and set fares and market promotions jointly. The two carriers also commenced their expanded codeshare agreement on 27-Mar-2011 as part of which American Airlines is codesharing on JAL's domestic services from Tokyo Haneda to Fukuoka, Misawa, Okinawa, Osaka Itami and Sapporo.
Despite short-term challenges in the Japan market, the carriers stated they are committed to the partnership "for the long term", said Tsutomu Ando, JAL's executive officer for international alliances. American stated around half of its Japan-bound passengers connect to flights elsewhere in Asia, so the continued operation of JAL's connecting services is critical.
American also launched Los Angeles-Shanghai Pudong service on 05-Apr-2011 becoming the first US carrier to operate non-stop service between the cities. American is operating daily with B777 equipment, configured with 16 first, 37 business and 194 economy class seats. The service is part of a major expansion of the Los Angeles cornerstone hub that will see more than 30 flights added from 05-Apr-2011 to 15 communities for a total of over 150 daily flights.
Delta Air Lines reported just a 0.6% increase in traffic (RPMs) on Asia Pacific services in Mar-2011, on an 18.6% capacity increase, resulting in a 13.2 ppts reduction in passenger load factor to 73.9%. Load factors on Asia Pacific services have been down on a year-on-year basis in the first three months of 2011 coinciding with significant capacity growth under its Asia Pacific growth strategy.
Delta Air Lines Passenger Load Factor (International, Asia Pacific) (2009 to 2011)
Delta Air Lines Revenue Passenger Miles (International, Asia Pacific) (2009 to 2011)
Delta Air Lines Available Seat Miles (International, Asia Pacific) (2009 to 2011)
Delta reported a 0.5% increase in system traffic in Mar-2011 on a 6.2% increase in capacity. Load factor decreased 4.5 points to 79.7%.
Delta expects short-term decline in Japan; long-term demand to pick-up
At the end of Mar-2011, Delta Air Lines president Ed Bastian said the carrier expects to see a decline in demand to Japan over the next few months. However, the carrier is expecting a rebound as the country rebuilds.
"Over the next two to three months, we will undoubtedly see some fairly significant drop-off in demand and drop-off in bookings. We also expect over the balance of the year, as the country rebuilds, as the government brings the money to pour into the economy and attract business and get the economy moving and the rebuilding effort underway, there is going to be a fairly significant demand pickup. Our expectations at the present time is that this is somewhere between a six-to-nine-month one-time event," Mr Bastian said.
The carrier is reducing capacity to Japan by between 15% and 20% through May-2011. The reductions at Delta will have a net effect of USD250 million to USD400 million. CEO Richard Anderson said that "Japan is critical to Delta Air Lines" and that "by and large we're going to operate our full schedule out of Narita". The carrier will however operate smaller aircraft and may cancel some services.
As part of its capacity reduction plans, the carrier is postponing the launch of service between Tokyo Narita and Guangzhou until 05-Jul-2011. The service was initially scheduled to be launched on 06-Apr-2011. Delta has also postponed new services from Los Angeles and Detroit to Japan that were launched in Feb-2011. The carrier stated it would restore service there as demand picks up again. Delta has continued Tokyo Narita services but has suspended the recently introduced service to Tokyo Haneda.
Like American Airlines, Delta is continuing its expansion in China. China Eastern Airlines, a future SkyTeam member, confirmed plans to codeshare with Delta from 01-Jun-2011 – the day after it ends cooperation with oneworld's American Airlines. The agreement will cover China Eastern-operated services between Shanghai and Los Angeles and New York, as well as between Shanghai and more than 20 Chinese cities, and on Delta-operated services between Shanghai and Atlanta and Detroit, between Seattle and Beijing and on dozens of domestic US services from Los Angeles and New York.
United Continental Holdings, which has yet to release its Mar-2011 traffic data, has requested US regulatory approval to operate to Tokyo Haneda Airport if Delta abandons service to the airport following 11-Mar-2011.
The carrier stated it could add a daily service from Guam, Newark or San Francisco "in the event that Delta (or any other Haneda-authorised US carrier) decides to abandon service". Delta Air Lines spokesman Trevor Banstetter stated the carrier plans a Jun-2011 resumption of services from Detroit and Los Angeles to Haneda, where it suspended service on 24-Mar-2011. "This has always been a temporary suspension of service," Mr Banstetter said.
Delta stated United Continental's move was unwarranted and criticised the carrier for not noting the "highly unusual" condition of the US-Japan market following the March 11 disasters. American Airlines separately stated it plans to resume services to Haneda from 26-Apr-2011. Failure to restart a service within 90 days is considered abandonment.
United Continental previously stated it had witnessed a "measurable decline" in US-Japan travel demand. Accordingly, the carrier is cutting 10% of its capacity on US-Japan routes in Apr-2011 and 14% in May-2011. The airline is reducing capacity several midweek flights from airports including Newark, Los Angeles, Washington Dulles and Seattle in the coming months. The carrier will continue the majority of its normal services on all routes to Tokyo Narita, while eliminating some services on days when bookings are lower.
See related report: Seattle Tacoma Airport looks forward to strong summer, international seats to surge close to 20%
Meanwhile, United Continental Holdings and ANA launched their trans-Pacific joint venture on 01-Apr-2011, through which United and Continental may coordinate sales and marketing with ANA. Through the JV, enabled by the US-Japan Open Skies agreement and antitrust immunity granted by US and Japanese regulators, the airlines can align schedules, fares, and terms and conditions for itineraries beginning 01-Apr-2011. The agreement also covers frequent flyer programme reciprocity. The trans-Pacific JV connects 295 US cities, 43 Japanese cities and 11 routes between the two countries with almost 120 flights per week. The carriers are also coordinating fares and schedules for travel to/from certain other points in Asia, Latin America and the Caribbean.
Like the other US majors, United Airlines is maintaining its focus on China. United Airlines announced plans to increase Chicago-Beijing capacity for summer 2011 with a change of aircraft from B777-200ER to B747-400 equipment. The B747-400 is currently operating on Chicago-Narita service, with the carrier to downgrade the aircraft on the route to the B777-200ER.
Star Alliance partner, US Airways, which does not operate its own metal to Asia, stated total bookings declined around 20% on the day of the Japan earthquake with bookings remaining down a "couple of percent" from pre-disaster levels. "It's psychological more than anything, as people deal with the uncertainty of supply chains around the world. I think it will be a temporary effect," President Scott Kirby said.
Hawaiian Airlines, which has yet to report Mar-2011 traffic, stated cancellations to Japan have been "pretty modest". Bookings are mostly handled by travel partners in Japan and they "continue to demand the level of service that we've already been providing and intending to provide in the coming months," CEO Mark Dunkerley said.
Mr Dunkerley this month reiterated plans to maintain its business plan relating to Japan and Asia. The airline has not reduced services to Japan despite the earthquake, including services to Haneda, and plans to launch service to Kansai International Airport on 12-Jul-2011 as scheduled. According to Hawaiian Airlines, the Haneda-Honolulu route represents about 5% of the total sales. Compared with the days immediately after the earthquake, cancellations have been reduced and recovery of demand is expected toward summer.
APPENDIX: US airline Mar-2011 traffic data
American Airlines passenger traffic data for Mar-2011
Delta Air Lines traffic data for Mar-2011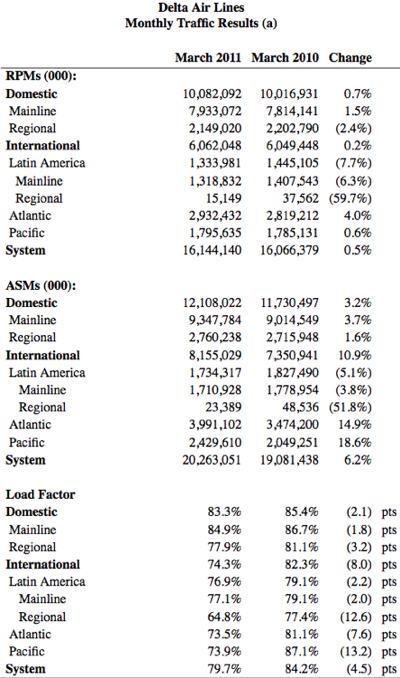 US Airways Mainline traffic data for Mar-2011
US Airways consolidated traffic data for Mar-2011